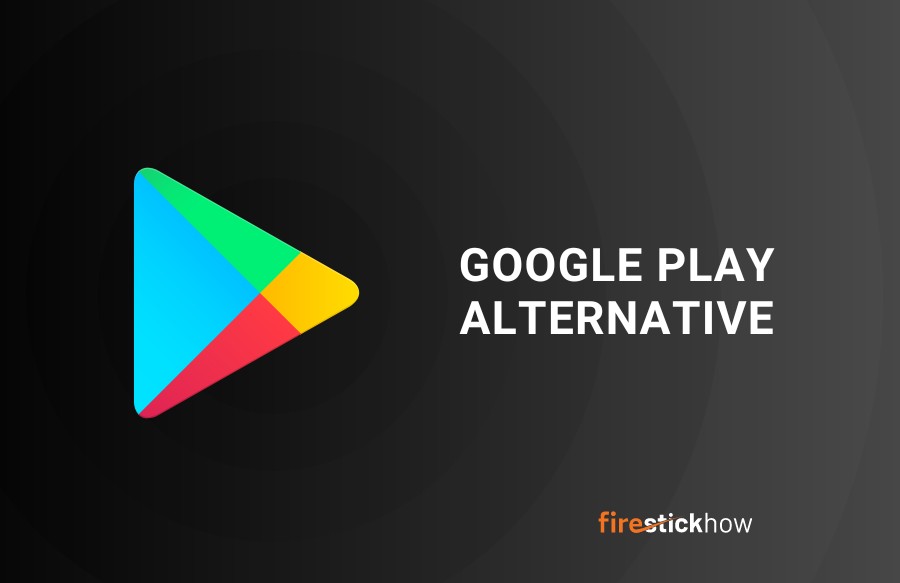 In this tutorial, we will talk about installing Google Play on FireStick. Everything discussed in this guide also applies to Fire TV Stick, 4K New FireStick 4K, New FireStick 4K Max, and Fire TV Cube.
Let me be clear from the outset so that there is no confusion. We are not actually installing Google Play here. Instead, we are going to install Aptoide on FireStick, which is an incredible alternative to Google Play.
You probably already know that Google and Amazon had a falling out and most of the Google apps are not supported on FireStick, including Google Play.
Amazon has its own official Store with a healthy collection of applications, utilities, and games for FireStick. However, the Amazon repository is nowhere as big as Google Play Store. It makes every sense to want Google Play on FireStick.
You must have come across a bunch of articles on the web about how you can get Google Play on FireStick. I have tried such methods myself only to have spent hours on a futile endeavor. The process exists, but it is incredibly tedious and does not work. That's why I decided it was for the best to look for alternatives. That's when I came across Aptoide.
Aptoide is a third-party app store for the Android platform. For some time, I used to think it is only designed for touch-friendly mobile devices. Thankfully, I soon learned it works great on FireStick too. The interface of Aptoide has been coded to be hundred percent remote-friendly. It has a big catalog of apps, games, and utilities for FireStick. And, it is incredibly easy to use.
If you are looking for Google Play on FireStick, I would recommend going for Aptoide instead.
Attention FireStick Users: Read before you continue
Your government and ISP are probably monitoring your streaming activities using your IP address 3.17.249.235 (exposed to all). You may get into serious legal trouble for streaming copyrighted videos on FireStick. 
I strongly recommend getting a trusted VPN for FireStick to hide your IP address and protect your online identity.
I use ExpressVPN on all my devices as it is the most secure, fastest, and easy-to-use VPN. It comes with an unconditional 30-day money-back guarantee, and you get 3 free months with the yearly plan.
Don't miss out on the peace of mind and online security ExpressVPN provides.
Read: How to Install & Set up the best VPN on FireStick.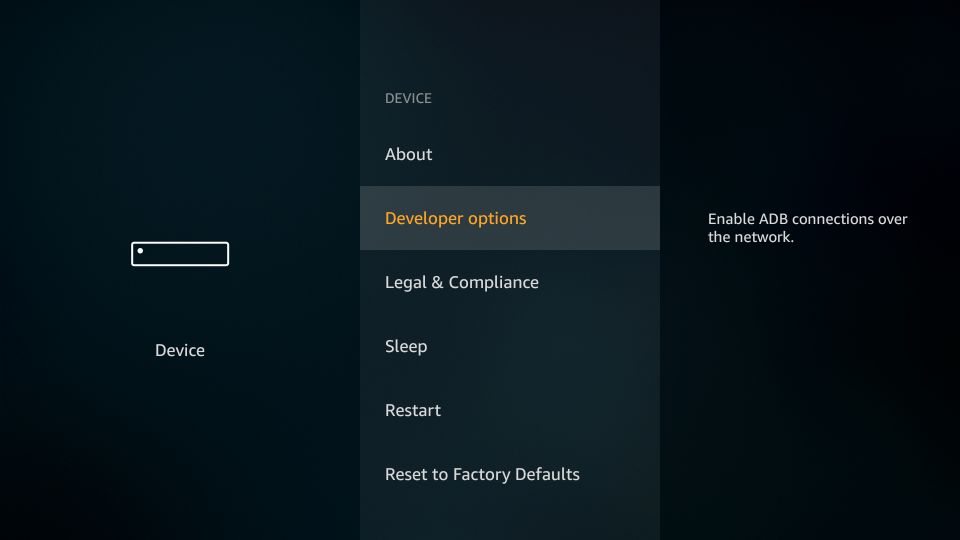 – What we need to do here is make sure Apps from Unknown Sources is ON. If it already is, leave it as it is. If not, click it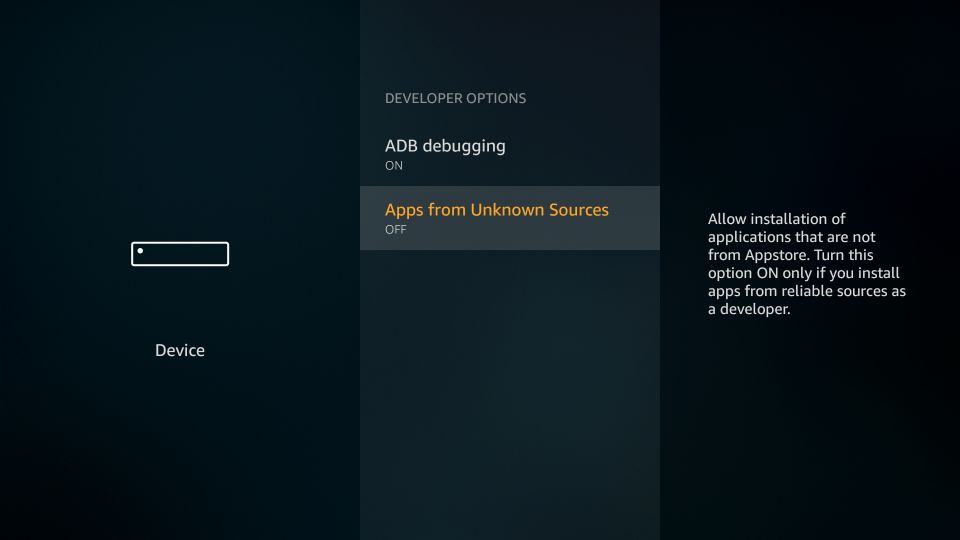 – Next, click Turn on when this prompt is displayed. This is a warning, but you have no reason to be worried about. Aptoide is a very popular and safe app.
Note: Once you have installed Aptoide or Google Play on FireStick, you may turn it OFF again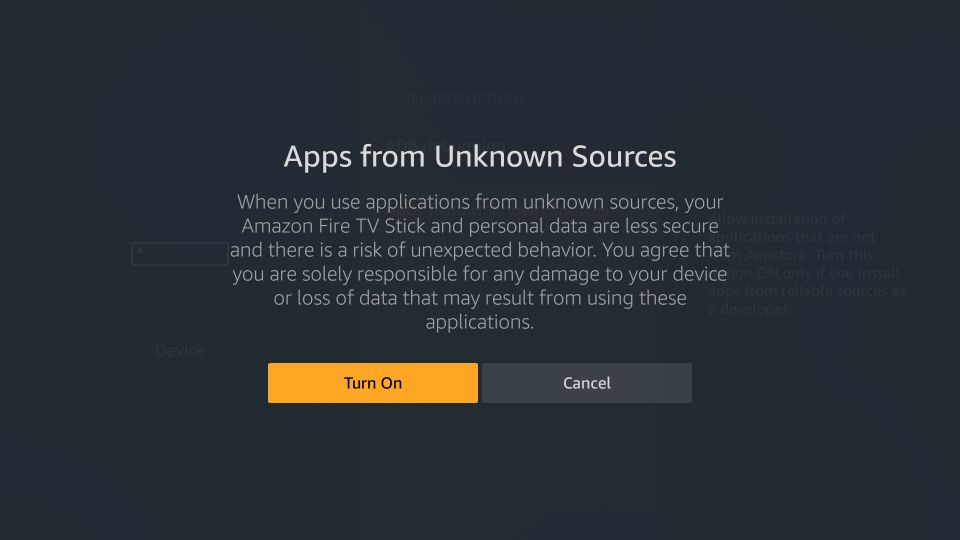 Google Play on FireStick Installation Steps
Now that you have given permission to FireStick to install third-party apps, we can get started with the installation steps. Here is what you need to do:
1- Go to the FireStick home screen one more time (you may press the back button repeatedly or simply press the Home button once on the remote)
2- You should see the Search option on the far left on the top of the home screen. You should be looking at the small picture of a lens (magnifying glass). Select it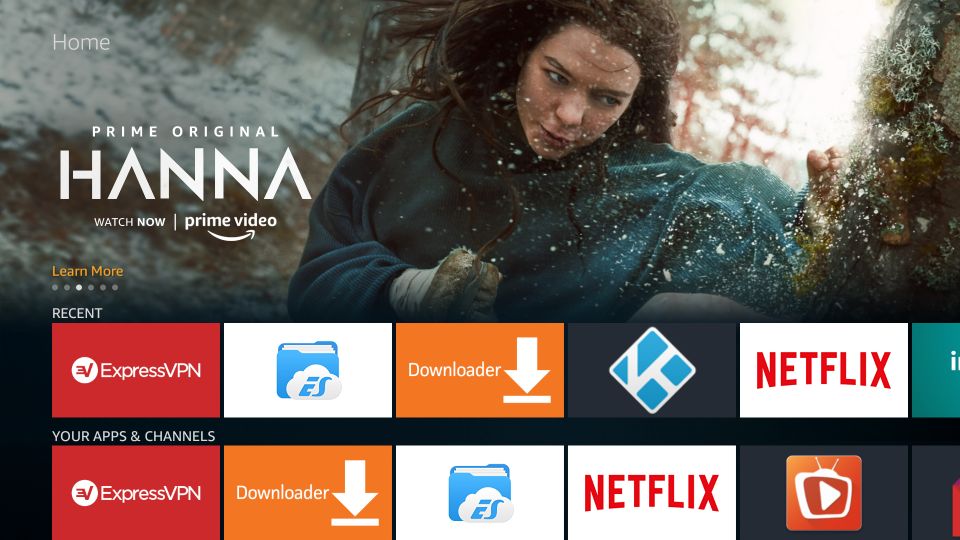 3- Now type in (without quotes) "Downloader"
4- When you see this app in the search results underneath the onscreen keyboard, click it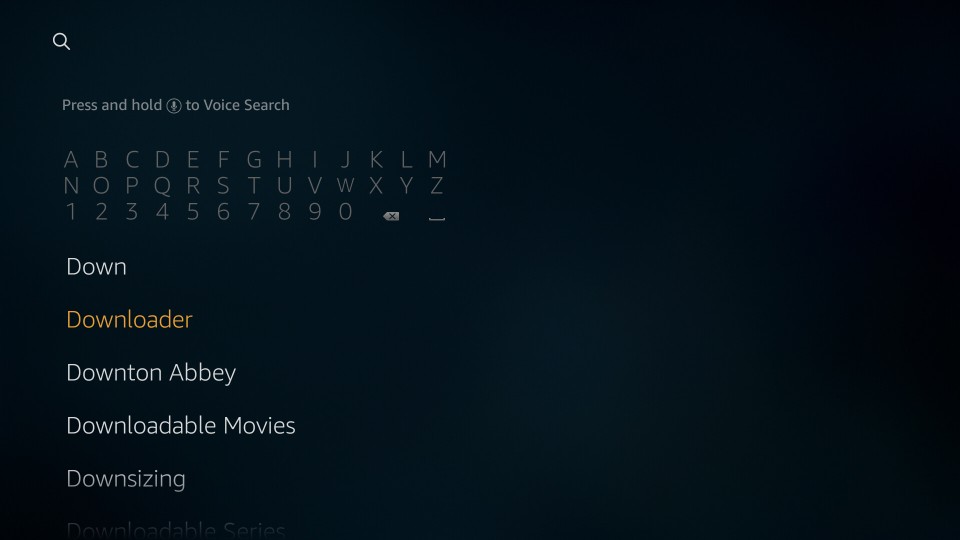 5- Open the Downloader icon on the next window. Now click Download (or click Get it) on the following screen. You may need to wait for a minute or two for the Downloader app to install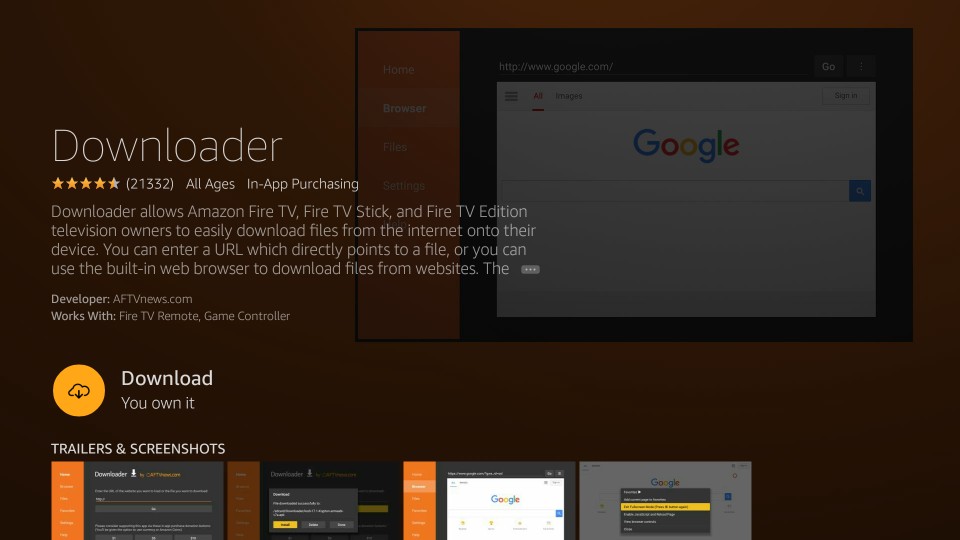 6- You may click Open after the installation is finished. If you are back on the home screen, run Downloader app from Your Apps & Channels window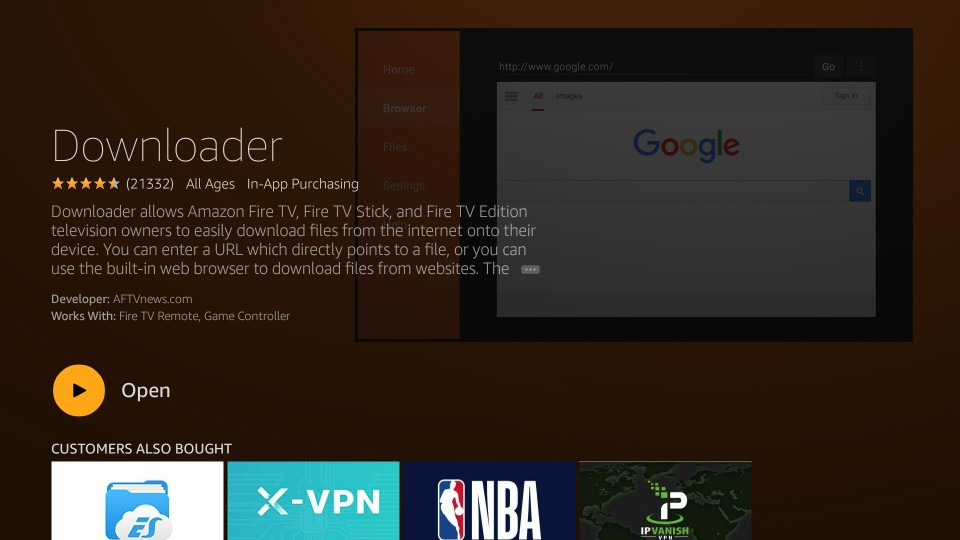 7- The Downloader home screen looks like this. As you may see, the Home tab on the left sidebar is selected by default. Click the field on the right side which is auto-populated with http://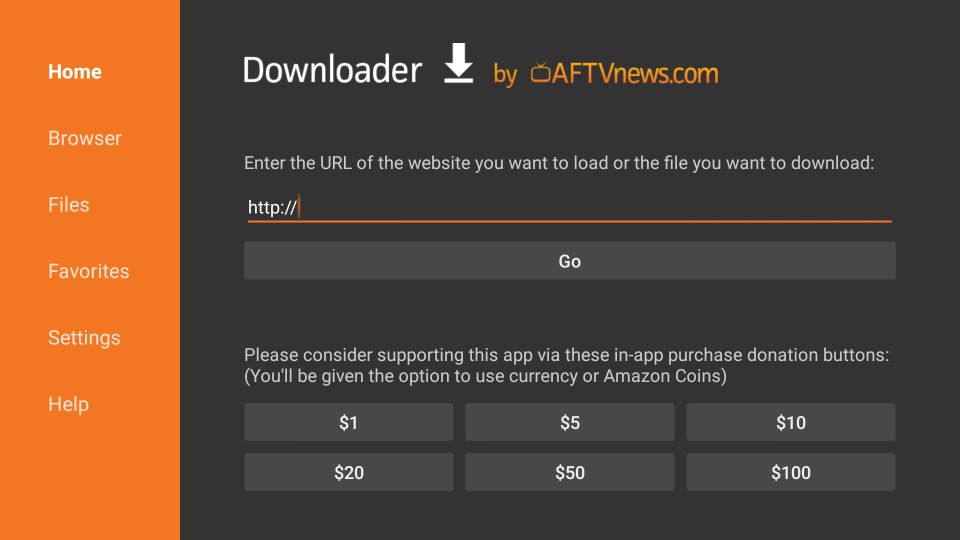 8- This is the popup you will see with the onscreen keypad. Click GO after typing in the following link: https://www.firestickhow.com/store
Note: In the Downloader app you may also type partial link firestickhow.com/store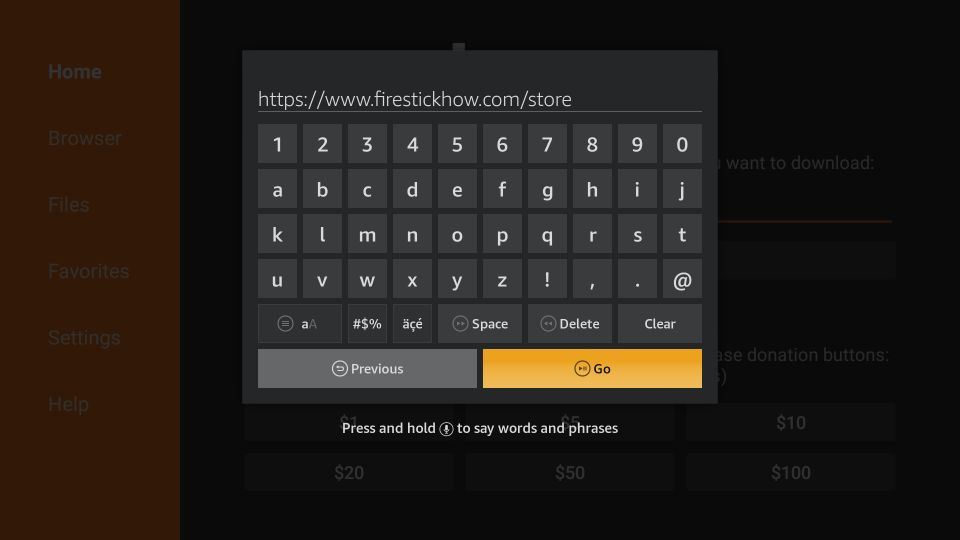 9- Google Play alternative or Aptoide APK will now download on your FireStick. Let it finish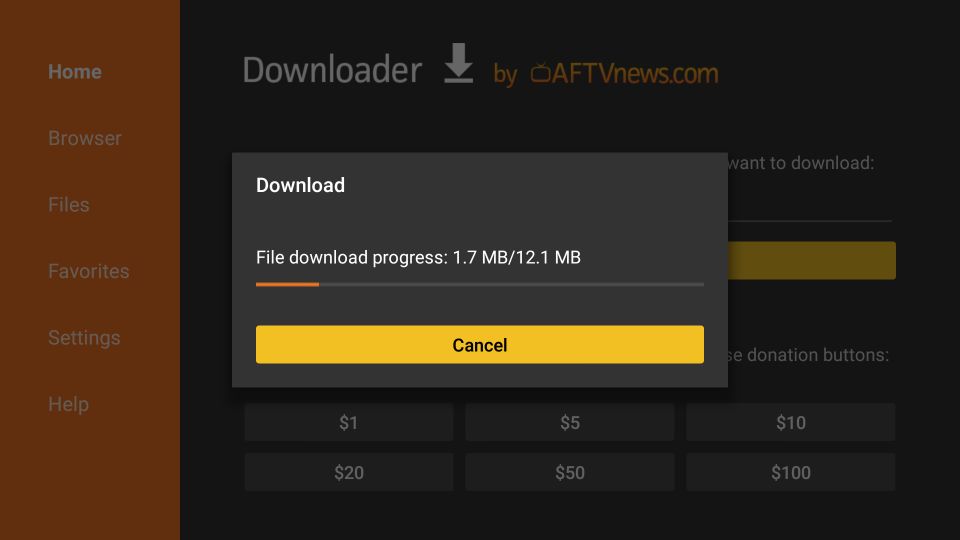 10- The installation prompt will appear automatically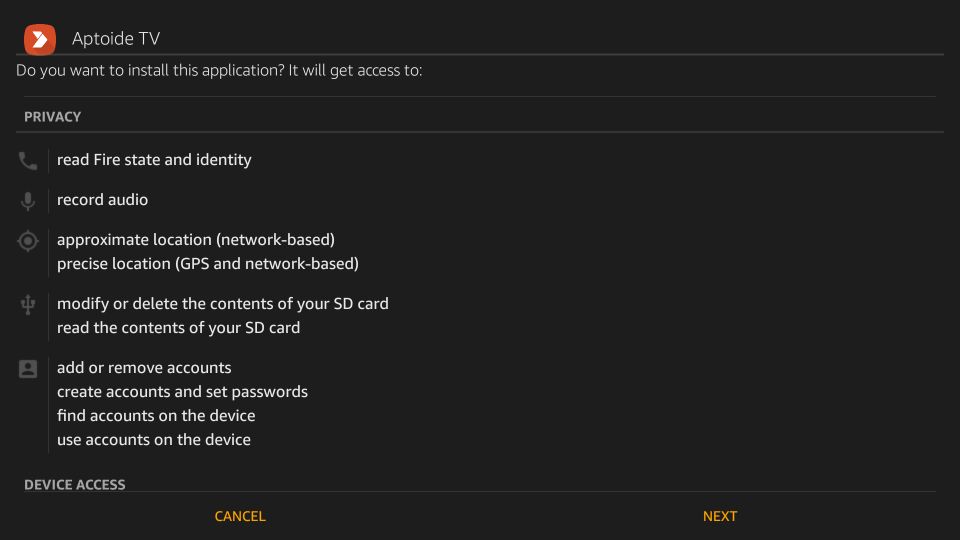 11- Go to the bottom right and click Install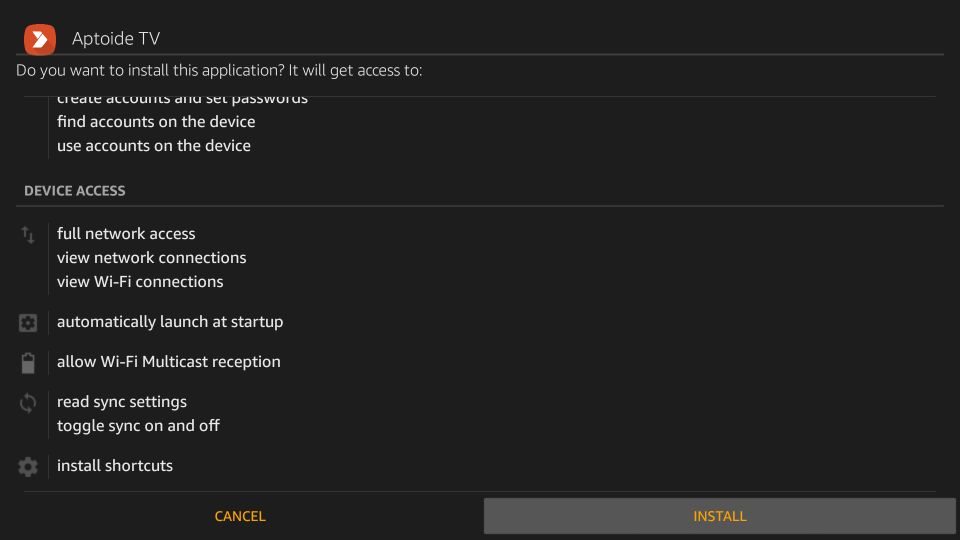 12- Aptoide on FireStick takes nearly a minute to install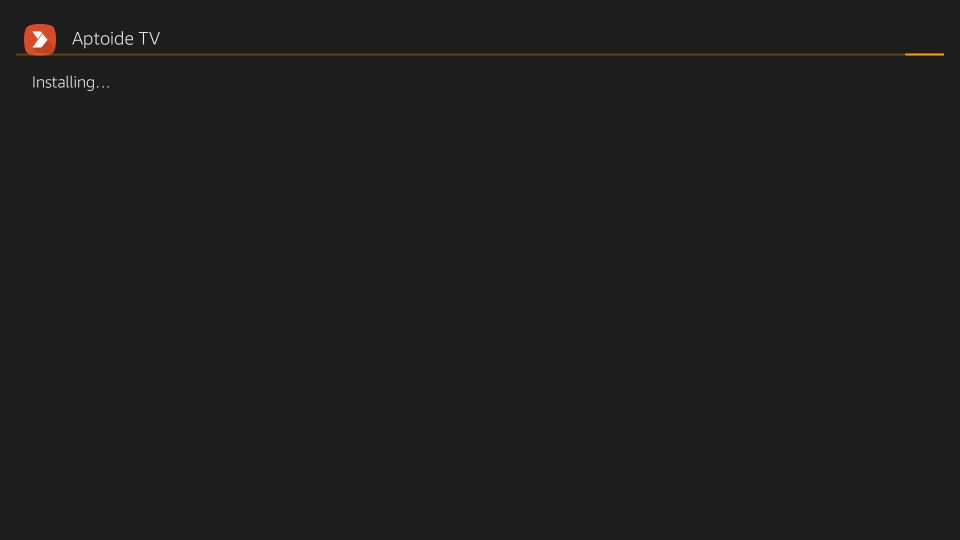 13- You are now presented with the App installed alert/notification. For now, click Done. We explore the Aptoide in the next section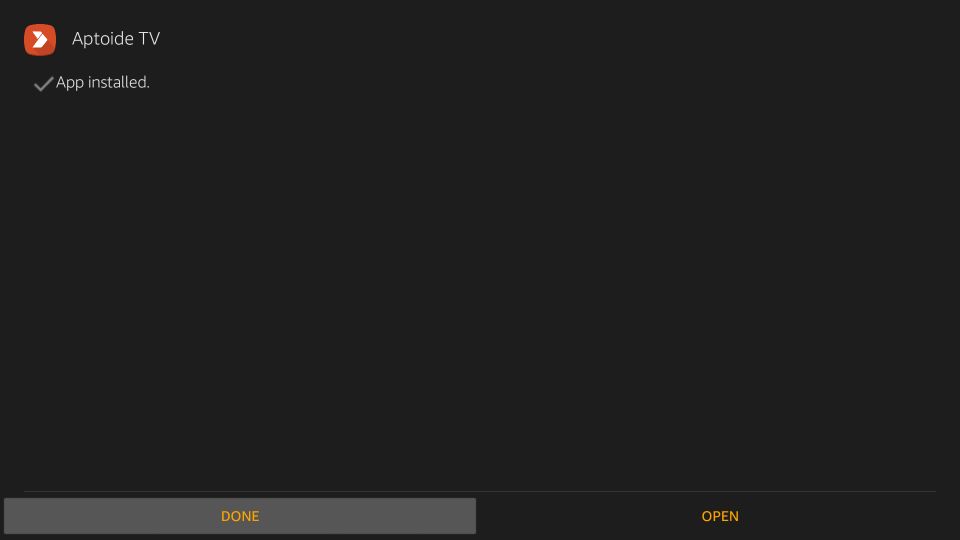 14- Click Delete to delete the APK file you downloaded earlier. Click Delete again to confirm your intent.
We deleted the APK file to free up the storage space on FireStick. Once the app is installed, the APK file is no longer needed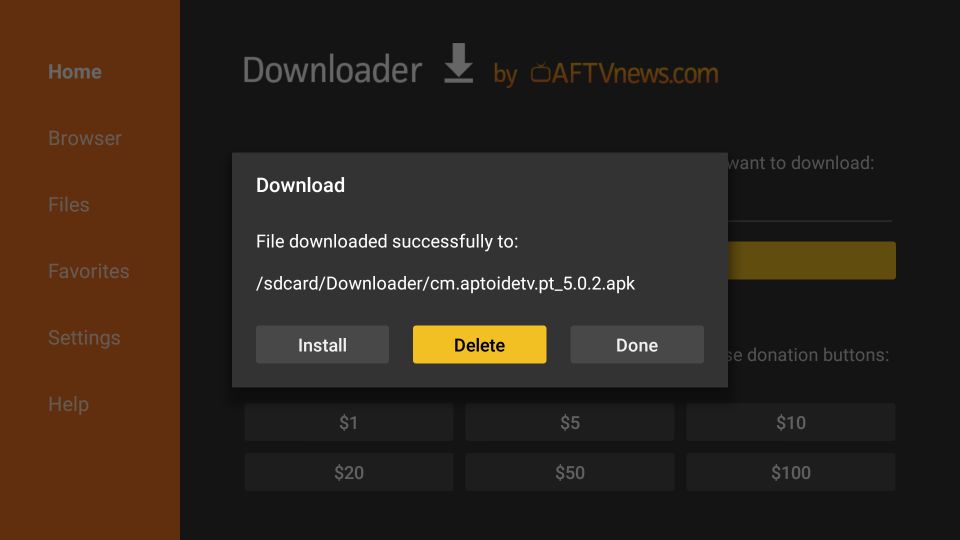 How to Use Aptoide on FireStick
There are a bunch of third-party marketplaces for Android mobile platforms. However, in my experience, only Aptoide has proven to be good enough for Amazon FireStick and other Fire TV series of devices.
Let us explore it a little bit together so that you may get familiar with it even before you start using it.
You can run Aptoide on FireStick in three ways:
– Go to the FireStick Settings >> Applications >> Manage installed applications >> Aptoide >> Launch application
– The other way is to keep the Home key on your remote pressed for a few seconds. A new window will be displayed on your TV. Click Apps on that window
– The last option is to select the Apps & Channels row on FireStick home screen. It is the second row from the top (underneath Recents). Go to the far right in that row and click See All
When you launch Aptoide on FireStick for the first time, you may see either see a prompt to update to a new version or if you have already updated, you may see a quick rundown of 'What's new:'
Click OK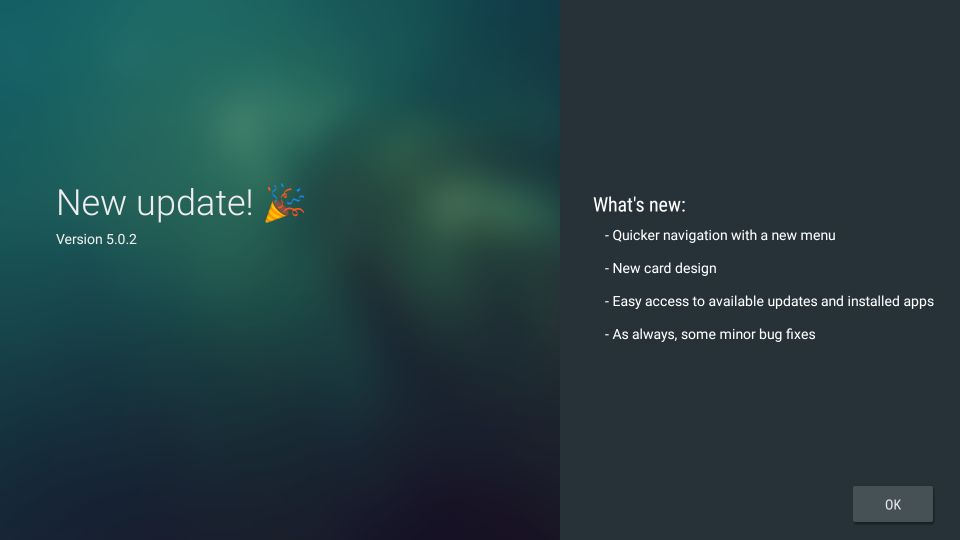 Now that's the main screen of the Aptoide (or Google Play alternative) app: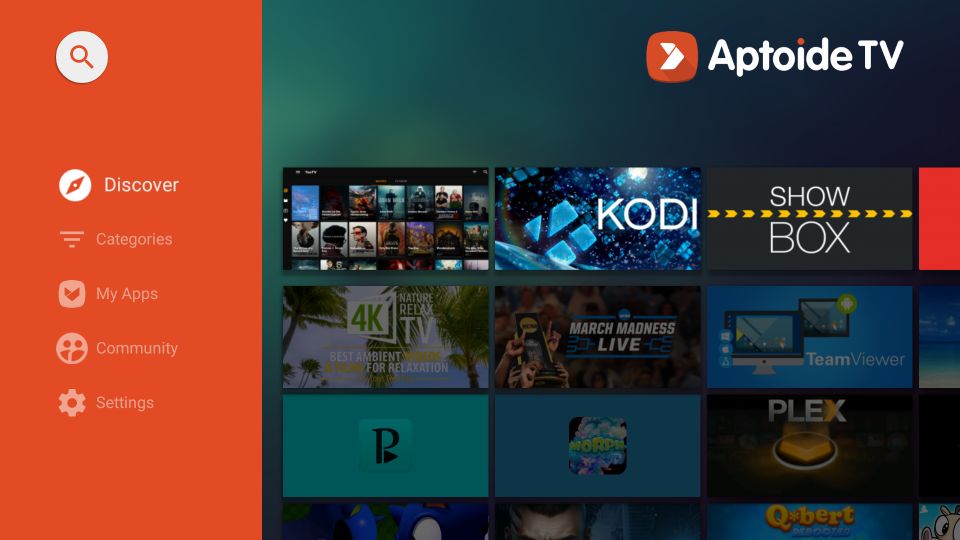 Following are the options to choose from:
Discover
Categories
My Apps
Community
Settings
The Discover section usually contains the featured or popular apps. They are typically the most downloaded applications.
By selecting the Categories section, you can browse the app by various categories like Entertainment, Shopping, Communication, Social, Tools and more. There are broad categories too here like Applications, Games, etc.
My Apps section shows the list of all the apps already installed on your FireStick
Community area features the apps uploaded by the community (people like you and me)
The Settings segment gives you access to My Account and Settings. By going to My Account, you can sign in to Aptoide with Facebook or Aptoide account. You may even create an Aptoide account from here. The Settings has options like Hardware Specs, Preferences, Send Feedback, About, etc. I don't think there are any settings that need to be changed. This Google Play alternative on FireStick is anyway easy to use.
Coming back to the Aptoide main screen, you will find the Search option on the top-left. As you would have figured, it lets you find the apps by their name.
Alternate Method to Install Aptoide on FireStick
I demonstrated how to install Google Play alternative on FireStick using the Downloader side-loading tool. I am now going to show you how to do that with ES File Explorer, another great sideloading utility for FireStick.
Note: You only need to follow one of the two methods. If you already have Aptoide, you may skip this section of the guide. 
ES File Explorer is on Amazon Store. You can download it by looking up for it in the Search window. You may access the Search tool from the home screen of FireStick (magnifying glass option in the upper left corner)
Here are the steps to install Aptoide on FireStick:
1- Click Tools > Download Manager on the left of ES File Explorer. Or, click Downloader option on the right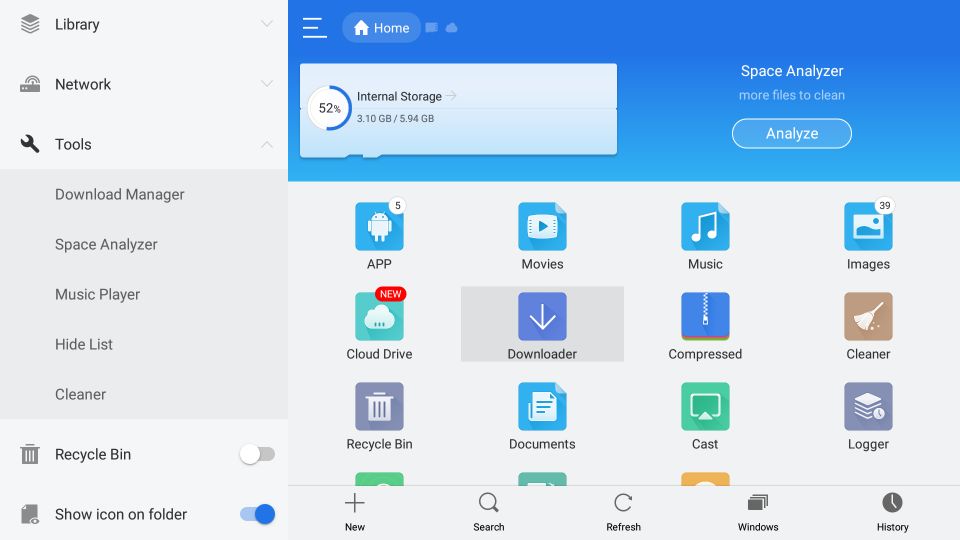 2- Go to the bottom strip on the right and click +New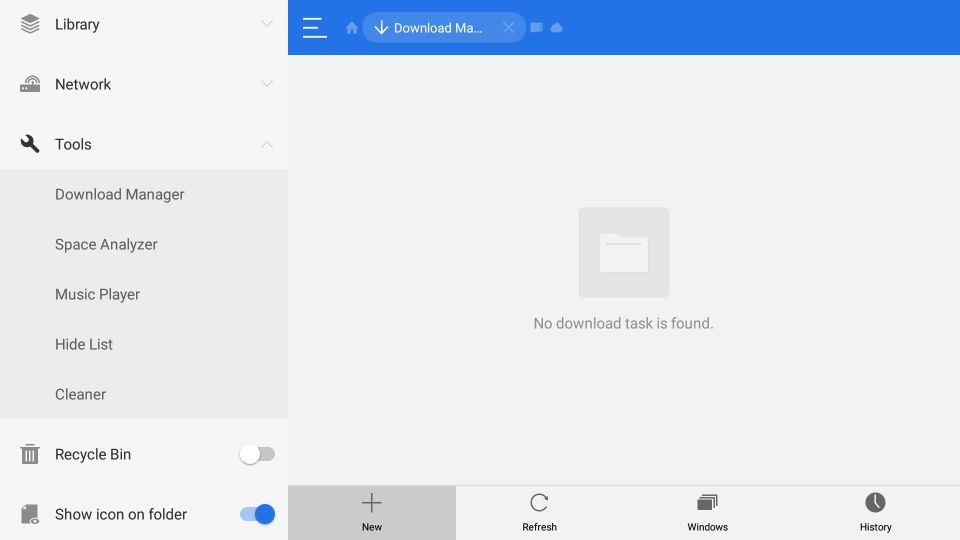 3- Enter the link https://www.firestickhow.com/store
Name it store (or you may even leave the field blank)
Click Download Now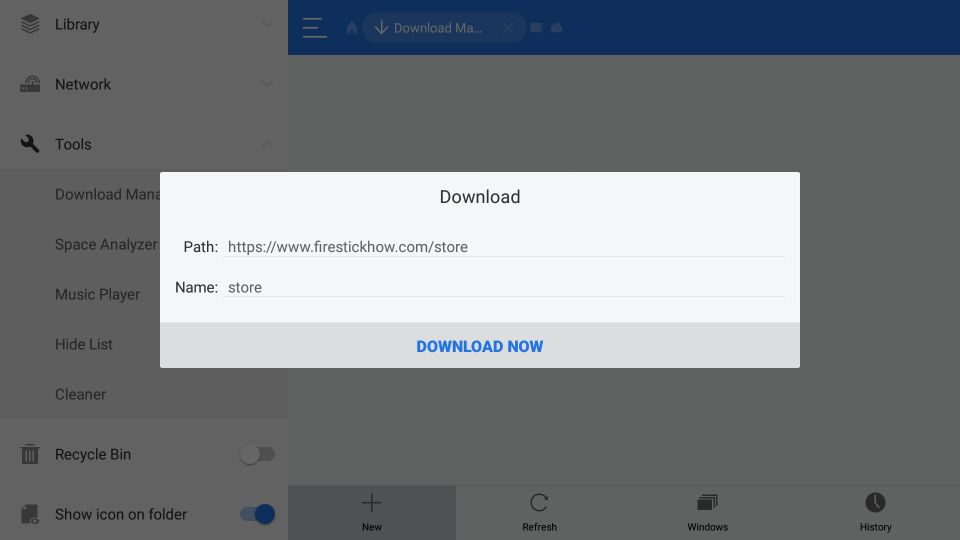 4- Aptoide APK will download in a minute or two. Click Open File once it is downloaded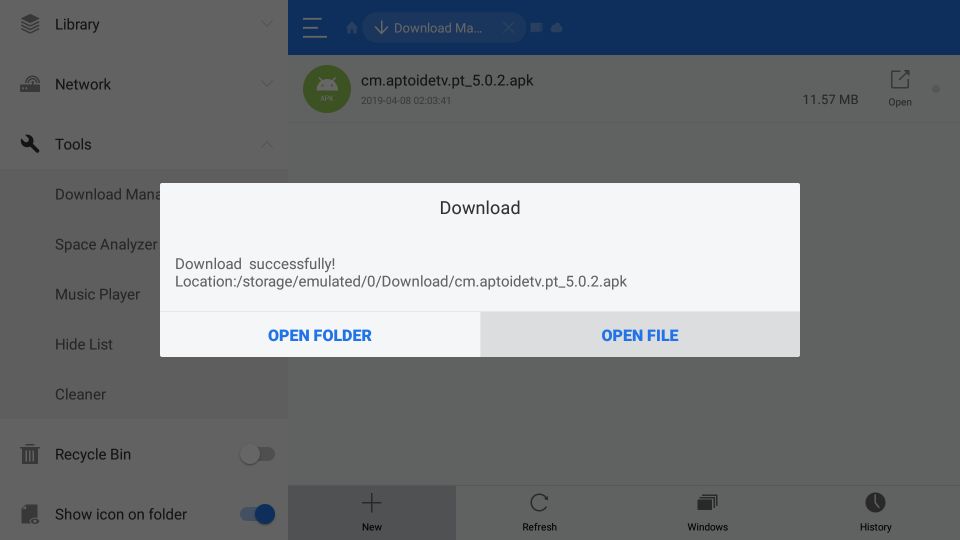 5- Click Install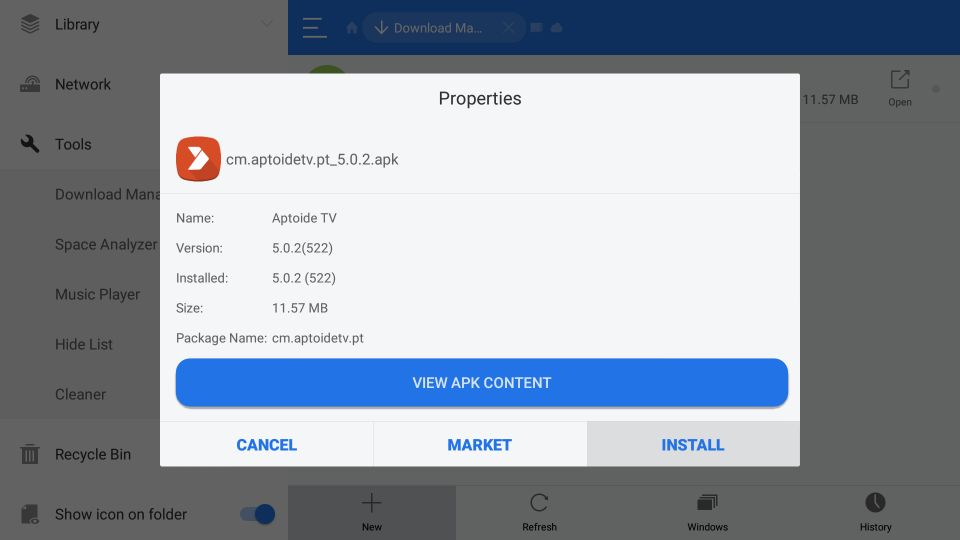 6- Scroll down. Go to bottom right. Click Install again.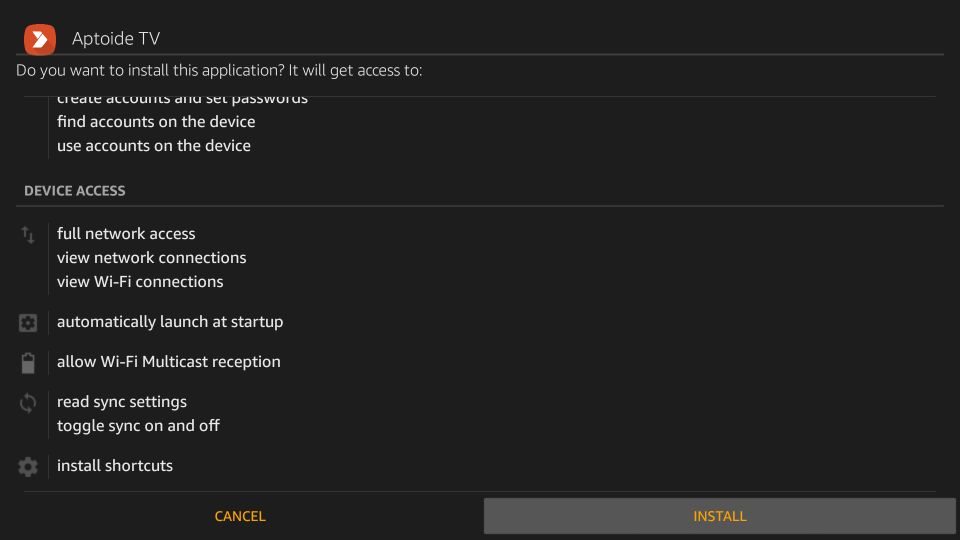 7- When Aptoide is installed, click Open and run it. Or, click Done to access it later.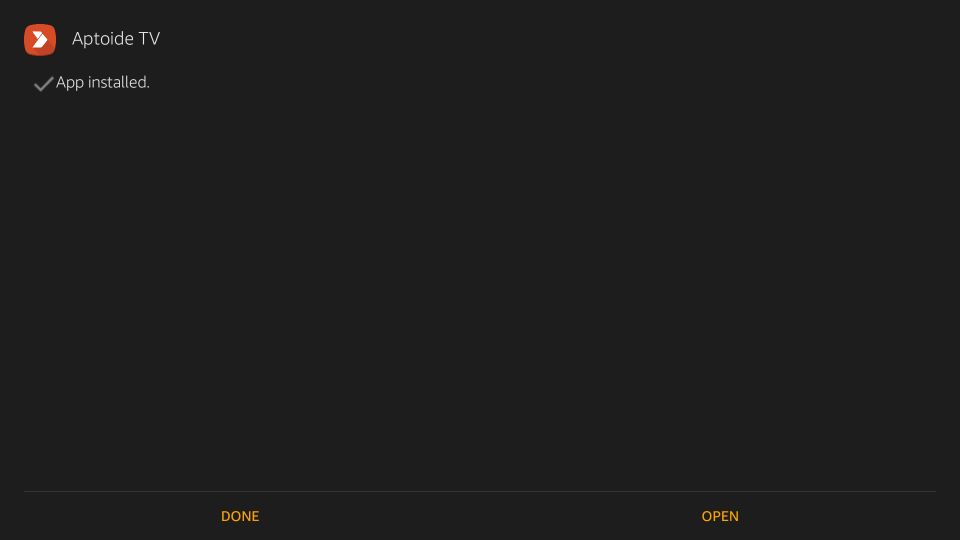 Conclusion
One way to sideload apps on FireStick is finding the APK link and installing them using a sideloading tool like Downloader. You must do this individually for each app. The other way is to use Google Play on FireStick or rather its alternative called Aptoide Store. This marketplace has a huge library of all sorts of apps for Android mobiles and Amazon FireStick. You can have any app you like in just a few clicks.
The only problem is that some apps download their older version. I wish the developers of Aptoide were rather more regular at updating the apps. Nevertheless, once you install any app, you can follow the onscreen prompts and get the update yourself in no time.
This is pretty much it about Aptoide or Google Play Store alternative on FireStick. Start exploring and if you have any questions, the comments section is at the end of this guide. We will love to hear from you.
You may also like:
Best FireStick Apps
How to Jailbreak FireStick
How to install Mouse Toggle
How to install MX Player on FireStick