This post details how to install and use Cache Cleaner Pro on FireStick. The steps in this guide apply to all FireStick devices, including TVs with built-in Fire OS, FireStick 3rd Gen, Fire TV Cube, Fire TV Lite, FireStick 4K Max, and FireStick 4K.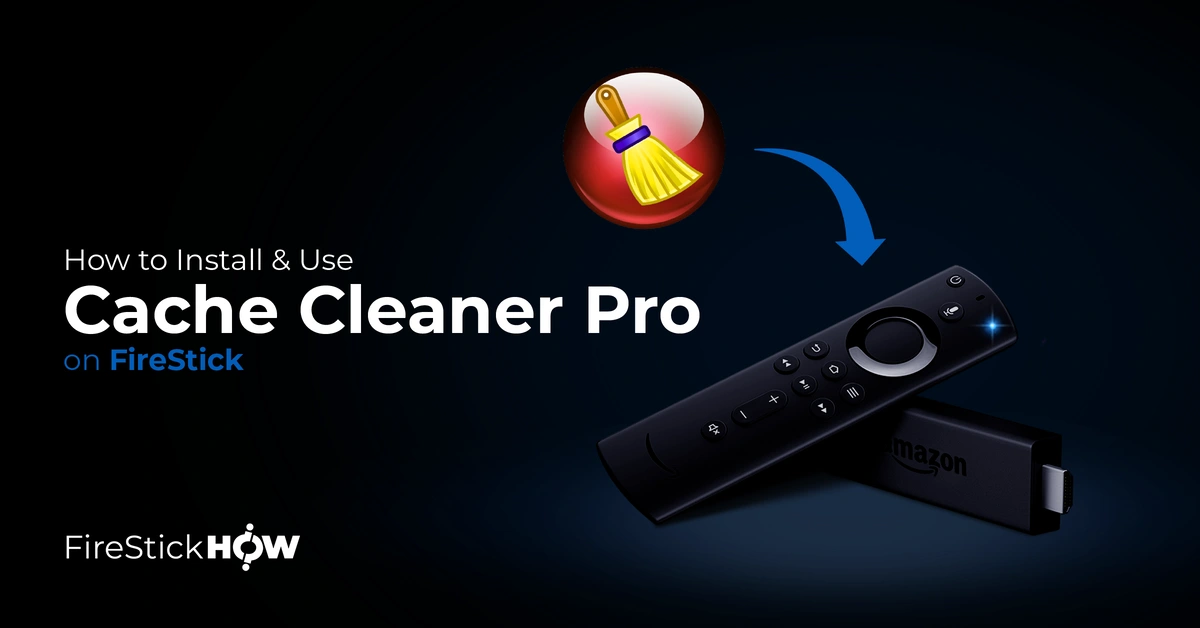 What is Cache Cleaner Pro?
Cache Cleaner Pro is an app designed to remove unwanted data files from your FireStick's memory. This app helps erase app cache, FireStick history, browser history, and other obsolete data. Cache Cleaner Pro is easy to download and use. It requires simple commands to delete targeted files. The app costs around $1.99 on the Amazon app store.
There are several advantages to using Cache Cleaner Pro on your FireStick. First, it helps clear your device's memory to improve speed and performance. Remember, apps store information to make your app usage more convenient. If this data isn't cleared regularly, it can occupy the app's bandwidth, leaving it with less memory to function correctly.
The Cache Cleaner Pro app is also advanced enough to remove huge data files in just a few minutes. This app lets you set automatic cleanups so you don't have to clear the cache manually when your FireStick is slow. Overall, the Cache Cleaner Pro is designed to boost your FireStick device's performance through cleanup in just a few minutes.
Attention FireStick Users: Read before you continue
Your government and ISP are probably monitoring your streaming activities using your IP address 3.17.249.235 (exposed to all). You may get into serious legal trouble for streaming copyrighted videos on FireStick. 
I strongly recommend getting a trusted VPN for FireStick to hide your IP address and protect your online identity.
I use ExpressVPN on all my devices as it is the most secure, fastest, and easy-to-use VPN. It comes with an unconditional 30-day money-back guarantee, and you get 3 free months with the yearly plan.
Don't miss out on the peace of mind and online security ExpressVPN provides.
Read: How to Install & Set up the best VPN on FireStick.
Features of Cache Cleaner Pro
Here are some of the top Cache Cleanup Pro features:
It has a simple download and installation process.
Cache Cleaner Pro has a simple, clutter-free interface that's easy to navigate.
This app can clear huge data files in just a few minutes.
You can schedule regular cleanups so you don't have to do it manually.
It's designed to clear huge data files in just minutes.
How to Install Cache Cleaner Pro on FireStick
Cache Cleaner Pro is a legal app available on the Amazon App Store. Therefore, you don't have to switch FireStick settings to set up this app. Follow these steps to install Cache Cleaner Pro on FireStick:
1. Click Find on your Fire Stick home screen.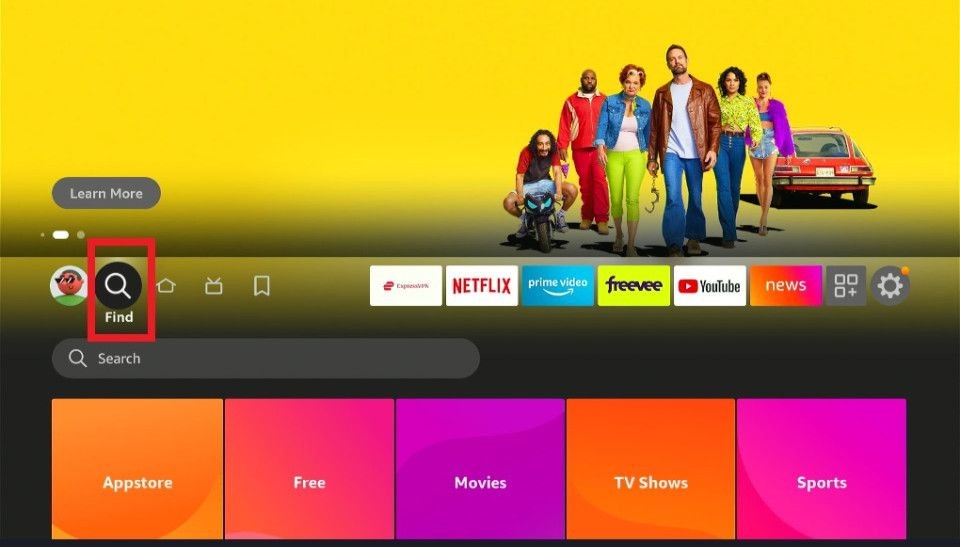 2. Click Search.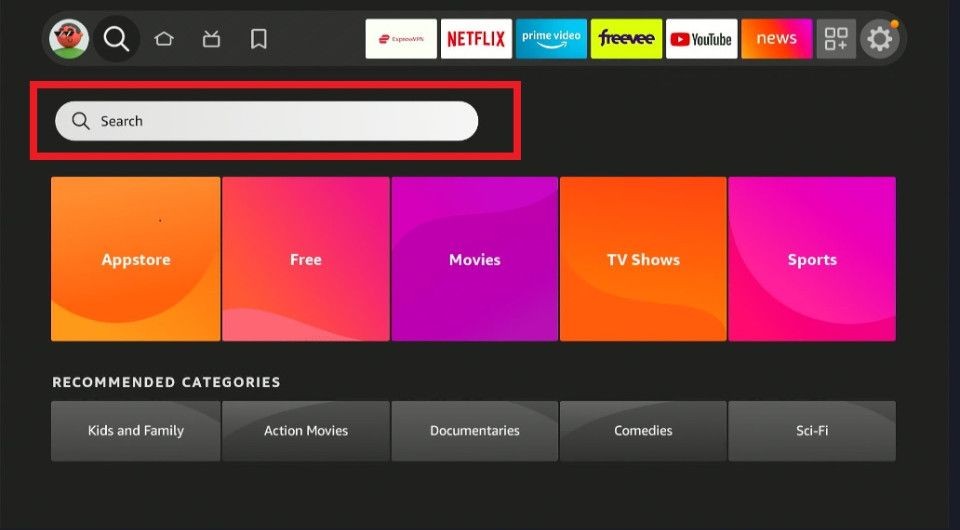 3. Type Cache Cleaner Pro on the Search bar, then click Cache Cleaner Pro from the suggested results.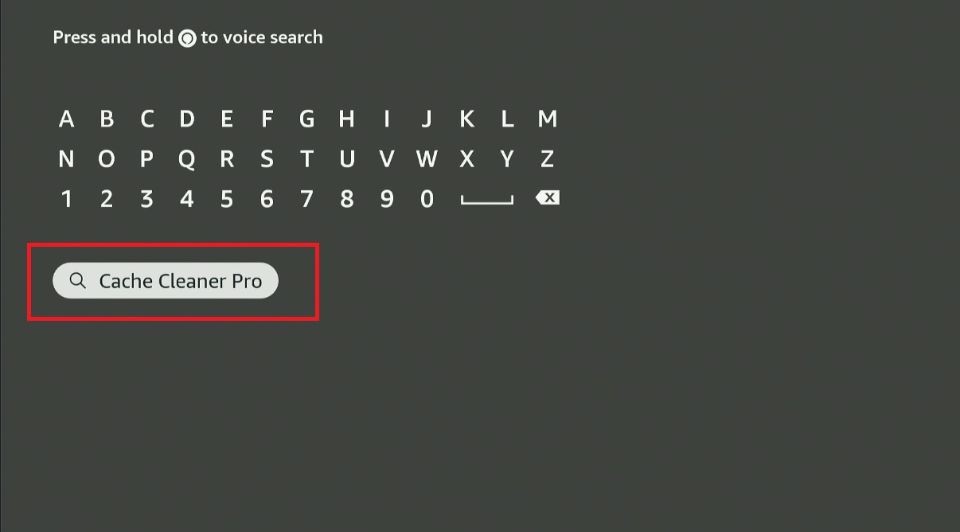 4. Click on the Cache Cleaner Pro tile.
5. Click Download if you have already paid for the app. The app costs $1.99 on Amazon.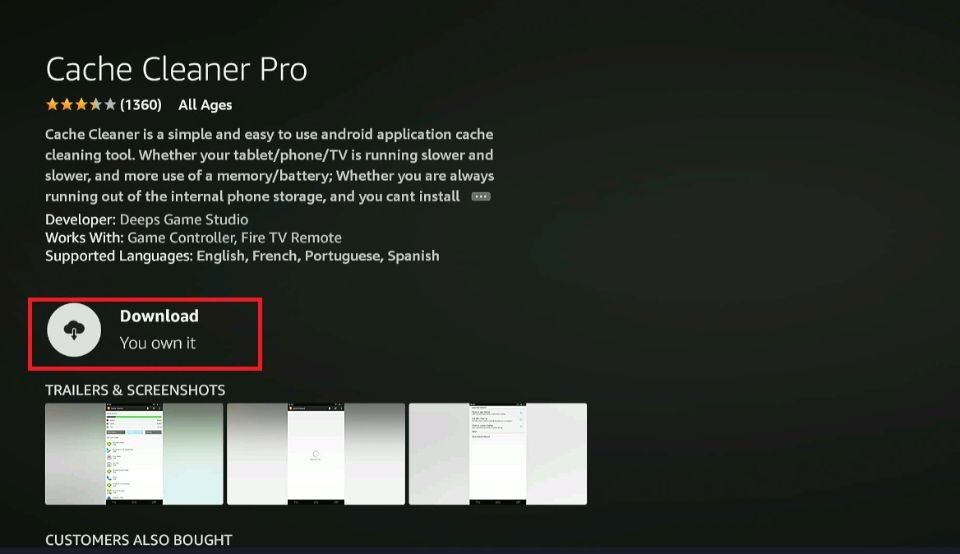 6. Wait for the Cache Cleaner Pro app download and installation to complete.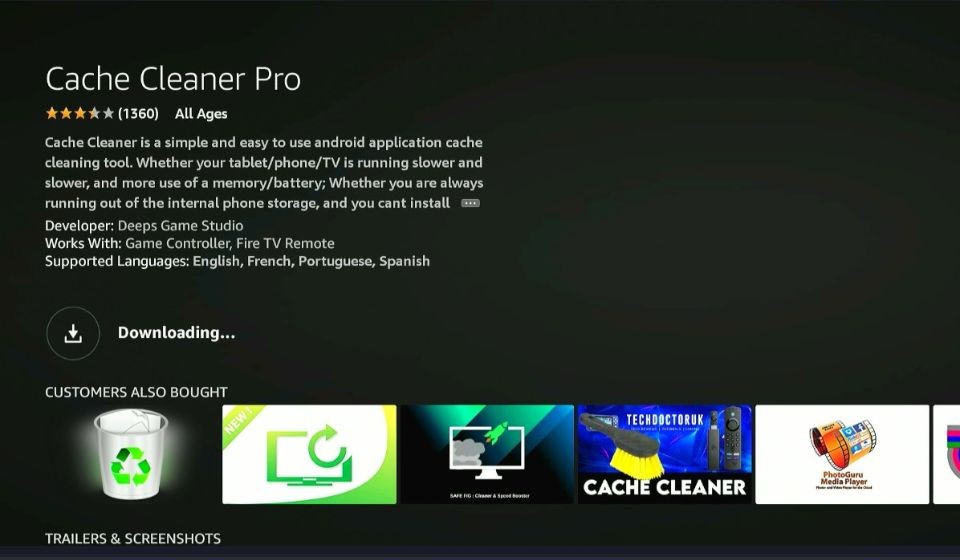 7. Click Open or hold the remote's menu button.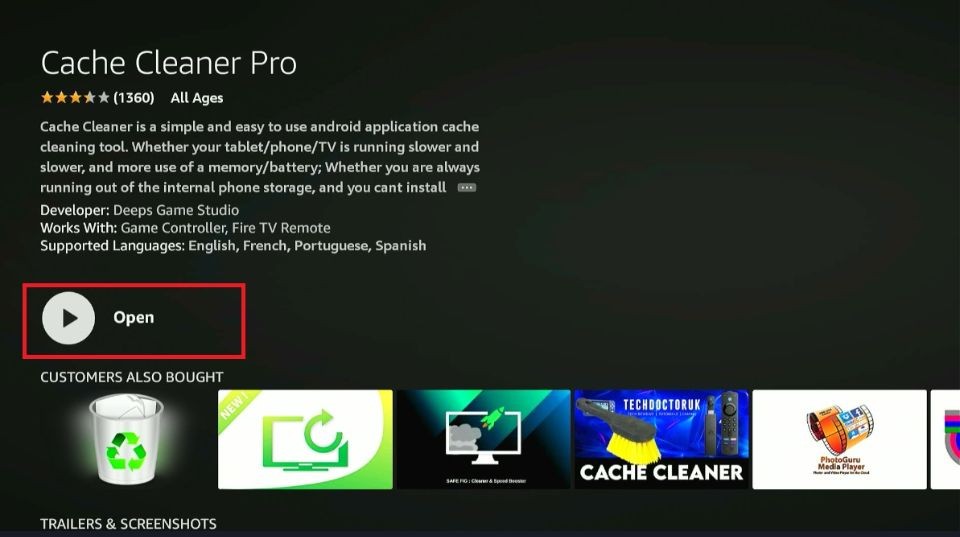 Cache Cleaner Pro is now available on your FireStick.
Wait! It looks like you are all set to start watching your favorite content on FireStick. But have you protected your online identity yet? You are under constant surveillance by the Government and ISP. Free streaming of copyrighted videos may get you into legal trouble.
Thankfully, you can easily avoid online monitoring and safeguard your privacy with a trusted VPN on FireStick. A VPN will hide your IP address and online identity by encrypting your internet connection.
Please note that I am not encouraging you to violate any copyright laws. You should always watch the content available in the public domain. I am simply recommending the use of a VPN to maintain your privacy. You have every right to your privacy, which is constantly being breached these days.
I personally use ExpressVPN and have found it to be the fastest and most secure FireStick VPN. It is also the most streaming-friendly VPN I have ever used. Therefore, I highly recommend getting ExpressVPN for FireStick.
Here is how you can quickly get the ExpressVPN app on FireStick:
Step 1: Click HERE to subscribe to ExpressVPN and enjoy a 49% discount with 3 months of extended service. You are also eligible for a 30-day, full money-return guarantee.
Step 2: Download and install ExpressVPN on FireStick
Choose the Find > Search option on the FireStick home screen on the menu bar.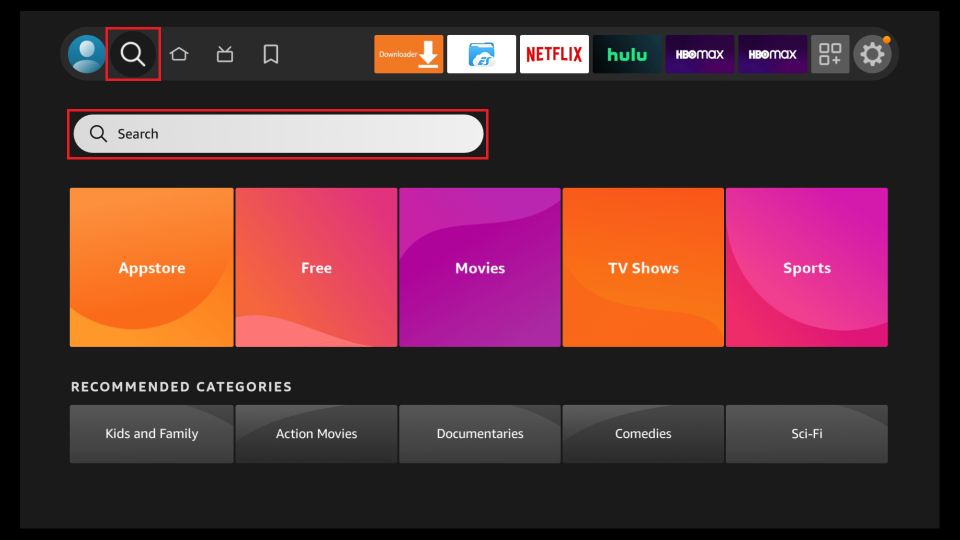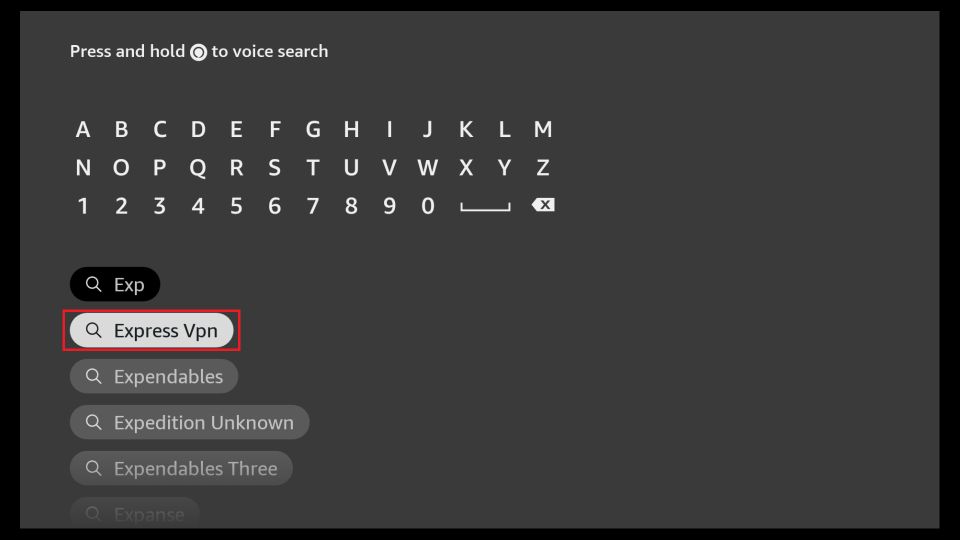 Click the ExpressVPN icon on the following window.

Click Download or Get on the next window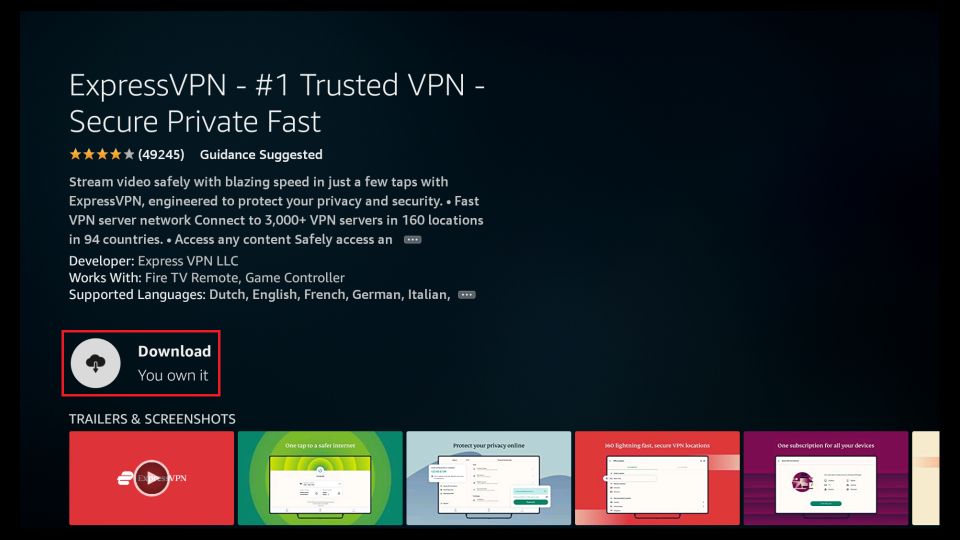 Step 3: Open ExpressVPN once you have downloaded it. Sign in with your account.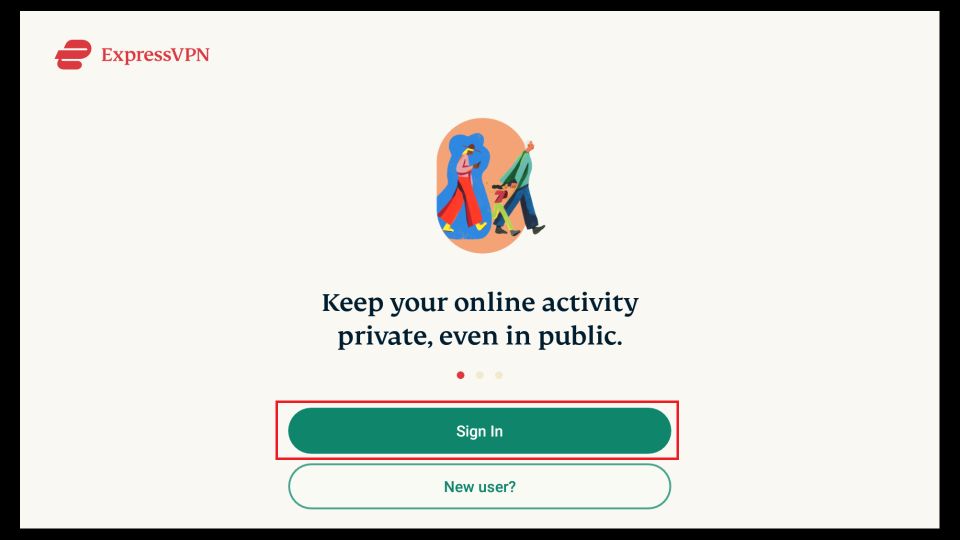 Step 4: Choose a server and click the Connect/Power button

Put your mind at ease now! You have successfully secured your streaming activities with ExpressVPN.
How to Use Cache Cleaner Pro on FireStick
After installing Cache Cleaner Pro on your device, move to the app or create a shortcut on your home screen. A shortcut makes using the Cache Cleaner Pro quick and convenient because you won't have to flip past multiple installed apps. Refer to this comprehensive guide on creating a shortcut on your FireStick home screen.
The Cache Cleaner Pro app will begin by scanning your FireStick files immediately after launch before redirecting you to the home screen. At the top of the home screen is a device memory breakdown showing how much memory and cache your FireStick apps occupy.
The breakdown categorizes data into System, Cache, and Free. The system indicates how much space the apps occupy, while the cache shows the space accumulated figments of information occupy. The Free tab shows how much unoccupied memory space you must install other apps.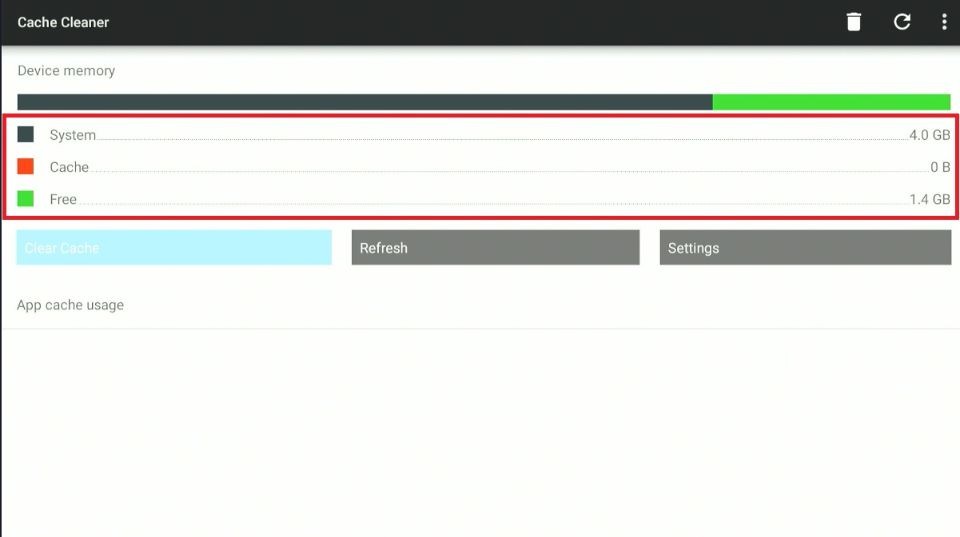 As the name suggests, Cache Cleaner Pro is an app for clearing cache data from your FireStick apps. Remember, the accumulated cache can slow down an app and take up bandwidth, which prevents the app from functioning correctly.
Below the device memory breakdown is a navigation menu with three tabs: Clear Cache, Refresh, and Settings.
Click on the Clear Cache tab to remove cache from apps installed on the FireStick. After clicking Clear Cache, the cache tab under the device memory breakdown should read zero.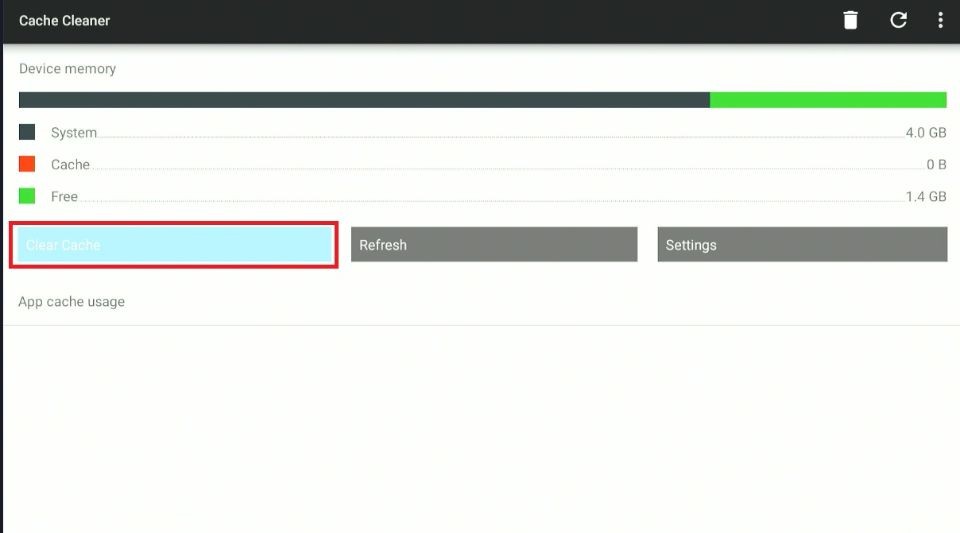 If you prefer to clear the cache per app instead of all apps simultaneously, scroll down the list below the menu. Click on the app whose cache you want to clear.
The app will redirect you to a new window with three sections: the app's name, package installer, and app details. For official apps installed on your FireStick, there will be two options under the package installer window: Clear Data or Clear Cache.
To delete all the information on your FireStick associated with a particular app, click Clear Data.
To delete only the accumulated storage files, click Clear Cache. You can also click the left navigation button on your FireStick remote to clear the cache.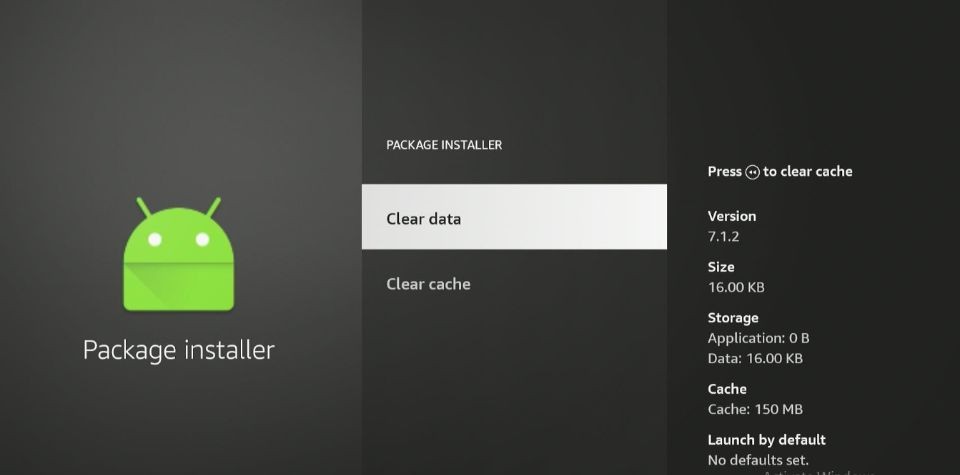 The last section on this page displays various app details like app version, size, storage data, and cache data memory size.
After clearing the cache, you can revert to the home screen by clicking the back button on your FireStick remote.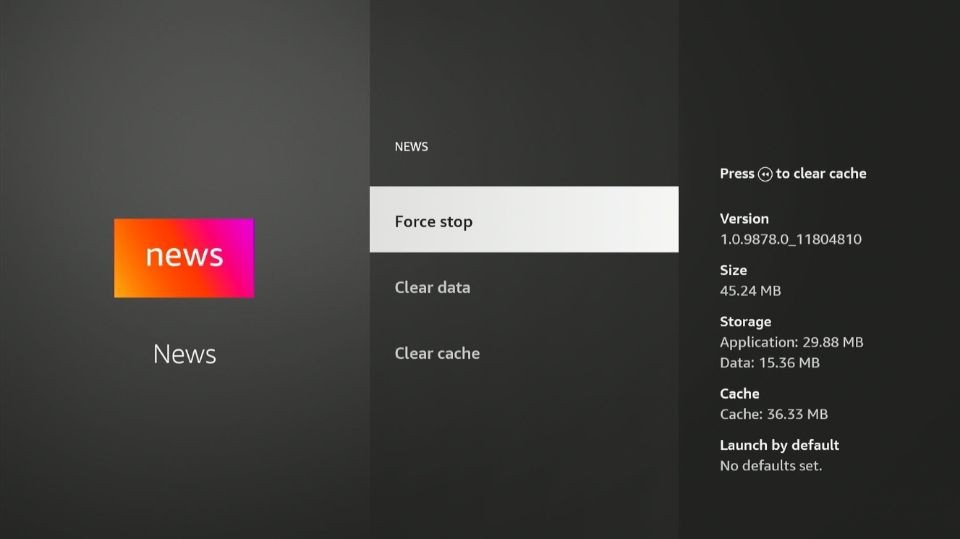 As you navigate the list of apps, you'll see some have a more detailed breakdown and options.
For example, when you click on a third-party app, the package installer window will have options like Permissions, Launch Application, Uninstall, Clear Data, and Clear Cache.
Like the other app, scroll to the bottom of the page and click the Clear Cache tab to delete unwanted storage files.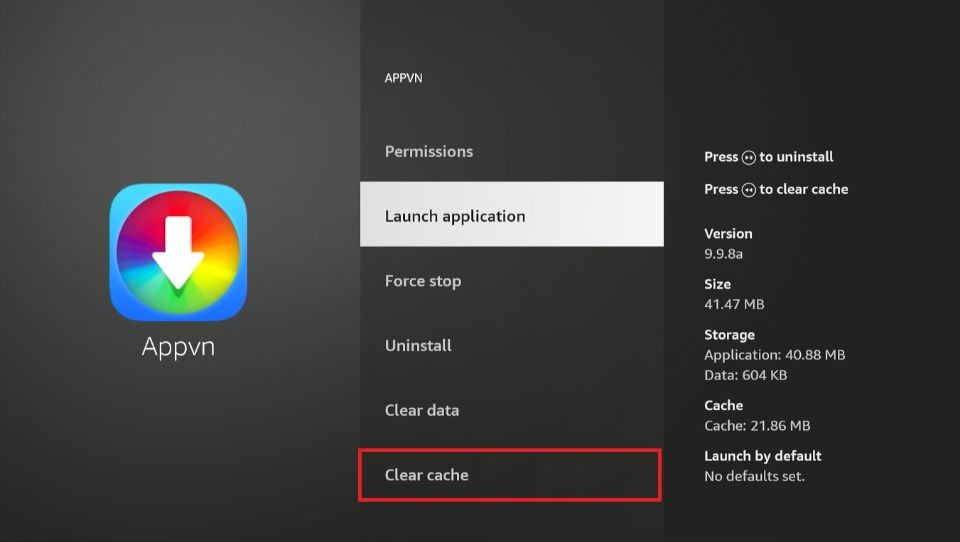 When you revert to the home screen, you'll notice apps have their total memory data displayed below the app's name on the list.
This information is essential for knowing how much space an app is occupying. The more space an app occupies, the more cache it likely has.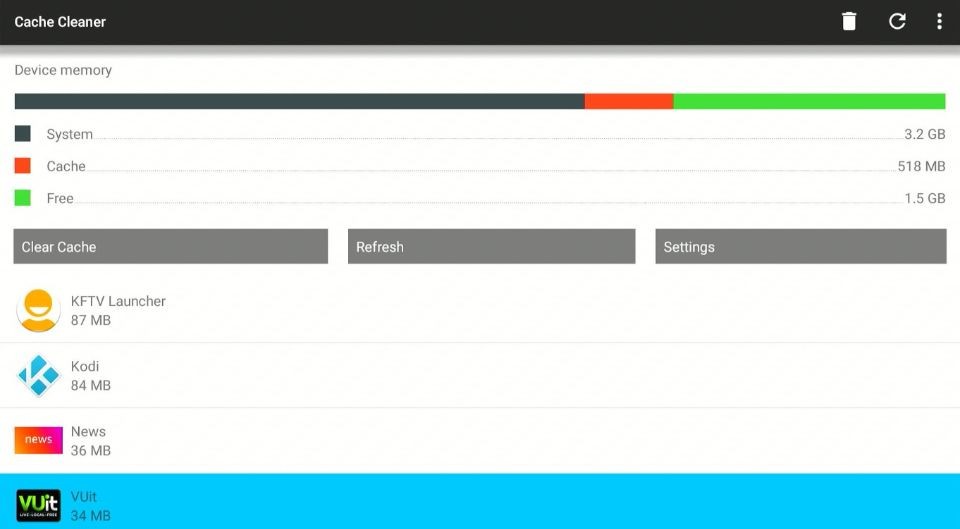 The button after Clear Cache on the menu is Refresh. Click this button to see how much memory you have left after clearing the cache. The last button on the menu is Settings.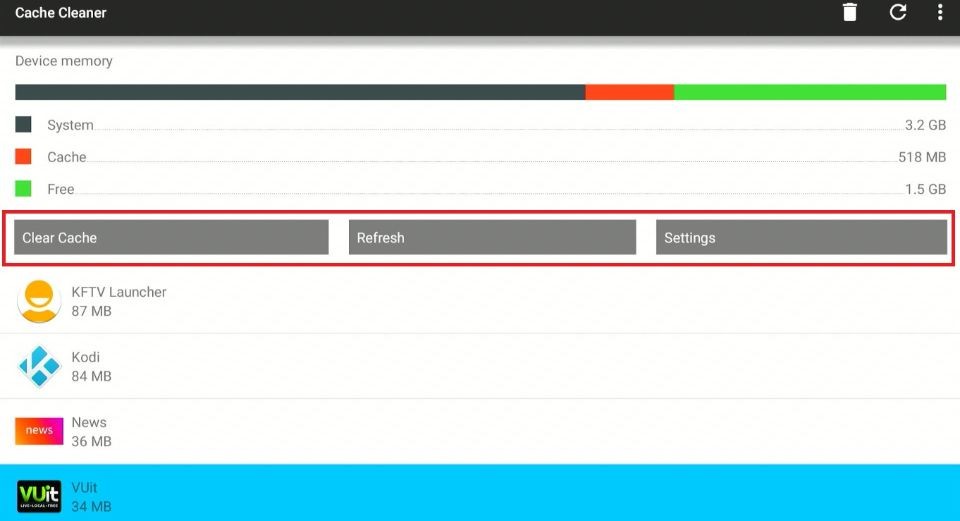 Settings let you set up automatic app commands like cleanup after launching or exiting the app. You can also set up Cache Cleaner Pro to clean up the FireStick system every time you launch the device.

Wrapping Up
Cache Cleaner Pro is an essential app to keep your device's memory clean with enough space. It has a clean, straightforward interface with three navigation buttons: Clear Cache, Refresh, and Settings. Clear Cache Pro allows you to clean up cache from all apps at once or clear it per app. It also has a detailed breakdown of how much memory an app occupies, so you can decide which apps to target for cleanup.
It only takes a few simple steps to install Cache Cleaner Pro on FireStick. Have you installed this app on your FireStick? Share your experience in the comments below.
Related: