In this guide, I'll show you how to install and use Background Apps & Process List on FireStick. These steps work on any Amazon Fire TV product, including TVs with built-in FireOS, Fire TV Cube, Fire Stick Lite, Fire Stick 3rd generation, Fire Stick 4K, and Fire Stick 4K Max. Before diving into the installation process, we'll cover what the app offers and why it's worth it.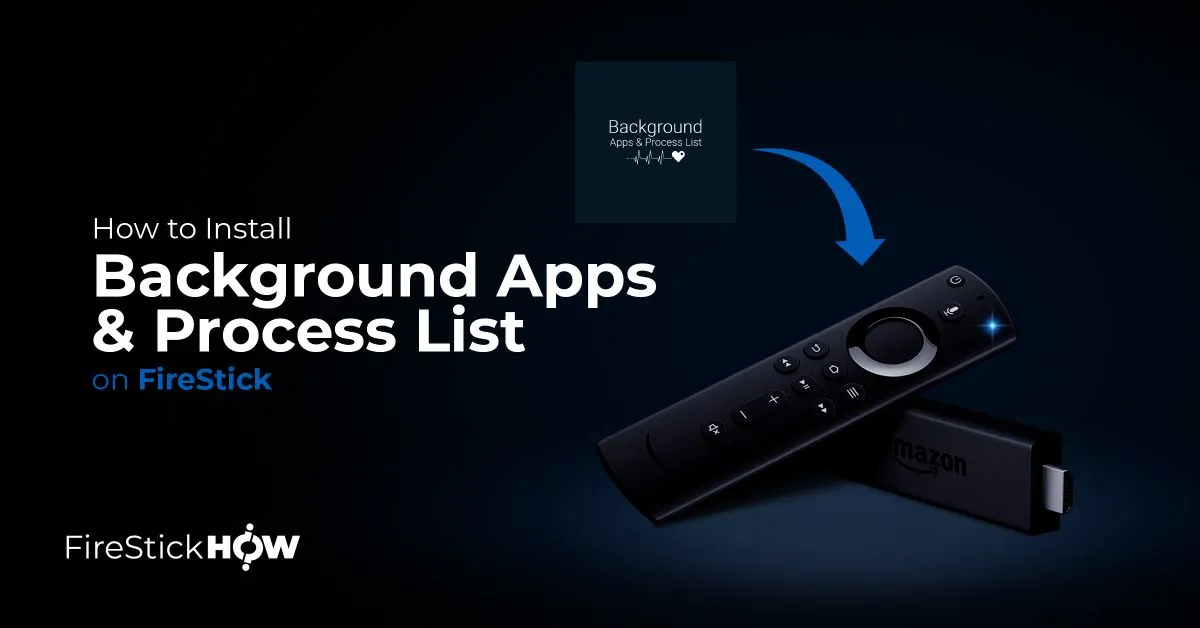 What Is Background Apps & Process List?
Do you want to save power, optimize your FireStick's Random Access Memory (RAM), and experience seamless operation when using the device? Managing your background apps is a good place to start. However, with the many apps installed on your device, it is cumbersome and time-consuming to force close or restrict multiple apps one by one.
Fortunately, there is an app that can simplify your app management, and the best part is this app is available on the Amazon App Store. Let me introduce you to the Background Apps & Process List app this app lets you force close apps running in the background on your device. It is compatible with Fire TV devices, Android TV, smartphones, and tablets.
Are you still wondering why the app deserves a place in your limited FireStick space? Force closing apps and restricting the number of apps that boot at startup has the following benefits:
Saves device power
Prolongs battery life
Help keep the device temperature in check
Optimizes your device's RAM
Reserves the processing power of your device
Streamlines gaming experience
Minimizes device issues such as freezing or slowing down
I like the app because it makes managing the system and installed apps easier through multiple selections. It is also easy to navigate, with an introductory tutorial video to get you started. Moreover, it's a worthy competitor of the Task Killer app in the battle for the best utility apps for FireStick.
Attention FireStick Users: Read before you continue
Your government and ISP are probably monitoring your streaming activities using your IP address 3.17.249.235 (exposed to all). You may get into serious legal trouble for streaming copyrighted videos on FireStick. 
I strongly recommend getting a trusted VPN for FireStick to hide your IP address and protect your online identity.
I use ExpressVPN on all my devices as it is the most secure, fastest, and easy-to-use VPN. It comes with an unconditional 30-day money-back guarantee, and you get 3 free months with the yearly plan.
Don't miss out on the peace of mind and online security ExpressVPN provides.
Read: How to Install & Set up the best VPN on FireStick.
Features of Background Apps & Process List
Below are the top highlights of the app:
The app lets you force close the apps running in the background.
It is compatible with multiple devices, including Fire Stick, phones, and tablets.
You'll save your device's RAM and processing power, thus optimizing its speed.
It lists all your apps, including system and user apps.
The app lets you manage if it opens when you turn on your device.
It lets you switch the app layout as you please.
Let's now dive into the installation steps.
How to Install Background Apps & Process List on FireStick
Background App & Process List is free on the Amazon App Store. The installation process is straightforward. Here is the step-by-step process to install the app on FireStick:
1. Click the magnifying glass icon on your Fire Stick home screen.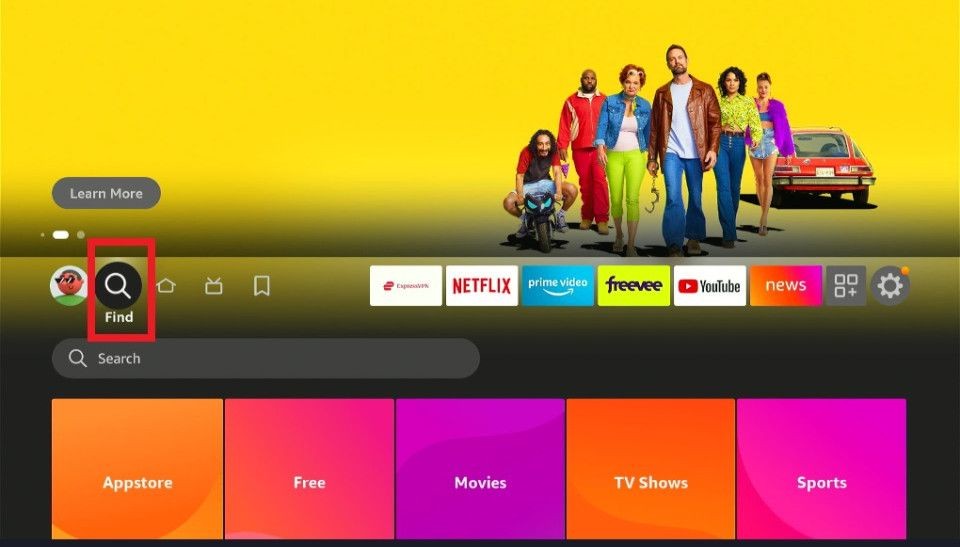 2. Click Search.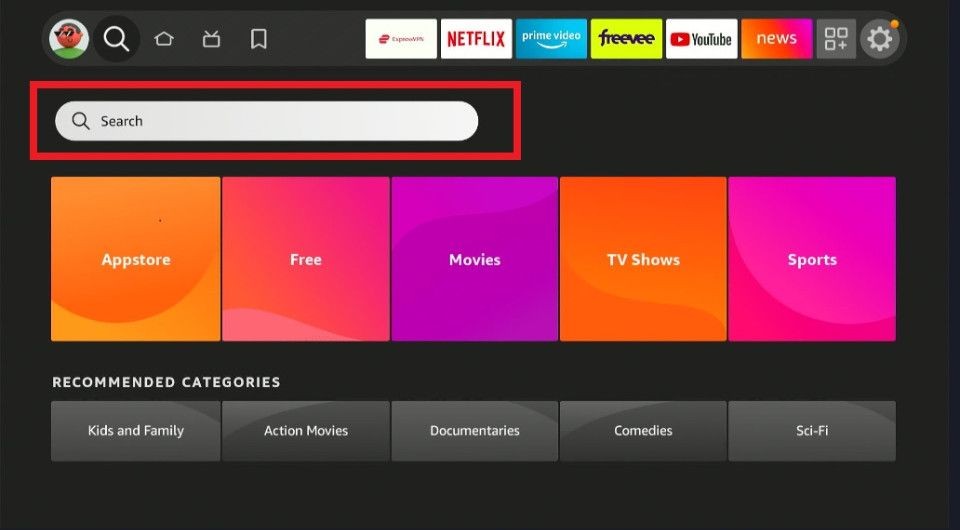 3. Type Background Apps And Process List using the remote and the keyboard on the FireStick Screen and choose Background Apps & Process List on the suggested results.
Alternatively, you can press the voice button on the Fire Stick remote and voice the words Background Apps & Process List.
4. Click on the Background Apps & Process List tile under Apps & Games.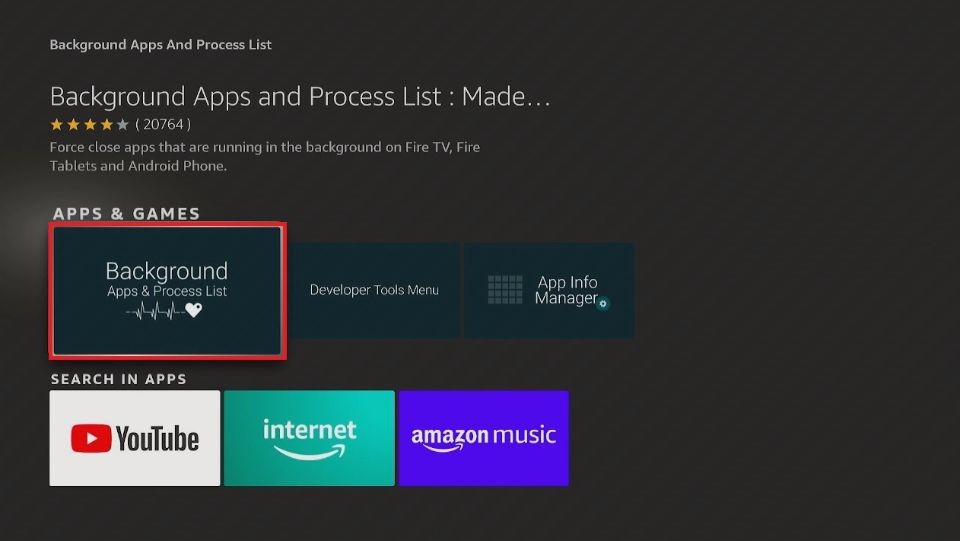 5. Click Get.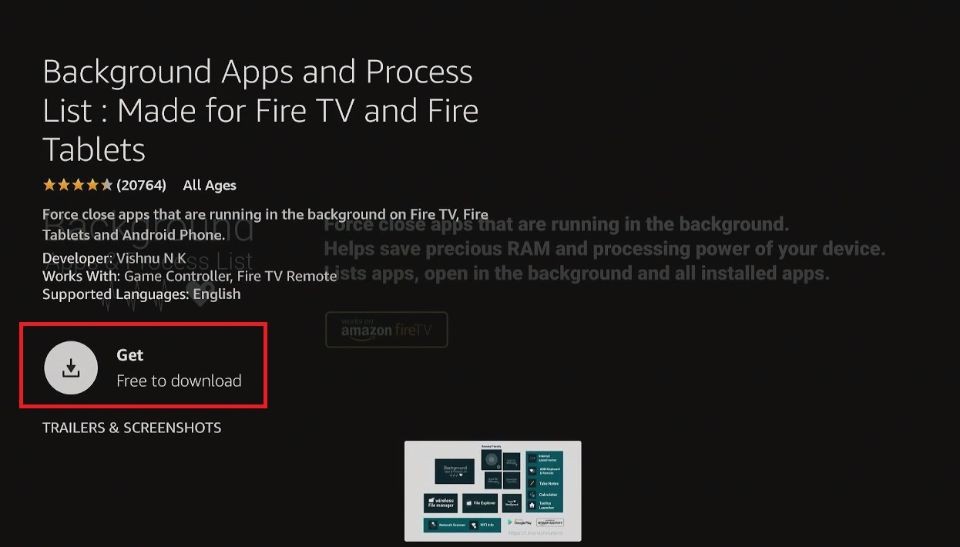 6. Give the app a few moments to download and install.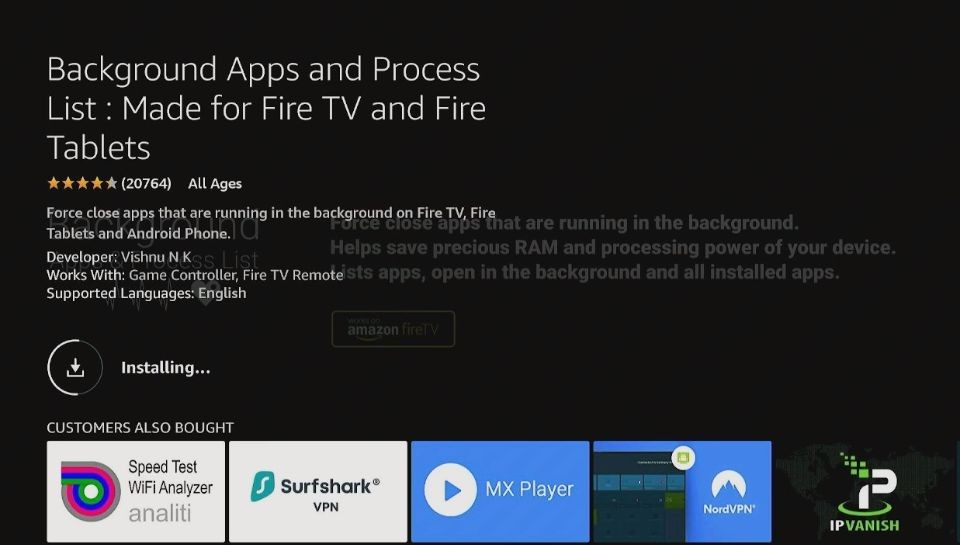 7. Once the download is finished, click Open to launch the app.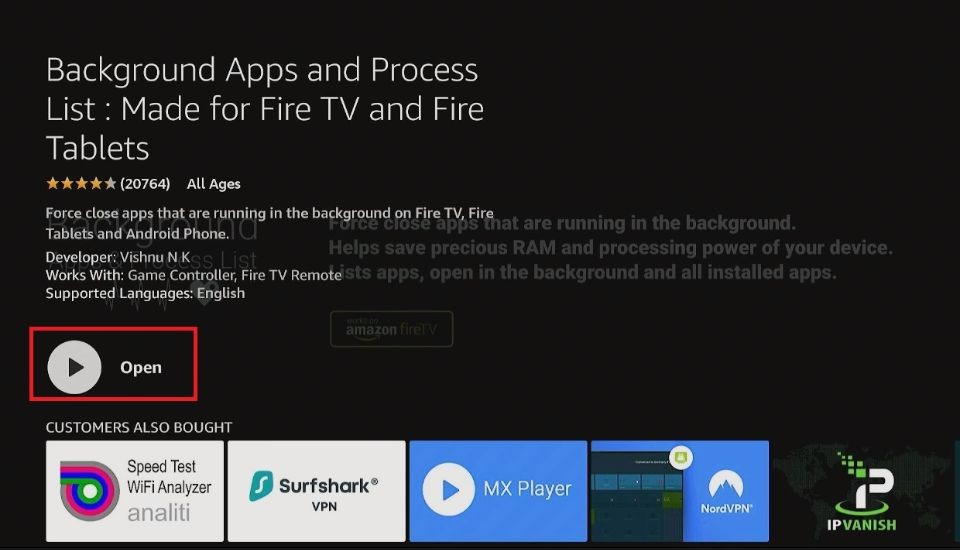 This is how you install the Background Apps & Processes List app on FireStick.
Wait! It looks like you are all set to start watching your favorite content on FireStick. But have you protected your online identity yet? You are under constant surveillance by the Government and ISP. Free streaming of copyrighted videos may get you into legal trouble.
Thankfully, you can easily avoid online monitoring and safeguard your privacy with a trusted VPN on FireStick. A VPN will hide your IP address and online identity by encrypting your internet connection.
Please note that I am not encouraging you to violate any copyright laws. You should always watch the content available in the public domain. I am simply recommending the use of a VPN to maintain your privacy. You have every right to your privacy, which is constantly being breached these days.
I personally use ExpressVPN and have found it to be the fastest and most secure FireStick VPN. It is also the most streaming-friendly VPN I have ever used. Therefore, I highly recommend getting ExpressVPN for FireStick.
Here is how you can quickly get the ExpressVPN app on FireStick:
Step 1: Click HERE to subscribe to ExpressVPN and enjoy a 49% discount with 3 months of extended service. You are also eligible for a 30-day, full money-return guarantee.
Step 2: Download and install ExpressVPN on FireStick
Choose the Find > Search option on the FireStick home screen on the menu bar.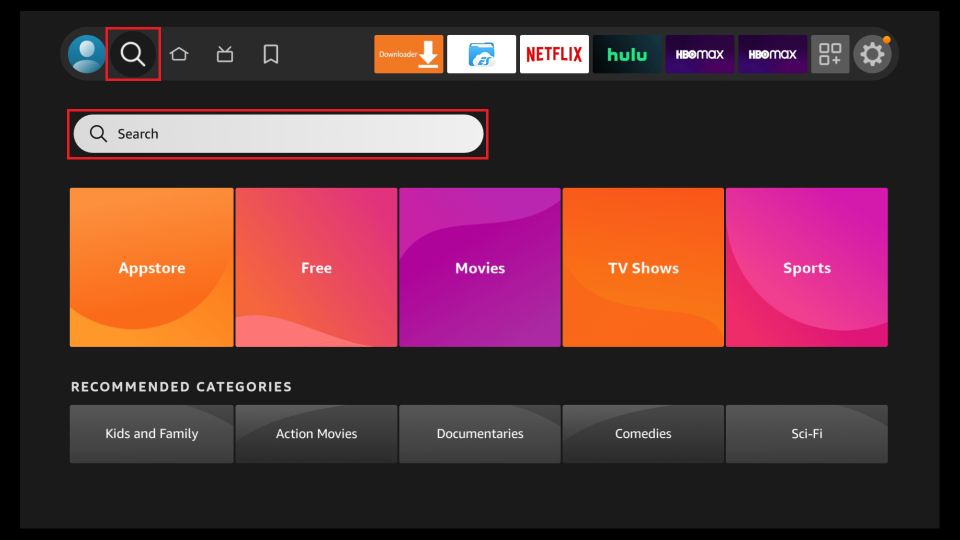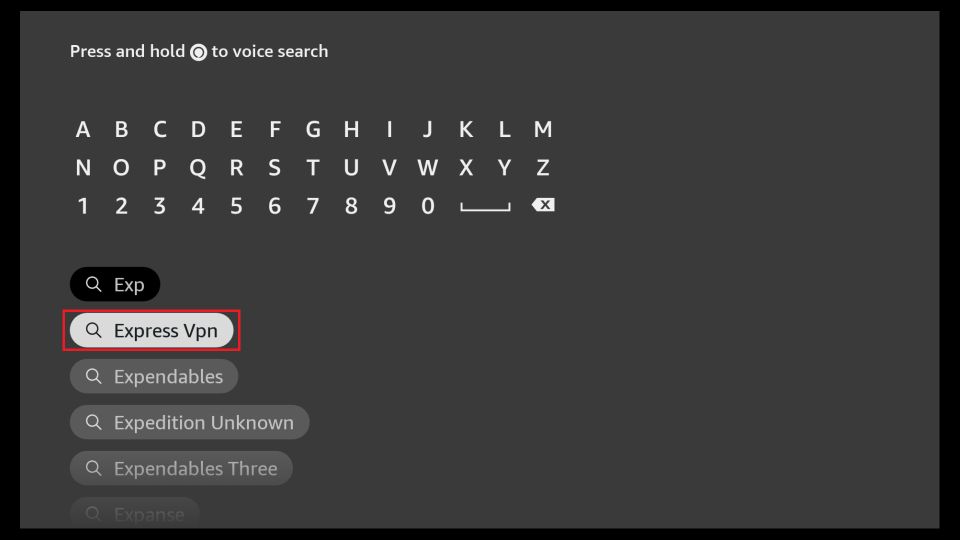 Click the ExpressVPN icon on the following window.

Click Download or Get on the next window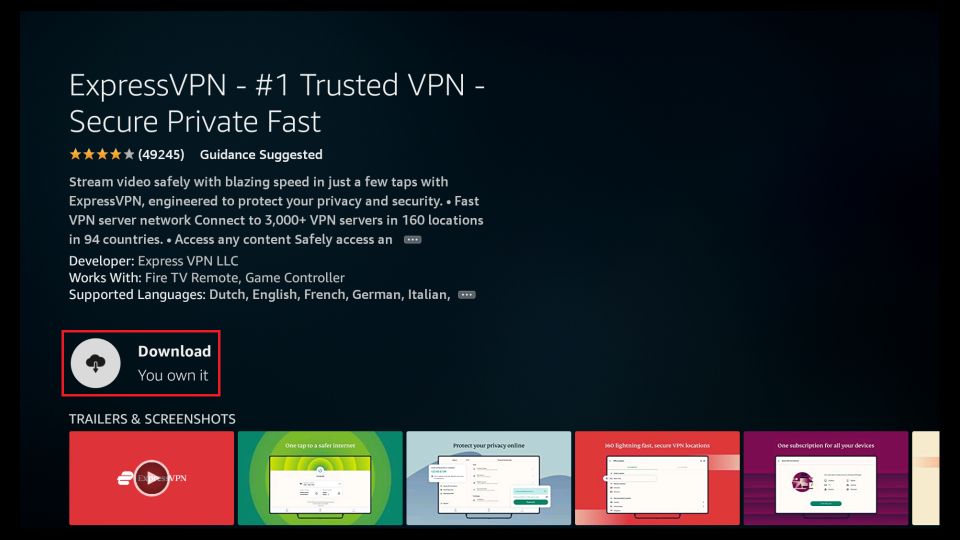 Step 3: Open ExpressVPN once you have downloaded it. Sign in with your account.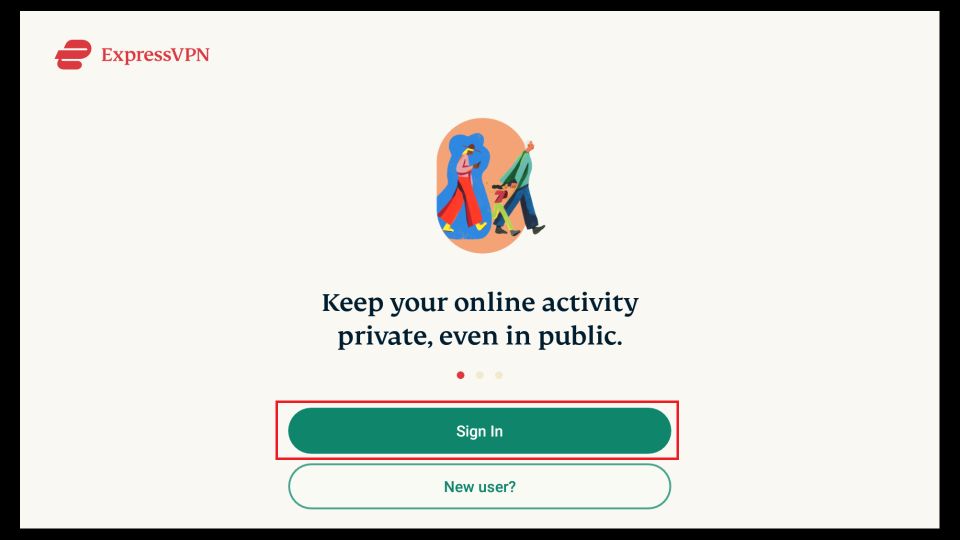 Step 4: Choose a server and click the Connect/Power button

Put your mind at ease now! You have successfully secured your streaming activities with ExpressVPN.
Overview of the Background Apps & Process List App
The Background Apps & Process List app is easy to use, with a straightforward user interface. However, if you intend to use it regularly, it would be better to add the app to your FireStick home screen first. Creating an app shortcut on FireStick saves you time by giving you easy access to your favorite apps.
The developer makes it easy to use the app through a detailed guide on the home screen and an embedded video that leads to his YouTube channel. Use the up-down arrow on your remote to scroll down the instructions.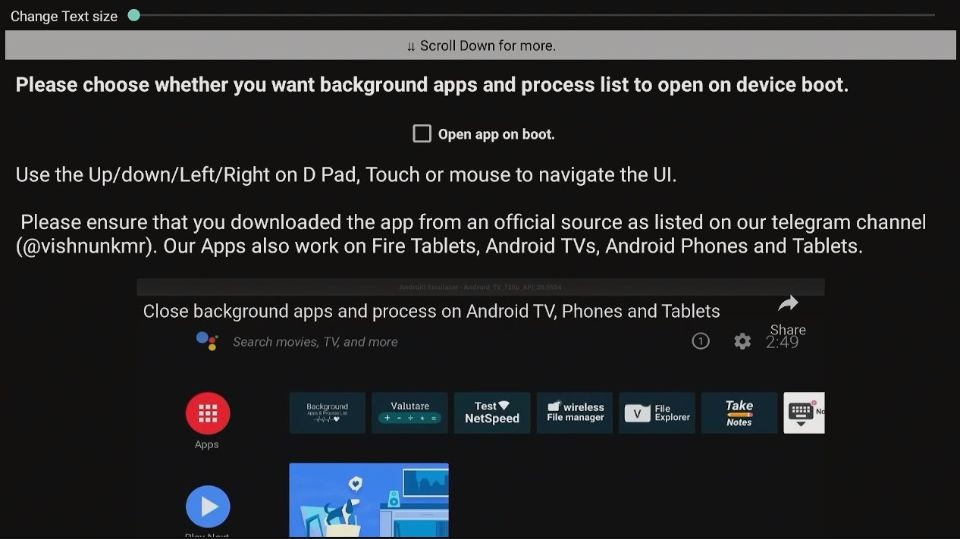 This app's home screen consists of eleven categories in the main menu. These are:
Refresh
Close Multiple
System/ User
Close all apps
Switch Layout
Preferences
Intro
Package Info
Save
Deselect all
Select remaining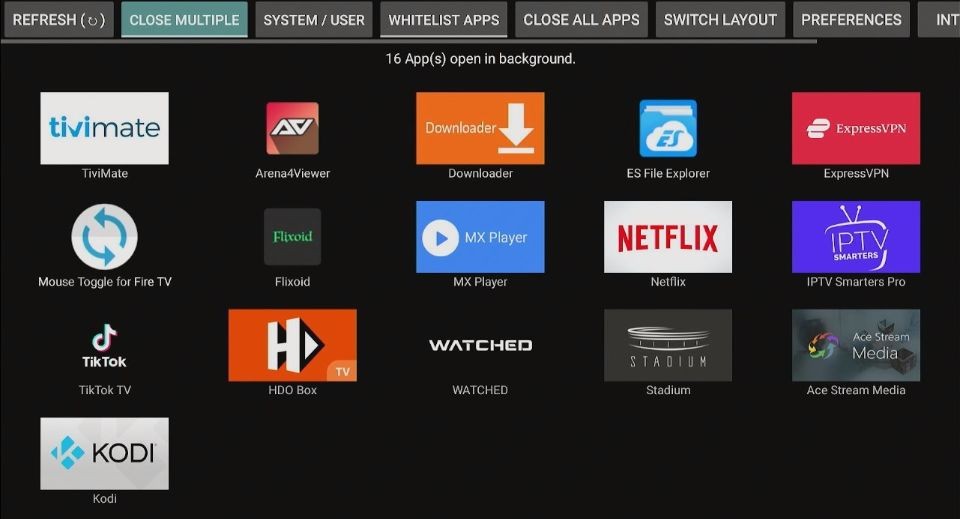 To force close an app, do the following:
1. Click System/User.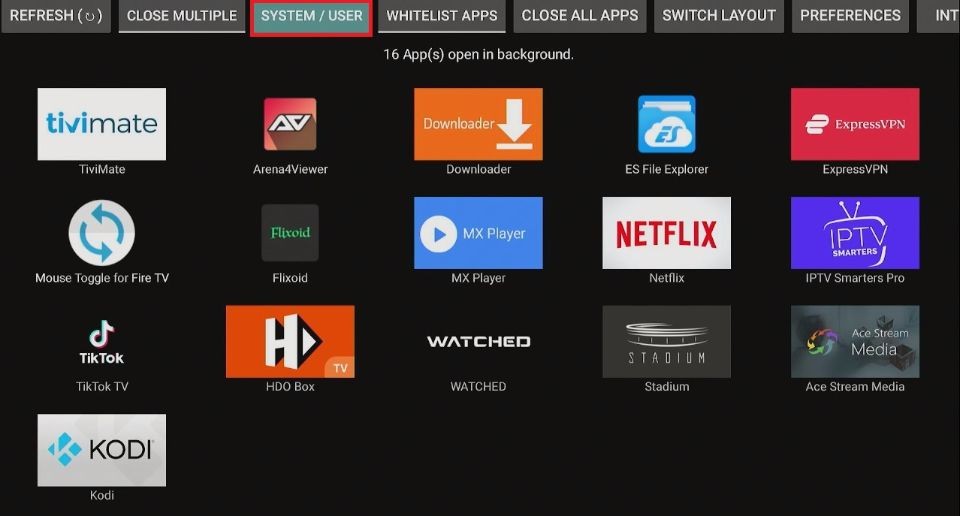 2. Select the app you want to force close.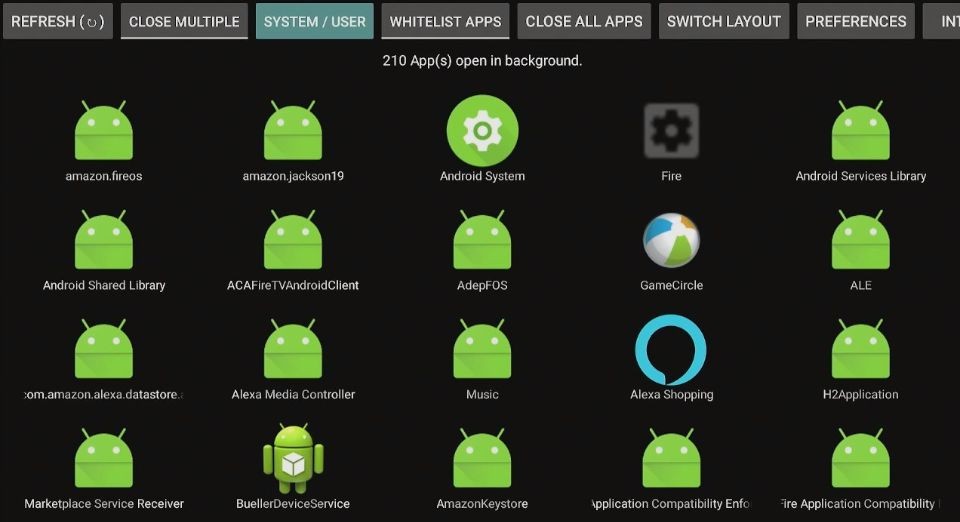 3. Select Force Stop on the pop-up menu.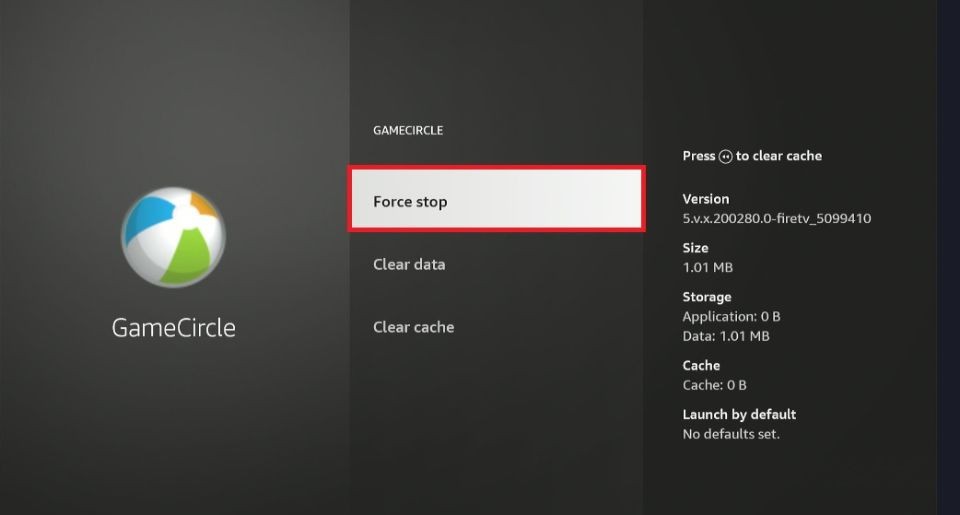 While the app provides an option to close multiple apps, you'll need to click force stop for every app, one after the other, until you have closed all of them. To achieve that, follow the below steps:
1. Click Close Multiple. You'll see the number of apps currently running in the background of your device.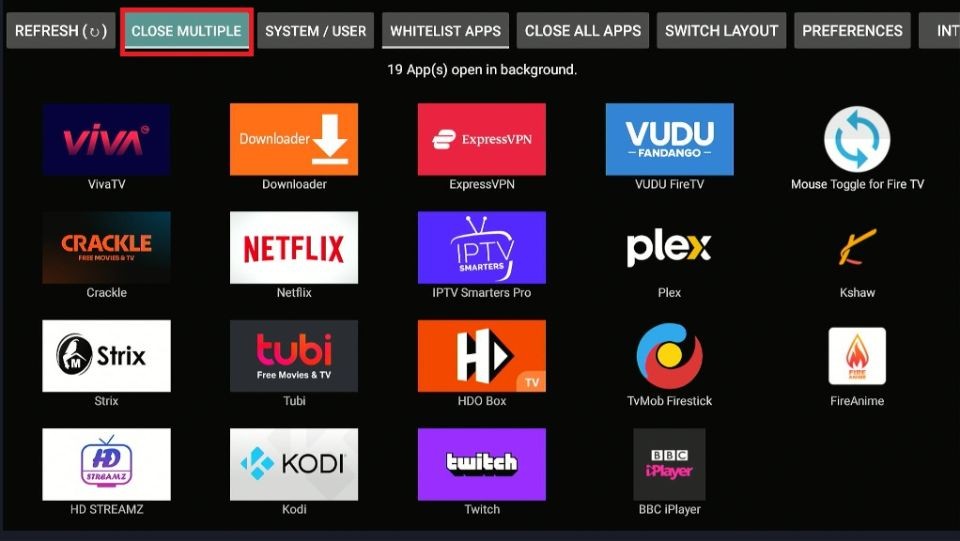 2. Click Close Selected Apps.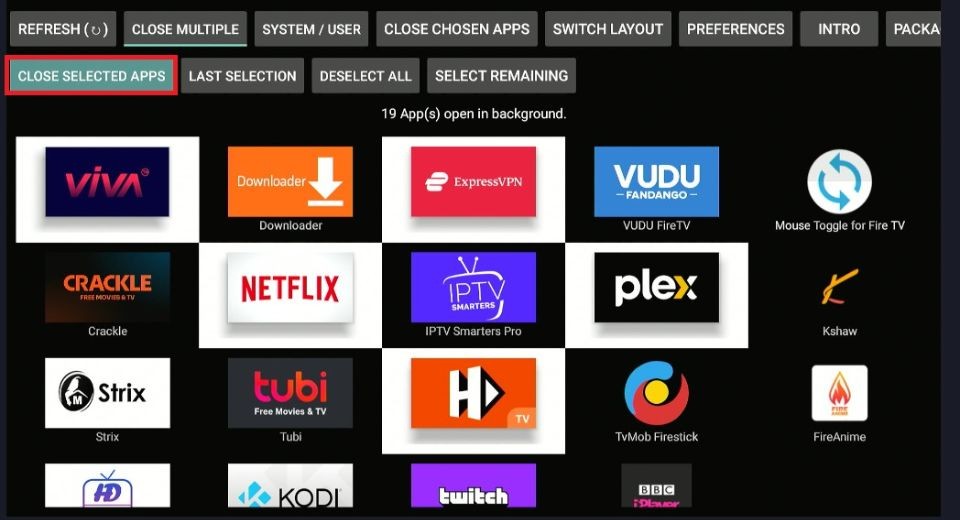 3. The menu to manage the first app appears. Select Force Stop.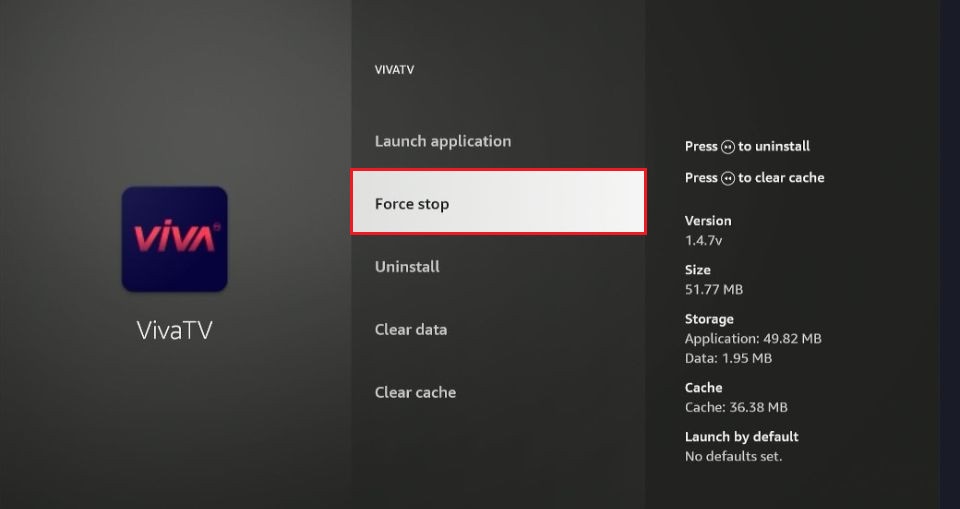 4. The second app appears. Repeat the same process until you have closed all the apps.
Be careful when forcing stop system apps because it may affect your device's efficiency. To check the apps still running in the background, click Refresh. Other functions that you can achieve with the Background Apps & Process List app include the following:
Giving app permissions
Launching an app
Uninstalling an app
Clearing data and cache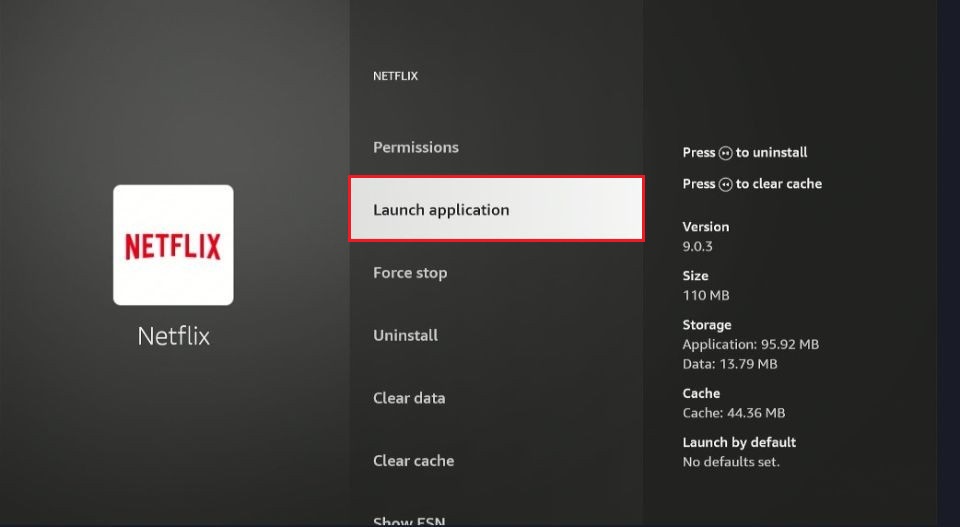 The Preference tab lets you enable or disable the app to open when you turn on the FireStick. Additionally, you can enable or disable quick app shortcuts. Lastly, the Switch Layout option lets you organize your apps as you please. For example, you can arrange them in a grid or a list layout.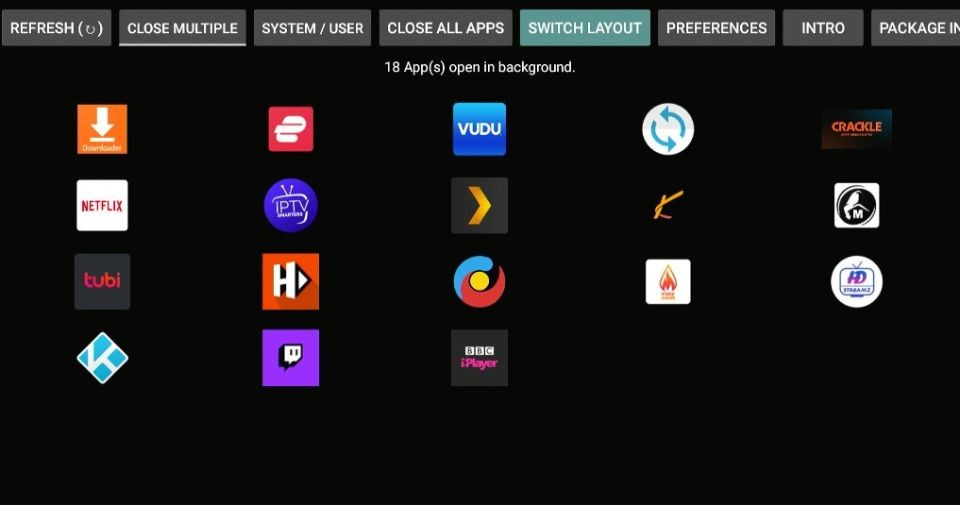 Wrapping Up
The Background Apps and Process List is a utility app that lets you manage the system and installed apps on your Fire Stick. You can force stop an app, grant or deny permissions, clear cache and data or uninstall it using this app. Additionally, the app lets you close multiple apps to stop them from running in the background. It is a worthy app that helps optimize your device's performance.
I hope you've learned how to install and use Background Apps & Process List on FireStick. Please let us know in the comment section if you have any comments or concerns about the app.
Related: