In this post, I will discuss how to install and use the Britbox on FireStick. I will also mention the steps to subscribe to the service and set up your Britbox account. Lastly, I have a few common FAQs regarding the topic. You can utilize the steps on all FireOS gadgets like FireSticks, Fire TVs, and more.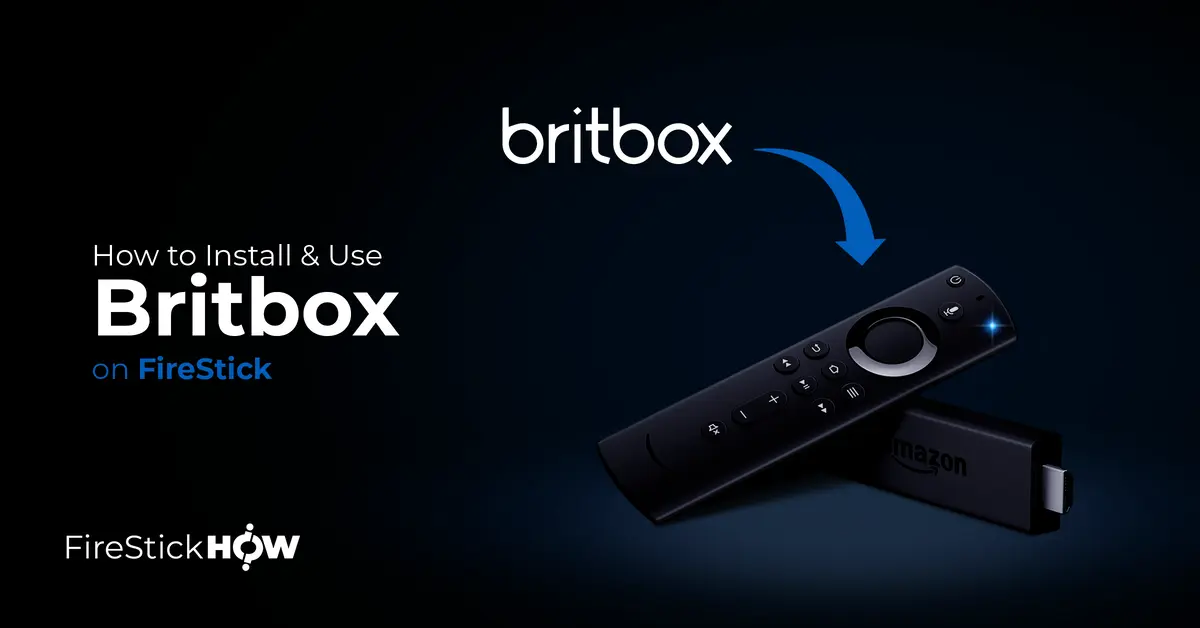 What is Britbox?
Britbox is a subscription-based platform that contains British shows, films, series, documentaries, and more. It was released to the public in 2020.
The app features exclusive series and new content directly from the UK. It is an excellent platform for finding trending and exclusive British content under a single roof. Moreover, Britbox provides access to special live-streamed events, and new episodes are uploaded on the same day they air in the UK.
The Britbox app is easy to understand and use. It allows you to save your favorite shows in the Watchlist section and download content for offline viewing. Furthermore, the app also provides personalized recommendations based on your watch history.
You can use Britbox anytime, anywhere, across multiple devices like Fire TVs, Roku, Apple TVs, iOS, Androids, and more.
Attention FireStick Users: Read before you continue
Your government and ISP are probably monitoring your streaming activities using your IP address 3.17.249.235 (exposed to all). You may get into serious legal trouble for streaming copyrighted videos on FireStick. 
I strongly recommend getting a trusted VPN for FireStick to hide your IP address and protect your online identity.
I use ExpressVPN on all my devices as it is the most secure, fastest, and easy-to-use VPN. It comes with an unconditional 30-day money-back guarantee, and you get 3 free months with the yearly plan.
Don't miss out on the peace of mind and online security ExpressVPN provides.
Read: How to Install & Set up the best VPN on FireStick.
Features of Britbox
Britbox offers a wide variety of British documentaries, series, mysteries, lifestyles, comedies, and more under one roof. Here are some mindblowing features of Britbox:
The app is simple and user-friendly.
Britbox produces its exclusive content.
It provides quick access to newly released episodes.
You can access Britbox via smart TVs, smartphones, tablets, browsers, and more.
How to Subscribe to Britbox?
To fully enjoy the perks and features of Britbox, it's vital to subscribe to the service. A subscription will ensure exclusive access to all the available series, new episodes, and special live-streamed events. Here is how a new user can get a Britbox subscription:
1. First, visit https://www.britbox.com using a web browser. Next, press the Start Watching Now button at the bottom of the screen.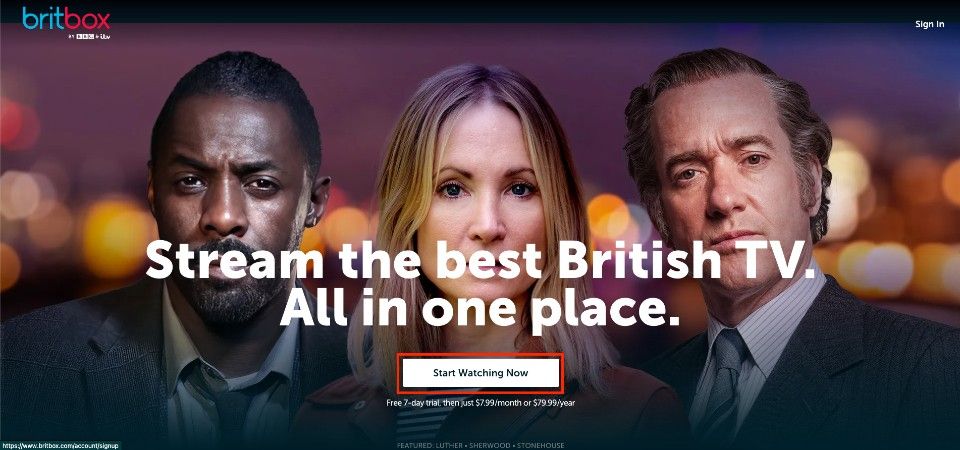 2. A Create Your Account page will immediately load. To register on the site, first press the Email address tab. Then, enter an eligible email address and hit Continue.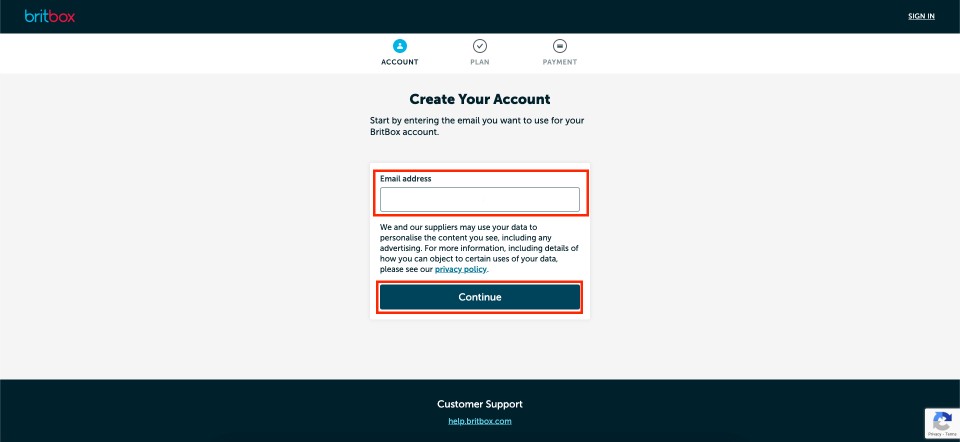 3. Now, fill in essential details like First name, Last name, and Password. Lastly, click on Create Account.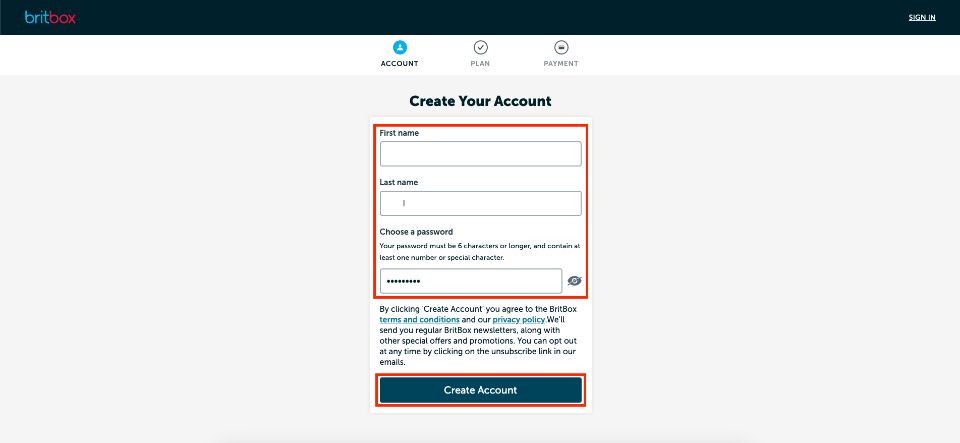 4. After that, you have to choose your subscription plan. The Britbox service offers two plans, namely Annual and Monthly. I am selecting the Annual option, which costs $79.99.
Once you finalize the package, press the Continue With Annual Plan option.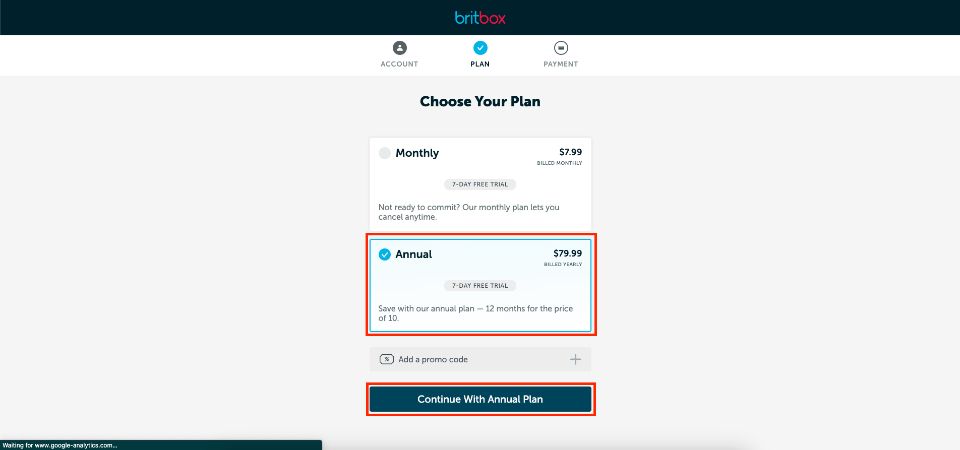 5. Next, you have to enter your card details for billing. So, correctly fill in the Cardholder Name, Card Number, Expiry Date, Post Code, and Security Code tabs.
Then, press the Start Free Trial tab.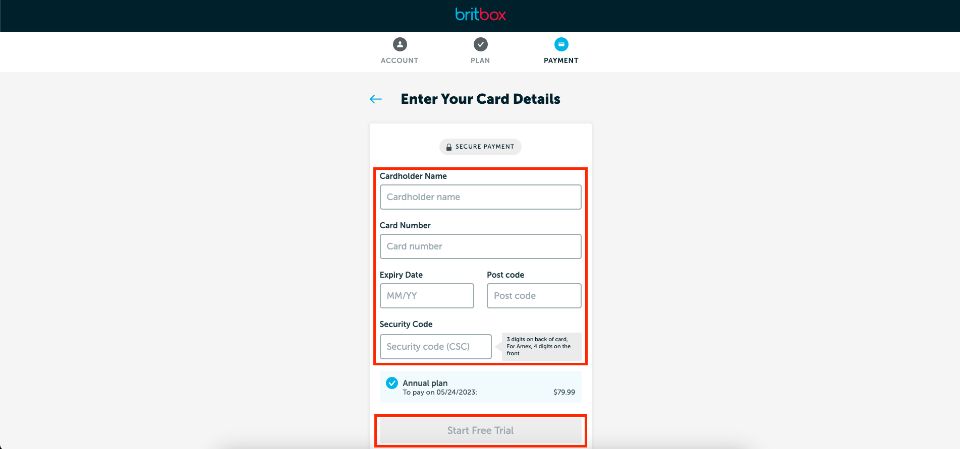 6. And that's a wrap. You've successfully subscribed to Britbox, and all the content is now available at your fingertips.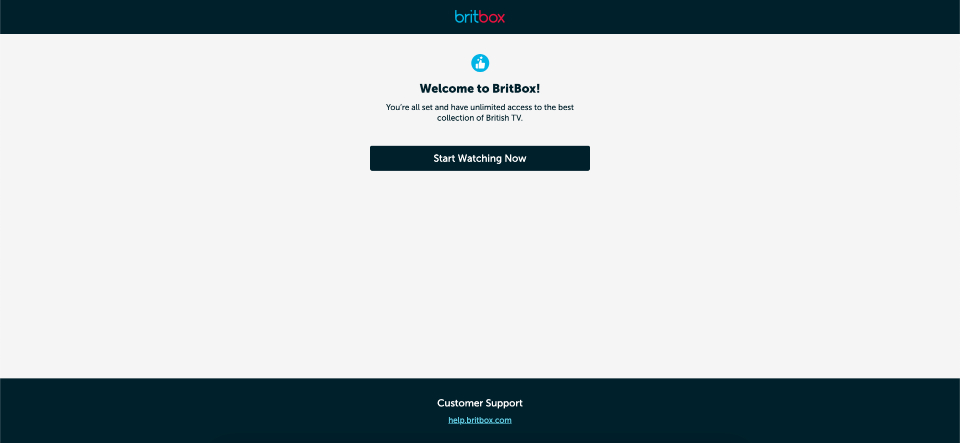 How to Install Britbox on FireStick
Now that you've got access to all the exclusive series available on Britbox, it's time to get the app on your FireStick. Britbox will surely alleviate your movie-night experience. Luckily, the application is listed on the official Amazon Store. As a result, you can install it in no time.
1. Power up your Fire TV and go to the main menu. Then click the Magnifying Glass icon on the top-left corner of the display.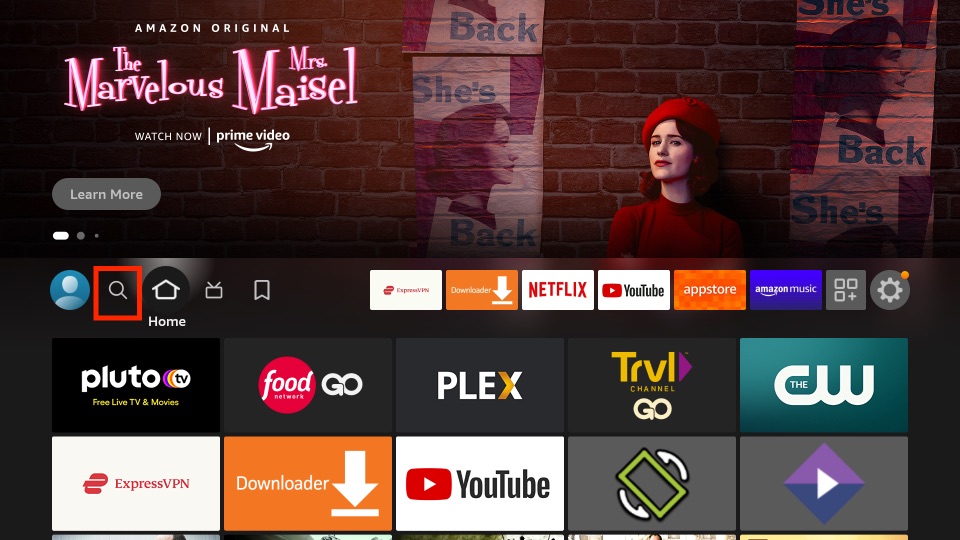 2. The Find menu will load. Press the Search bar at the top to look for the Britbox app.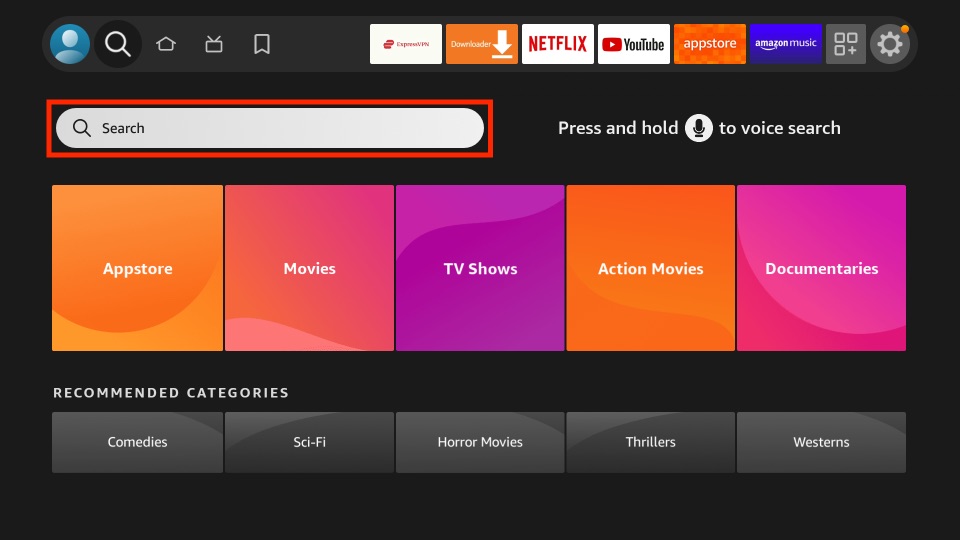 3. Immediately, a keyboard will appear on the screen. Using the virtual keys, enter Britbox in the search field. Then, maneuver down and select Britbox from the suggested searches.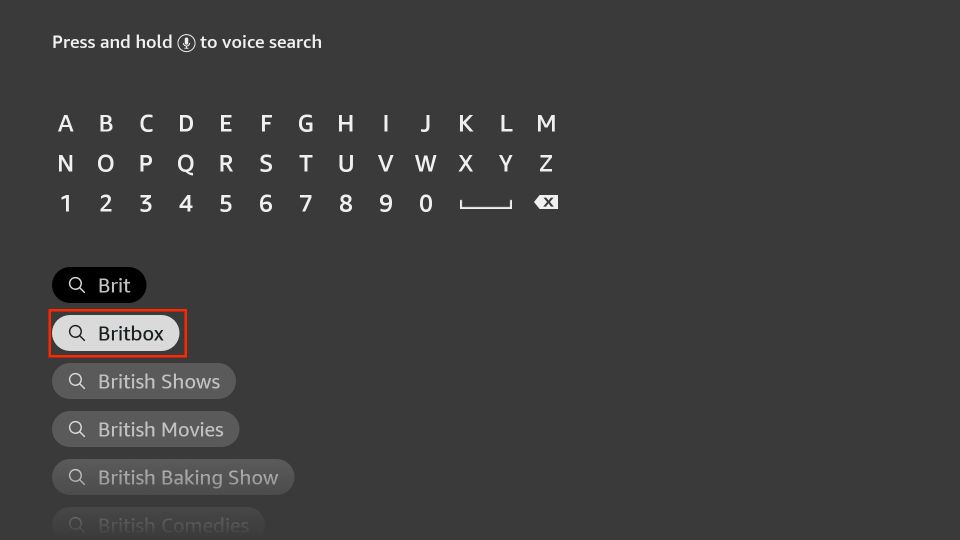 4. All the relevant search results will quickly appear. Scroll to the App & Games section and select Britbox.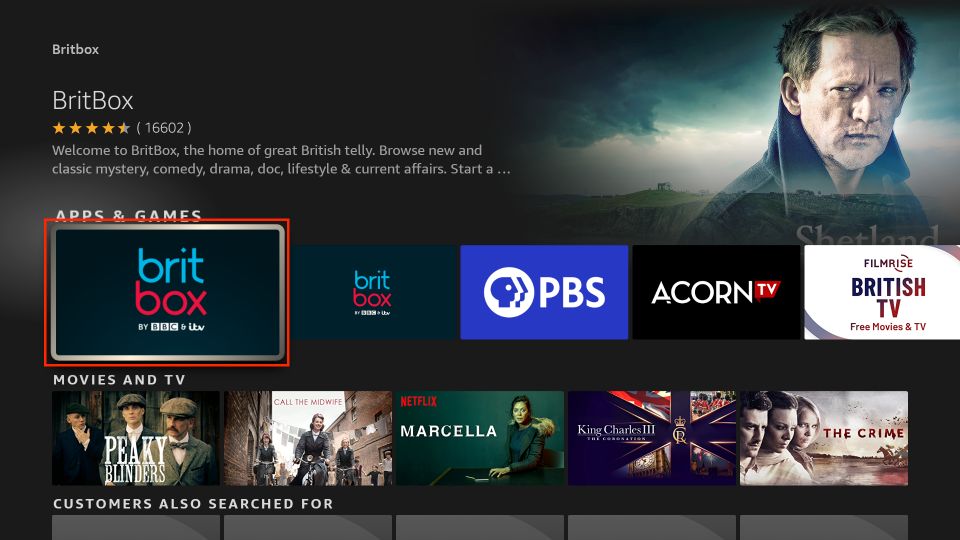 5. The application's dashboard will load. Press the Get icon to start downloading it on FireStick.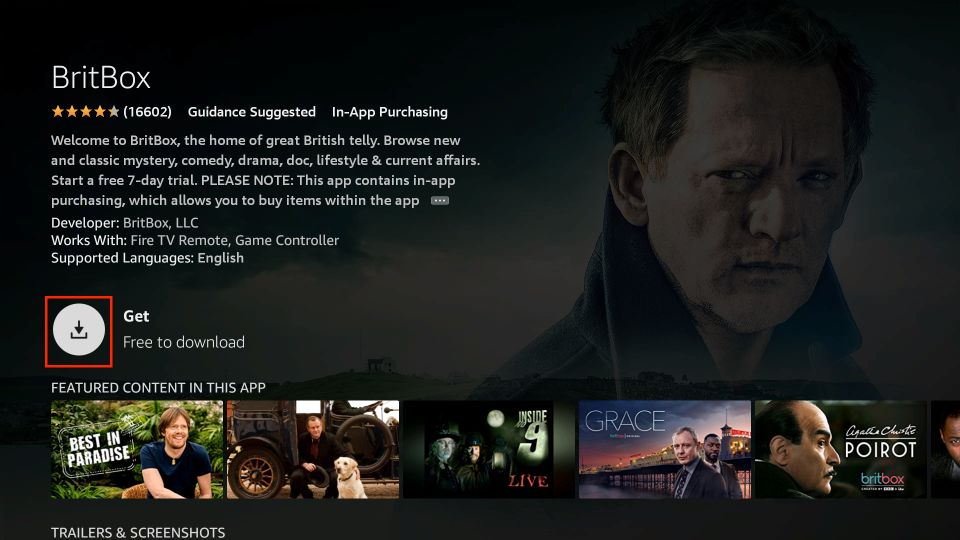 6. As you can see, the Get icon has now changed to Downloading sign, which means the app is installed. Please wait patiently.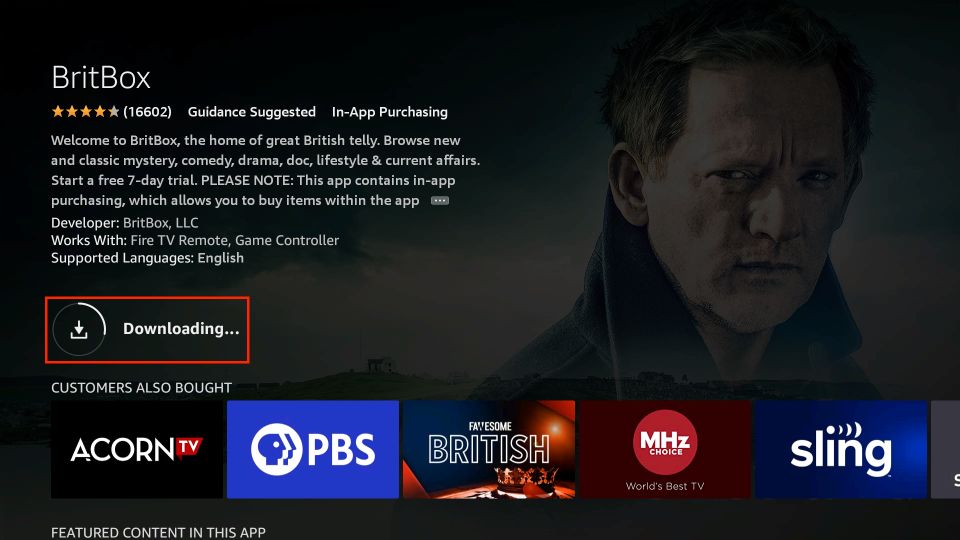 7. Soon, you will receive the Britbox Ready to Launch alert. The app is now available on FireStick. You can now return to the home menu.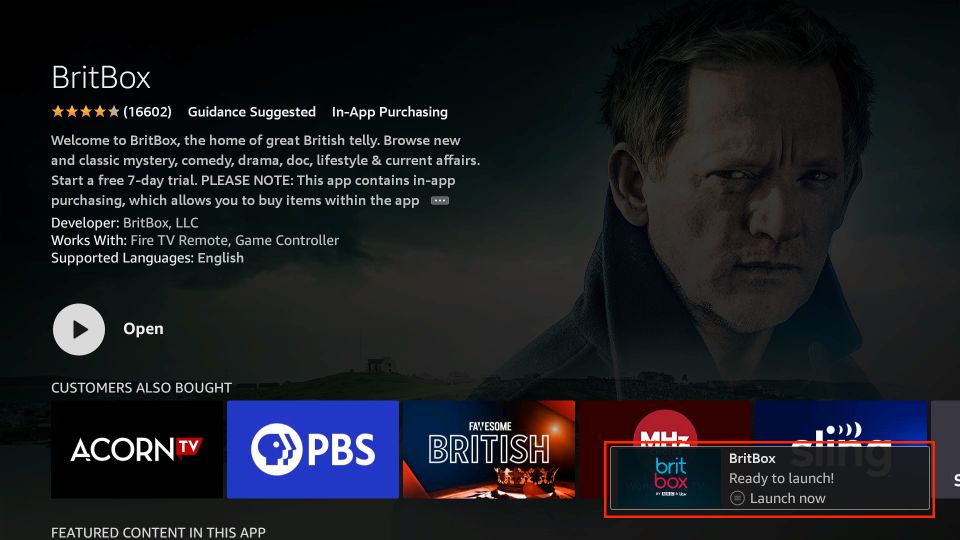 Congratulations! You have now installed Britbox TV on your FireStick.
Wait! It looks like you are all set to start watching your favorite content on FireStick. But have you protected your online identity yet? You are under constant surveillance by the Government and ISP. Free streaming of copyrighted videos may get you into legal trouble.
Thankfully, you can easily avoid online monitoring and safeguard your privacy with a trusted VPN on FireStick. A VPN will hide your IP address and online identity by encrypting your internet connection.
Please note that I am not encouraging you to violate any copyright laws. You should always watch the content available in the public domain. I am simply recommending the use of a VPN to maintain your privacy. You have every right to your privacy, which is constantly being breached these days.
I personally use ExpressVPN and have found it to be the fastest and most secure FireStick VPN. It is also the most streaming-friendly VPN I have ever used. Therefore, I highly recommend getting ExpressVPN for FireStick.
Here is how you can quickly get the ExpressVPN app on FireStick:
Step 1: Click HERE to subscribe to ExpressVPN and enjoy a 49% discount with 3 months of extended service. You are also eligible for a 30-day, full money-return guarantee.
Step 2: Download and install ExpressVPN on FireStick
Choose the Find > Search option on the FireStick home screen on the menu bar.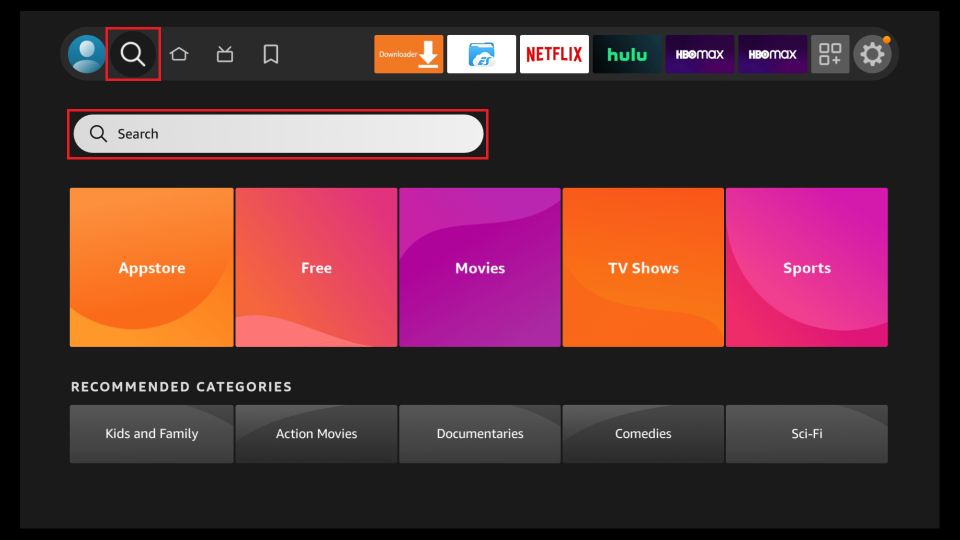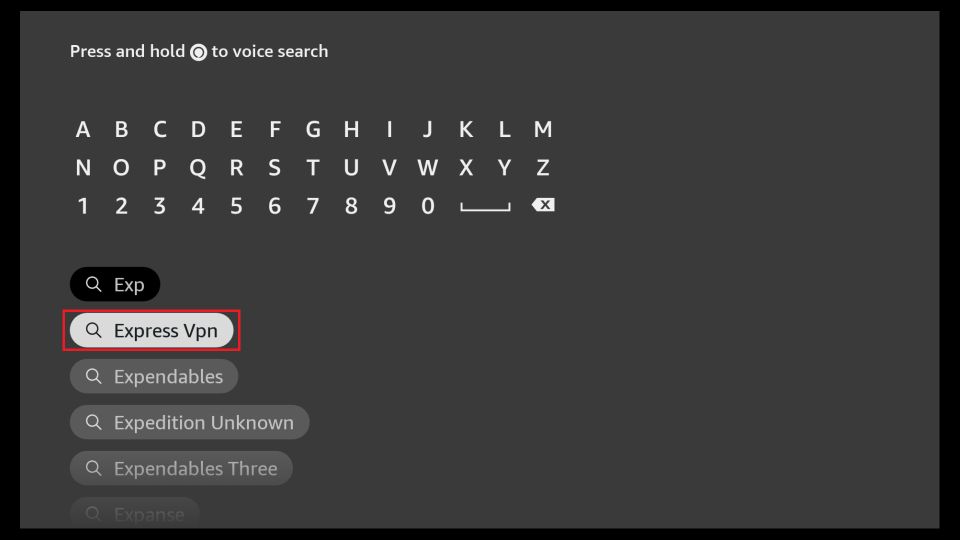 Click the ExpressVPN icon on the following window.

Click Download or Get on the next window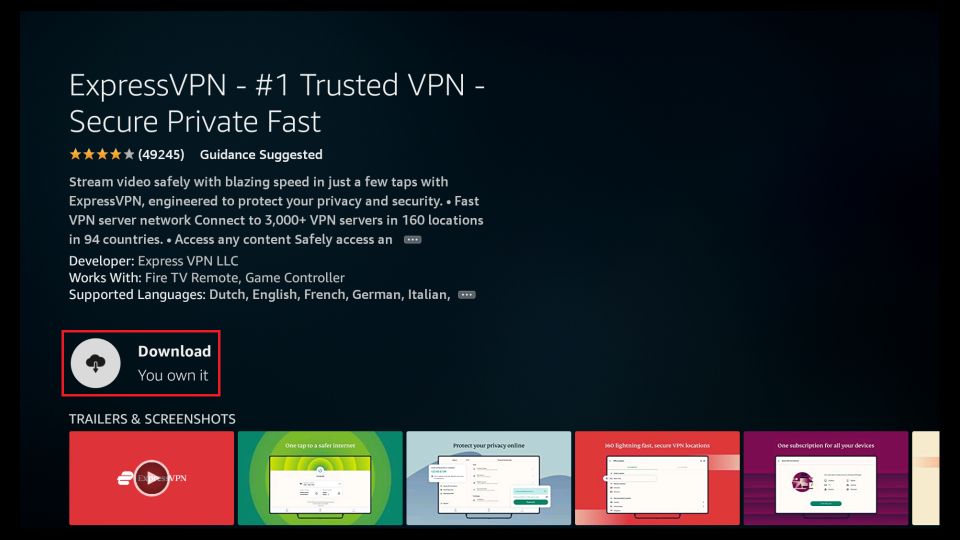 Step 3: Open ExpressVPN once you have downloaded it. Sign in with your account.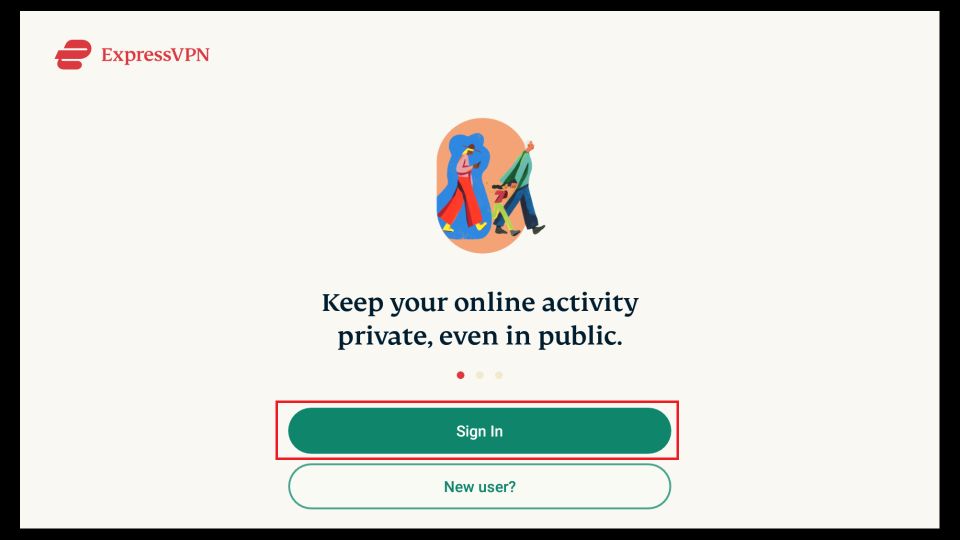 Step 4: Choose a server and click the Connect/Power button

Put your mind at ease now! You have successfully secured your streaming activities with ExpressVPN.
How to Setup Britbox on Fire TV
After getting Britbox on Fire TV, you must set it up before you start streaming. But prior to that, take some moments to create the app's shortcut on the home screen. It will guarantee fast and easy access to the application each time. Once that's done, follow these instructions to set up the Britbox app on FireStick.
On the Fire TV main menu, select the Three Square icon in the right corner.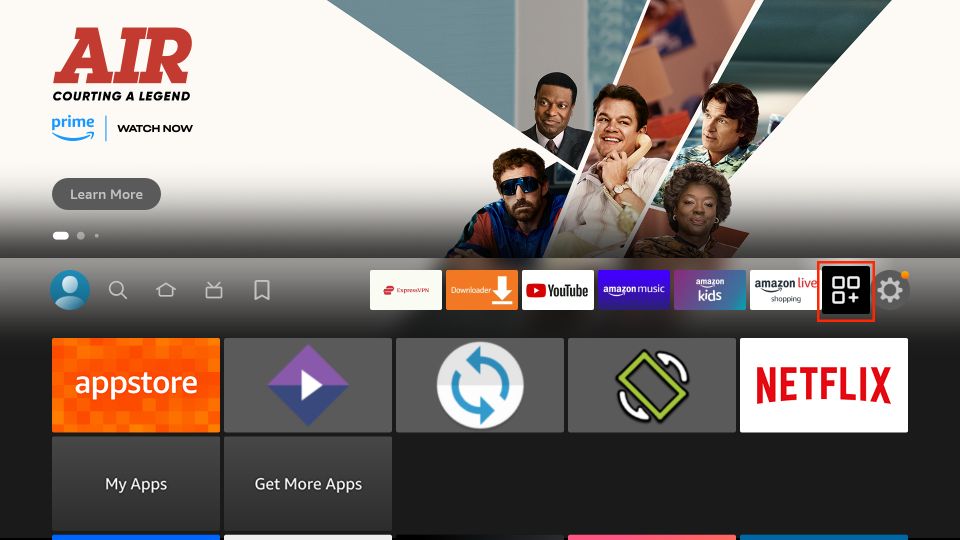 The Apps & Channels menu will appear. It contains all the available apps on FireStick. So, scroll through the list and select Britbox.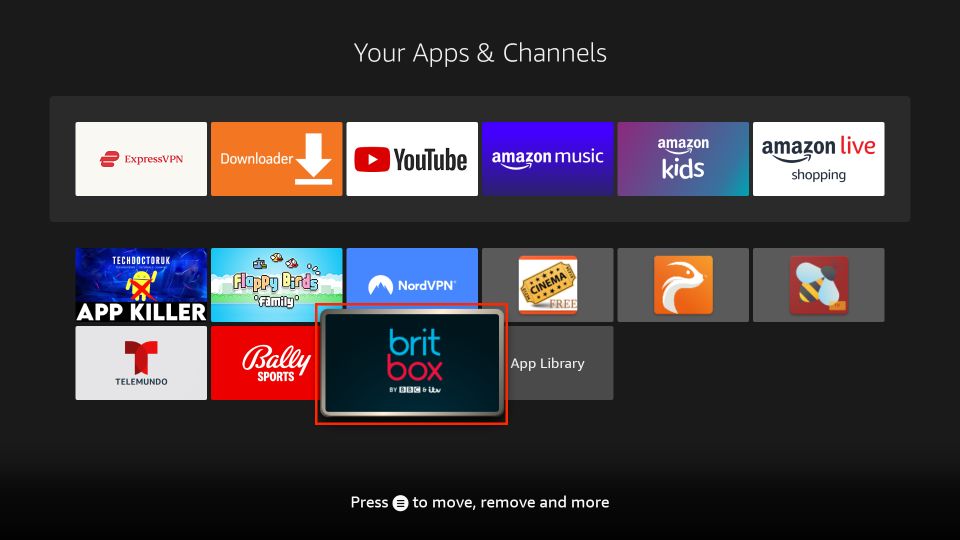 The app will start to load. It may take a few moments, so be patient.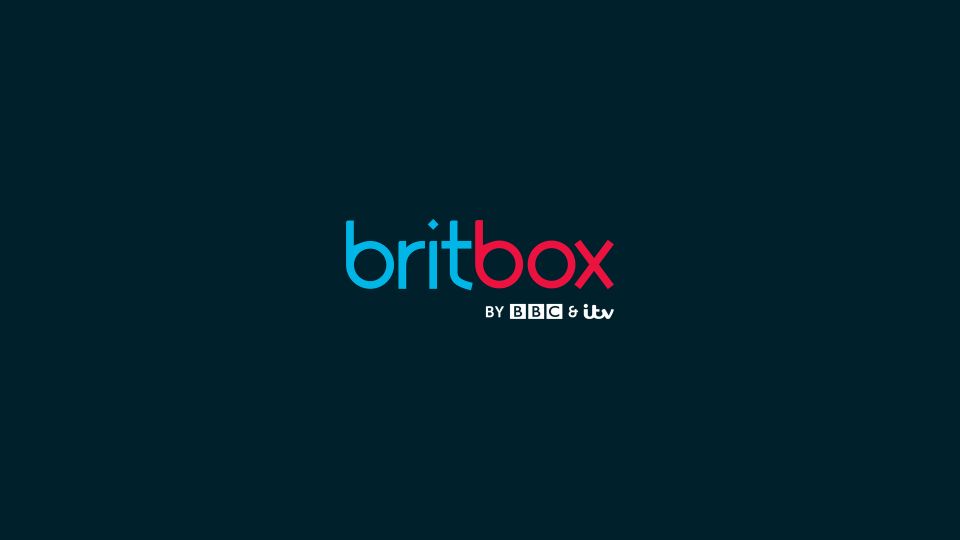 Once the Britbox app loads, press the Sign In button at the top right corner.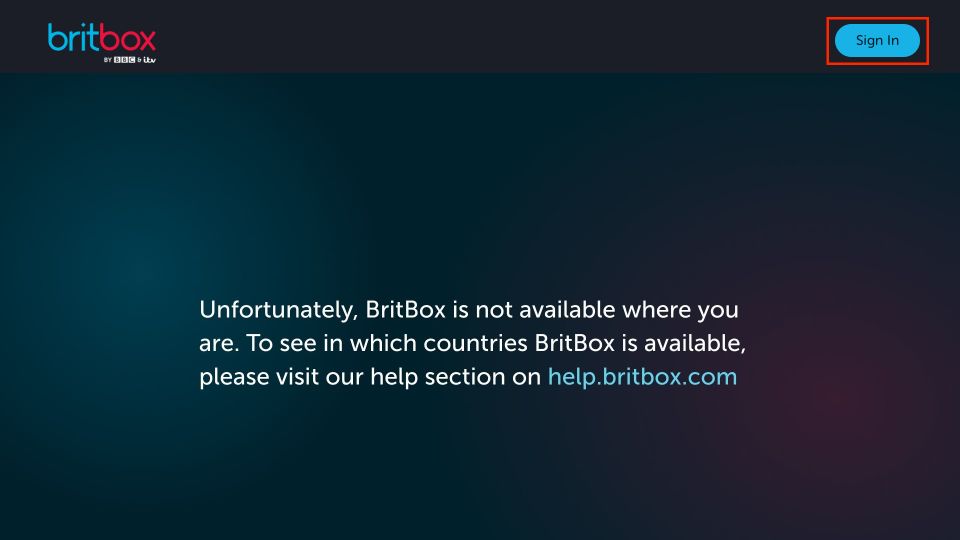 Next, press the tab titled Please enter an email.
Note: If you click Sign in With Code, you may go to britbox.com/connect/firetv to activate Britbox on FireStick.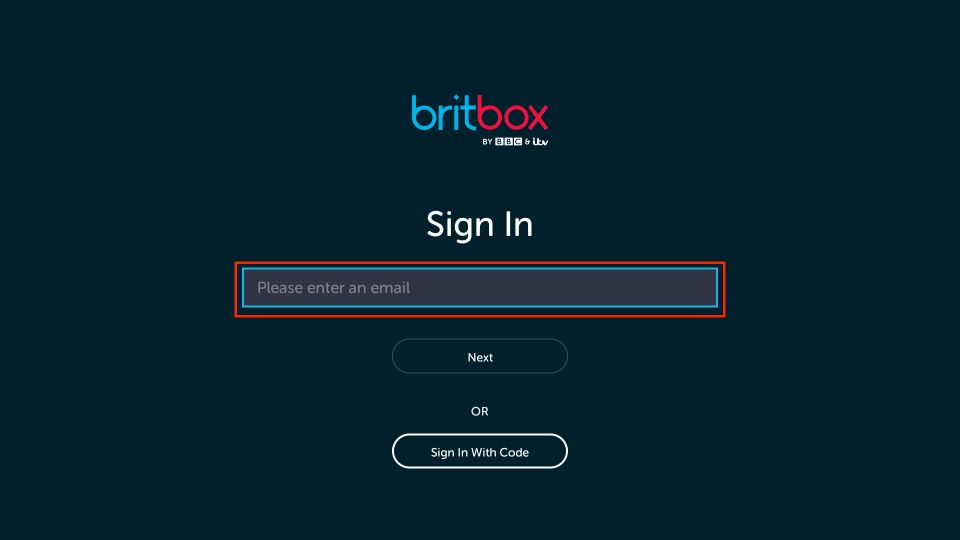 Enter your Email address associated with your Britbox account. Then, press Next. 
Now, select the tab that reads Enter your password.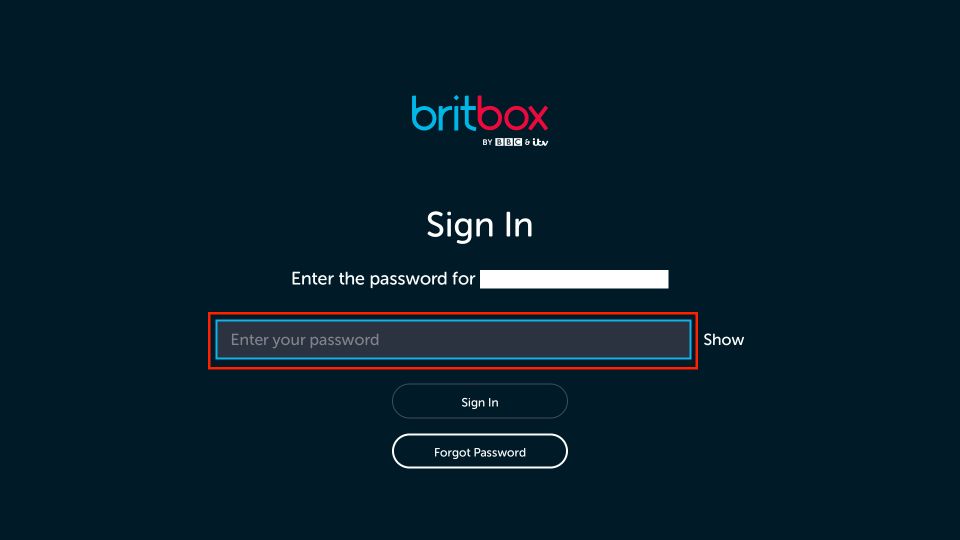 Type in your password using the virtual keyboard and hit Next.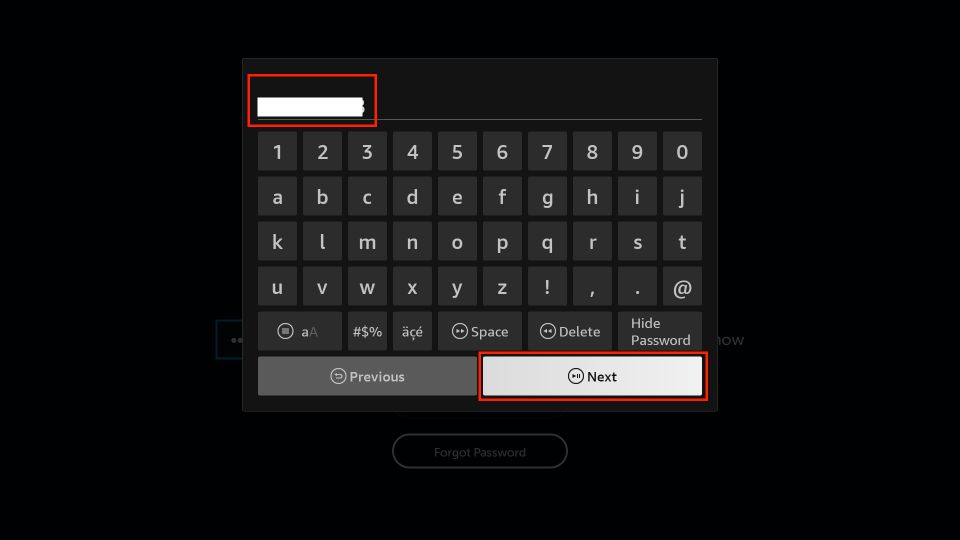 Lastly, press Sign in.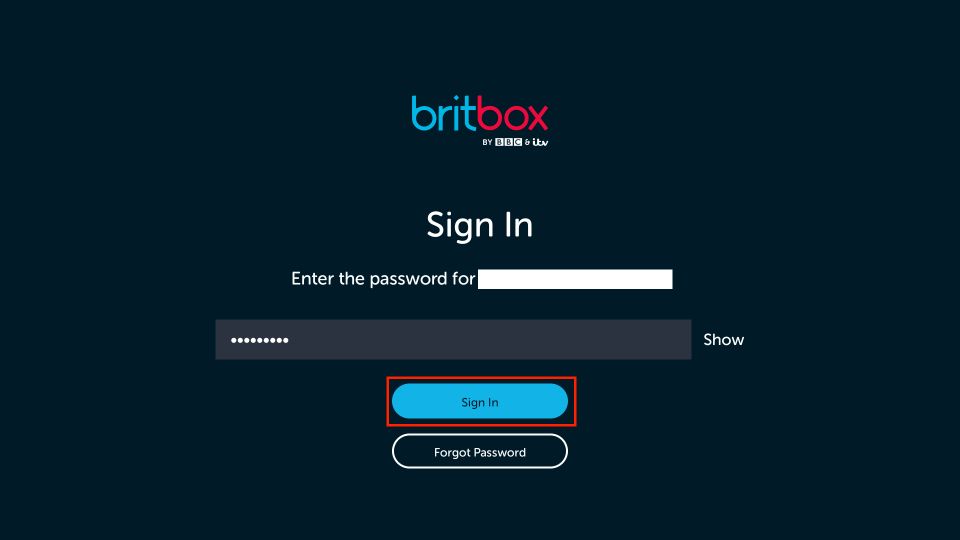 The Britbox app will verify and login to your account. After successfully signing in, you can immediately start streaming on Britbox.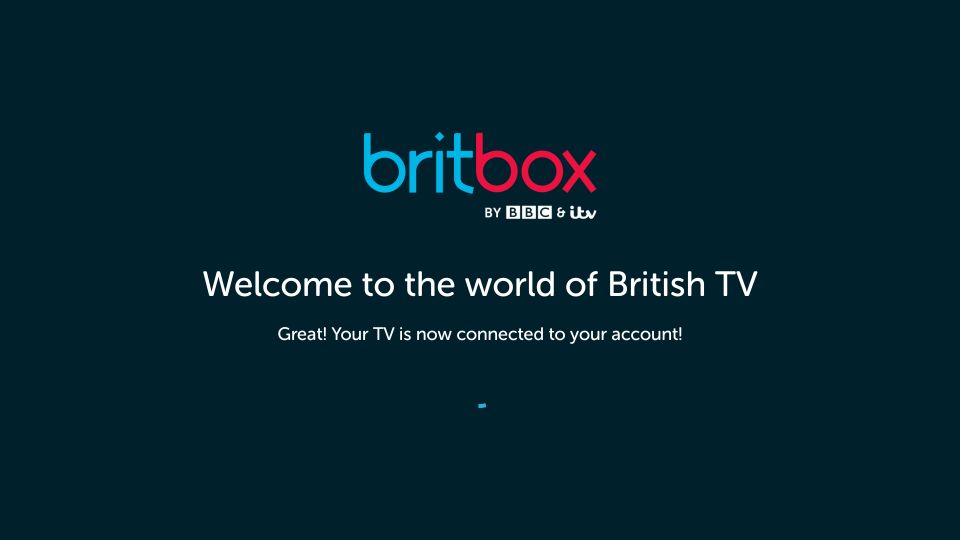 How to Use Britbox
Using the Britbox application is simple and easy thanks to its user-friendly interface and non-complex layout. However, we have curated a short guide for new users on how to use Britbox. Here is how you can navigate the entertainment-filled app:
After you launch the application, the Britbox Home menu will appear first. The menu is divided into Home, New, A-Z, and more sub-sections. The Home section contains various new series, popular picks, live streams, and more. So scroll down the section to view the available content.
Two sub-categories under the Live Stream section are Popular Mysteries and Top Picks for You. You can scroll right to explore more shows and series.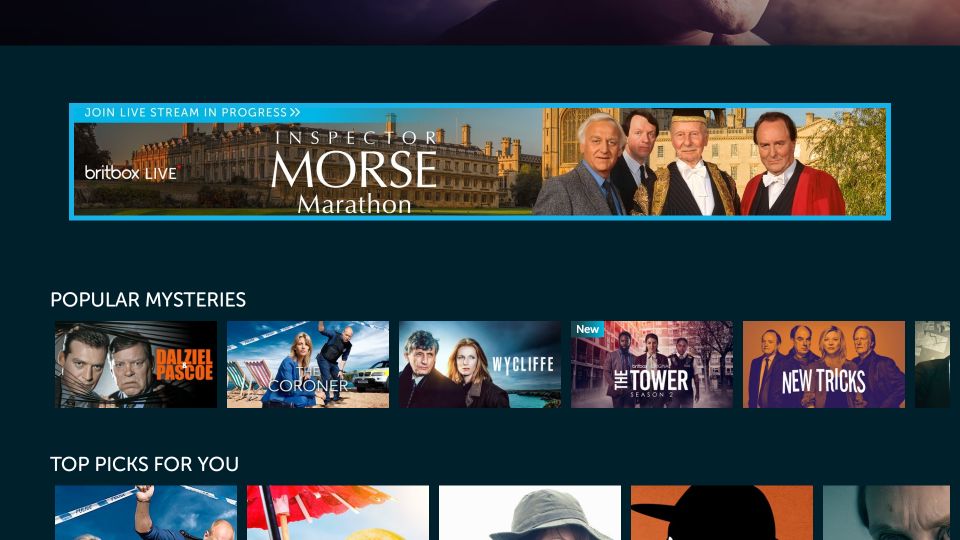 The menu next to Home is called New. Tap it to view all the latest and new episodes.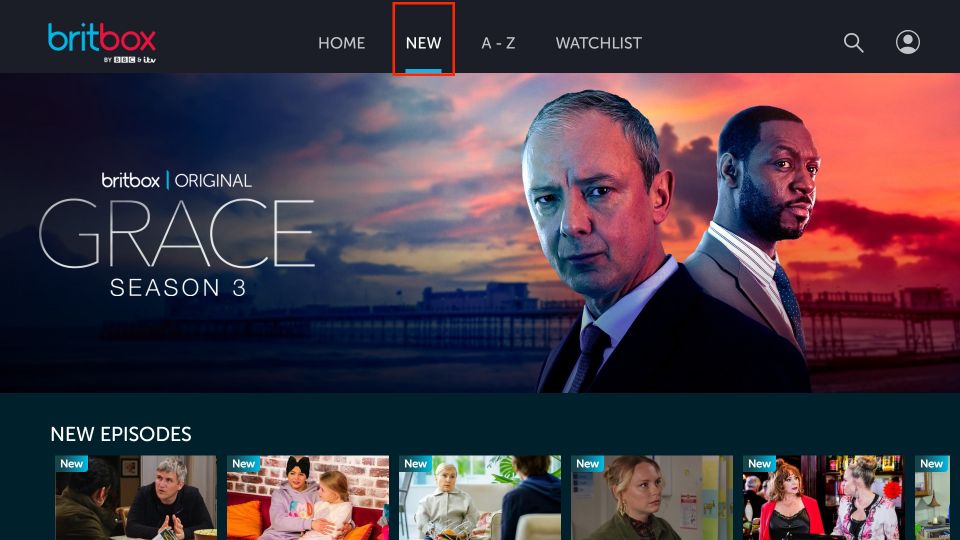 Next, select the A-Z menu from the list. It will display all the available series and shows in alphabetical order.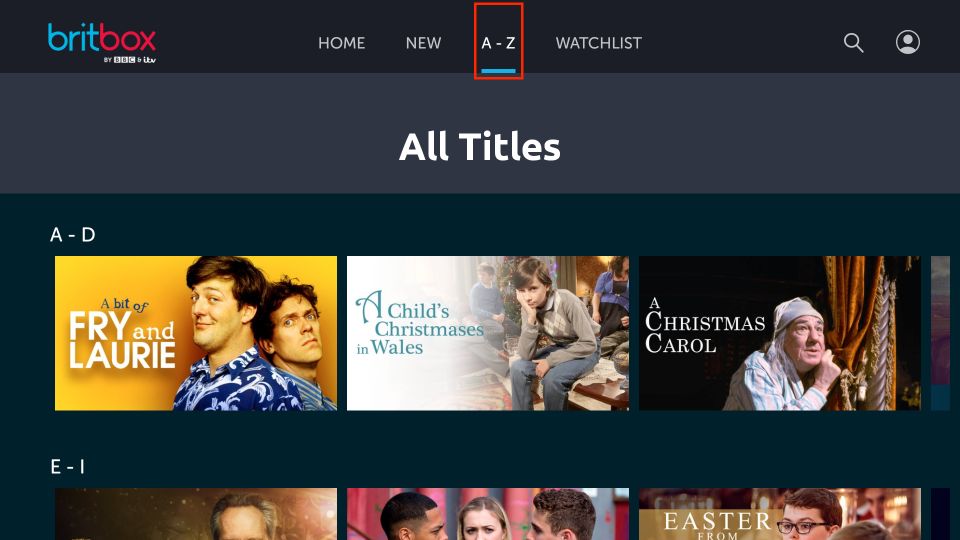 The last menu is called Watchlist. Press it to view your last watched shows. You can also resume where you left off and find a program you saved in the Watchlist section.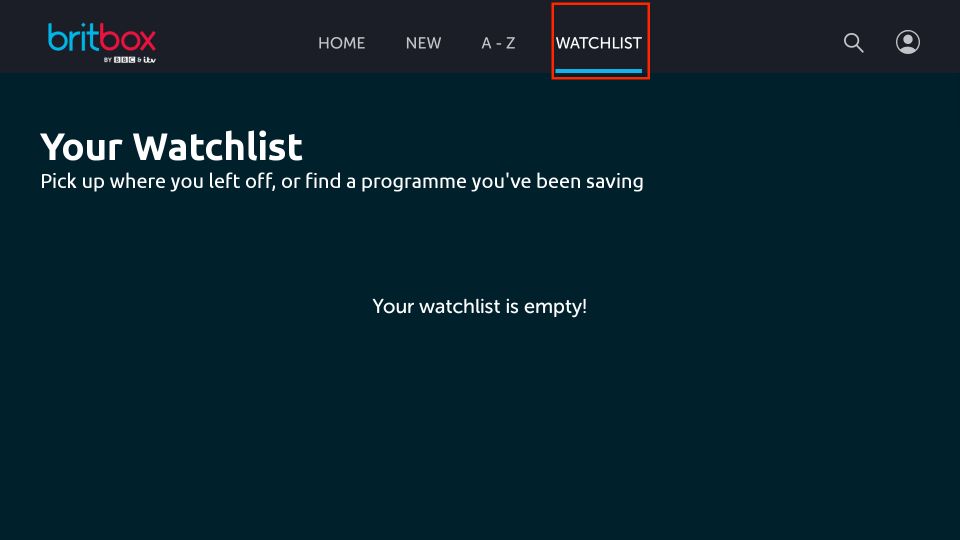 Britbox offers a search facility to look for specific shows. Press the Magnifying Glass icon to search for your favorite shows and films.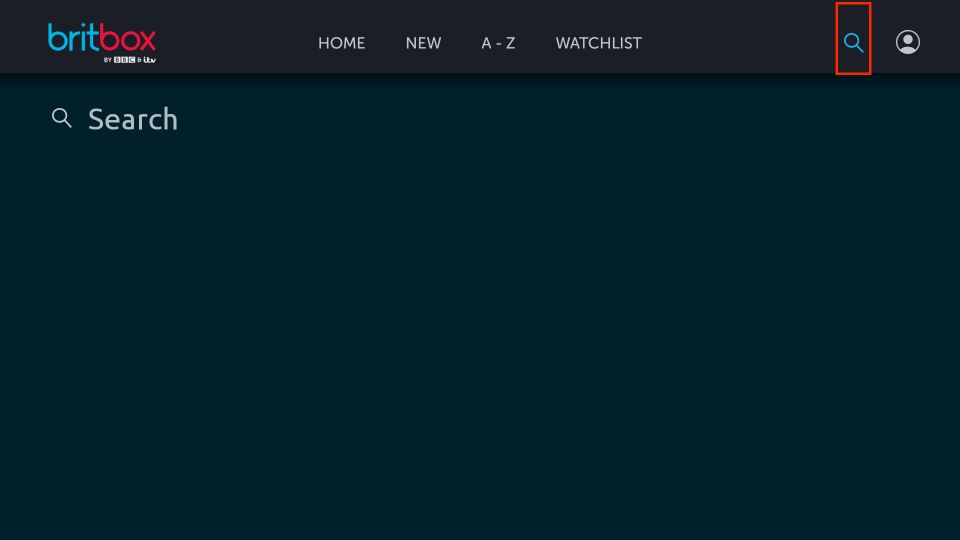 Lastly, press the Profile icon on the top-right corner of the screen to launch the menu. Here you can view your account details, subscriptions, and more.
Can I use Britbox without purchasing its subscription?
Technically, yes, you can install the Britbox application without purchasing its subscription. However, you can only access limited content without signing in to the app.
Is Britbox safe and legal?
Yes, Britbox is entirely safe and legal. The platform was created by collaborating with the BBC and ITV, two reputable and well-established broadcasters in the UK. Moreover, you can get the app via official stores like the Amazon App Store without hassle.
Why is Britbox not available in my region?
Due to some policies and technicalities, Britbox is not available worldwide. The British platform is available in regions like the UK, the US, Canada, etc. If your country doesn't let you access Britbox, you can use a VPN like ExpressVPN and access Britbox by connecting to a UK or US server.
Final Words
The above guide taught you how to install and use Britbox on FireStick. The Britbox app lets you enjoy British TV shows, movies, and other content under one roof. The extensive library ensures that there's something for every user. Moreover, the simple and dim interface makes the app perfect for movie nights.
Related: