In this blog, I will demonstrate how to install WareHouse Wizard Kodi Builds. You will learn the basics of running WareHouse Wizard. Additionally, I will also tell you whether it's safe and legal. Let's start with a brief introduction about the Build.
⚠ WareHouse Repo is Down ⚠

The WareHouse Repository is currently unavailable. So, unfortunately, the WareHouse Wizard Builds cannot be installed. However, there are several other options to explore from our collection of

Best Builds for Kodi

.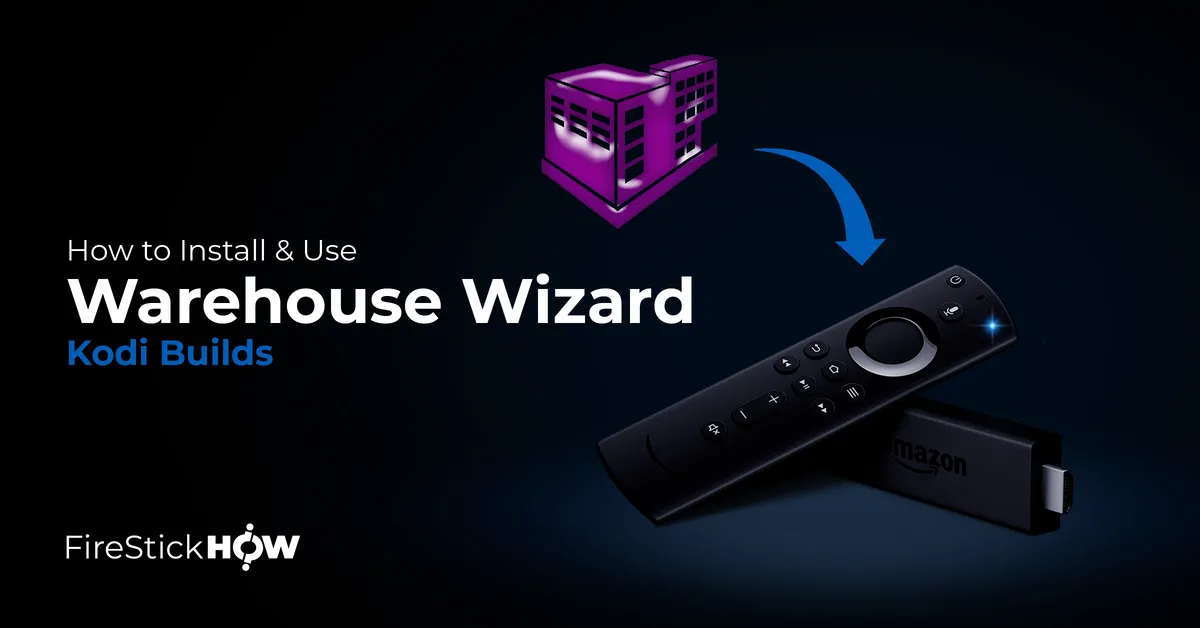 What is WareHouse Wizard?
The WareHouse Wizard contains various Builds for Kodi. It is available on the unofficial WareHouse Repository. In addition, the WareHouse Wizard Kodi Builds comes with various preinstalled add-ons. The list of add-ons includes PlutoTV, RBTV, Samsung TV Plus, YouTube, TABTV, and many more.
The Kodi Builds of WareHouse Wizard is available for Androids, Windows, FireSticks, and various devices. It also includes the option to enjoy Live TV, Live Sports, and Radio, among other features.
Head to the next section to learn about the safety and legality of WareHouse Wizard Kodi Builds.
Attention KODI Users: Read before you continue
Government and ISPs endlessly monitor your online activities using your IP address 3.17.249.235 (exposed to everyone). Kodi is an excellent platform for streaming movies, TV shows, and sports, but streaming copyrighted content can get you into legal trouble. 
You should use a reliable Kodi VPN and protect your streaming activities and privacy. A VPN will hide your IP address and bypass government surveillance and geo-restrictions.
I trust and use ExpressVPN, the fastest and most secure Kodi VPN. It's easy to install on any Kodi device, including Amazon FireStick, PCs, and Smartphones. In addition, it offers a 30-day money-back guarantee, and 3 free months with the annual plan.
Read: How to Install & Use the best VPN for Kodi.
Are WareHouse Wizard Kodi Builds Safe?
The WareHouse Wizard Kodi Builds aren't available in the official Kodi repository. However, they are available through The WareHouse Repository. Unfortunately, it is an unofficial repository, and its items can't be claimed safe. Therefore, I recommend you do thorough research before installing WareHouse Wizard Kodi Builds. It will help you stay secure and safe.
However, I pushed the repository through a malware scan and found no malicious files related to the repository. Check it out here: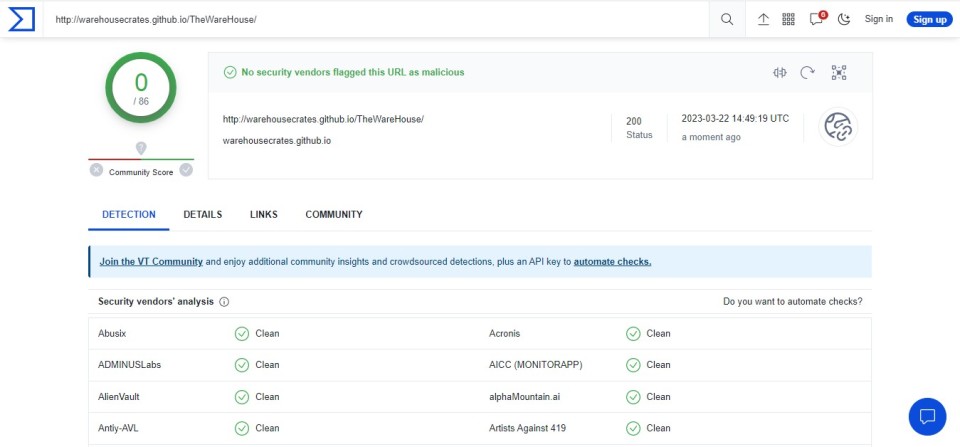 Are WareHouse Wizard Kodi Builds Legal?
It's difficult to claim whether unofficial builds are legal. First, it requires a framework that FireStickHow doesn't currently possess.
It puts a question mark on the legal status of WareHouse builds. For example, wareHouse Wizard builds also contain various third-party add-ons. And FireStickHow can't guarantee whether those plugins have the legal rights to distribute the videos.
However, I advise you to utilize a reliable VPN. It will conceal your online identity. A VPN will protect you from malicious attackers while using Warehouse build on FireStick. Go for ExpressVPN. It is the most trustworthy VPN presently.
Features of WareHouse Wizard Kodi Builds
Some prominent features of WareHouse Wizard Kodi Builds are:
Comes with preinstalled Kodi addons, including PlutoTV, Samsung TV, and more.
A good collection of decent-quality Builds.
Offers various categories like Movies, TV shows, Live TV, and more.
Simple and easy interface.
Well-marked sections with subcategories.
Installing Warehouse Wizard Kodi Builds
Installing Warehouse Wizard Kodi Builds is a long process. The steps may be long, but the results will be excellent. It is because the WareHouse builds is a third-party build from an unknown source.
For convenience, I have divided the installation into four parts. Let's proceed to Part 1.
Part 1:  Unknown Sources
Warehouse Wizard Builds are not available in the official Kodi repository. Therefore, installing them requires sideloading. Kodi, by default, doesn't allow sideloading. To change that, you need to enable downloads from unknown sources.
Here's how you do it:
1. Launch the Kodi home page. Then, tap the Cog icon on the top left to launch Settings.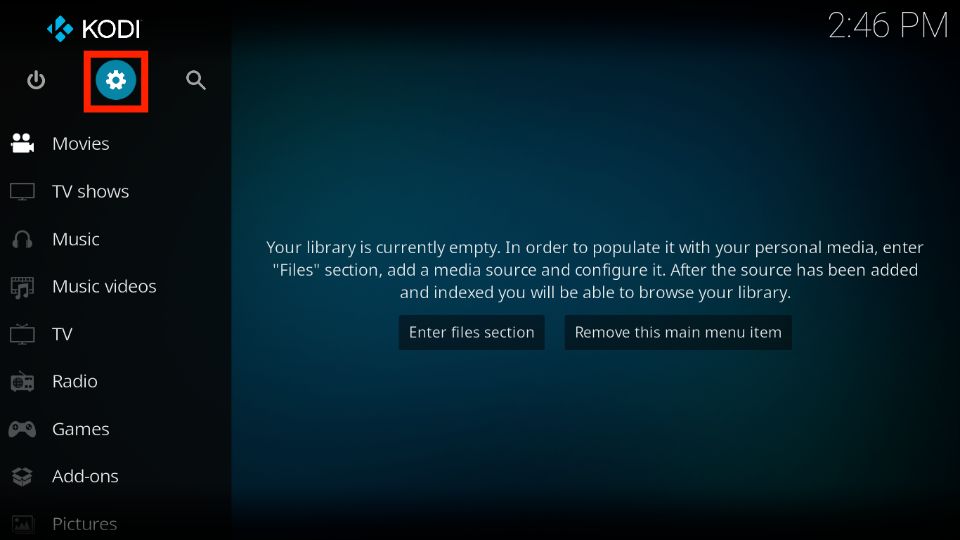 2. Scroll and click the System icon on the bottom right side.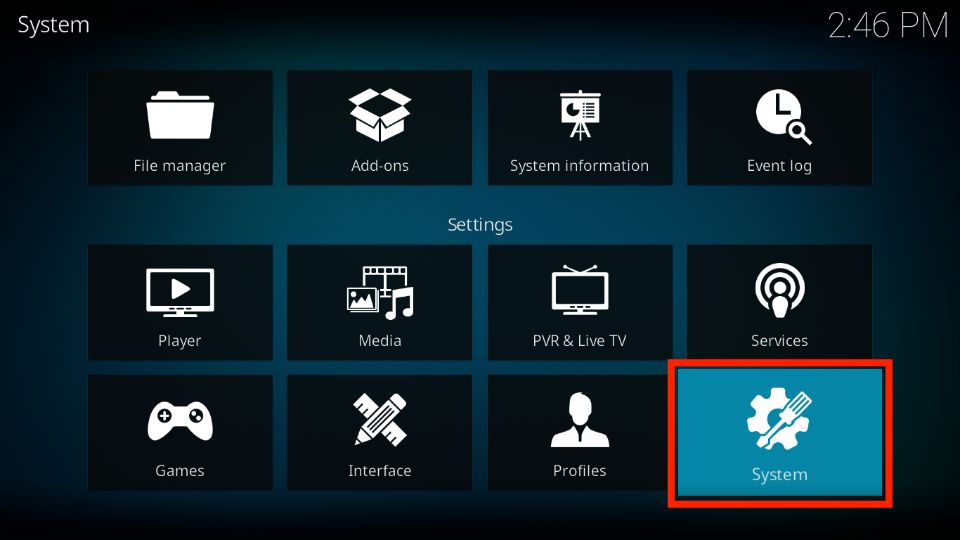 3. In the System menu, click the Add-ons tab.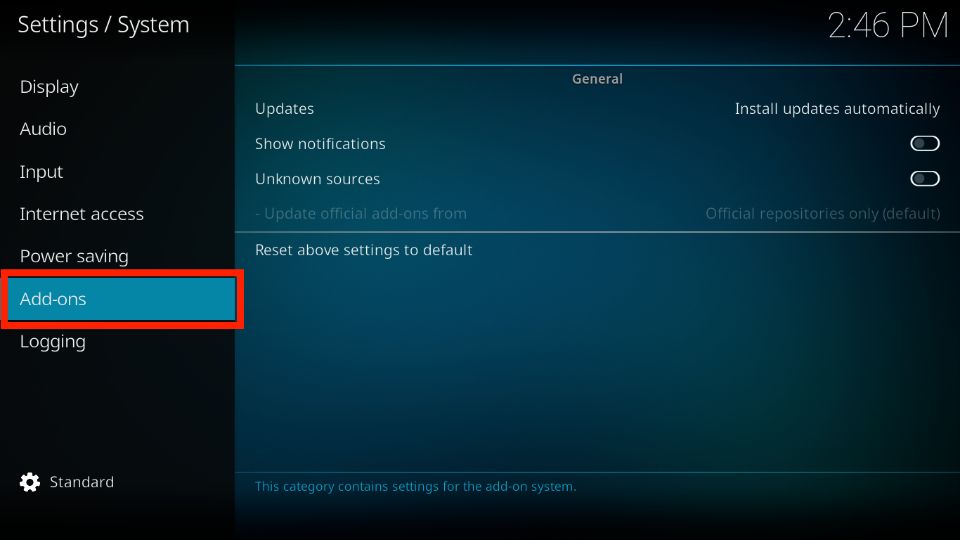 4. Move the pointer to Unknown sources and toggle the switch to turn it on.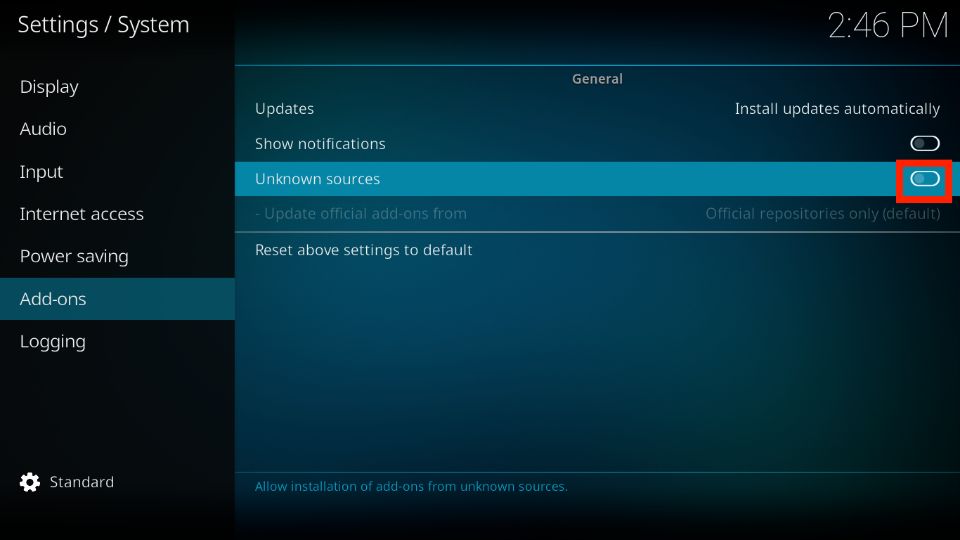 5. Kodi will display a Warning message. Please ignore it and click Yes.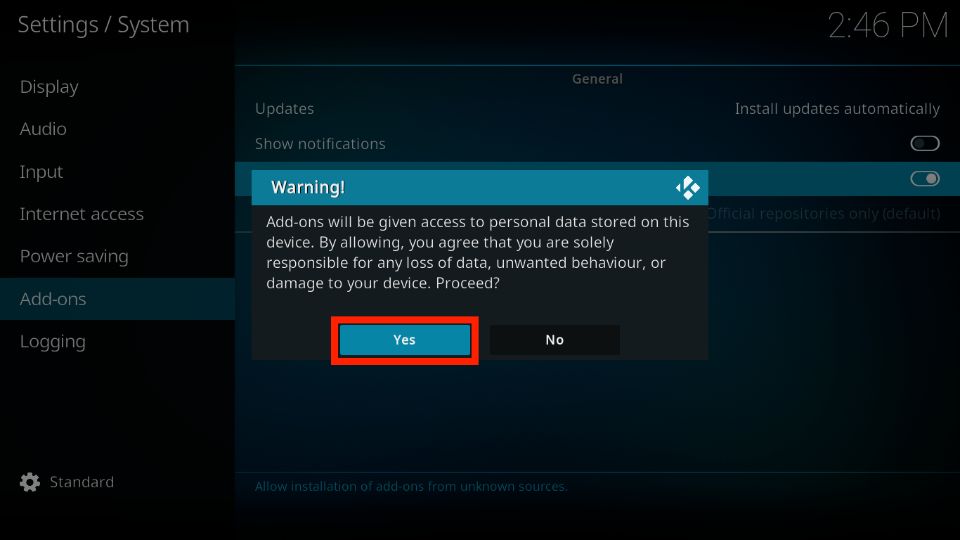 Unknown source restrictions are now disabled.
Part 2: Add The WareHouse Repository Source
This part is about adding the WareHouse Repository source to Kodi. It will let Kodi know the location of the repository source on the web. Kodi will then use the exact location to install its repo.
Here's how you do it:
1. Again, open the Settings app from the Kodi home screen.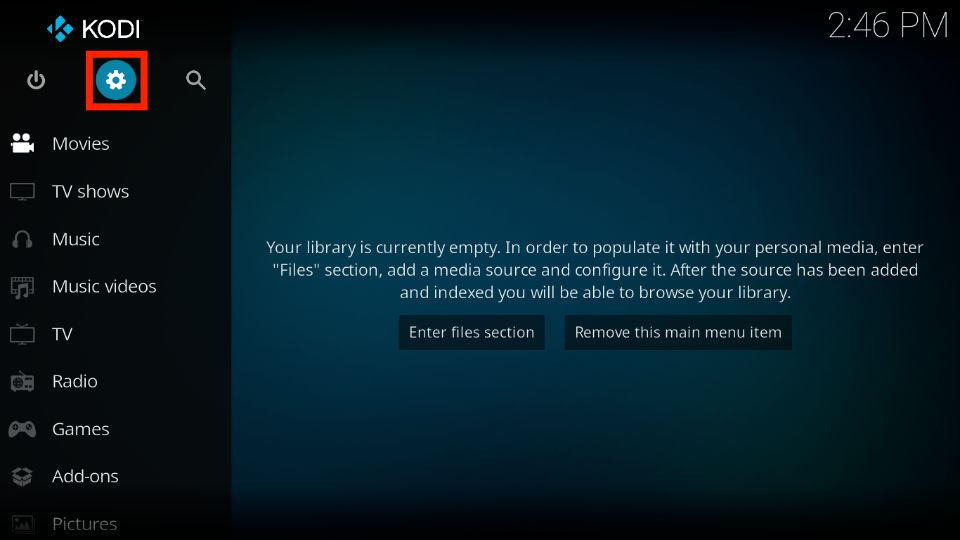 2. Select File manager.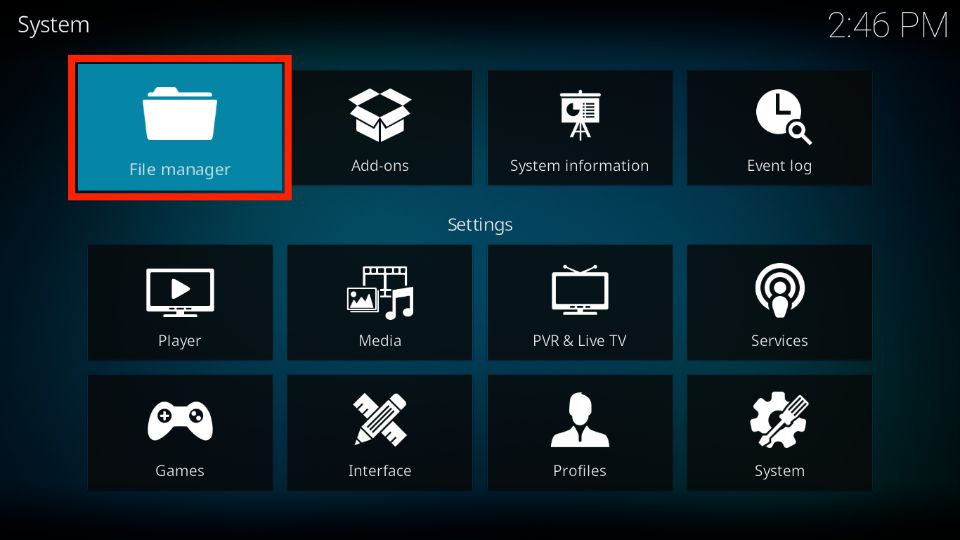 3. Click on Add source.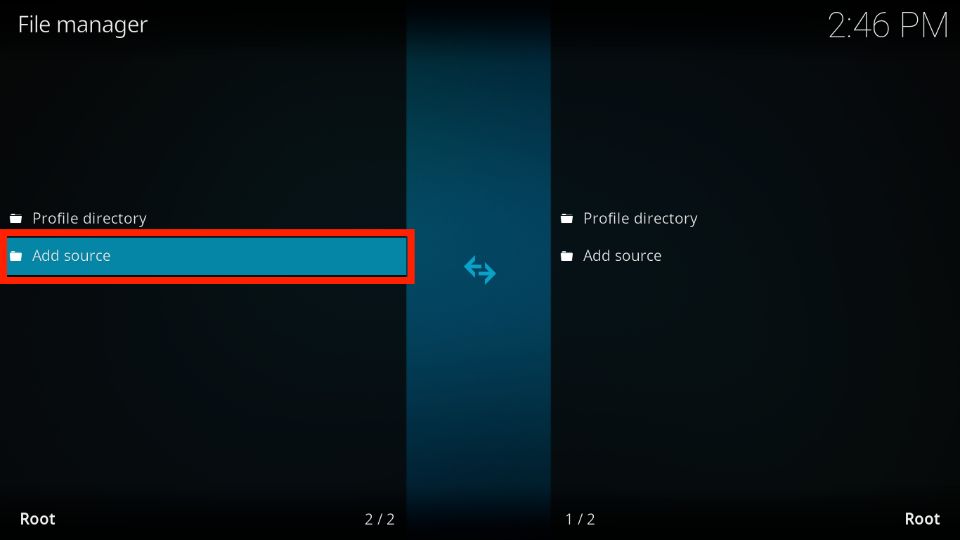 4. Now, you have to add the file source. Click the <None> tab.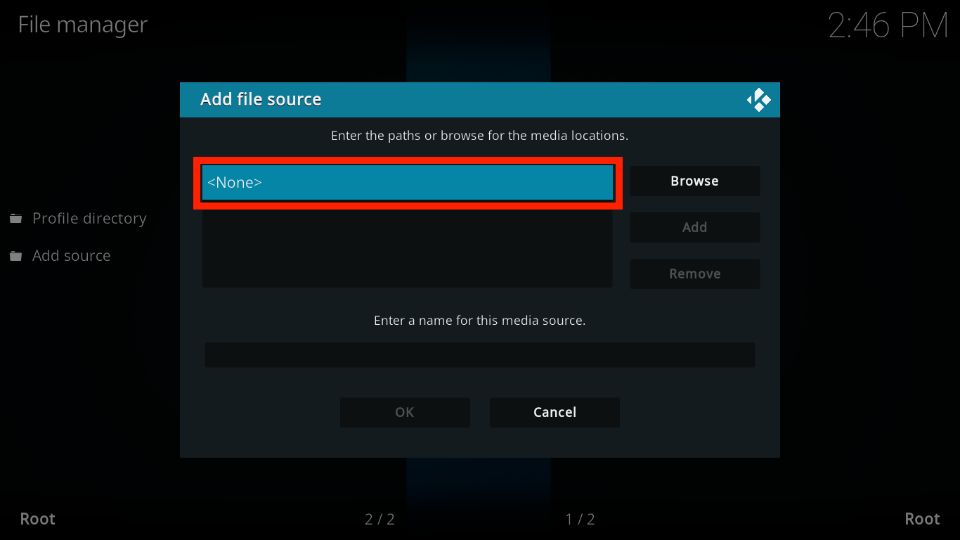 5. Enter http://warehousecrates.github.io/TheWareHouse/ and hit OK.
Note: FireStickHow doesn't have any links with WareHouse Wizard Repository. The website above is the sole property of WareHouse.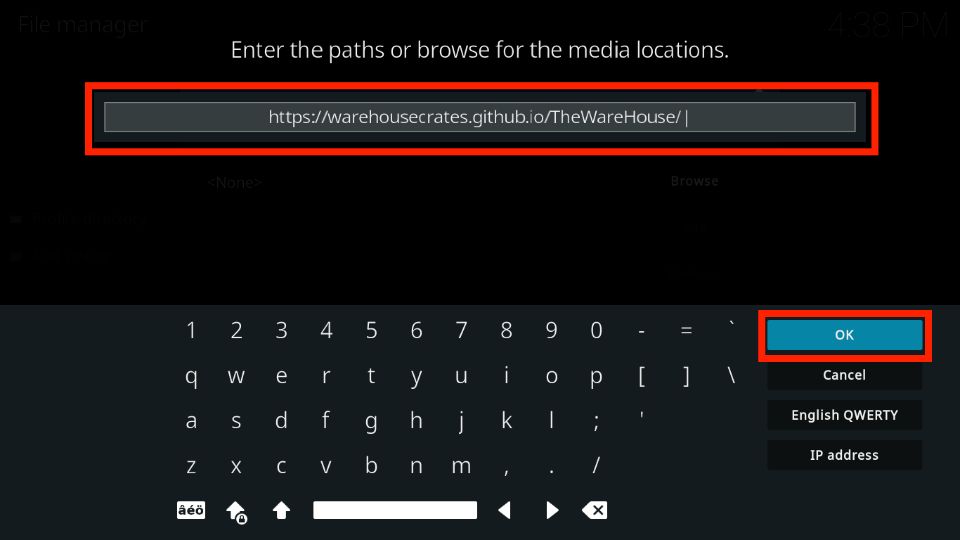 6. Next, you must put in a name for the media source. By default, the name is set to TheWareHouse. If you want, you can change it.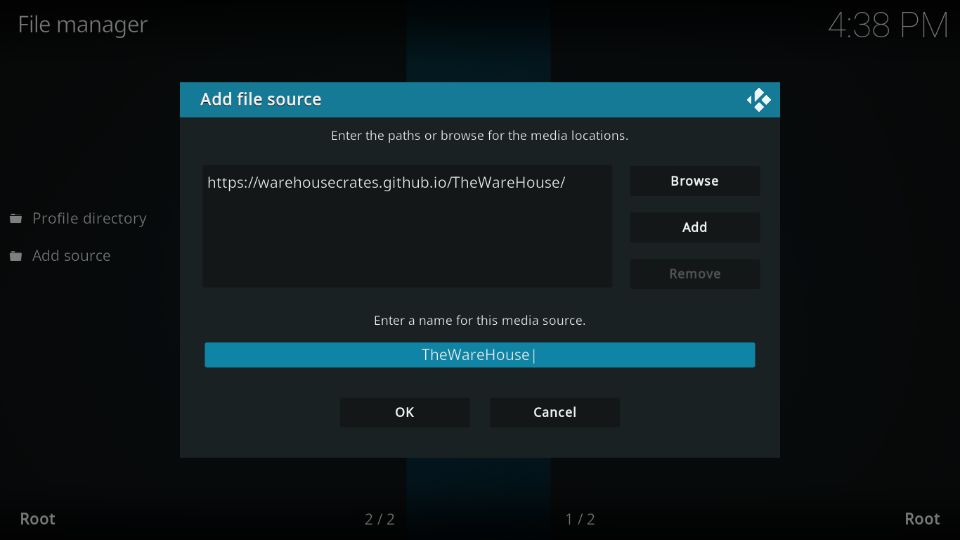 7. Skim through the information once more. If there's no error, hit OK.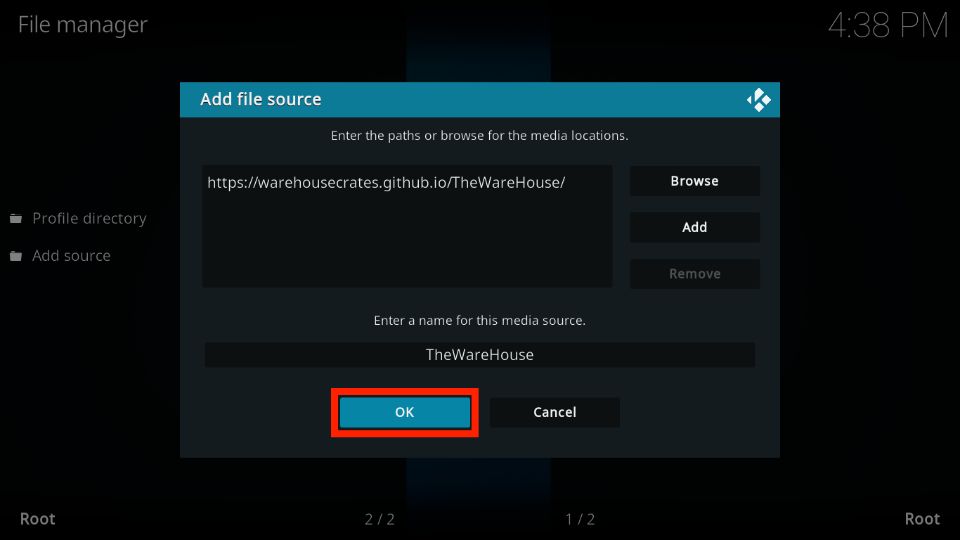 8. In the System menu, tap Add-ons.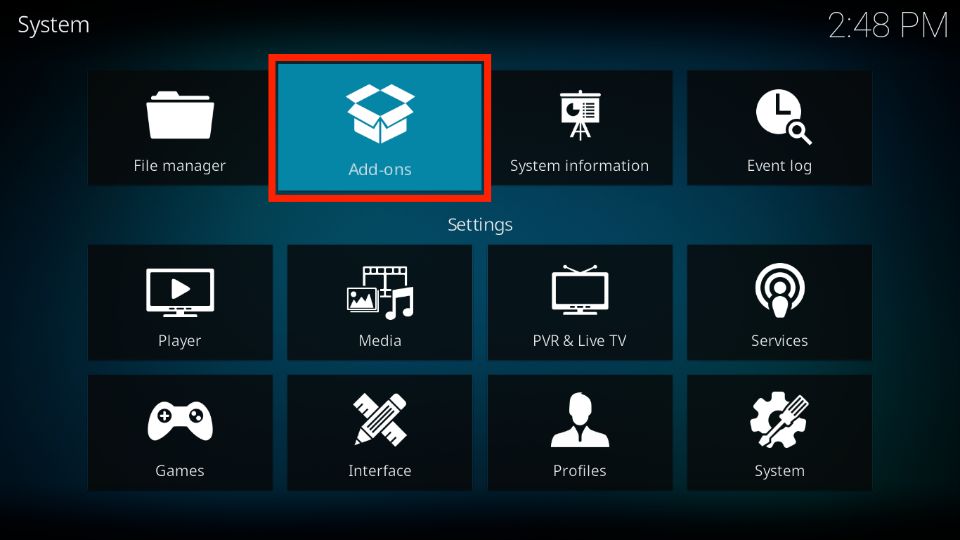 9. Scroll and select Install from zip file.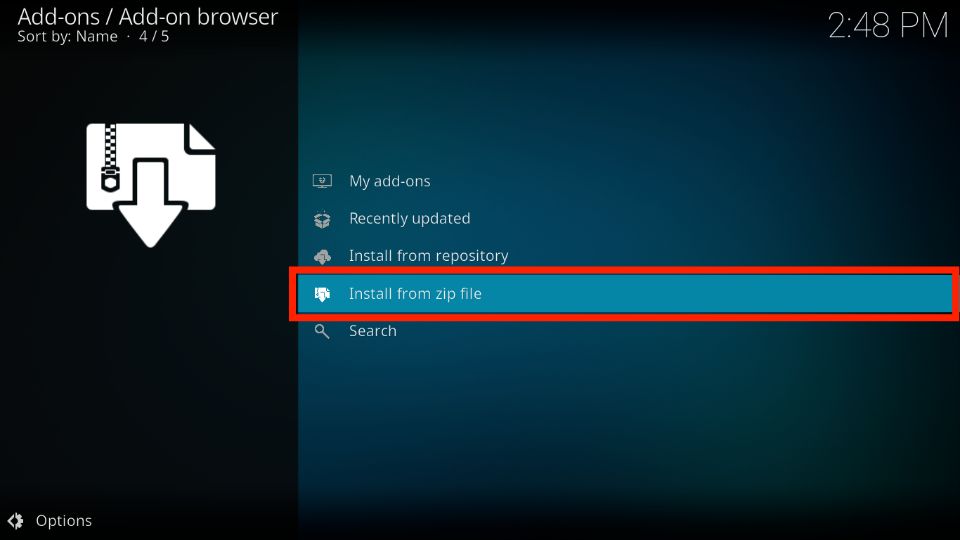 10. Select the file with the source name you previously entered. For example, here I am selecting TheWareHouse.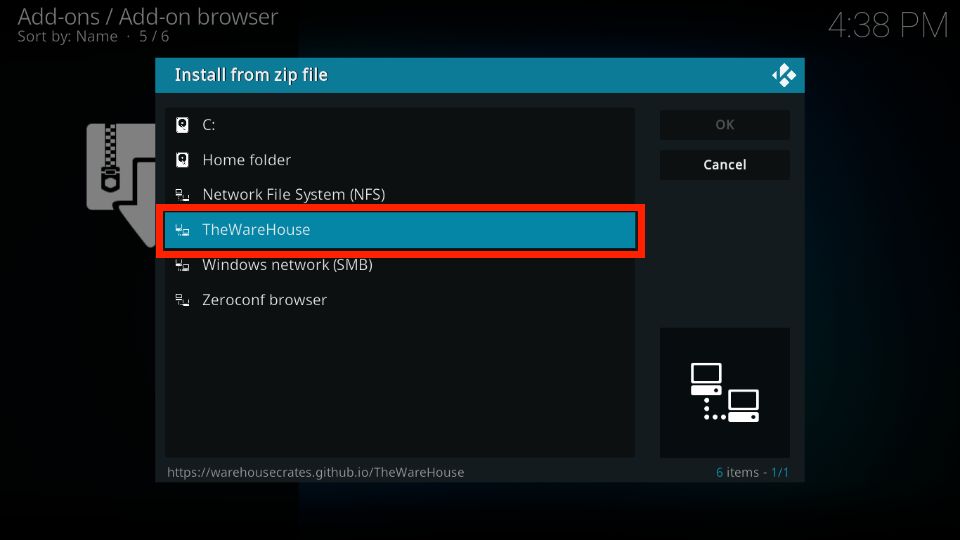 11. Select repository.thewarehouse-x.x.x.zip.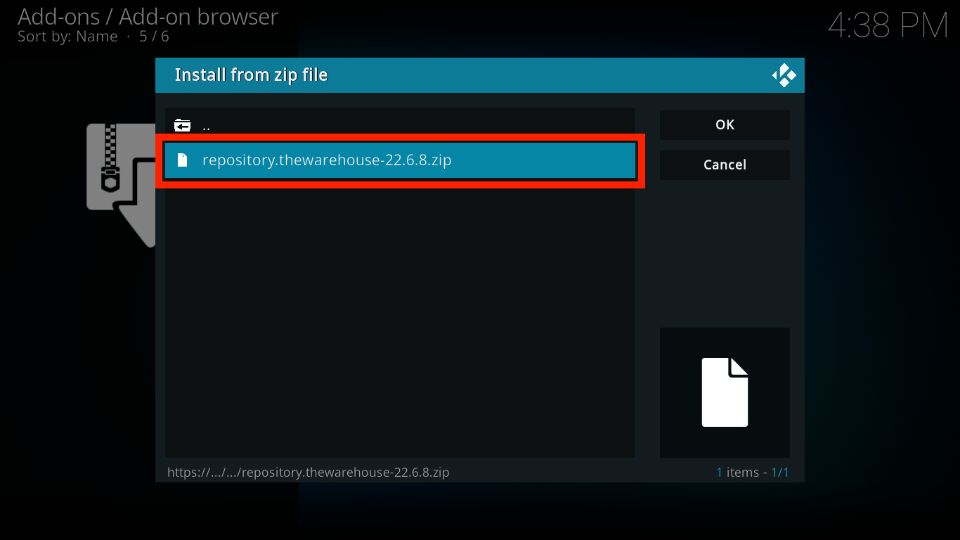 12. The file will start to download. You'll receive an 'Add-on installed' notification when the process completes.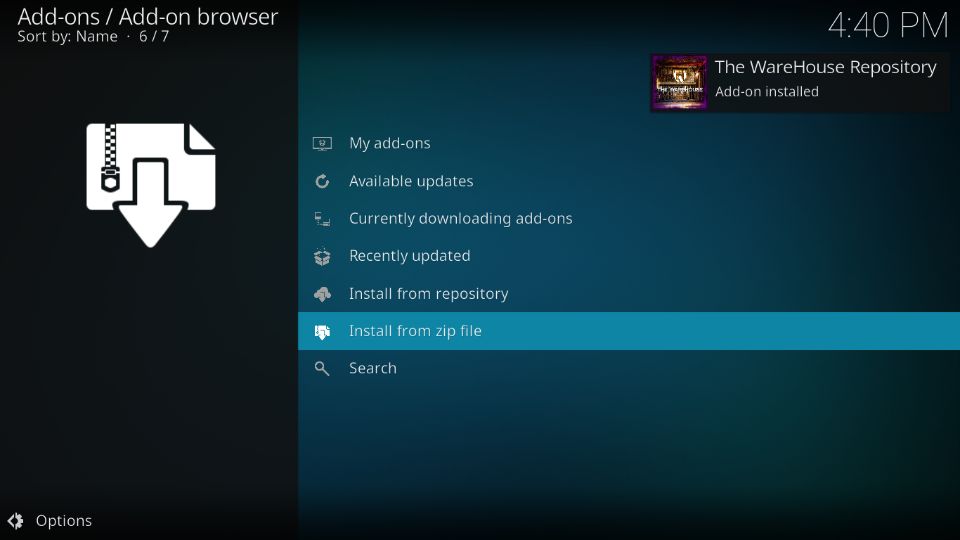 Part 3: Install The WareHouse Wizard
Now, let's install The WareHouse Wizard.
Here are the detailed steps:
1. In the Add-ons menu, tap Install from repository.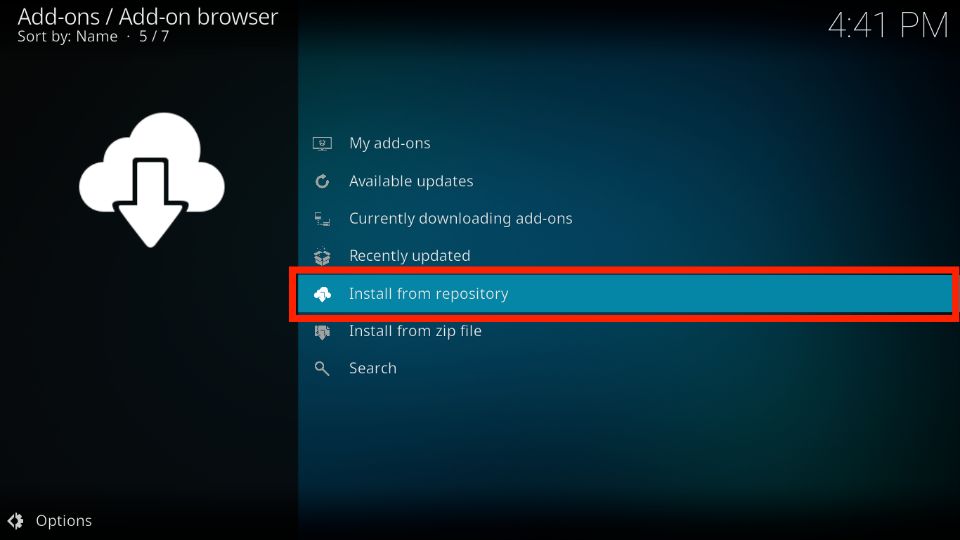 2. Select The WareHouse Repository.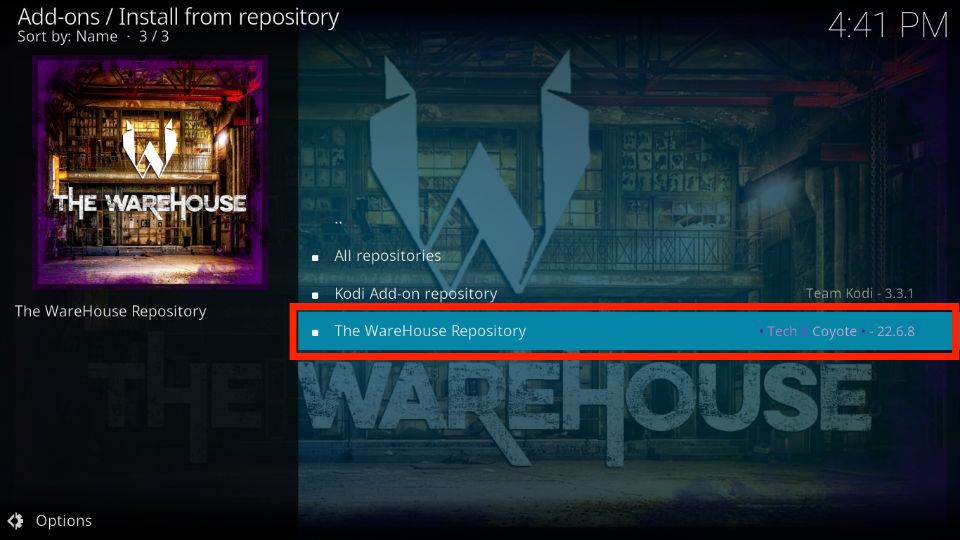 3. Scroll and select Program add-ons.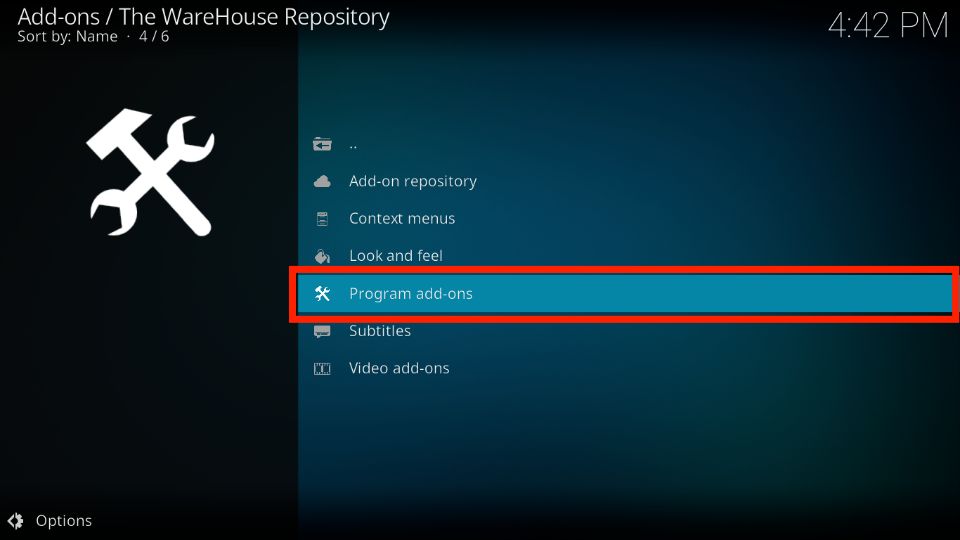 4. Tap the WAREHOUSE Wizard tab.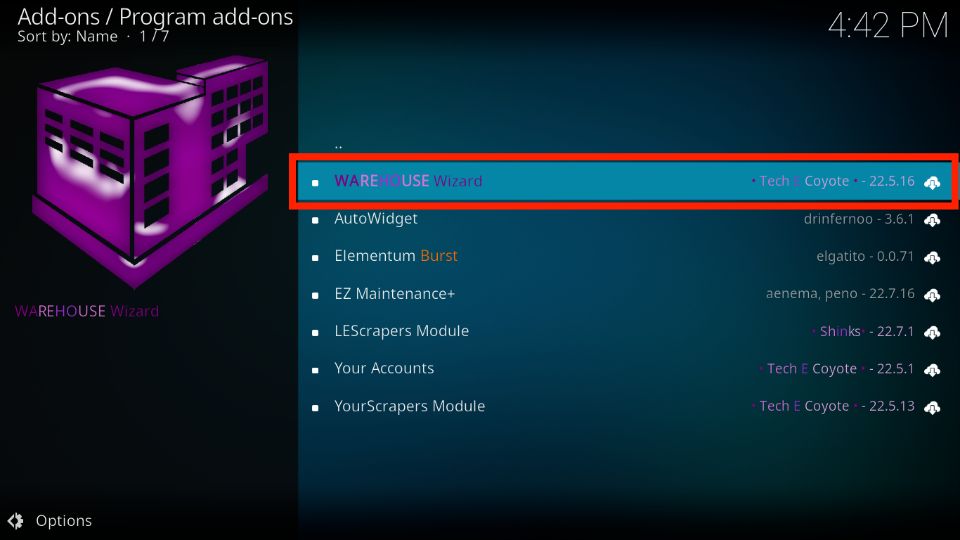 5. The WAREHOUSE Wizard dashboard will appear. Please scroll to the bottom right tab called Install and tap it.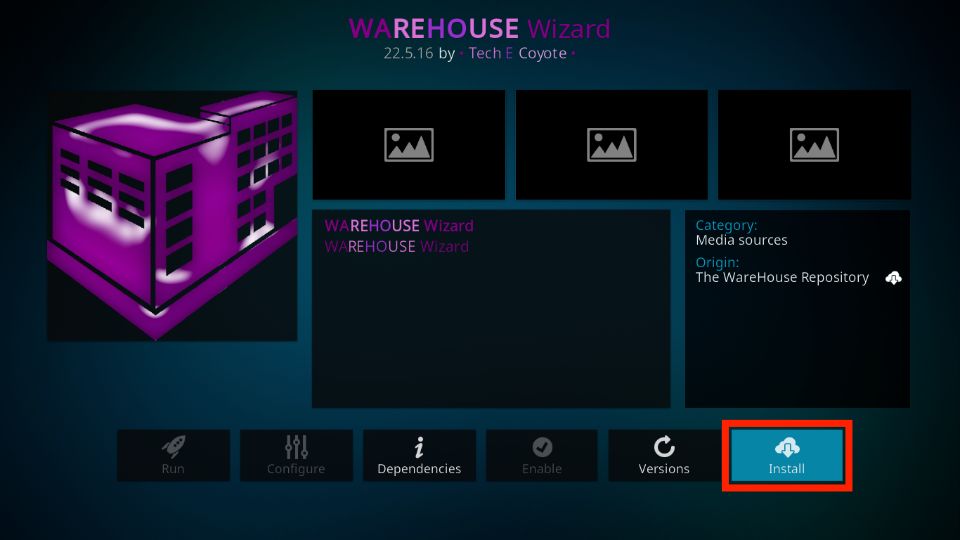 6. In the popup message, tap OK to continue.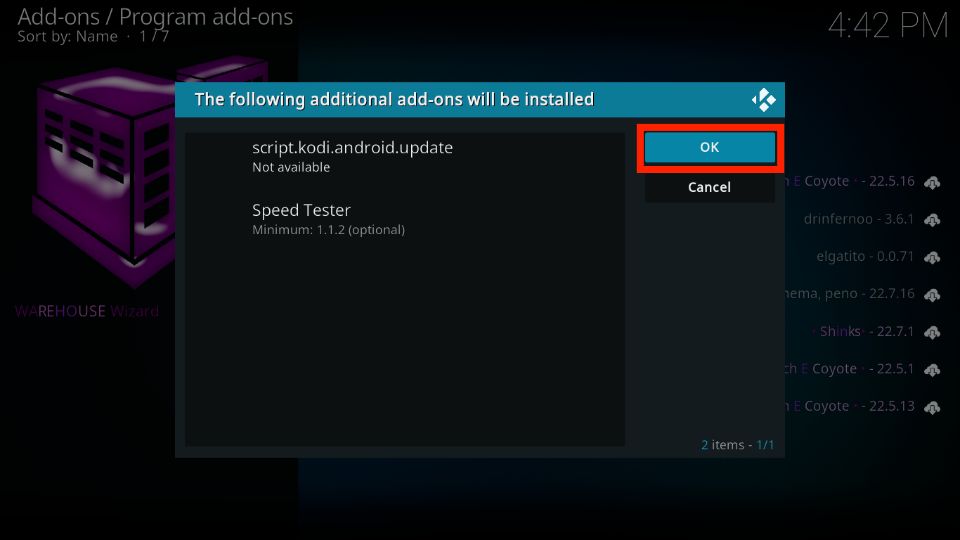 7. WareHouse Wizard will display a popup menu. Here you can customize settings like Clearing cache, thumbnails, and more. You can also enable keeping the Sources, Profiles, and more. Go through the list of options and allow the ones you want.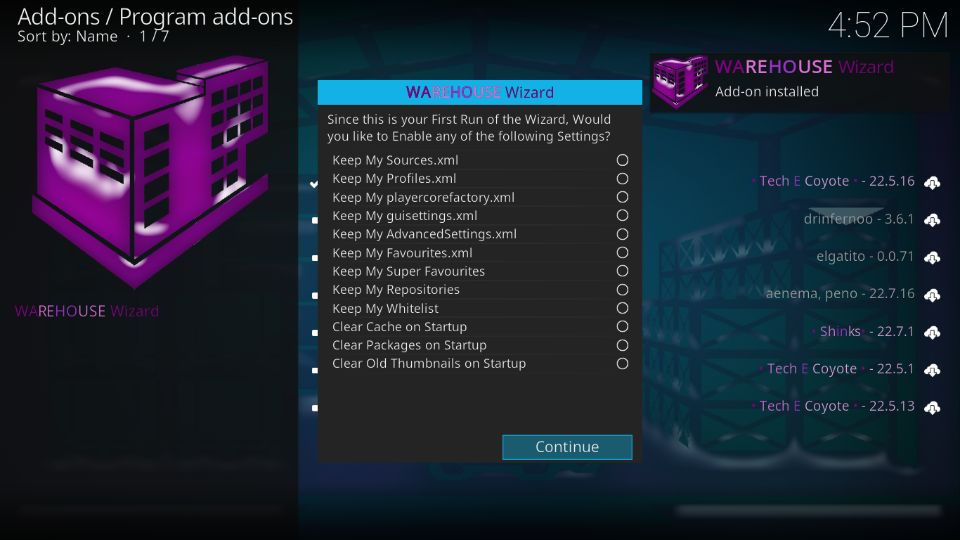 Part 4: Install a Warehouse Wizard Kodi Build
Finally, we're on to the last part of getting WareHouse Wizard Kodi Builds. Let's continue where we left off in part 3.
1. Once you enable/disable settings, tap the Continue button.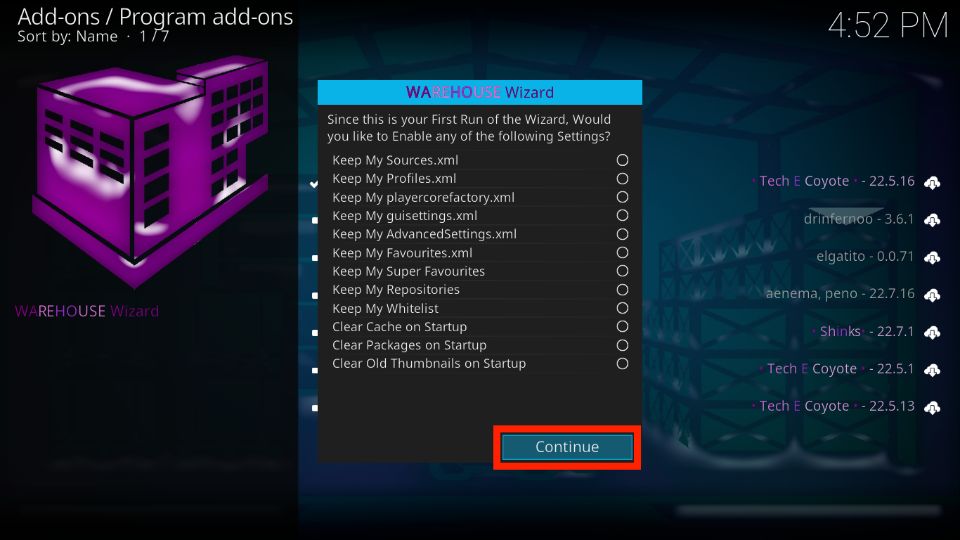 2. Ignore the popup alert.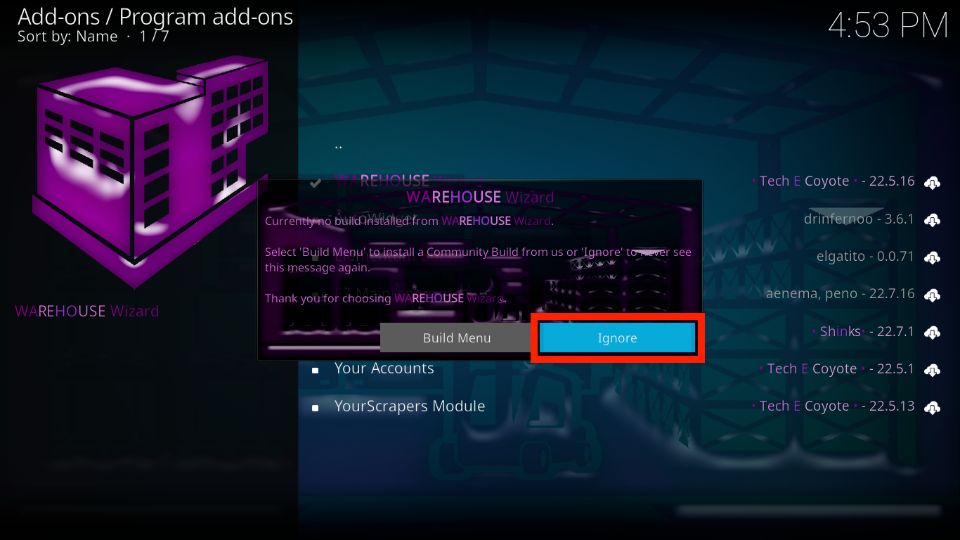 3. Click Dismiss when the following window appears.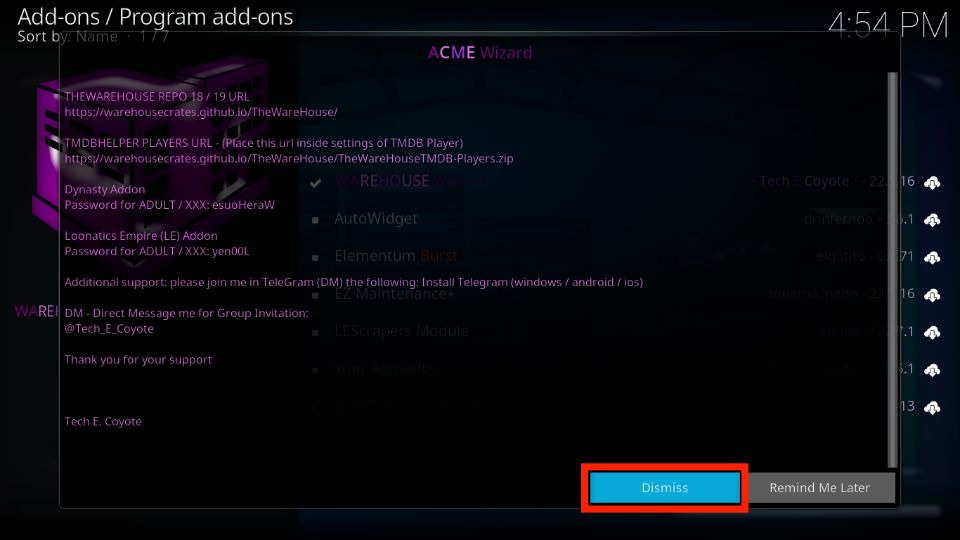 4. In the Kodi home screen, tap Add-ons.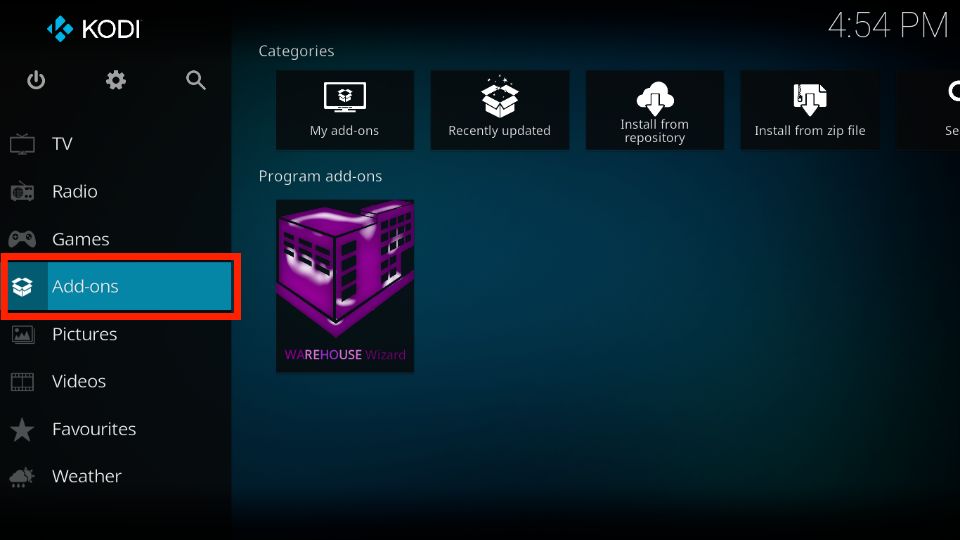 5. From the menu on the left, select Program add-ons. Then, select WAREHOUSE Wizard on the right.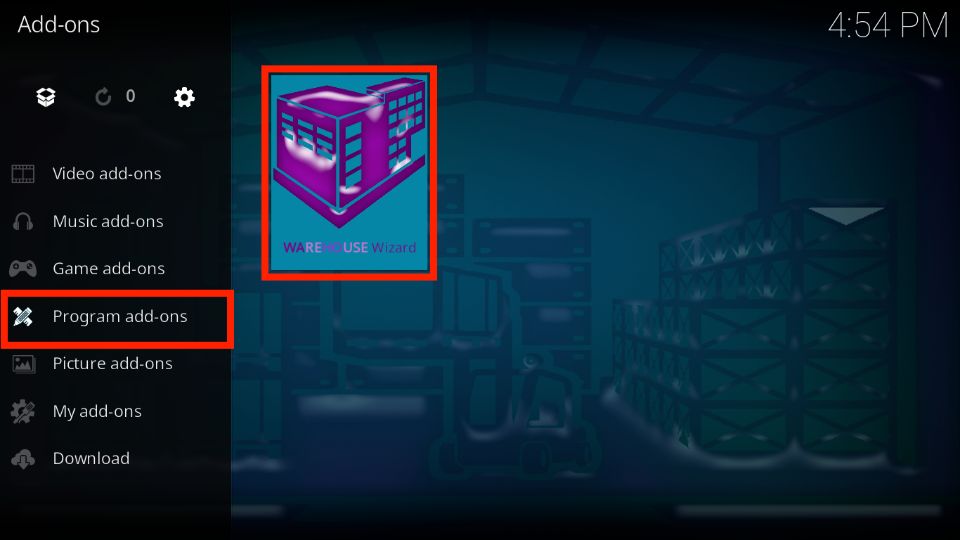 6. Scroll and click on (WAREHOUSE)Builds.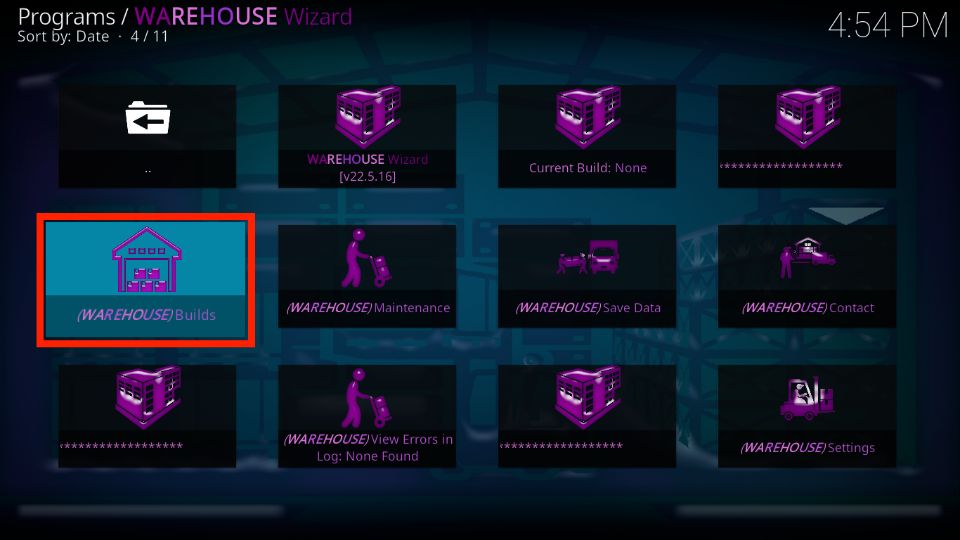 7. The following window will appear. Here you can choose any WareHouse Wizard Kodi Build to install. I am selecting [19.4] Laboratory Android-Full(v22.10.27) from the list.
Note: Choose the build as per the operating system of your device.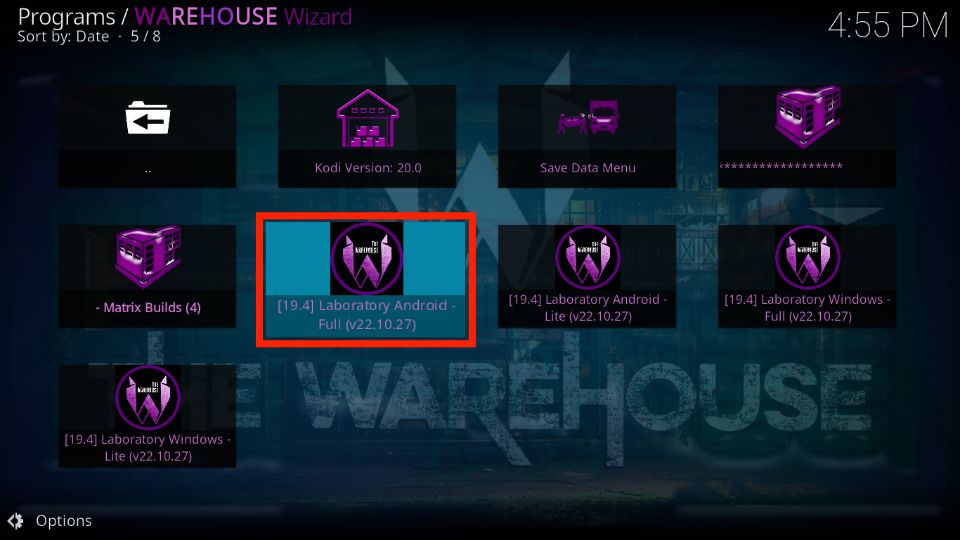 8. Next, click (WAREHOUSE)Install.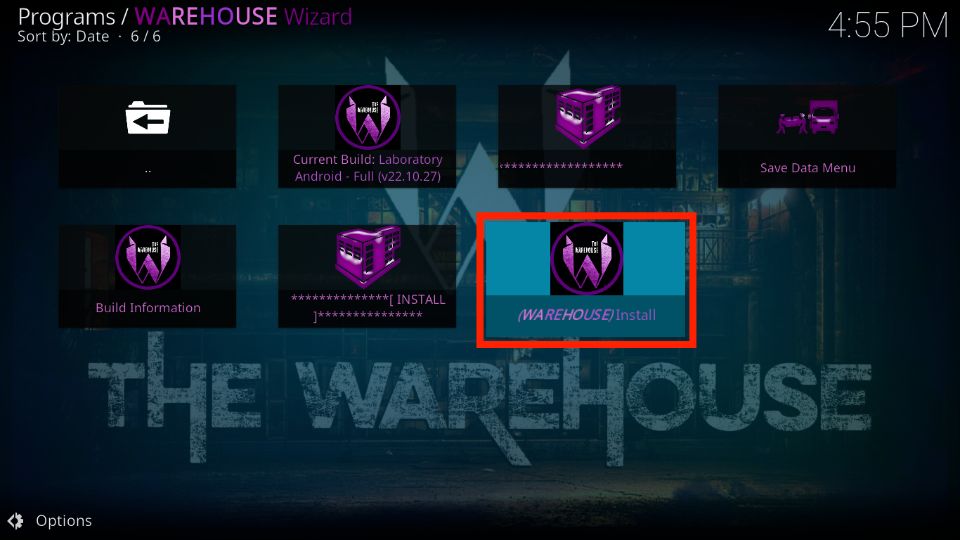 9. You'll get an installation popup notification. Tap Yes, Install to proceed.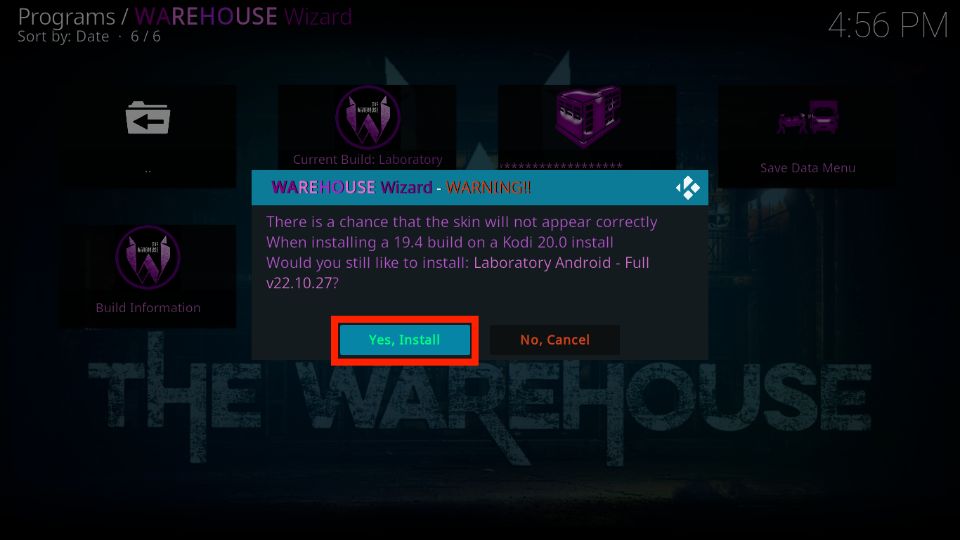 10. The file will start to install. You can view the progress, size, and speed on the screen.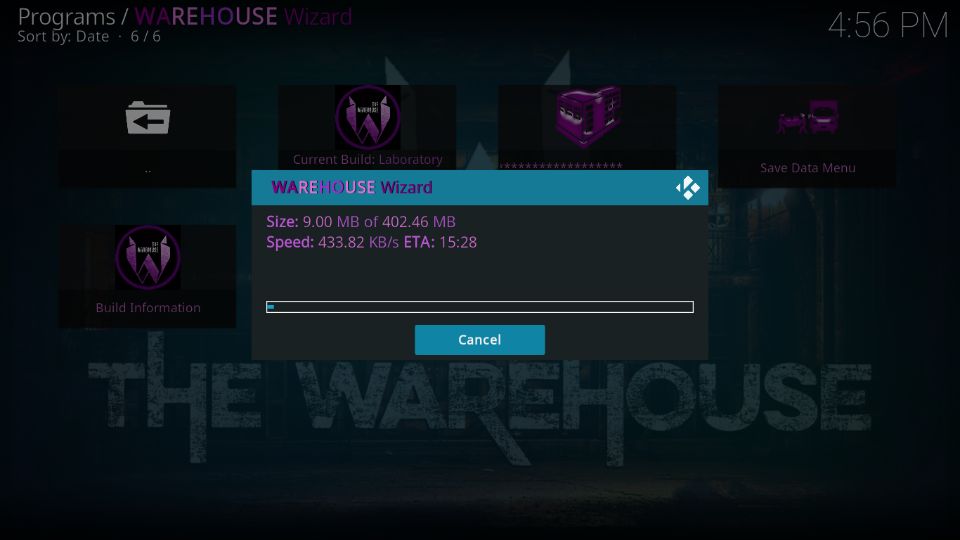 11. When downloading completes, the Wizard will start the installation.
The process may take a while( depending on your internet.) So please wait a few minutes.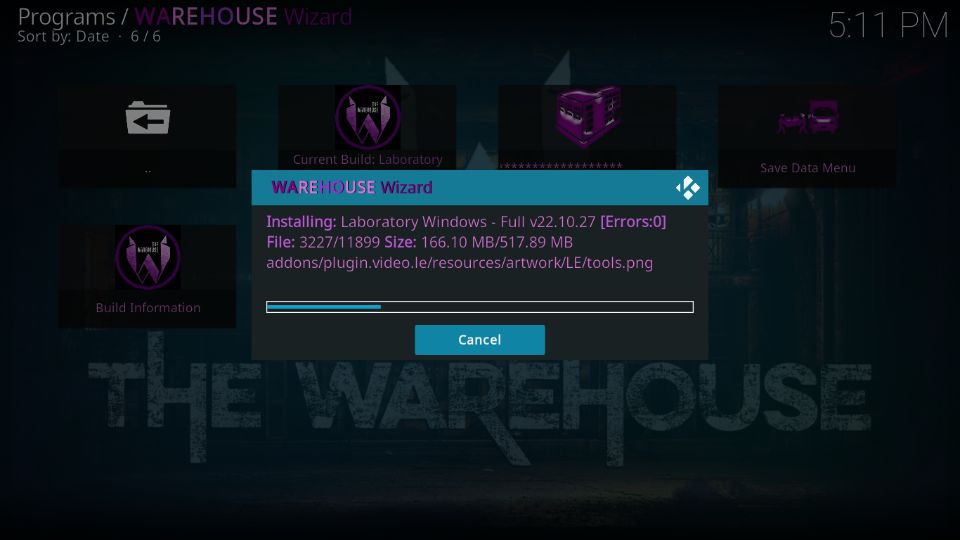 12. When the process completes, you must force close Kodi to save changes. Tap OK.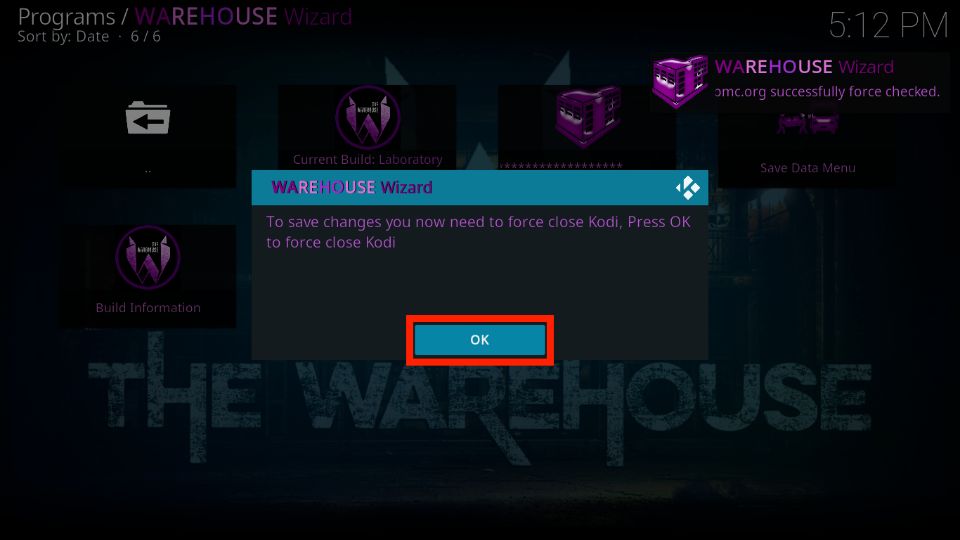 Congratulations! You've successfully installed the WareHouse Wizard Build.
Wait! It looks like you are all set to start watching your favorite content on Kodi. But have you protected your online identity yet? You are under constant surveillance by the Government and ISP. They use your IP address 3.17.249.235 to track you. Streaming free or copyrighted videos may get you into legal trouble.
Thankfully, you can use a VPN to easily protect your privacy and go invisible from your Government and ISP. I use and recommend ExpressVPN with Kodi.
ExpressVPN is the fastest, most secure, and streaming-friendly VPN. It is easy to install and set up on any Kodi device, including FireStick, Smartphones, PCs, and more.
ExpressVPN, offers an unconditional 30-day money-back guarantee. So, if you do not like the service (I don't see why), you can get a full refund within 30 days.
Please remember that we encourage you to use a VPN to maintain your privacy. However, we do not condone breaking copyright laws.
Before you start using Kodi for streaming, here is how you can protect yourself with ExpressVPN:
Step 1: Sign up for ExpressVPN Here
Step 2: Download ExpressVPN on your device by clicking HERE
Step 3: Open the ExpressVPN app on your device. Sign in with your account. Click the connect/power button to connect to the VPN

Great! You have successfully secured yourself with the best Kodi VPN.
Overview of Warehouse Wizard Kodi Build
Now that you've got Warehouse Wizard Kodi Build let's explore its features. Please note that I am describing the Build that I installed earlier. WareHouse Wizard contains various Builds, and describing each is impractical. However, they are pretty similar, with minor differences.
If it's the first run, wait a few moments for the build to load completely.
You can view three main menus on the main page: LIVE TV, SETTINGS, and DYNASTY. More menus will appear as you scroll through.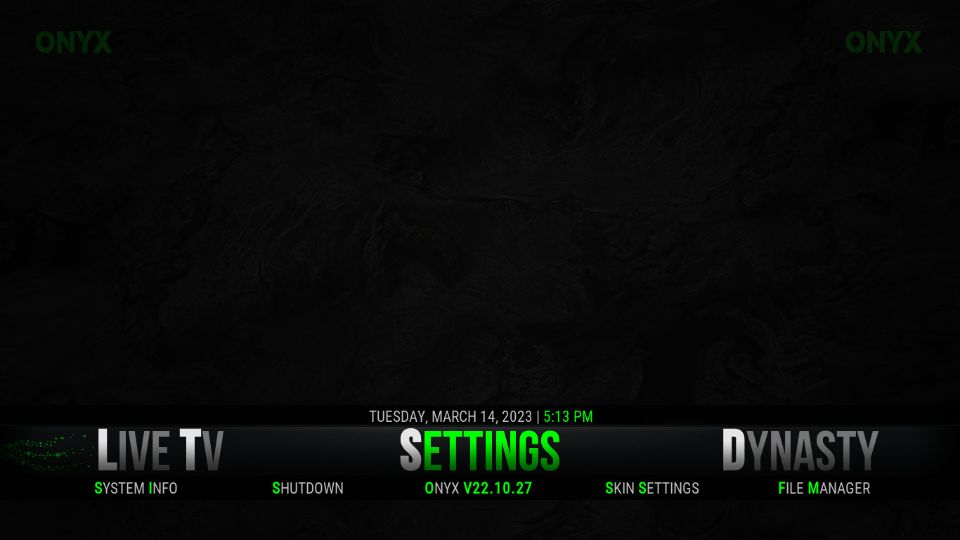 Select DYNASTY to reveal its subcategories.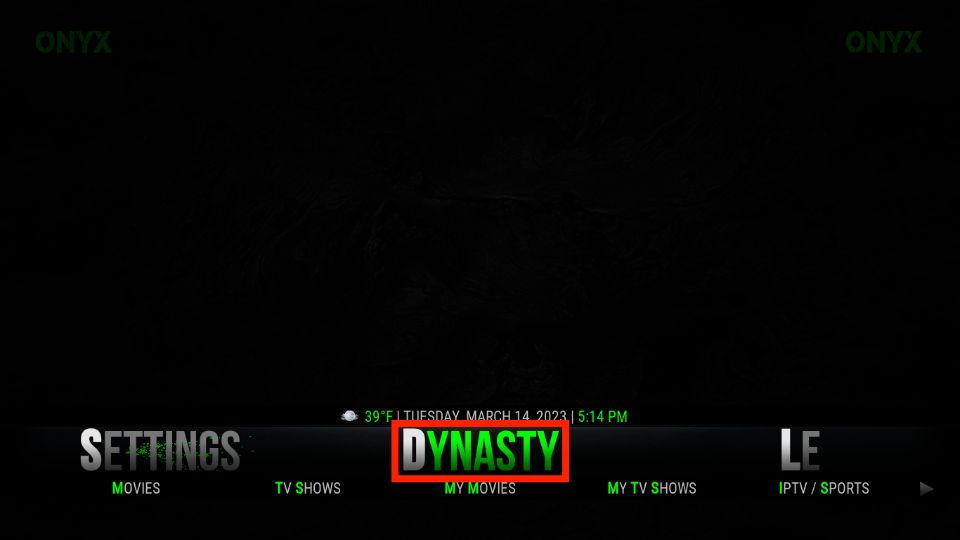 The Dynasty menu will appear. It includes options like Movies, TV Shows, My Movies, and more.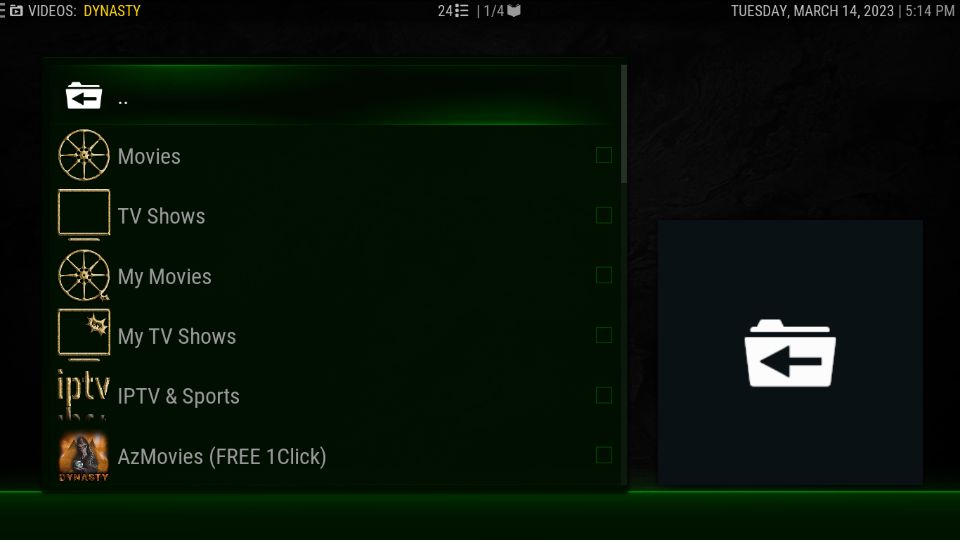 The following section is called MOVIES. Tap it to reveal the Movies list available.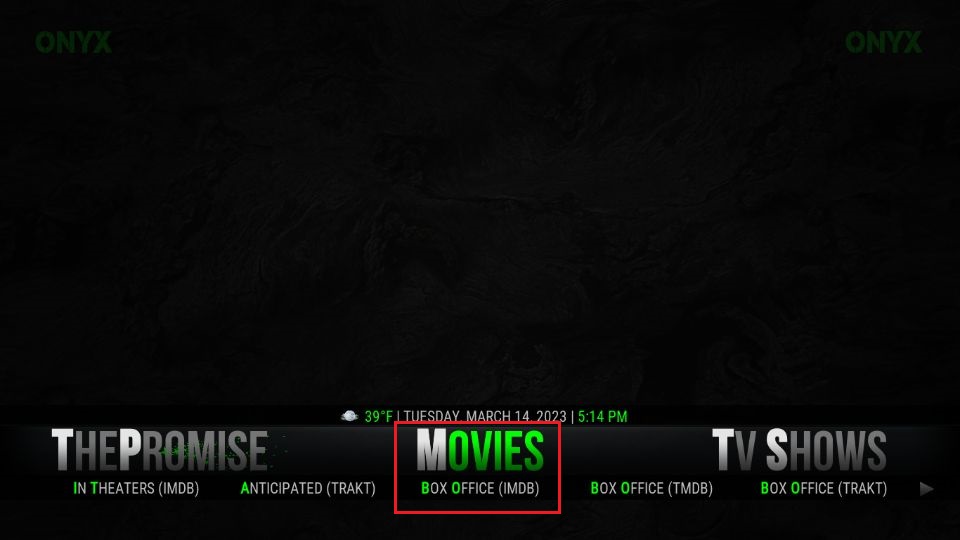 Similarly, tap TV SHOWS to view New and current TV series available.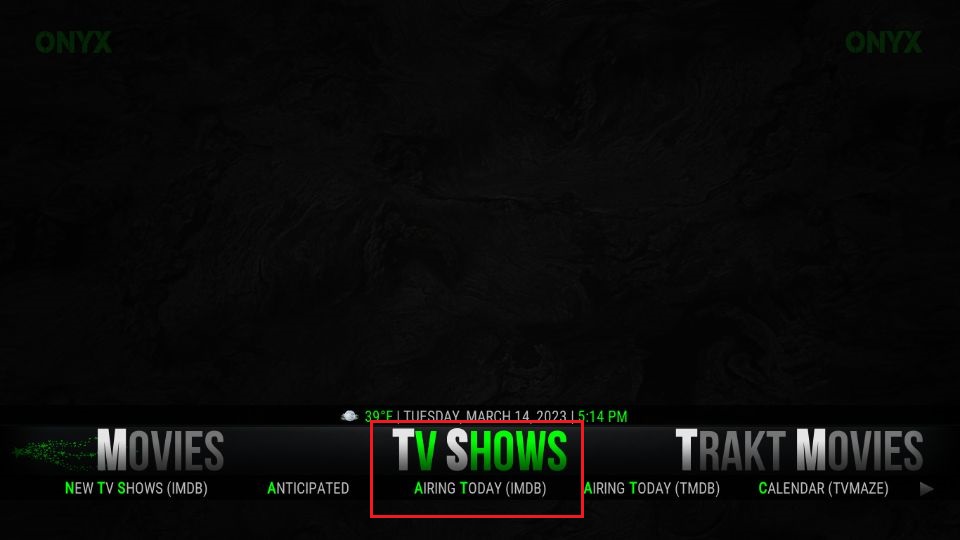 The following image shows the subsequent three menus as you scroll right. Tap each to view what it entails. For example, they're called 24/7MOVIES 2, 1CLICK FREE, 1 CLICK DEBRID.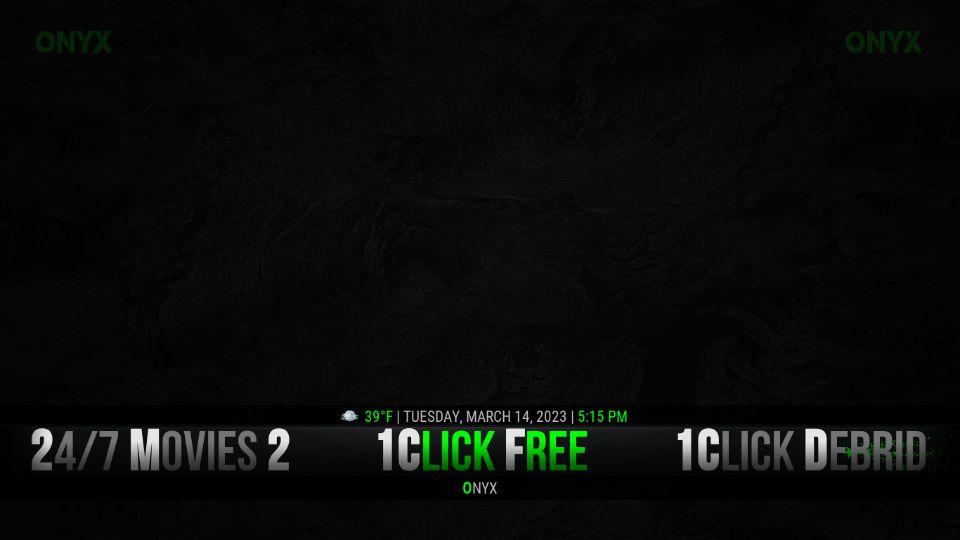 WareHouse Wizard has something for everyone, and that includes kids. Click the KIDS menu to maximize it.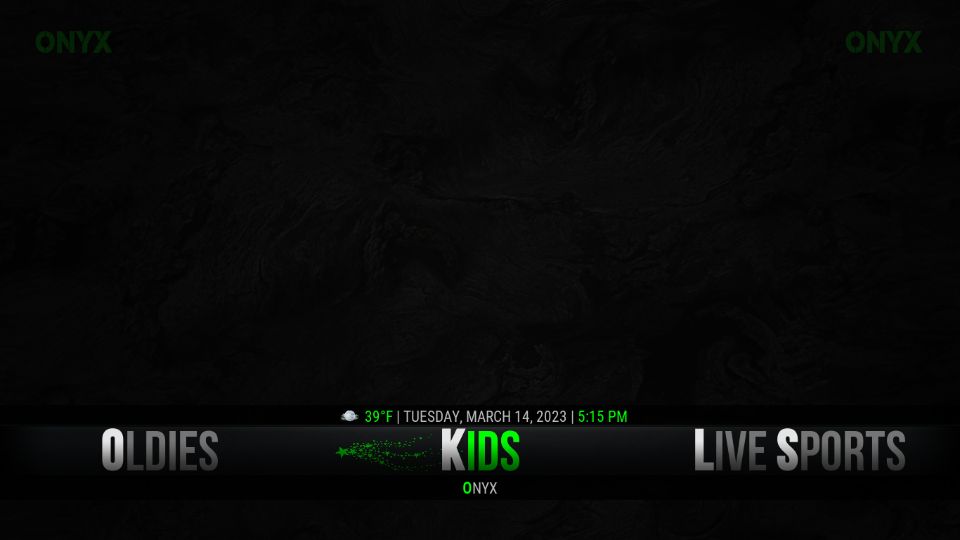 For the sports lover, the LIVE SPORTS menu is a treat. It is available right next to the KIDS section.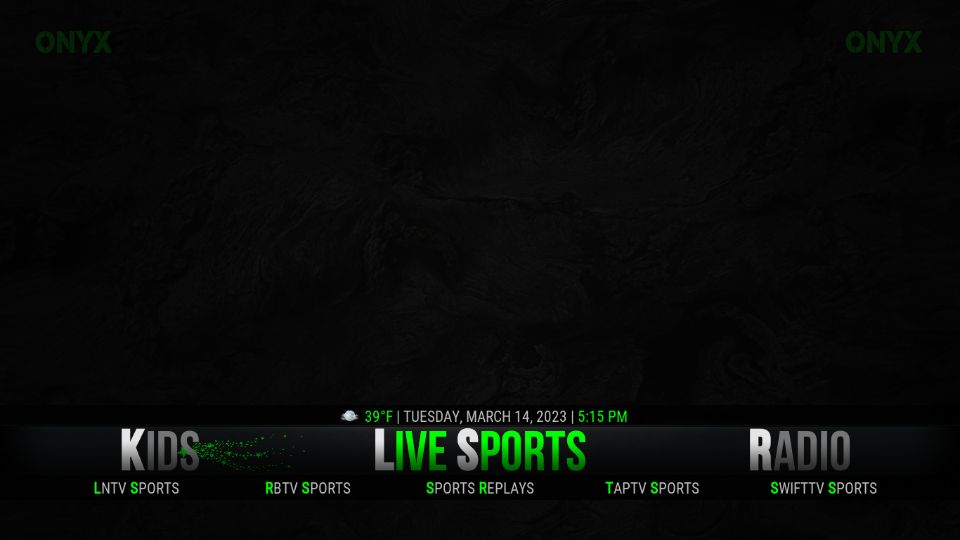 Next comes the RADIO. Tap it if you love listening to radio stations.
Next to RADIO is the MUSIC section. It contains various audio content in genres like Latin, pop, R&B, and more.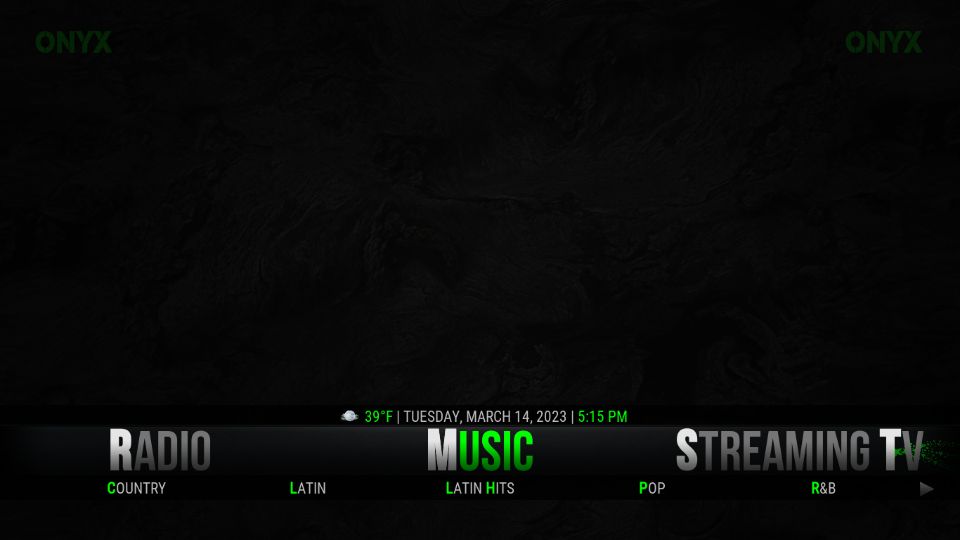 The STREAMING TV menu contains many streaming options.
You can also explore the DOCUMENTARIES menu by scrolling right and selecting it. I am sure you'll find some fantastic documentaries.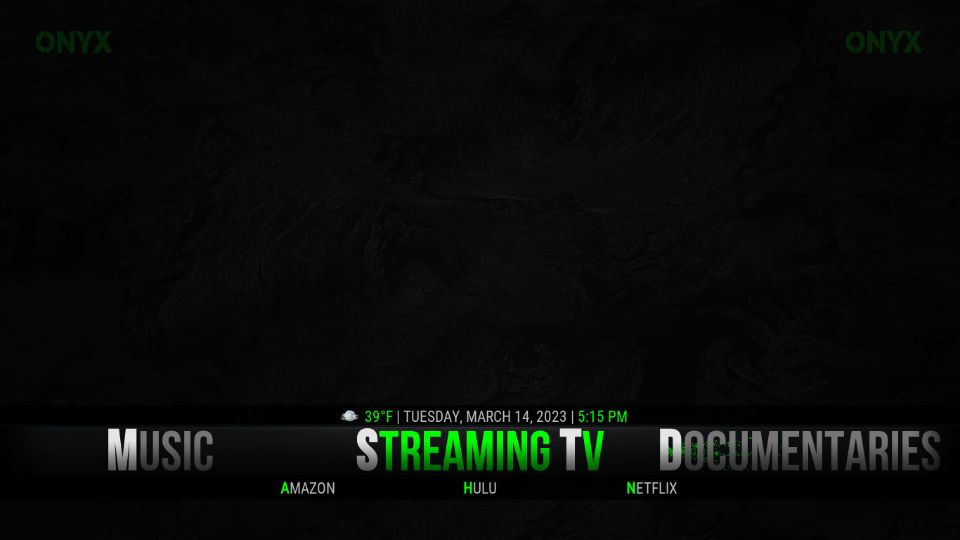 Wrapping Up
I hope you have learned how to install WareHouse Wizard Kodi Builds. WareHouse Wizard is truly a one-stop shop for entertainment and streaming. The Wizard has many Kodi builds for devices like FireSticks, Androids, Windows, and more. The Builds contain preinstalled addons too. I am looking forward to hearing your reviews!
Related: