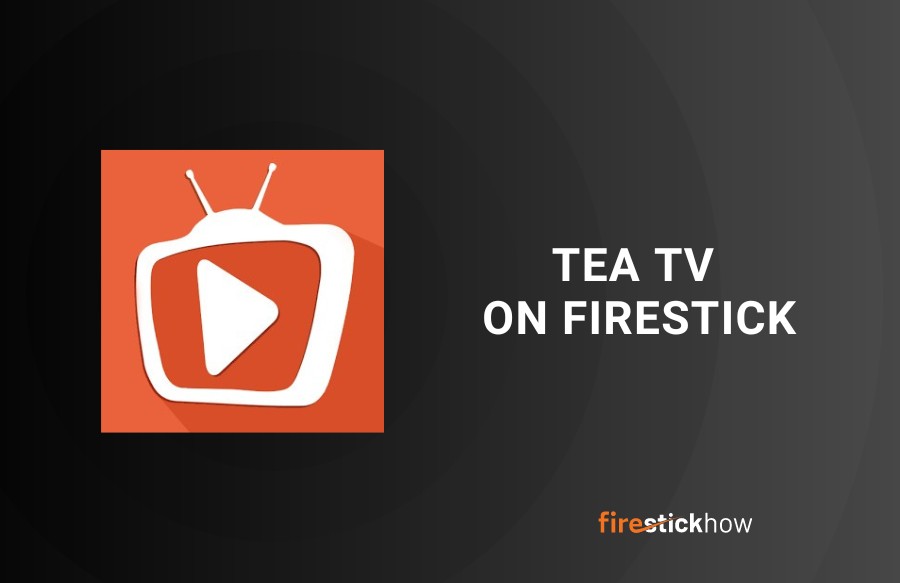 This post covers the installation process of TeaTV on FireStick, Fire TV and Fire TV Stick 4K. 
TeaTV is a very well known and widely used FireStick app among the streamers. The app comes with a huge media library and serves you tons of movies and shows. The library is also updated regularly with the new content as soon as it is available.
This app has been around for quite some time. It keeps getting regular software updates by the developers. Over time, TeaTV FireStick app has gotten only better both in terms of performance and visual appeal. The effortless design ensures fluidity and user-friendliness. Streaming quality is more than satisfactory. It gets better with Real-Debrid sign in. Trakt integration is also supported.
TeaTV is also the part of our catalog of best apps for FireStick, along with Cinema HD APK, CyberFlix TV and more. It has also been my personal choice ever since I first ran into it several months ago. Give it a try!
Attention FireStick Users: Read before you continue
Your government and your ISP are probably constantly monitoring your streaming activities. You will likely get into serious legal trouble if you are caught streaming copyrighted videos on your FireStick.
Your IP address 2601:6c4:8181:5b80:f9ef:5909:f2bf:46fc is exposed to anyone who is watching. That is how they will track you. Therefore, I strongly recommend getting a trusted VPN for FireStick right now and hiding your online identity.
I am using ExpressVPN on all my devices as it is the most reliable, most secure, and fastest VPN in the market. You can easily install and set up ExpressVPN on FireStick or any other device within minutes.
ExpressVPN offers you a 100% money-return guarantee for 30 days. Also, you can claim 3 months free and save 49% on its annual plans.
4- Apps from unknown sources must be ON in order to install TeaTV. By default, it is OFF. Just click this option and enable it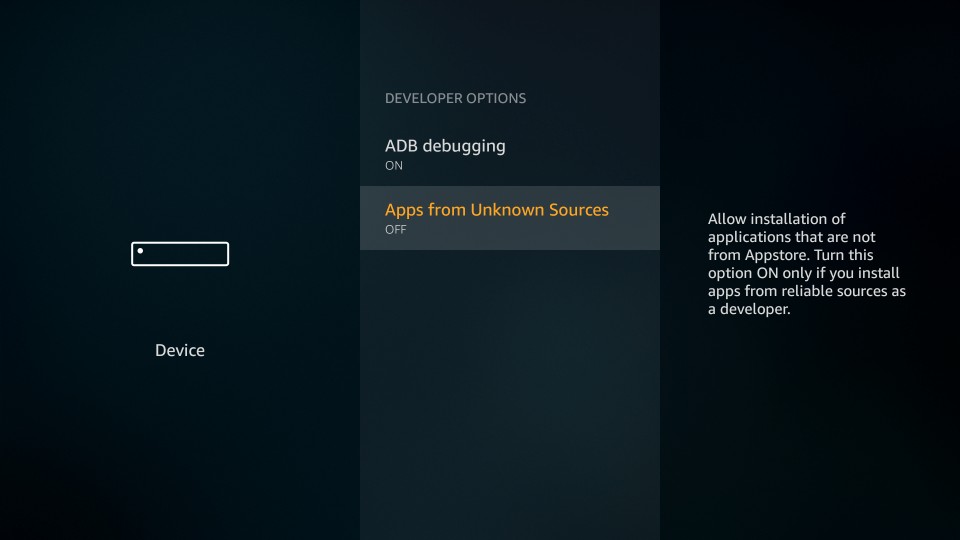 5- Choose the option Turn on when this warning message is displayed. There is nothing to worry about. TeaTV is a widely used and safe app
We will now start with detailed instructions.
TeaTV on FireStick with Downloader App
FireStick uses Android OS but functions a bit differently. For example, you cannot download the APK files directly from regular browsers like FireFox or Silk for sideloading purposes. You need special tools.
Downloader is widely considered as the finest sideloading app. It is easy to use. It is available for download from the Amazon Store. You can look up in the Amazon Store from the FireStick home screen. There is a search option on the home screen, which you can access by selecting the lens icon in the menu bar in the upper-left corner.
Search for the Downloader app and download it. When that's been done, follow these steps and install TeaTV on FireStick:
1- Run Downloader. You should see this window with the empty URL field on the right side. Click inside this field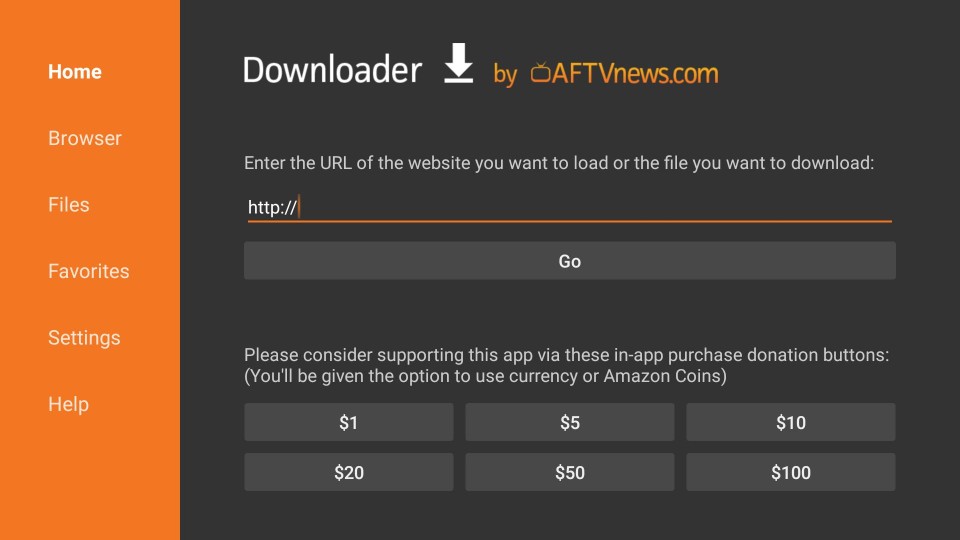 2- You can now type the TeaTV source URL with the help of the on-screen keyboard. This is the URL: https://www.firestickhow.com/tea
Click GO or press the Play/Pause button on your remote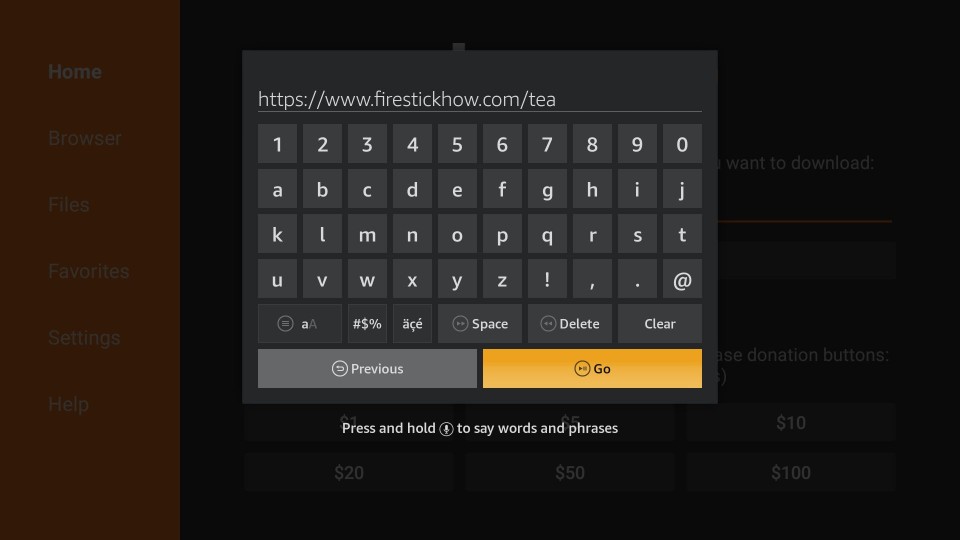 3- Downloader should not take too long to download the APK file of TeaTV app. Just wait until it is done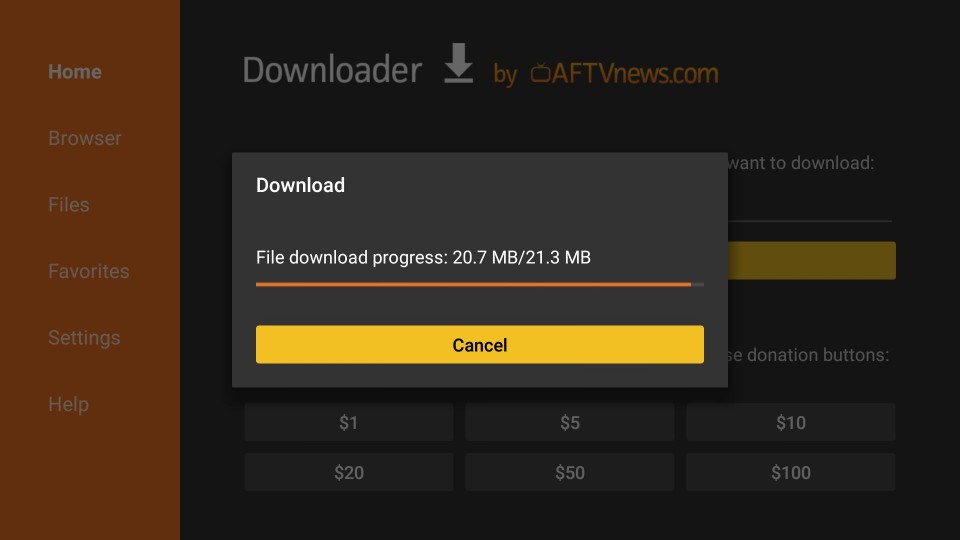 4- Downloader app will also run the file for you and commence the installation. FireStick will ask for your confirmation before proceeding. You must see this window. The install button will appear in the bottom right when you scroll down a bit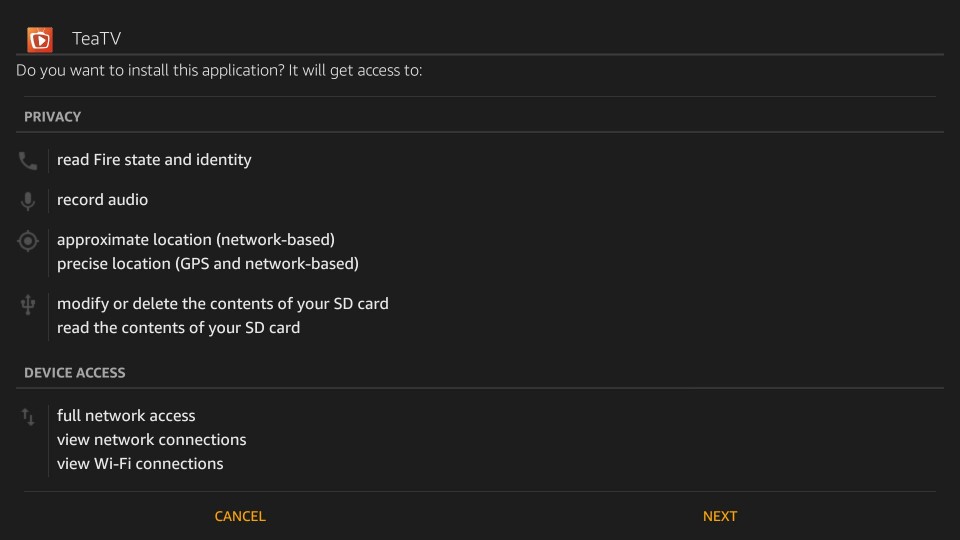 5- Click Install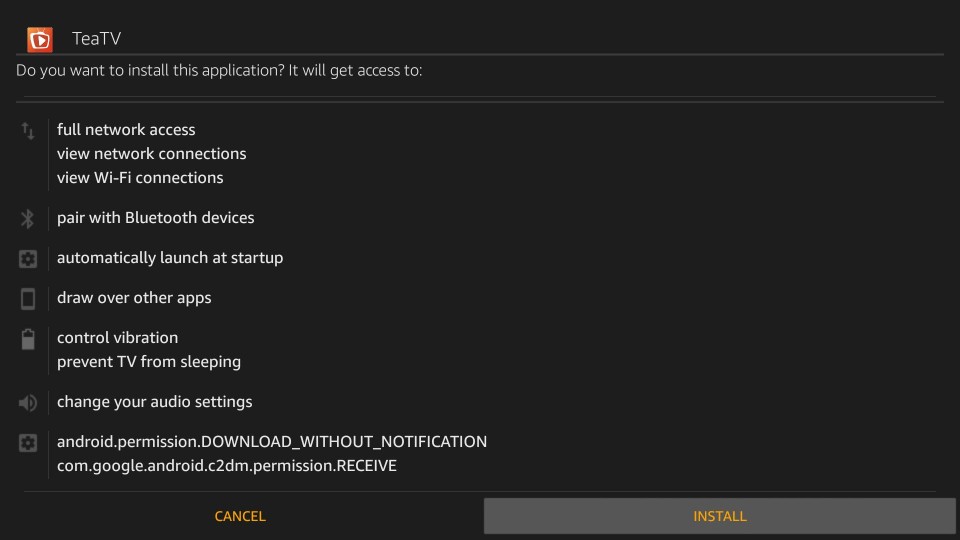 6- TeaTV will install. Give it a minute.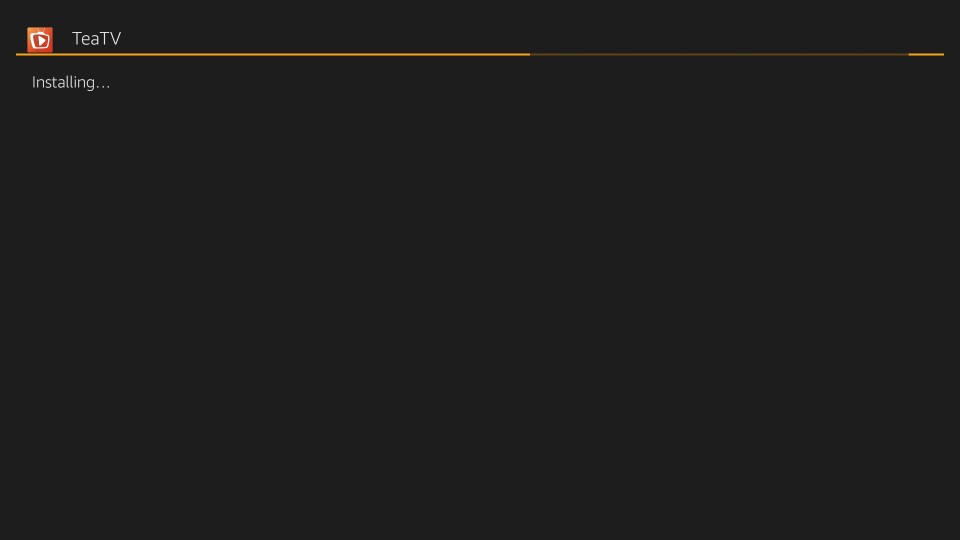 7- The App installed message confirms that TeaTV on FireStick has been installed. You may choose Open to start the app. But, for now, I am clicking Done and going back to the Downloader app. You will know why in the next step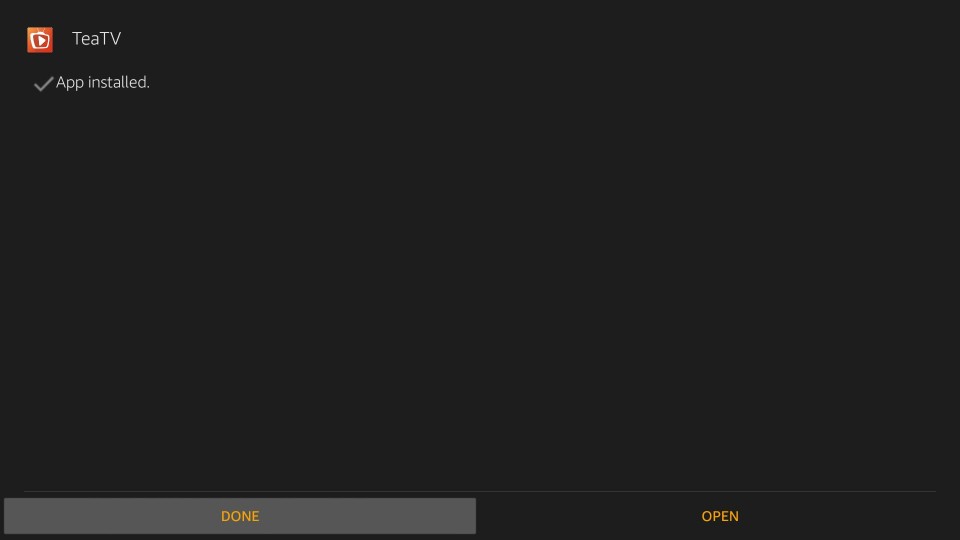 8- This prompt must be active. Click Delete
I am deleting the TeaTV APK file because it won't be needed anymore. It is good to remove files that take up unnecessary space on your device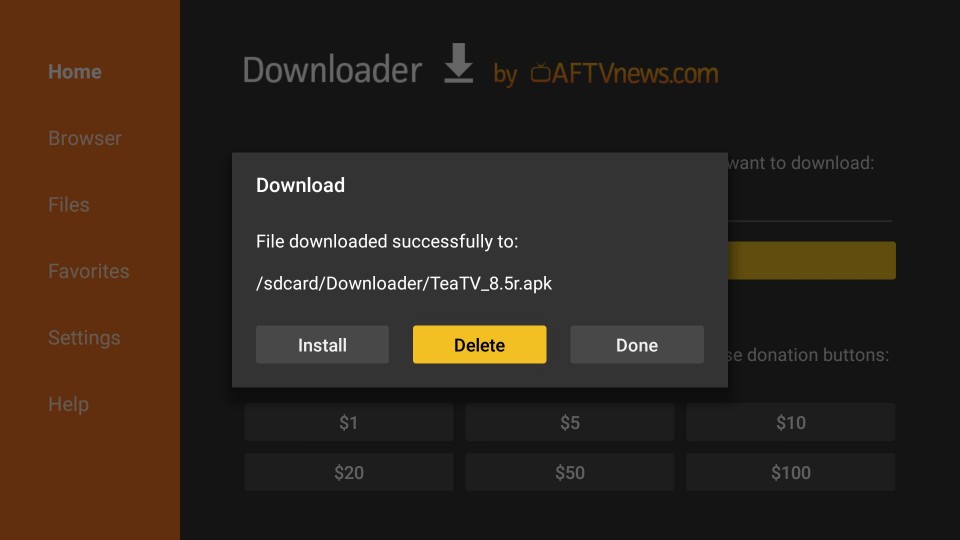 9- Confirm by clicking Delete again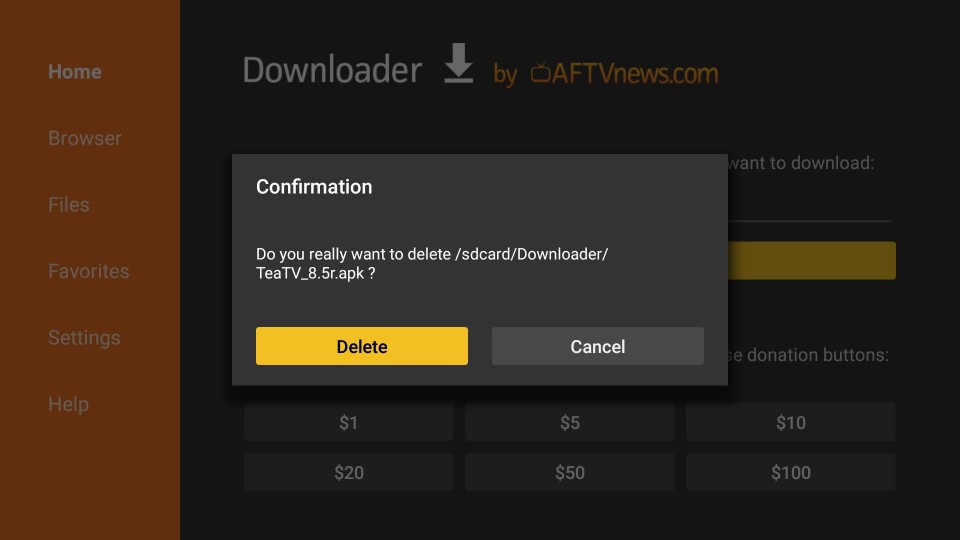 TeaTV has been installed successfully on your FireStick. You may access the app anytime by going to: Settings > Applications > Manage Installed Applications > TeaTV > Launch Application.
Wait! Before watching your favorite content on FireStick, ensure you have protected your online identity. Your streaming activities are likely being monitored and logged by your Government as well as your ISP. Free streaming of copyrighted videos may get you into legal trouble.
Thankfully, you can easily avoid the surveillance and monitoring of your online activities and completely maintain your privacy. All you need to do is connect to a trusted and reliable VPN on FireStick. A VPN will hide your IP address and your online identity by encrypting your internet connection.
Please note that I am not encouraging you to violate any copyright laws. You should always watch the content available in the public domain. I am simply recommending the use of a VPN to maintain your privacy. You have every right to your privacy, which is constantly being breached these days.
I personally use ExpressVPN and have found it to be the fastest and most secure FireStick VPN. It is the most streaming-friendly VPN I have ever used. Therefore, I highly recommend getting ExpressVPN for FireStick.
Here is how you can quickly and easily get the ExpressVPN app on FireStick:
Step 1: Click HERE to subscribe to ExpressVPN and enjoy a 49% discount with 3 months of extended service. You are also eligible for a 30-day, full money-return guarantee.
Step 2: Download and install ExpressVPN on FireStick
Choose the Find > Search option on the FireStick home screen on the menu bar.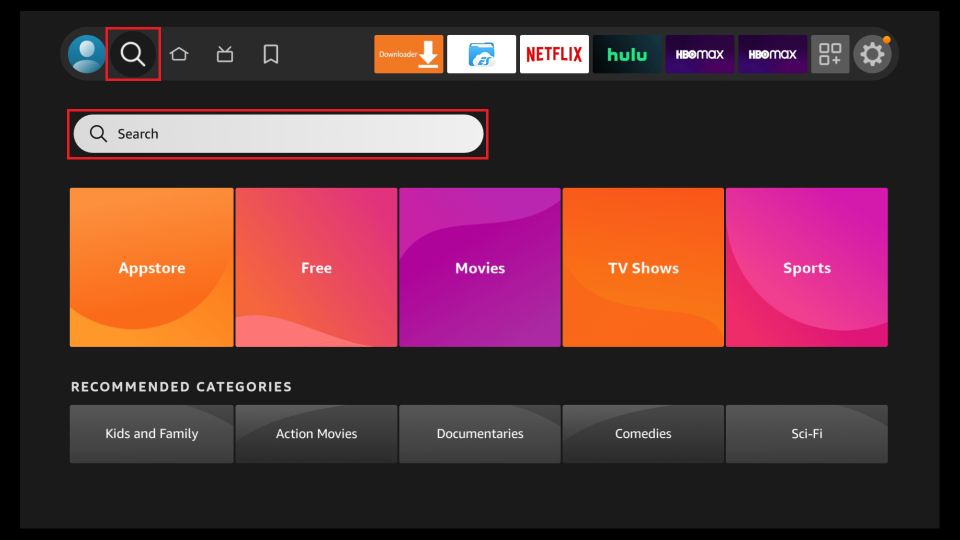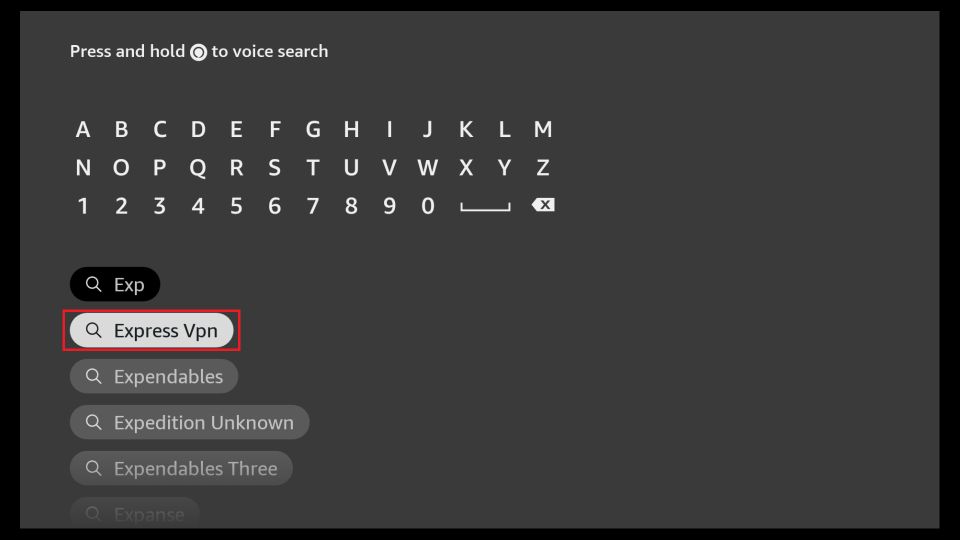 Click the ExpressVPN icon on the following window.

Click Download or Get on the next window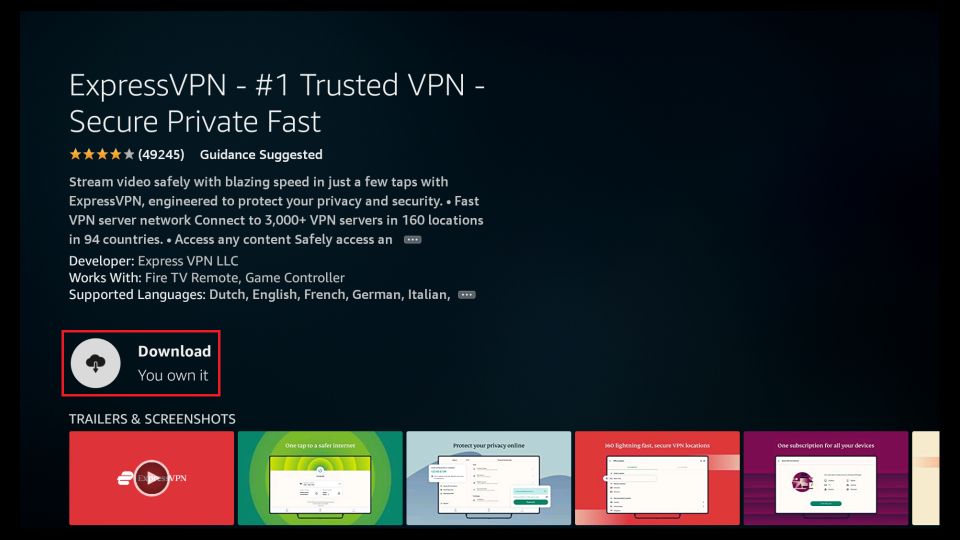 Step 3: Open ExpressVPN once you have downloaded it. Sign in with your account.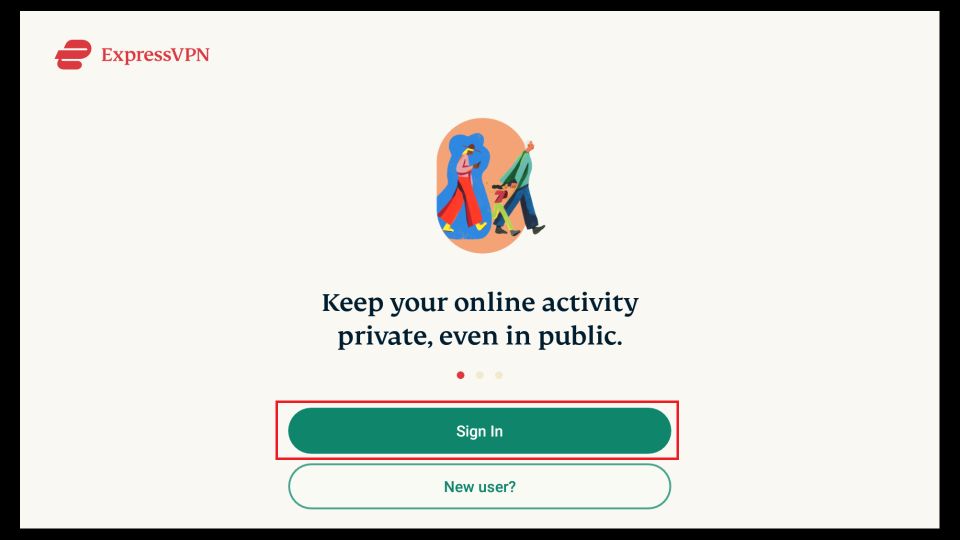 Step 4: Choose a server and click the Connect/Power button

Put your mind at ease now! You have successfully secured your streaming activities with ExpressVPN.
Alternate Method to Install TeaTV on FireStick: ES File Explorer
Note: No need to follow this method if you have already installed TeaTV on FireStick through the Downloader app
While Downloader is great, you may want to explore other options as well. Also, Downloader is not available in some areas.
I am going to use the ES File Explorer app for this method. Download and install it from the Amazon Store. Again, go to FireStick home-screen > Search option (extreme left on the top). Search for ES File Explorer and install it.
Run ES File Explorer and follow these instructions:
1- Open the Downloader option from the right part of the ES Explorer window (check the selected icon in the image below)
Or, you may also click Tools > Download Manager on the left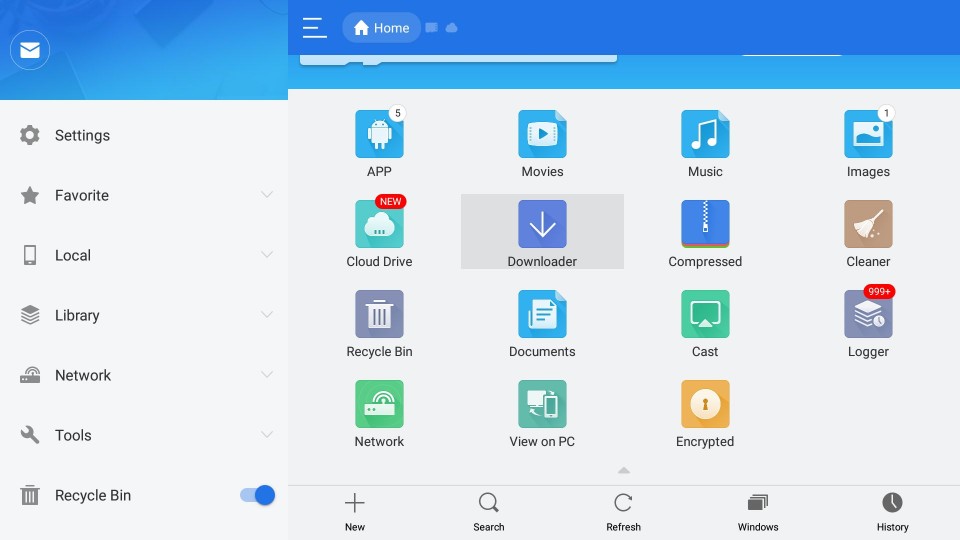 2- From the set of options on the bottom, click +New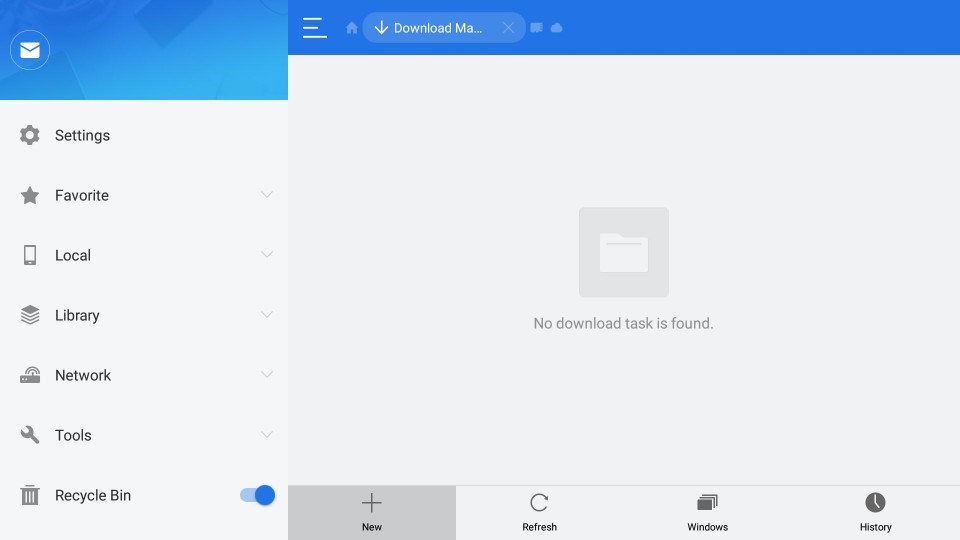 3- This is the dialog box you should see now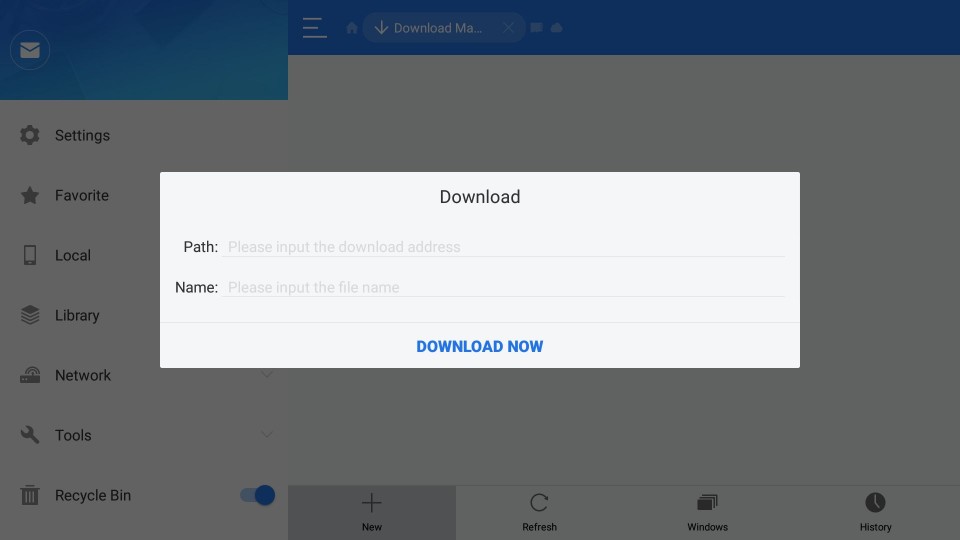 4- Following URL will go in the Path section https://www.firestickhow.com/tea
Whether you enter any Name or leave this section blank is irrelevant to the process
Click Download now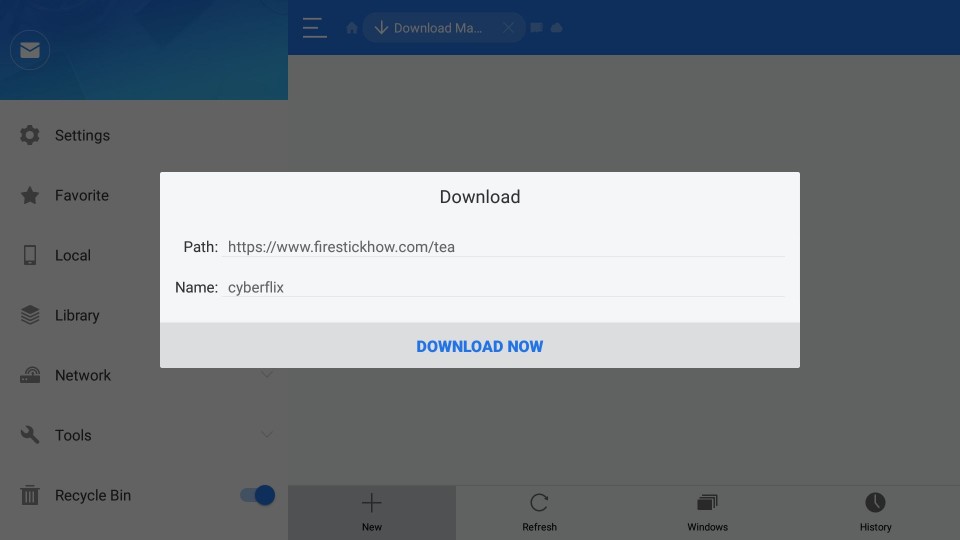 5- The APK of TeaTV app will download. Once finished, click Open file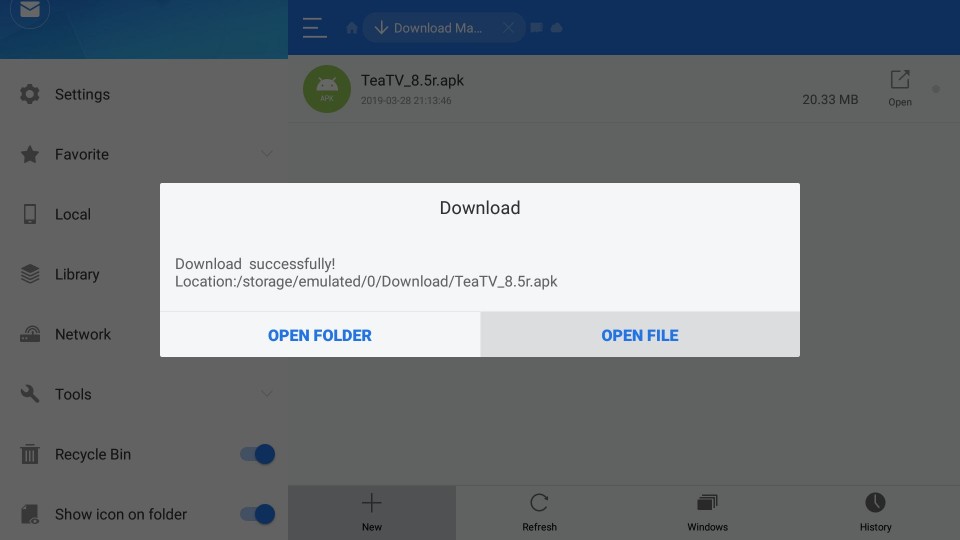 6- Choose Install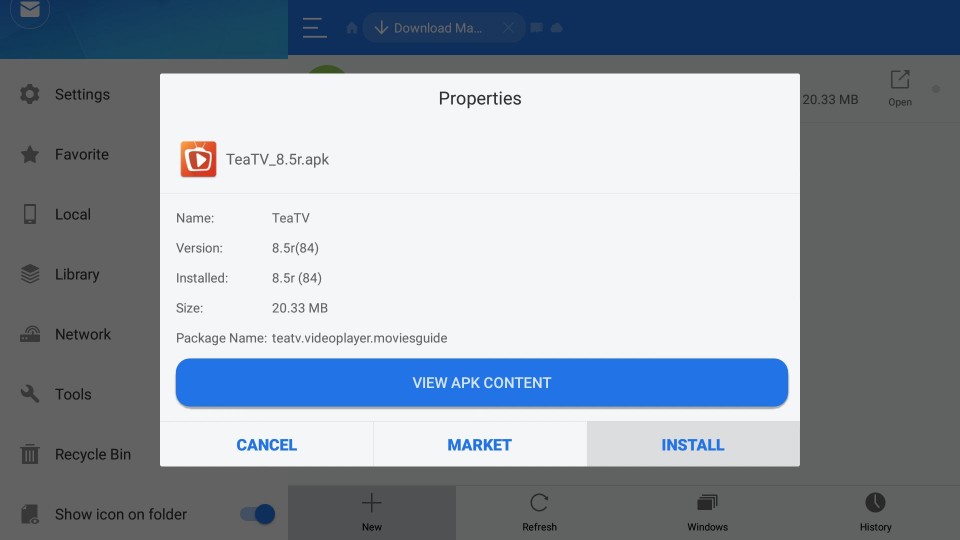 7- You will be guided to this window. Scroll down to the bottom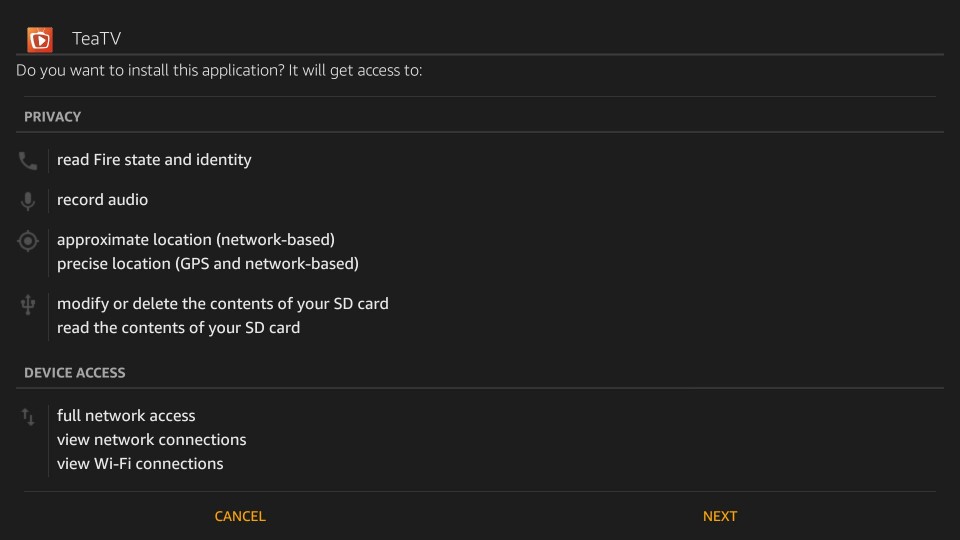 8- Now click Install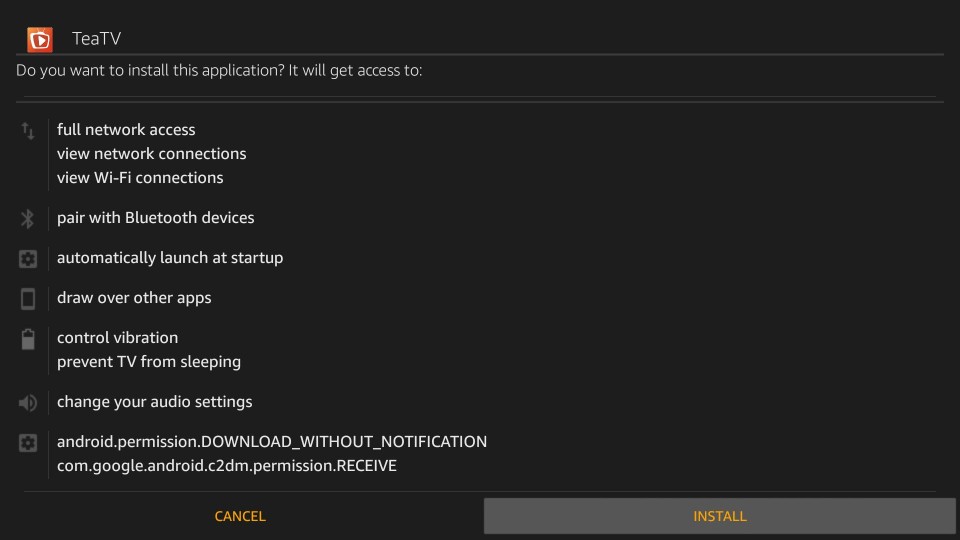 9- Installation usually takes less than a minute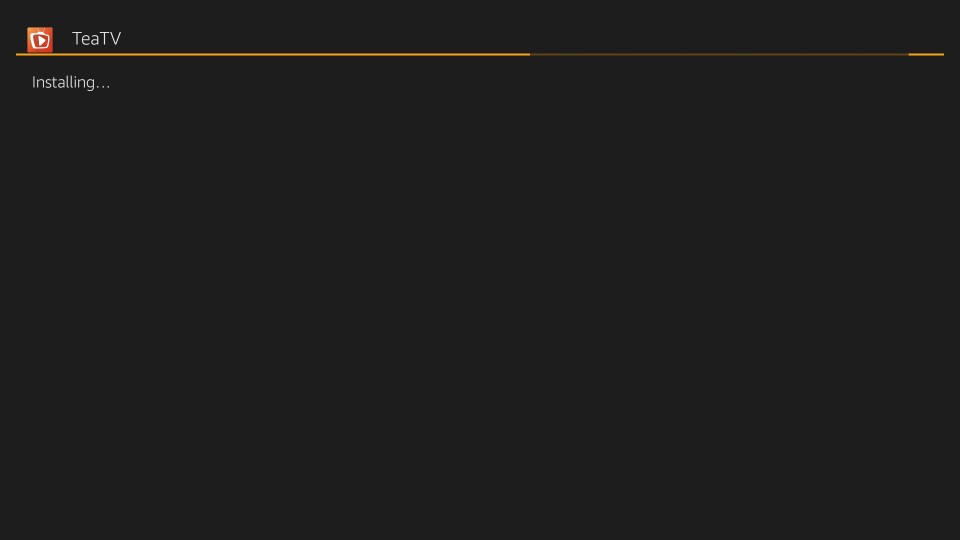 10- You may choose Open to run the TeaTV app from this window. You may also run it later if you choose Done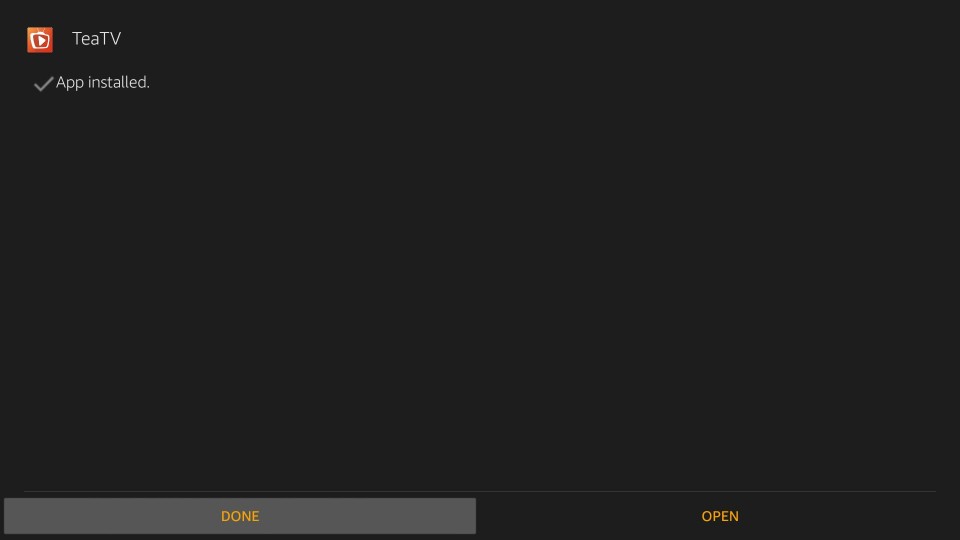 Let's Explore TeaTV
There are multiple ways to access your apps on FireStick. All your apps are saved in the app drawer called Your Apps & Channels. Here are 3 ways to go to them:
Hold down (for at least 5 seconds), the Home button on the FireStick Remote. A popup window will appear. Click Apps
Select the Your Apps & Channels section on the home screen of FireStick. Go all the way to the right and click See All
Go to FireStick home screen. Now navigate to Settings > Applications > Manage Installed Applications > TeaTV > Launch Application
TeaTV keeps releasing updates with new features and fixes. If you come across this prompt after opening the app, I recommend you click Update and upgrade TeaTV to the latest version.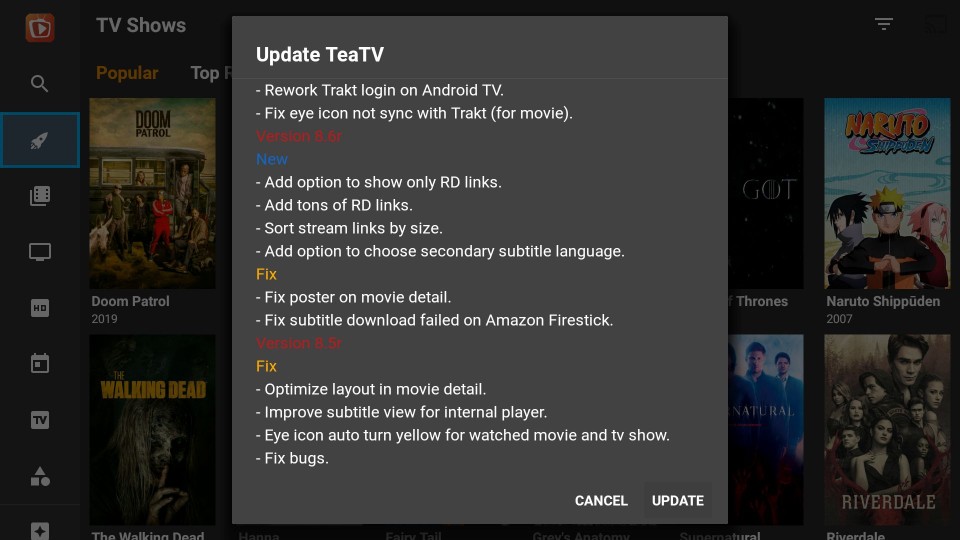 Since this is your first run, you will run into a Disclaimer prompt as well. Click Accept to start using TeaTV on FireStick.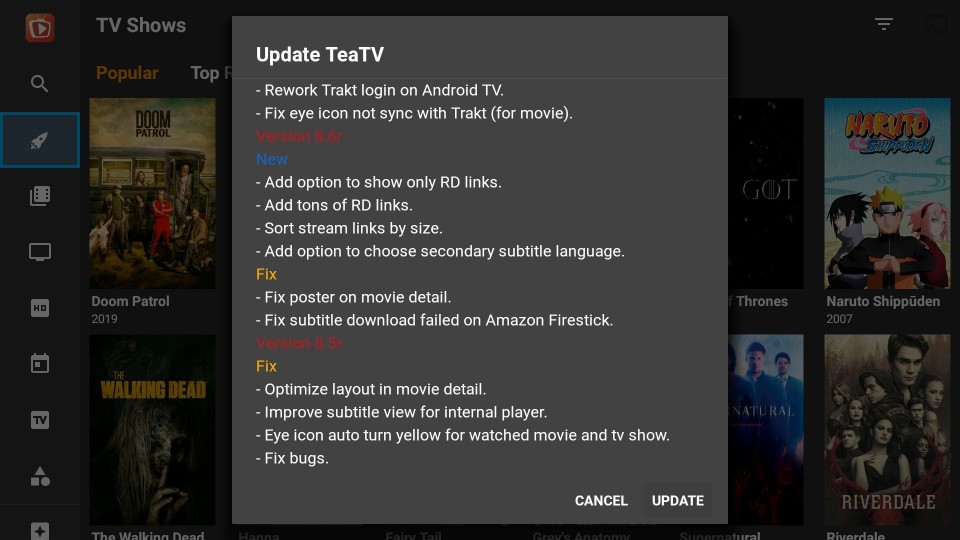 Choose your Subtitle language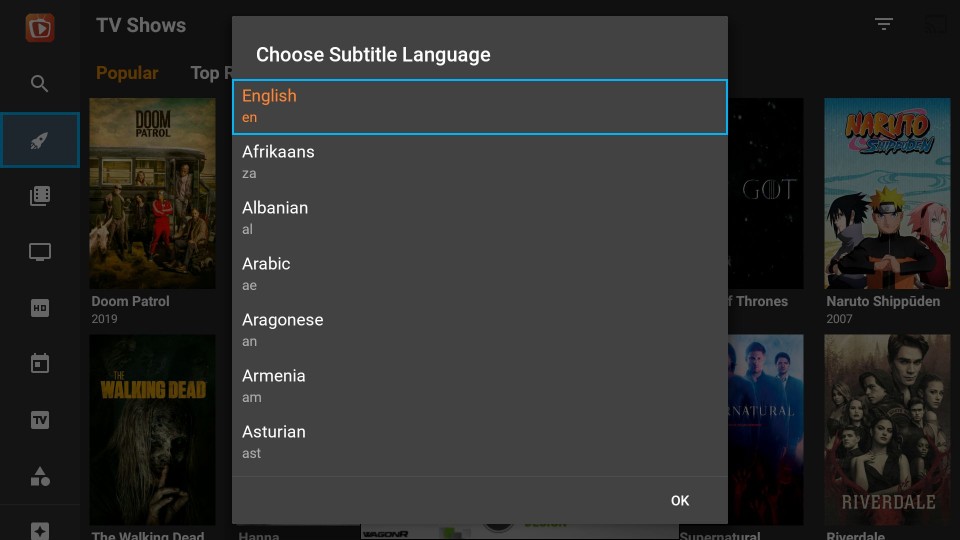 You are now on the home screen of TeaTV App on FireStick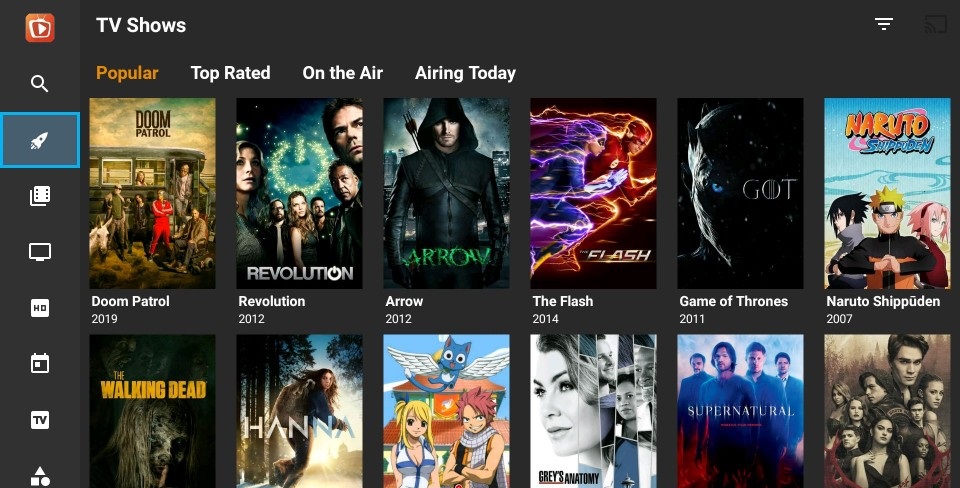 The app will open to TV Shows. You may select Movies by clicking the movie icon on the left. The left menu sidebar has other options including Discover, TV Shows, HD, Schedule, Category, Settings, etc.
You may go to the app Settings and change the default launch screen to Movies.
The app is pretty self-explanatory. You may start exploring it now.
Conclusion
TeaTV is a very popular streaming app for FireStick. This on-demand service serves you a big database of Movies and TV Shows. The app design looks professional. The interface is user-friendly.
It is a scraping-based service. This means TeaTV will fetch multiple streaming links and let you pick the link of your choice. You may enhance the streaming quality dramatically by pairing the app with Real-Debrid. If you wish to sync your streaming activities, Trakt Sign-in is also available. Definitely try TeaTV on FireStick if you love to watch movies and shows.