In this tutorial, you will learn to install and use Streams for US IPTV on FireStick 4K, FireStick 2nd Gen, as well as Fire TV Cube. I have also provided quick instructions to install the app on Android TV later in the guide.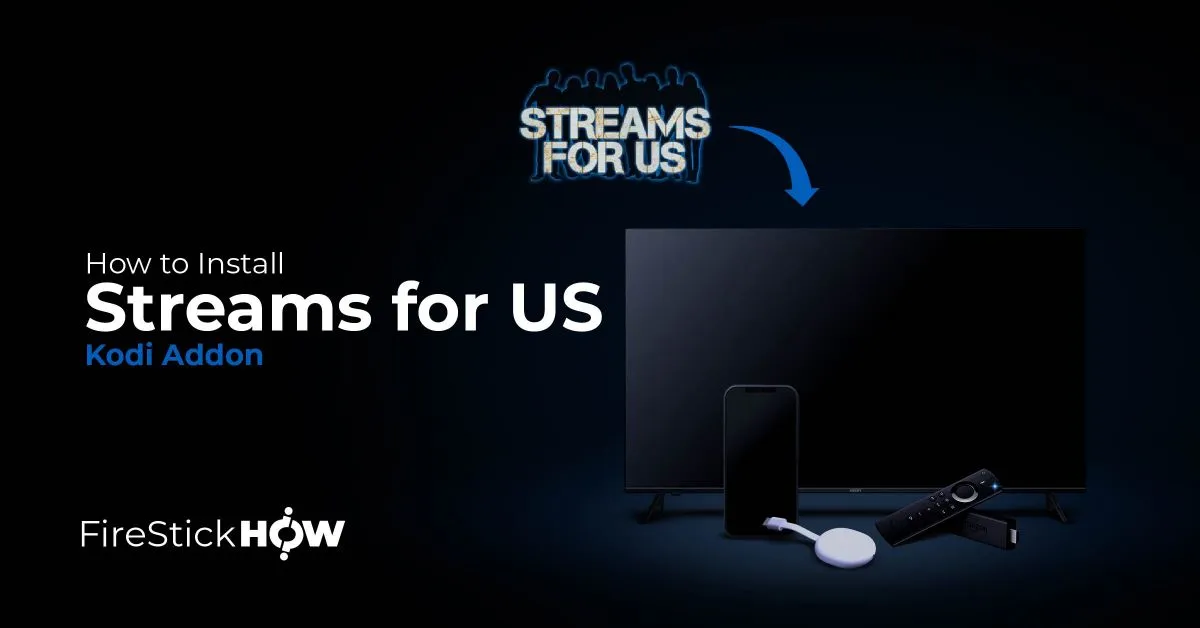 Streams for Us is a third-party IPTV service that gives you access to more than 2,000 channels from the USA and other countries. The price plans start at $7 a month and you get a minimum of 2 simultaneous connections. This makes Streams for Us a pocket-friendly IPTV service.
Streams for Us maintains its servers well. Therefore, you will find that most of the channels work smoothly anytime you want to stream. The downtimes are quite rare with this service. To avoid any legal issues, Streams for Us has discontinued the on-demand Movies and TV Shows.
This app only streams Live TV with additional features such as EPG, Multi-Screen, and Catch Up.
Attention FireStick Users: Read before you continue
Your government and ISP are probably monitoring your streaming activities using your IP address 3.17.249.235 (exposed to all). You may get into serious legal trouble for streaming copyrighted videos on FireStick. 
I strongly recommend getting a trusted VPN for FireStick to hide your IP address and protect your online identity.
I use ExpressVPN on all my devices as it is the most secure, fastest, and easy-to-use VPN. It comes with an unconditional 30-day money-back guarantee, and you get 3 free months with the yearly plan.
Don't miss out on the peace of mind and online security ExpressVPN provides.
Read: How to Install & Set up the best VPN on FireStick.
Features/Highlights of Streams for Us IPTV
Here are the top highlights of this IPTV service
More than 2,000 cable TV channels from all over the world
Multi-device support with each plan
Pocket-friendly plans to start at just $7 a month
24/7 customer support
User-friendly apps for Android devices (FireStick, Android TV, Android Mobiles, Kindle)
EPG and M3U URL support are available allowing access on non-Android devices via the IPTV players
Remote-friendly interface for TV devices
Works smoothly with ExpressVPN and other prominent VPN services
Sign up for Streams for Us for FireStick and other devices
Streams for Us is a paid IPTV service. Therefore, you are required to buy a subscription and while doing so you also create an account with the service.
In-app registration is not available. Therefore, it will be done through a web browser on a computer or mobile. The first thing you want to do is access this Sapphire Secure link in a browser: https://streamsforus.net/billing/cart.php
The 2-devices category offering the US and international channels is selected by default. If you are only looking for the US channels, you can choose the option from the dropdown menu on the top.
However, even if you cut out the international channels, the prices remain the same. Therefore, I recommend choosing one of the international plans. This way, you will have access to channels from the UK, Canada, and other English-speaking countries (if that's what you are looking for).  
You will also get access to foreign language channels if you go for an international plan. Streams for Us has the following two types of plans:
$7 a month – 2 devices
$18 for 3 months – 2 devices
Both these plans have adult as well as non-adult variants. All the plans offer the same features.
I recommend monthly plans as there is no guarantee that these third-party IPTV services will remain in business.
Choose a plan and click Order Now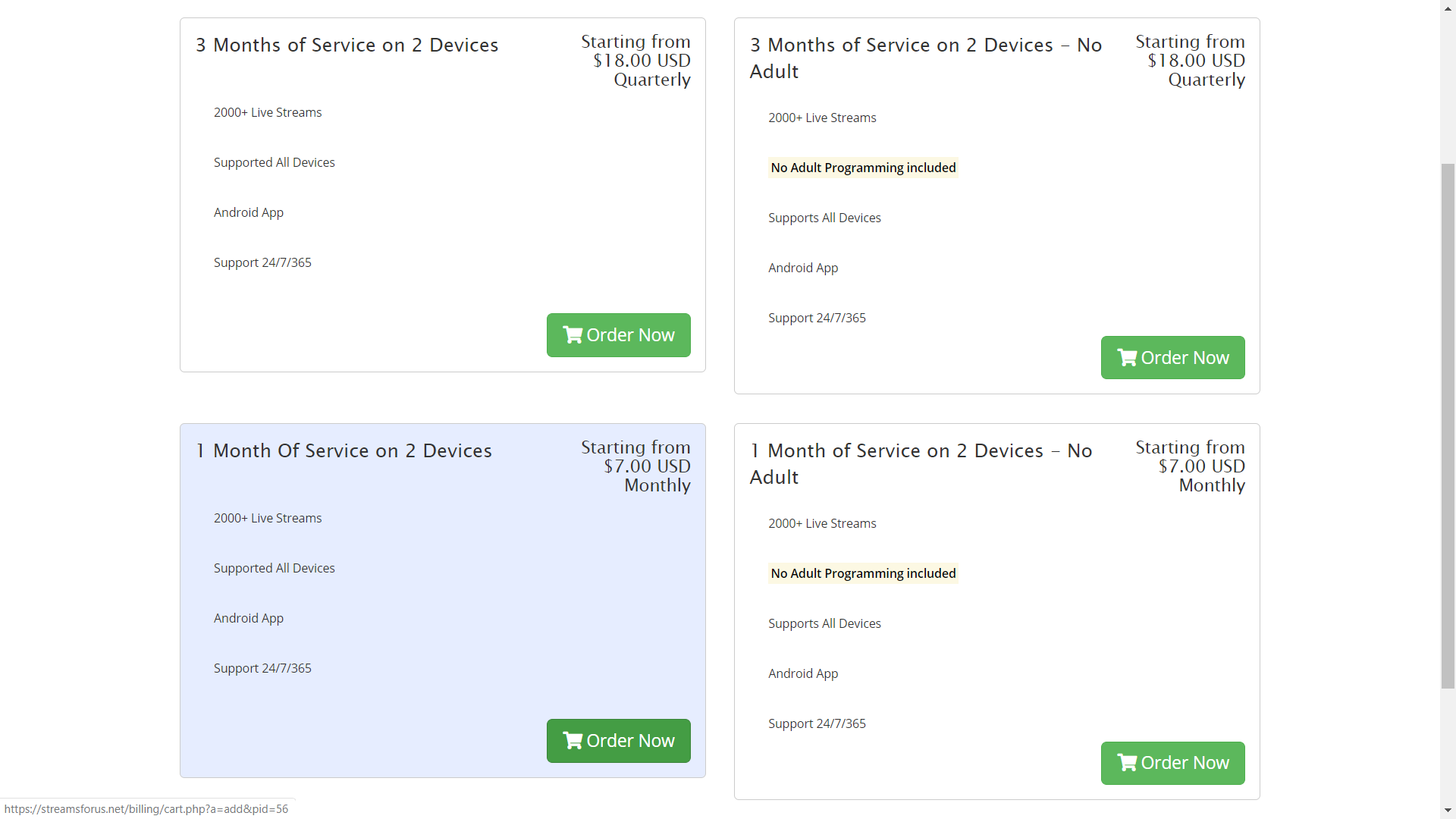 You can review your plan details on the next page.
Under the 'Configurable Options' section, it says you can opt for extra connections. However, when I wrote this guide, this option was disabled.
If you are using a MAC device, enter your MAG Address in the appropriate field. You can provide this information later also in the Streams for Us online portal.
Click Continue to proceed

You may take a quick look again at the plan details if you like
You may also enter a promo code here if you have one
Click Checkout to continue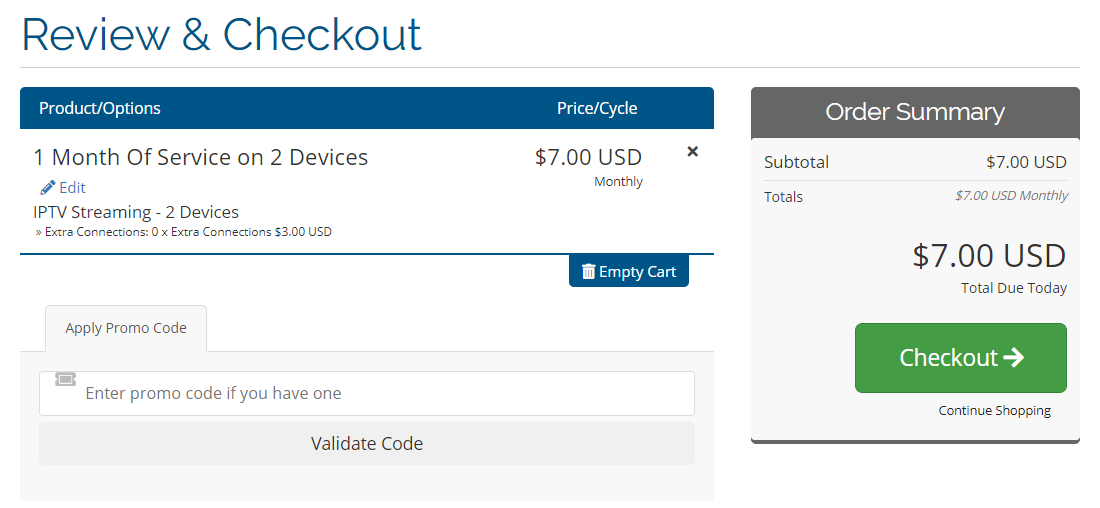 On the following webpage, you are required to enter the following details:
Personal Information (First Name, Last Name, Email Address, Phone Number)
Billing Address
Account Security (need to choose a password for access to the online portal)
Payment Details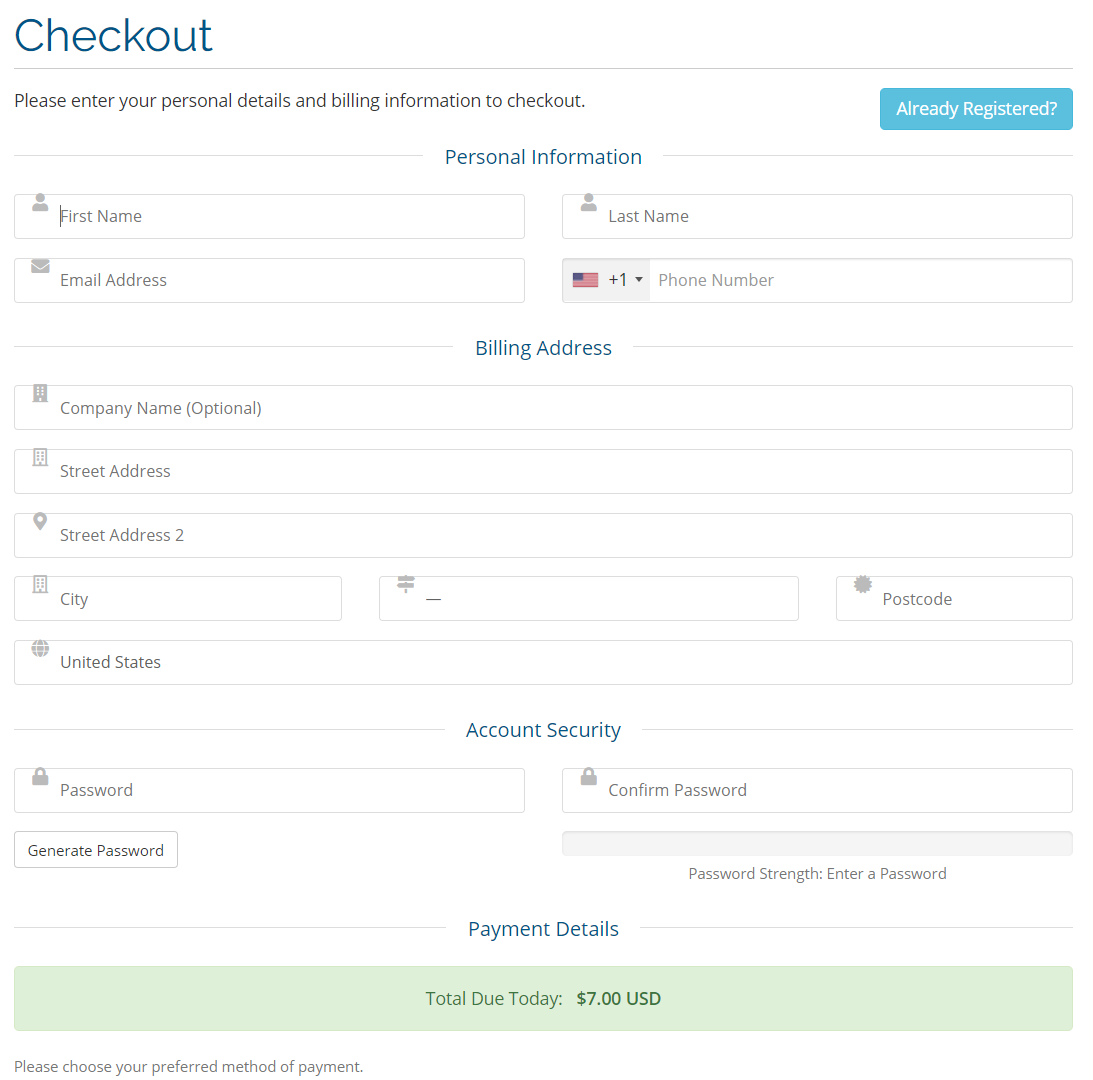 Important!!! Provide an email address that works. Streams for Us will send important information to your email address including the app login username and password.
In the Account Security section, you set up a password that will give you access to your Streams for Us online account. Your online account lets you manage your service, change billing info, update payment information, buy a new subscription, and more.
The online portal password is NOT the same as your app login password. Your app login password (along with the username) is sent in an email from Streams for Us once you have purchased the subscription plan.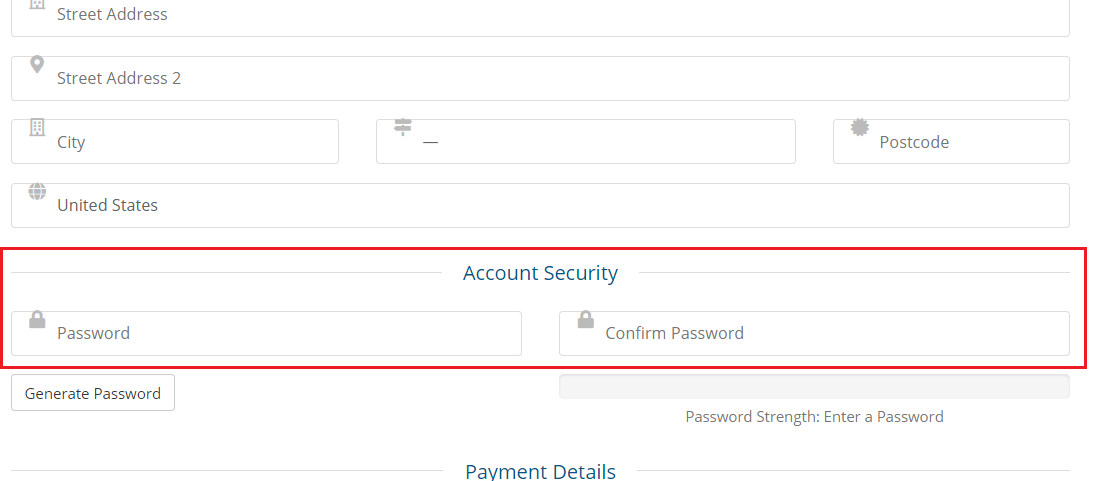 In the Payment Details section, enter your credit or debit card information. This is the only payment mode available at this time.
I have disabled the option 'Save card for faster checkout in future'. I don't want them logging my card info.
Do not forget to check the 'Terms of Service' box.
Click Complete Order to continue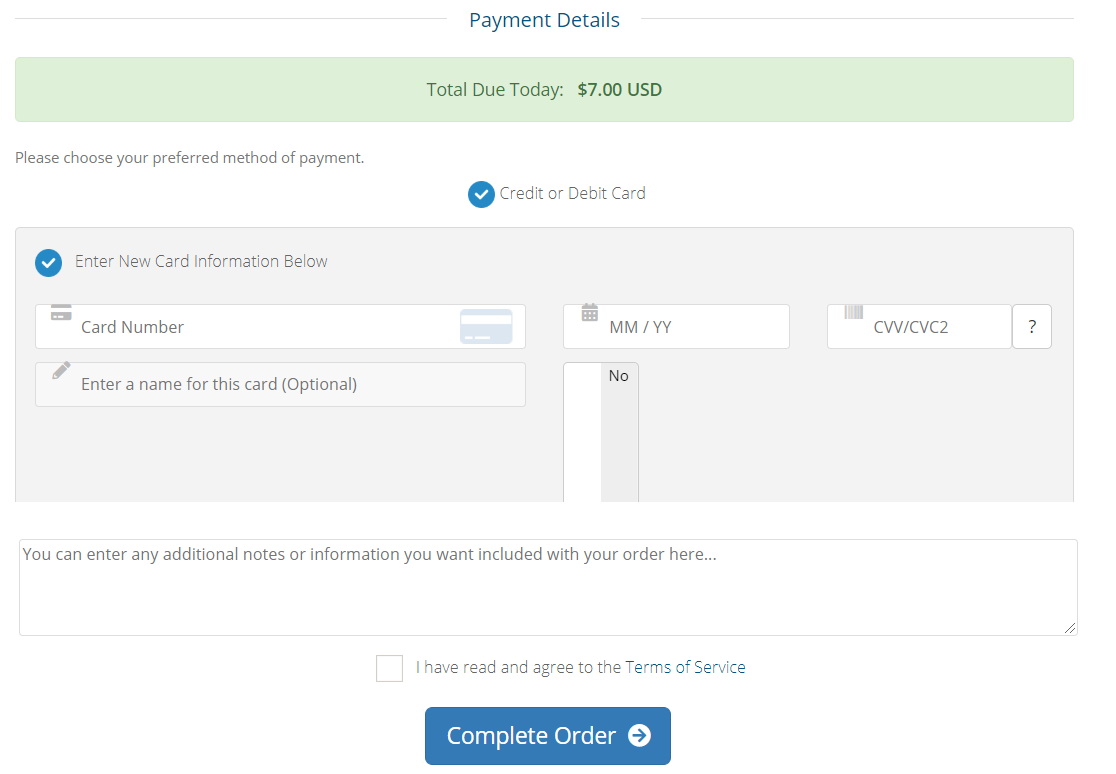 If the payment is successful, Streams for Us webpage will display the confirmation
How to install Streams for Us on FireStick and Fire TV
Streams for Us will be sideloaded onto your FireStick using the Downloader app. It is a third-party app and hence not available through the Amazon Store.
Follow the steps below to install Streams for Us IPTV on FireStick in just a few minutes:
1. You want to be on the home screen of FireStick first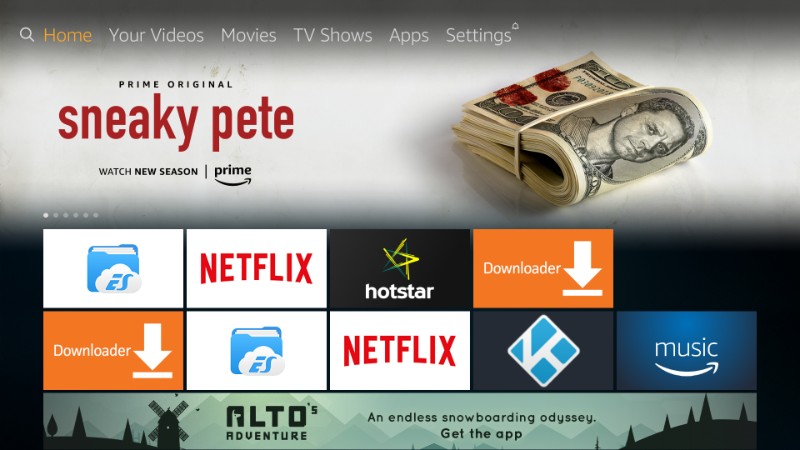 2. On the home screen, you are now required to go to the top section where the menu bar is and select the option Settings

3. Now, this is the Settings menu. Here, we are going to navigate to and then click My Fire TV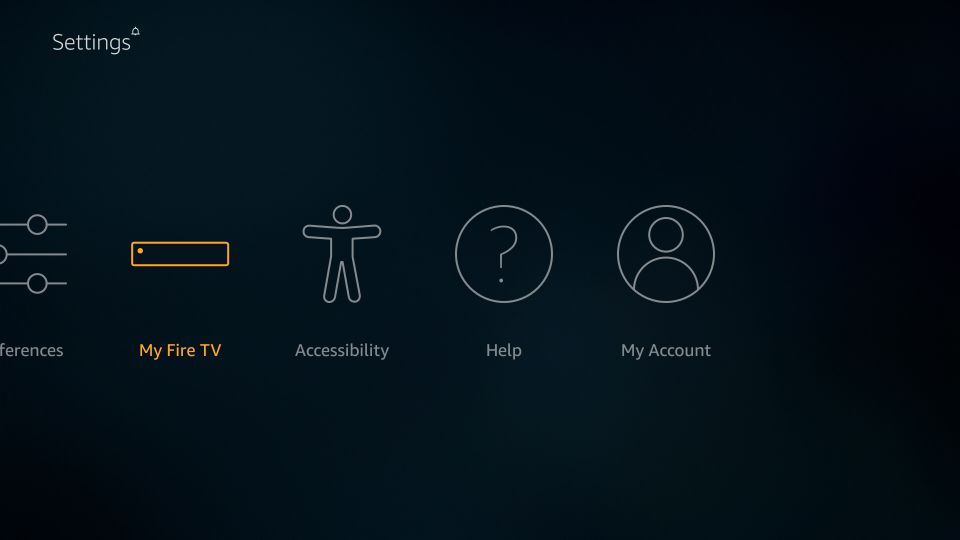 4. On the next window, go ahead and choose Developer Options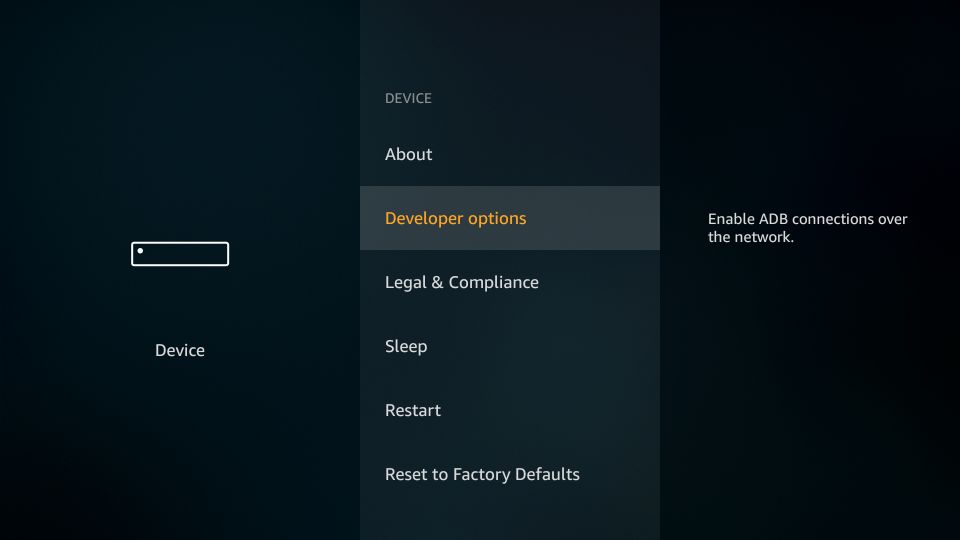 5. On this screen, we are going to turn ON what is called Apps from Unknown Sources
You can sideload apps on FireStick only when this option is enabled/ON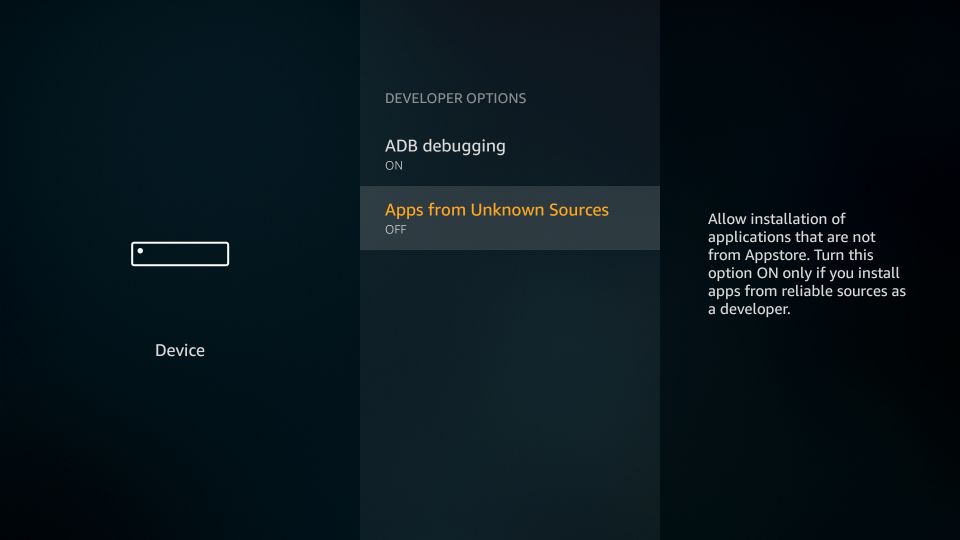 6. You should see this warning message now. Go ahead and choose Turn On in order to proceed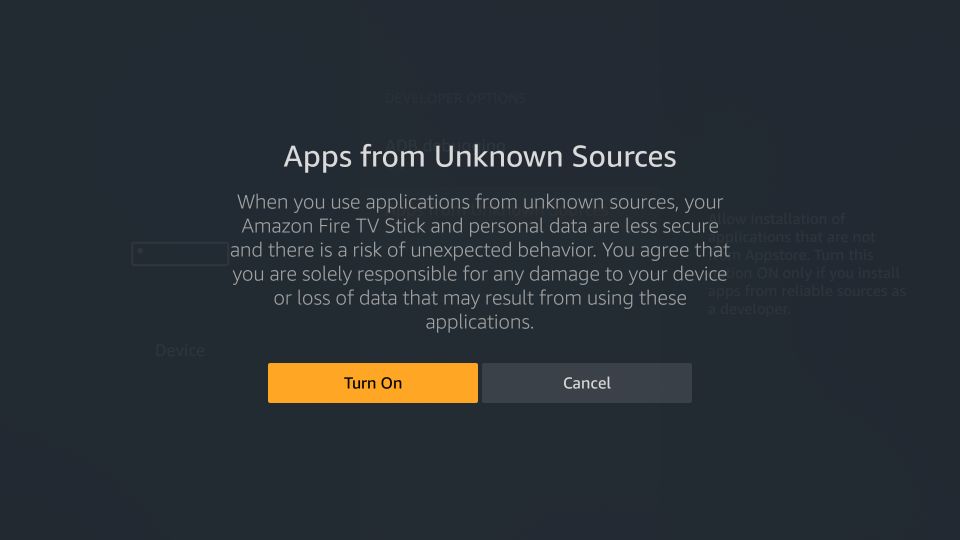 7. You may now press the Home button on your FireStick remote and get back to the home screen
Navigate to the top section one more time and select the lens image in the top-left corner to open Search

8. Here, we will now search for the app named Downloader
As I already told you, we will sideload Streams for US IPTV on FireStick with this app
Install the Downloader app by following the instructions that appear on the subsequent screens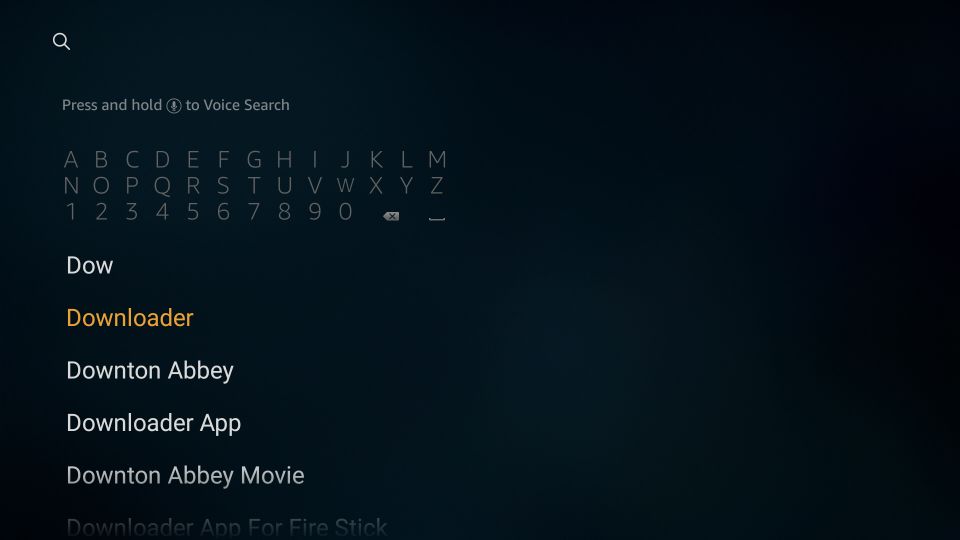 9. When you start Downloader the first time, some prompts are displayed
After you get rid of the prompts, you can see this window
Now, we are going to click the URL box where it says http://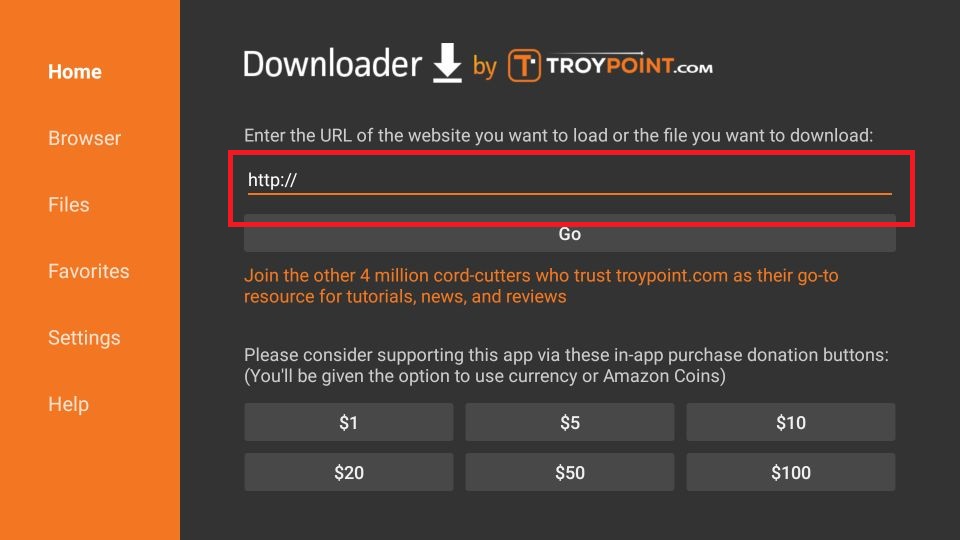 10. Now, we need to provide the link from where the Streams for US APK file will be downloaded
Type in http://s4us.loveyour.tv with your remote carefully (no typos)
Click GO or just press the Play/Pause key on your remote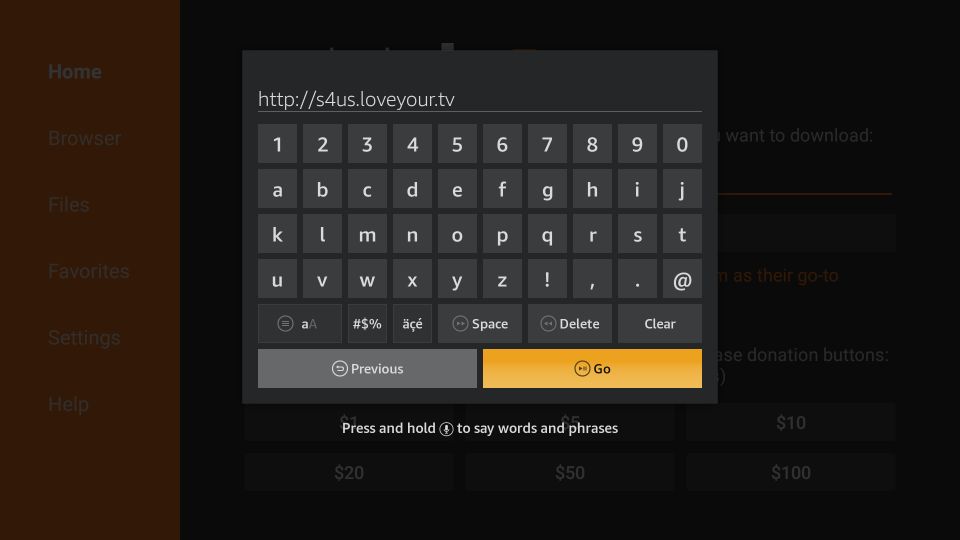 11. You will see the file download progress on your screen
It will take a minute or maybe more
Just wait!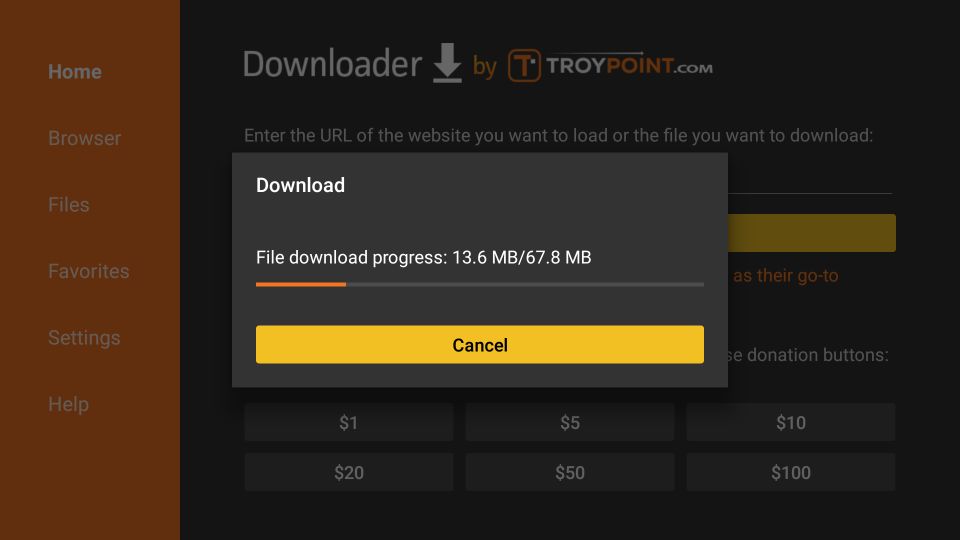 12. When the Streams for US file has downloaded, the Downloader app will execute it and the following prompt is displayed
Click Install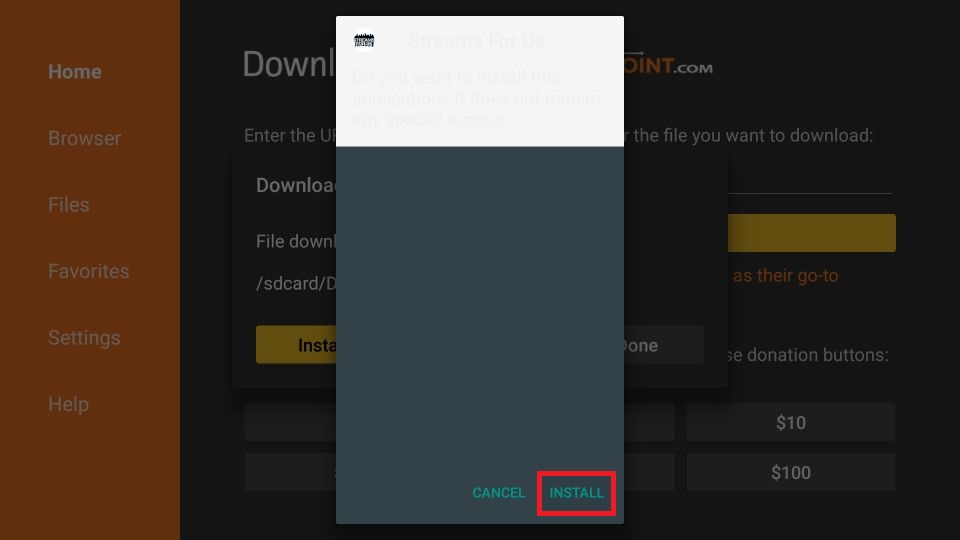 13.  It will only take a few seconds to install the Streams for Us IPTV on FireStick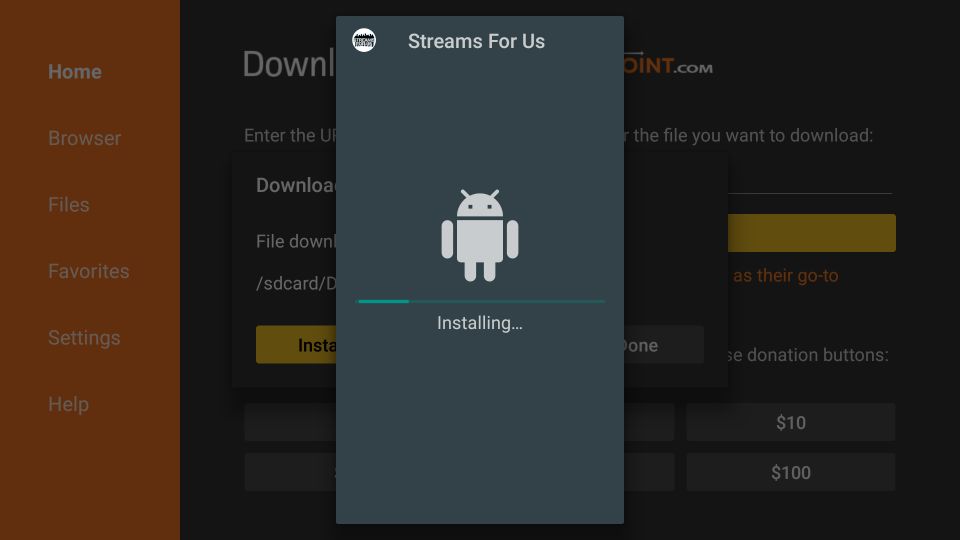 14. The following message will confirm that Streams for US has been installed on your device
Let's not OPEN the app right now. Instead, choose DONE
Let us first delete the APK file from the storage and free up some space. We will open the app in the next section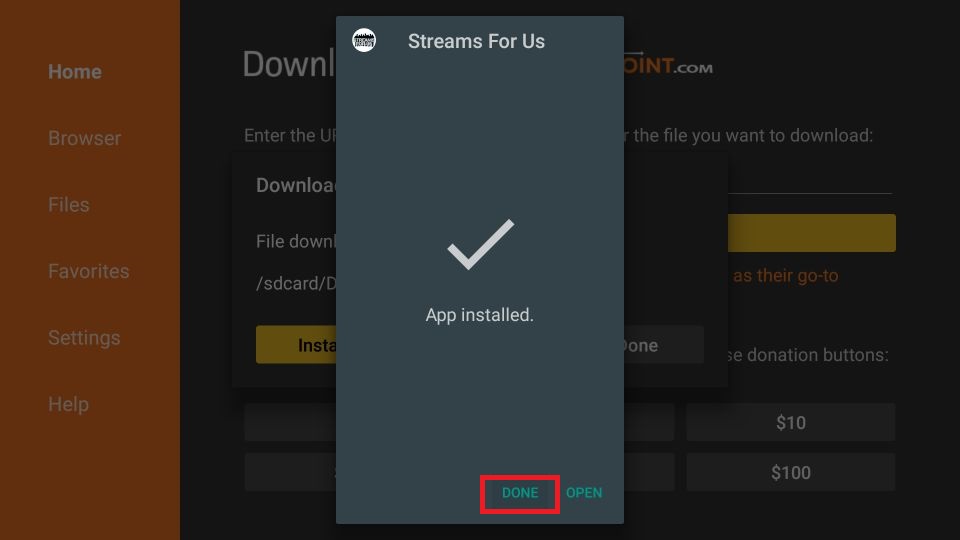 15. Go ahead and click the Delete button on this prompt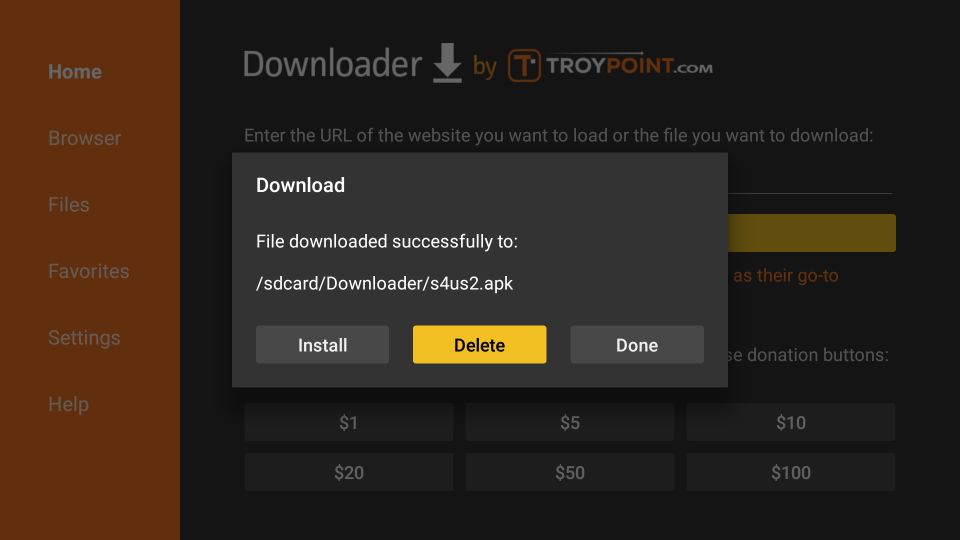 16. Hit Delete one more time to finally remote the APK file from the storage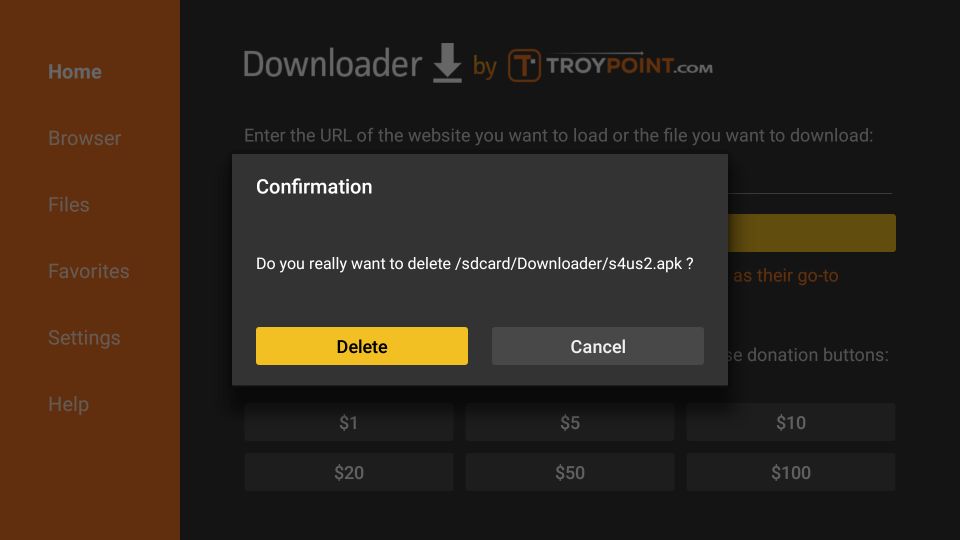 Done! This is how you install Streams for Us IPTV on FireStick.
Streams for US IPTV Firestick (How to access and how to use)
Let me first show you how Streams for Us app can be accessed on your device. You have just installed this app and hence it is not available on the home screen. I will also show you how to move it to the home screen for easy access.
Go to the FireStick home screen first and select the section called Your Apps & Channels
>
Go to the first option on the left and choose See All
If there is no 'See All', it means you have fewer than 20 apps. You may go to the last option in the same row, which will be the last app you have installed
> 
Go to the last row now and open Streams for Us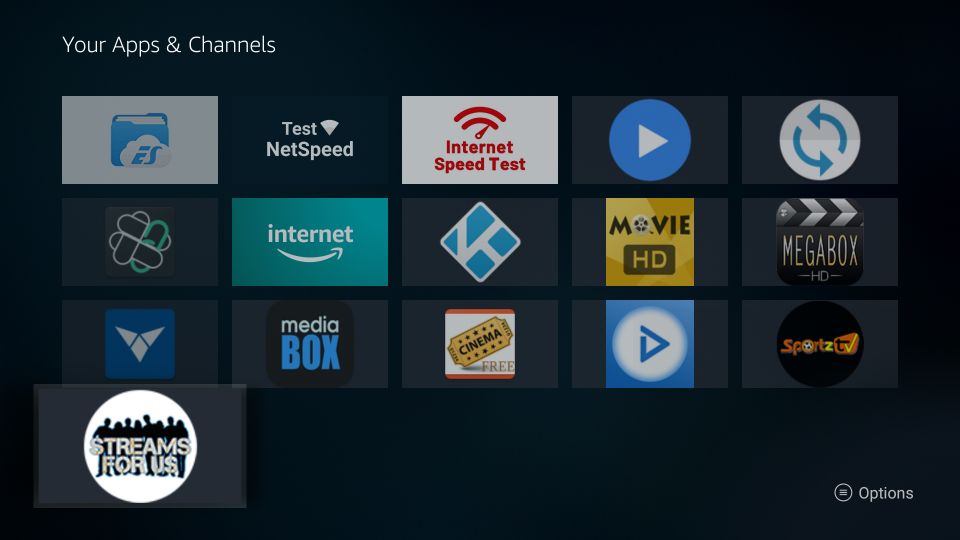 It is likely that you will access Stream for Us frequently. You can access it faster if you placed it on the home screen. So, press the 3-line menu key on the FireStick remote.
Your TV screen displays a popup in the lower-right area. Here, click Move
Take the app to the top row and drop it there to put it on the home screen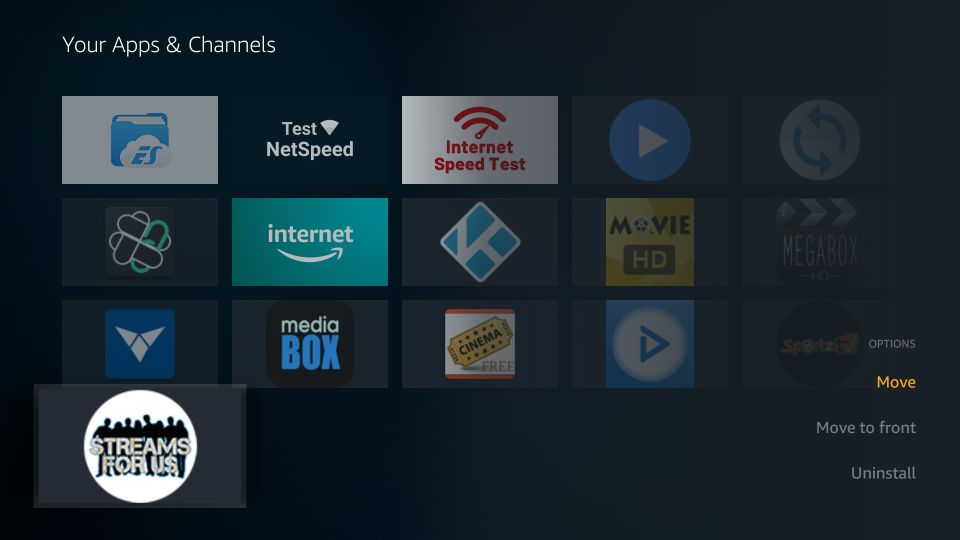 This is the window that you see when you open the Streams for US app for the first time
You need to enter your app login username and password here
Note: App login and password is sent to your email address. Check your email inbox and spam folder as well.
Click Remember me checkbox to make sure you don't have to enter the login credentials every time you run the app.
Click Login to continue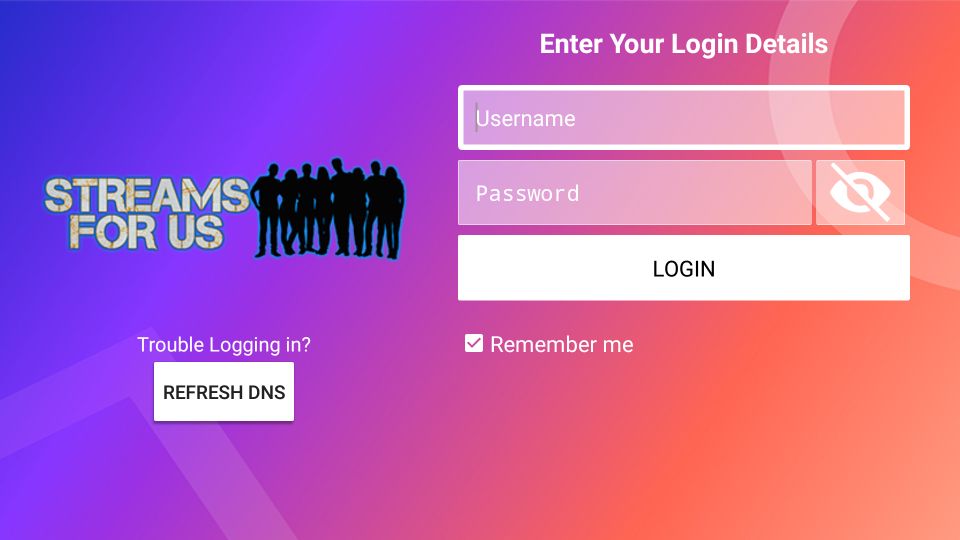 Note: If you are having trouble logging in, click the REFRESH DNS button on the login screen above
On the first run, Streams for Us will download channels, movies, etc. and set itself up
This may take a few moments

Once you are logged in, this would be the home screen of the application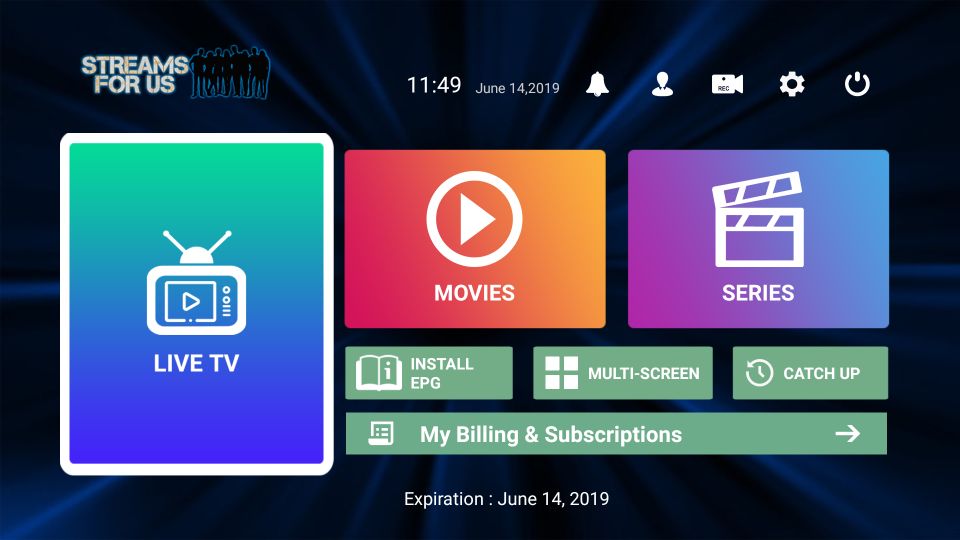 You can get started by clicking the LIVE TV option. This is the section that gives access to all the Live TV channels. You will find channels divided into various categories.
Streams for Us DOES NOT offer on-demand content. Hence, the sections Movies and Series do not work.
If you are interested in the TV Guide, click the INSTALL EPG option. EPG is free with your subscription.
If you missed a broadcast, you may find it in the Catch-Up section. However, this section contains a very limited number of catch-up options.
Streams for Us also offers Multi-Screen utility. That's what we discuss in the following segment.
Streams for Us Multi-Screen tool on FireStick
Many IPTV service providers have started including the Multi-Screen function in their service. Streams for Us also supports this feature.
With Multi-Screen, you can stream multiple channels on a single screen. As you can see in the image below, the Multi-Screen interface has 4 blocks. This means you can stream up to 4 channels simultaneously.
Click MULTI-SCREEN on the home screen of the app to start using this feature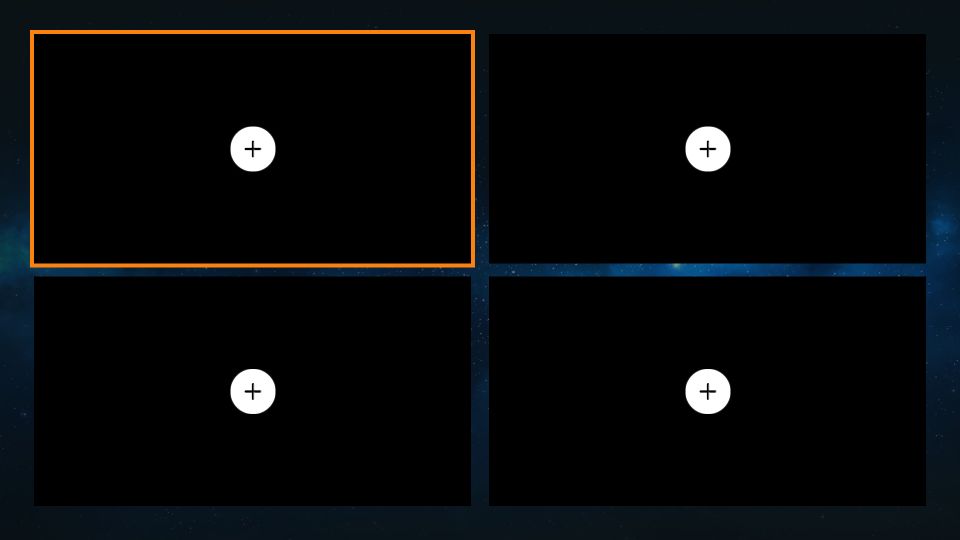 Now, simply select one of the blocks and click it. You will be given the option to choose the desired Live TV channel. Once the channel starts streaming in the chosen block, you can select another block and repeat the process.
To view any feed in the full-screen mode, just click the desired block once. To get back to the multi-screen interface, press the back button on the remote.
Now, before you start using the Multi-Screen option, bear the following important information in mind:
Streams for Us FireStick app gives you the option to stream maximum 4 channels on the Multi-Screen interface
However, it is also limited by the number of connections your plan permits
For example, if you have a 2-devices plan, you are allowed only 2 Multi-Screen streams
You will need a fast connection to use this feature. Each block streaming a Live TV channel will use the bandwidth separately. If you are streaming 2 channels, internet usage will be twice as much
Forgotten/Lost your Streams for Us Password? Here is what you can do
Before I tell you how to find or reset your password, there is something important you need to know.
Streams for Us service has two different passwords:
Online Portal Password/Online account password
App login password
The Online portal password is created when you are signing up for the service (refer to the signup section on the top). This password lets you manage your online account.
The app login password is the one you use with the Streams for Us app to stream Live TV channels. Streams for Us sends you the app login username and password in your email once you have purchased the subscription plan. This password can also be recovered from your Streams for Us online portal.
Online Portal Password
If you don't remember your online portal password, here is how you recover it:
Use a web browser on your computer or mobile and visit https://streamsforus.net/billing/index.php?rp=/password/reset/begin
Type in the email address you signed up with for Streams of Us and choose Submit
Go to your email inbox and click the link in the email you got from Streams for Us for password reset (check the spam folder if you can't see the email in the inbox)
Now, simply choose a new online portal password
App Login Password
Check your email inbox for an email from Streams for Us for your app login username and password. Check the spam folder if you don't see the email. If you still can't find the email, recover your password from the online portal by following the steps below:
Find and open the Services option
Find and click your subscription plan. You will find it in the Product/Service section
Click the option Subscription Details on the next page
You will find your app login username here. The app login password is also here but you need to click Show in order to unmask it
How to install Streams for US IPTV on Android TV and Android TV Boxes
Streams for Us works just as well on Android TV devices as it does on FireStick. If you own an Android TV box with Android TV OS or a Smart Android TV, follow the steps below to get this app:
Click Apps on the left on the home screen of your Android TV interface
Click Get More Apps on the top of the popup window that appears on the right
In the top-right section of the next window, click the lens icon and open the Search window
Search for the Downloader app and install it
Get back to the Android TV home screen. Click Settings (gear icon) in the top-right section
Scroll down and open Security & Restrictions
Click Unknown Sources
Scroll down and enable Unknown Sources for the Downloader app
Again, return to the Android TV home screen and click Apps on the left
Click Downloader and open it from the popup that appears on the right
Dismiss any prompts that appear (if they do)
Click the URL box where it says http://
Enter the following URL and click GO: http://s4us.loveyour.tv
When the Streams for US file has downloaded, click Install
Click Open and run the app
Wrapping Up
Streams for Us is one of the best third-party Live TV streaming services currently. The providers make sure their servers are well-maintained and there are minimal downtimes. Install Streams for Us on FireStick and sign up for the service to access over 2000 cable-TV channels in high-quality. Let us know how you like this service through the comments section below.
You may also like: