This guide demonstrates how to install Sapphire Secure on FireStick. The screenshots used in this tutorial were taken on an Amazon FireStick 4K. But, the method works on Fire TV Stick 2nd Generation as well as Fire TV Cube. Additionally, I have also provided brief steps to install Sapphire Secure IPTV on Android TV and iOS.
NOTE: FireStickHow.com does not own or operate any IPTV services. Also, we don't verify the security and legality of any service.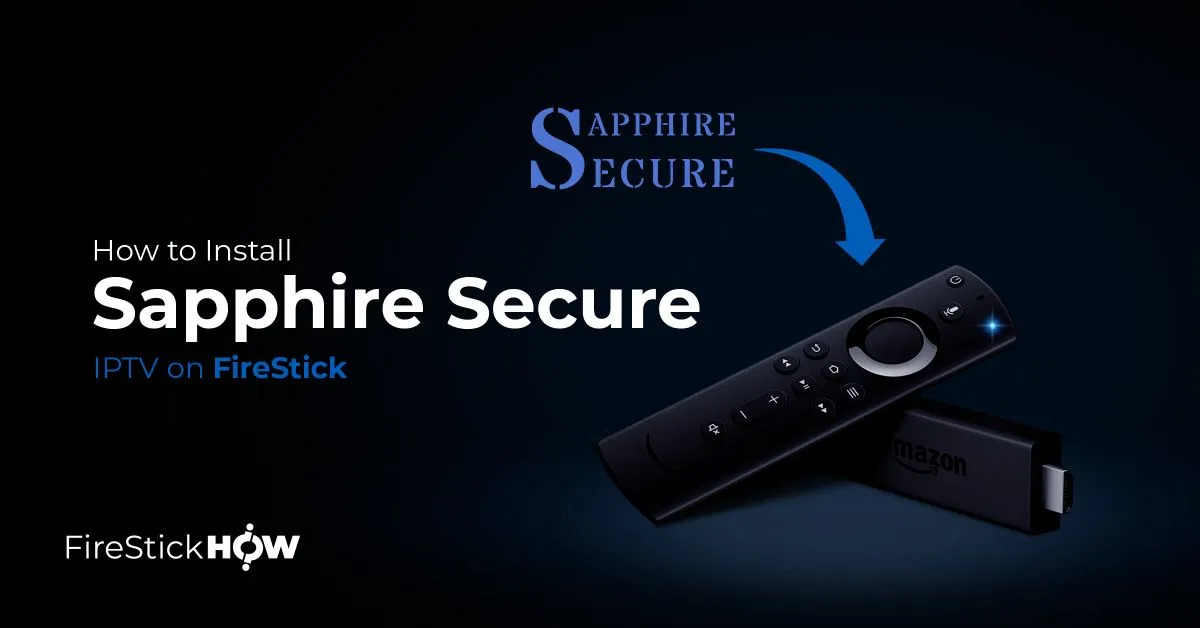 Sapphire Secure offers affordable IPTV solutions on FireStick and a range of other devices. As I write this guide, this service serves over 1500 TV channels from the USA and many other countries. You can stream in both HD and SD quality.
Sapphire Secure supports EPG and M3U. It also offers special features such as Multi-Screen support. Presently, Sapphire Secure has no on-demand content (movies and shows).
Features of Sapphire Secure IPTV
Offers mover than 4,000 cable-TV channels from around the world and tons of them in HD quality
Professionally designed interface makes the Sapphire Secure FireStick and Android apps easy to use
Gives you access to various PPV events
Offers cable-TV channels in various categories, including Sports, Movies, Entertainment, Lifestyle, News, and more
Multi-connection plans available
Works smoothly with ExpressVPN and other popular VPNs
Supports EPG (Electronic Program Guide)
Offers EPG and M3U URLs allowing you to use the services with various IPTV Players.
The multi-screen feature lets you stream multiple channels on the same screen
Lets you use external video players, such as MX Player.
How to Register for Sapphire Secure IPTV Service
Sapphire Secure price plans start at $5 per month. We will take a look at various available options.
The first thing you want to do is visit the Sapphire Secure Price Plans webpage at https://sapphiresecure.net/cart.php
You can use a computer or mobile browser
You will find a bunch of categories on the menu. We are only interested in the following two categories:
Shared Hosting (for regular devices like FireStick, Android, Android TV, etc.)
Classic Server (for Mag devices)
Since this guide is about FireStick and other Android devices, we are going to choose Shared Hosting. If you have a Mag device, do not forget to choose the option Classic Server.
Currently, Sapphire Secure has three plans available:
Silver for $5 per month and 1 device
Gold for $8 per month and 3 simultaneous devices
Platinum $10 per month and 5 devices
The description 'Website' with each plan refers to the number of connections. And, by 'number of connections' it means the maximum number of devices that can stream live TV with Sapphire Secure on a single subscription
Note: Sapphire Secure is not IP Locked. Meaning, the multi-connection accounts can be used at different locations
As you can see, each plan also offers a Plus+ variant
The plans with Plus+ and without Plus+ are fundamentally alike. The only difference is that these Plus+ plans contain adult channels as well.
Once you have zeroed in on a plan, click Order Now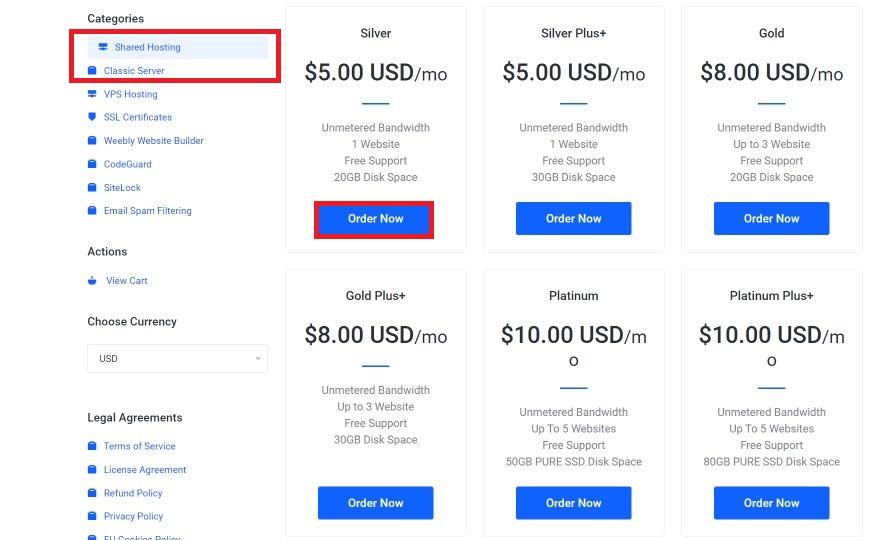 Review the plan details on the next screen and click Continue

Now, on the following page, there are two sections
Billing Details
Payment Details
Billing Details
If you are a new customer, choose to Create a New Account under Billing Details. If you are a returning customer, click Existing Customer Login and log in with your Sapphire Secure online account and password to renew the services
I am going to demonstrate how to sign up as a new user
Enter your details in the Billing Details section as you see in the image below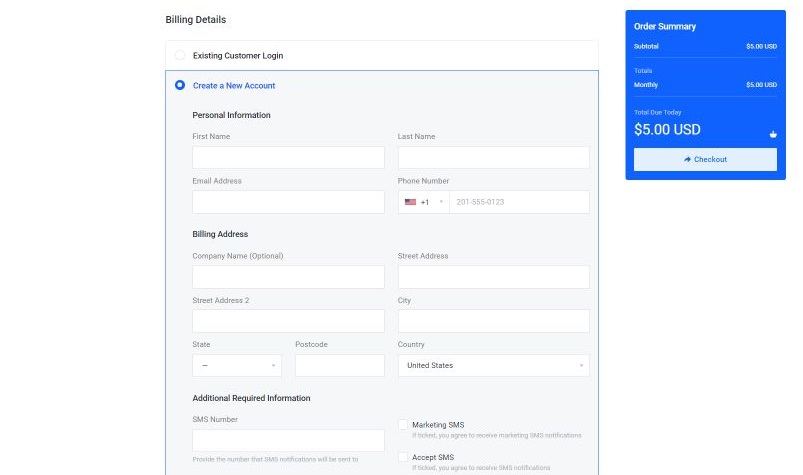 At the bottom of the Billing Details section, you are required to choose the Account Security password.
This will be your Sapphire Secure web login or online portal password. This is NOT your app password. Sapphire Secure will send the app password to you in the email upon successful subscription

Payment Details
In this section, you are required to choose the payment method for the transaction. Here are your options:
Credit/Debit card (all major card providers are accepted including Master and VISA)
BitCoin/LiteCoin (this is a great way to remain completely anonymous)
Once you have decided upon the payment mode, make sure you check the 'Terms of Service' box

Review your Billing Details as well as Payment Details once before proceeding
When you are ready, click Checkout
Once you have successfully bought the plan, you get the purchase confirmation.
That's it! This is how you sign up for Sapphire Secure. Check your email for your app login credentials and EPG and M3U URL.
You can now use this service on FireStick and other devices. I will show you how.
Attention FireStick Users: Read before you continue
Your government and ISP are probably monitoring your streaming activities using your IP address 3.17.249.235 (exposed to all). You may get into serious legal trouble for streaming copyrighted videos on FireStick. 
I strongly recommend getting a trusted VPN for FireStick to hide your IP address and protect your online identity.
I use ExpressVPN on all my devices as it is the most secure, fastest, and easy-to-use VPN. It comes with an unconditional 30-day money-back guarantee, and you get 3 free months with the yearly plan.
Don't miss out on the peace of mind and online security ExpressVPN provides.
Read: How to Install & Set up the best VPN on FireStick.
How to install Sapphire Secure on FireStick
We are now going to sideload the Sapphire Secure IPTV on Amazon FireStick. You cannot get it from the official Store.
Here is what we are going to do:
Switch ON Apps from Unknown Sources (to allow the installation of Sapphire Secure IPTV)
Install the Downloader app from Amazon Store (Downloader is the sideloading tool)
Download Sapphire Secure IPTV APK on FireStick
Install Sapphire Secure IPTV APK on FireStick
The steps below cover all the above in the same order as listed:
1. Go to the home screen of your FireStick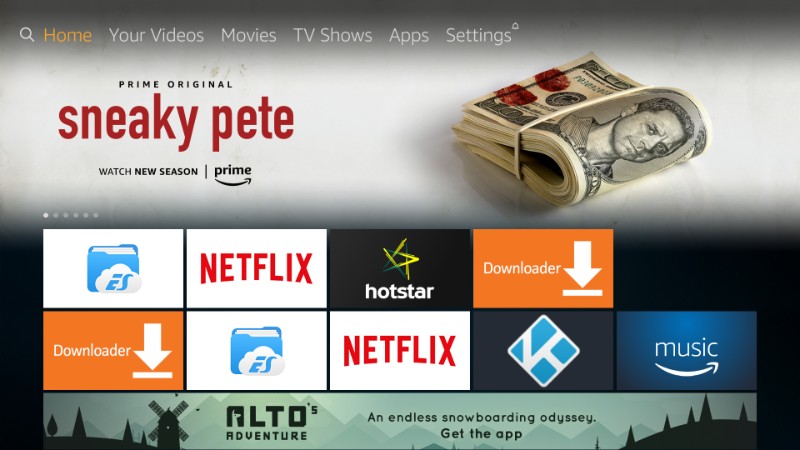 2. Choose the Settings in the top bar

3. Go ahead and open the option My Fire TV in the Settings menu on the following window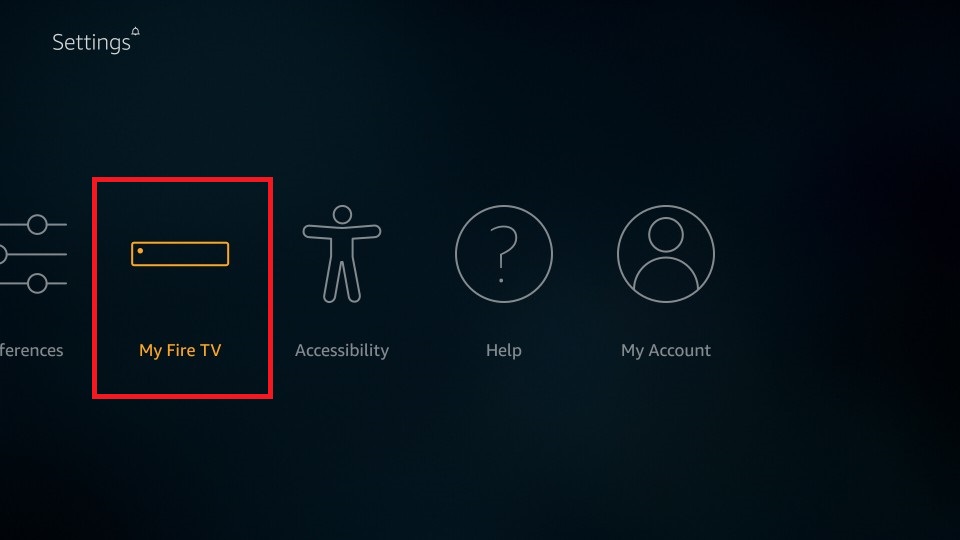 4. Click and open Developer Options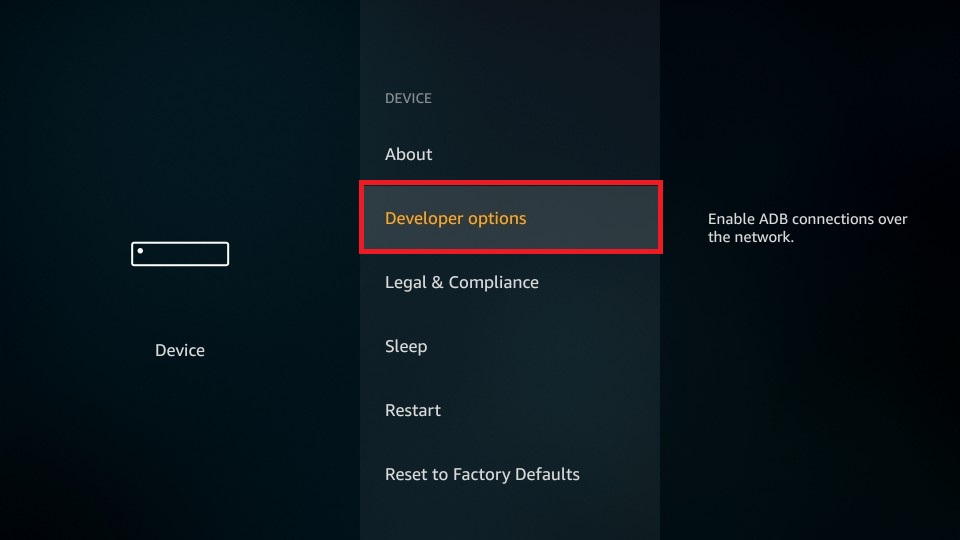 5. This is where you see Apps from Unknown Sources
If the option is OFF, simply click it and turn it ON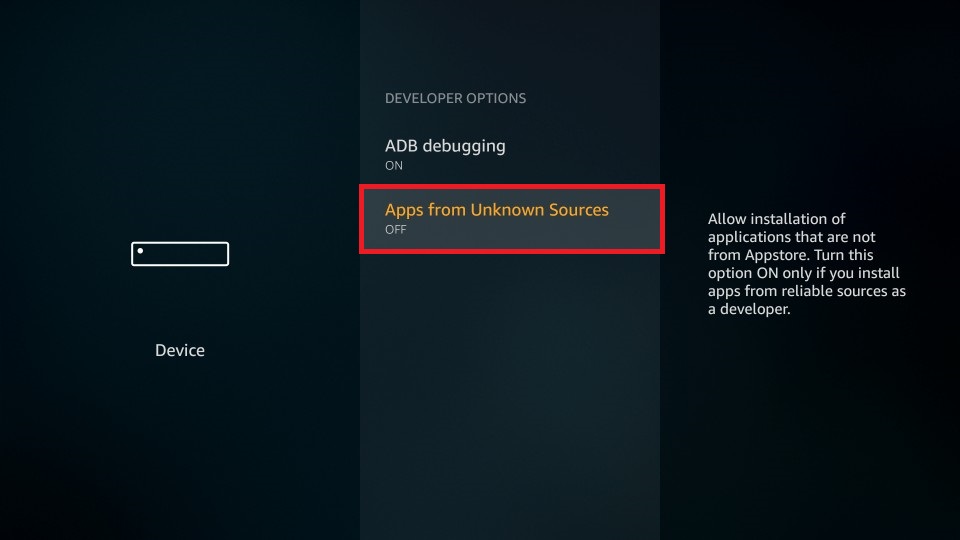 6. You should now see the following prompt. Choose Turn On in order to continue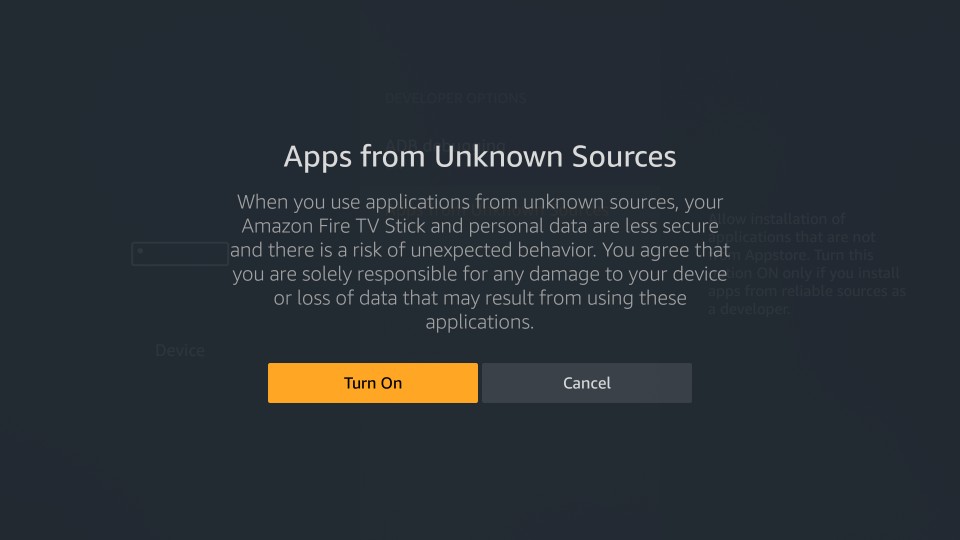 7. Now, you may either repeatedly press the back button on the FireStick remote or the Home button just once to get back to the home screen
8. This time, choose the Search option by selecting the magnifying glass icon in the top-left part
9. When this window is displayed, type in the name of the app Downloader
Click Downloader in the search suggestions that appear on the same screen
Next, follow the onscreen instructions on the upcoming screens and get the Downloader app
10. You may now launch the Downloader app. When this app is accessed first time, some prompts appear
After you have taken care of the prompts, this main window will be displayed
Here, we will click the URL box where it already reads http://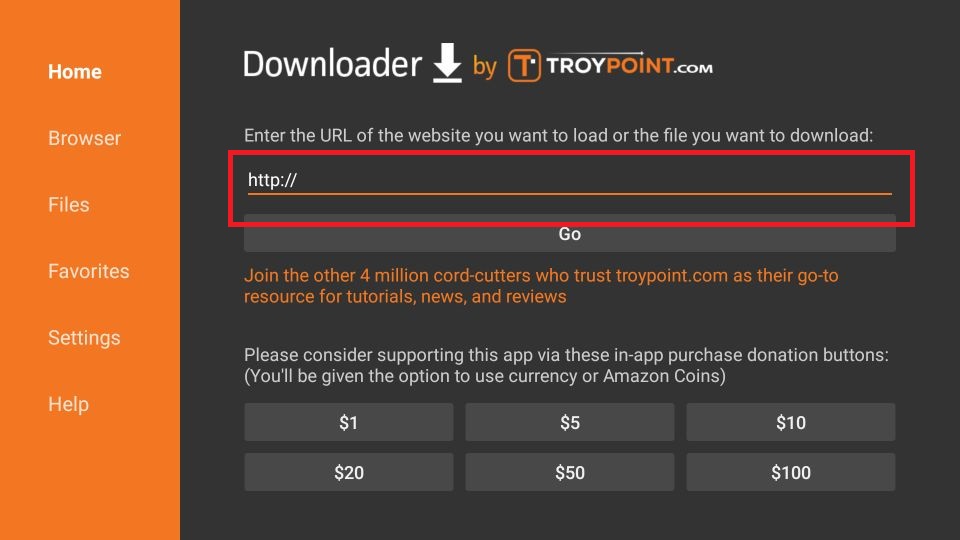 11. On this screen, we now enter the Sapphire Secure APK URL for FireStick
Type bit.ly/sapphireiptv
Press the Play/Pause button on your FireStick remote or click GO on the screen
12. Allow your FireStick a couple of minutes to download the APK file of the Sapphire Secure app.
This usually takes 1-2 minutes. We wait!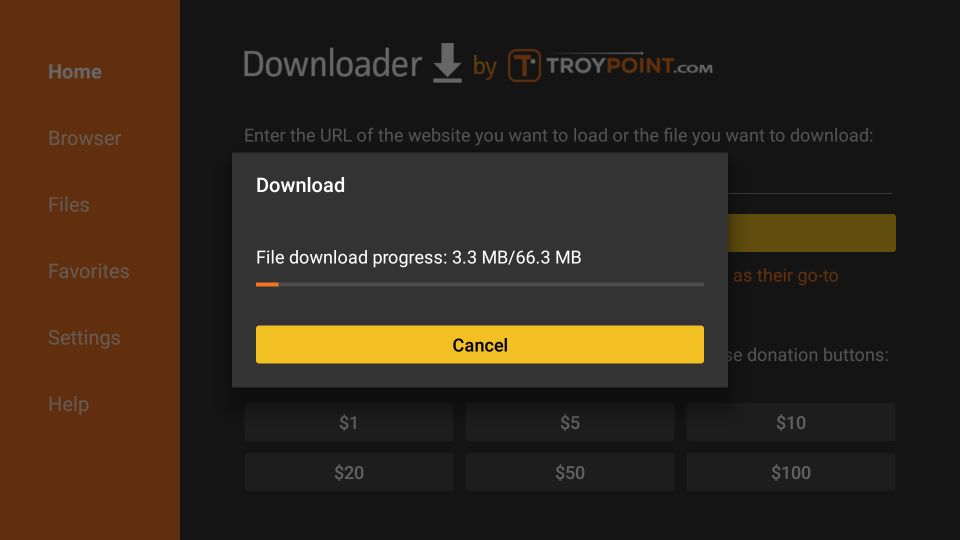 13. Now, when the APK file download has completed, this prompt automatically opens up
Click Install here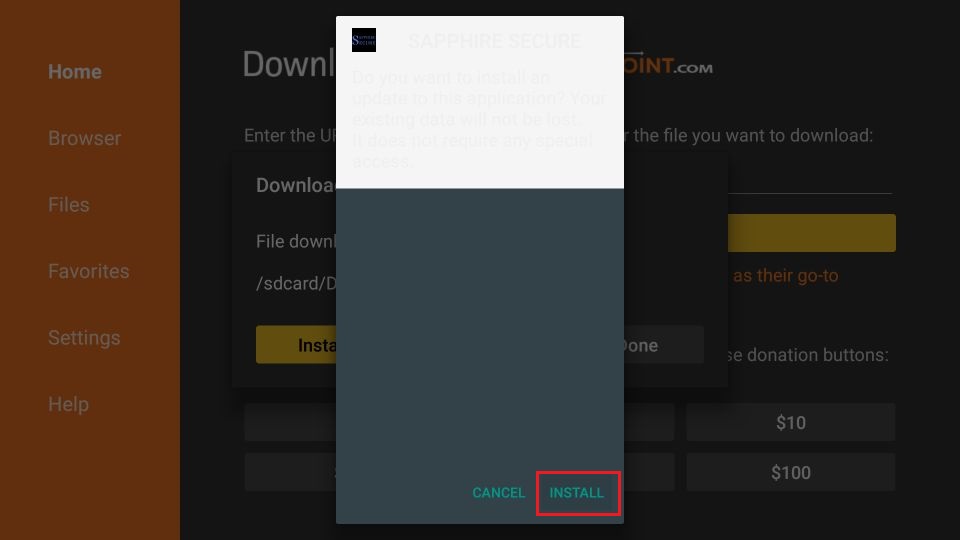 14. It should take no more than a few seconds to install the app. Let's just wait again!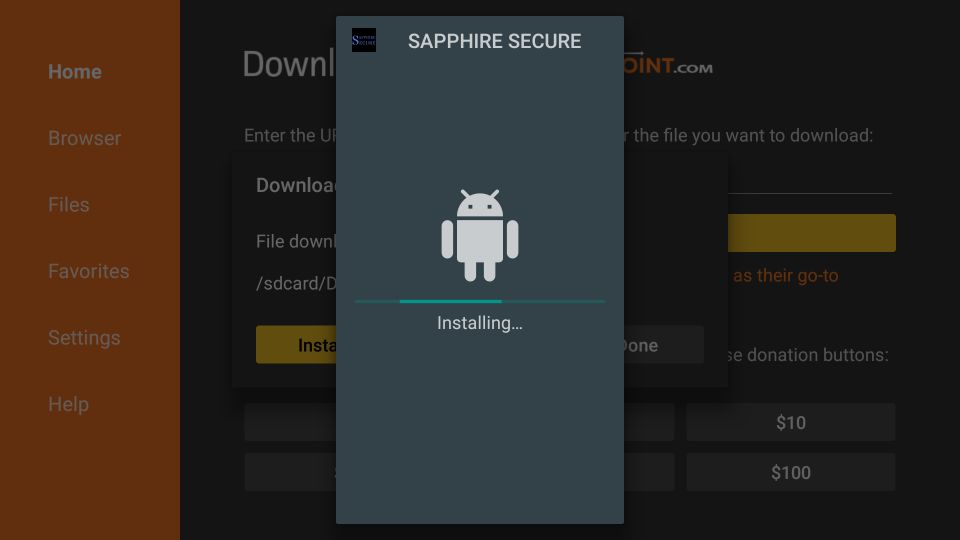 15. When your FireStick screen says App Installed you know that the Sapphire Secure has been installed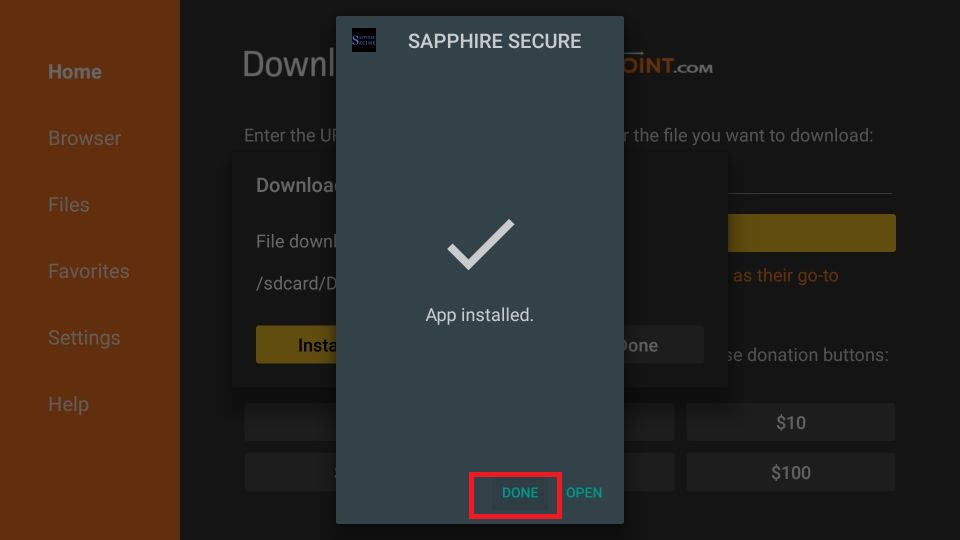 16. We are not clicking OPEN yet. We will access the app later.
Let's click DONE (image above)
17. Click Delete in order to delete the Sapphire Secure APK file. This file is not required anymore and deleting it will spare the space it is taking up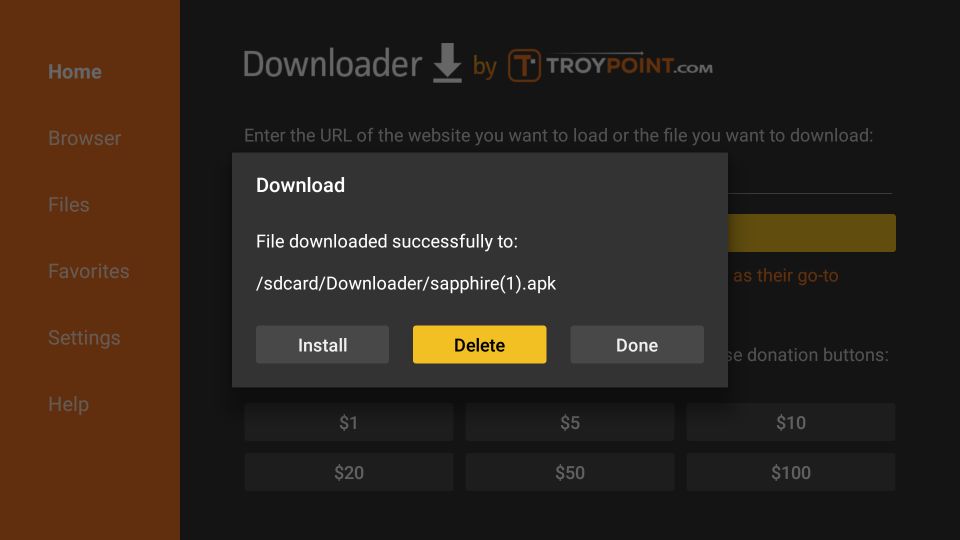 18. Click Delete one more time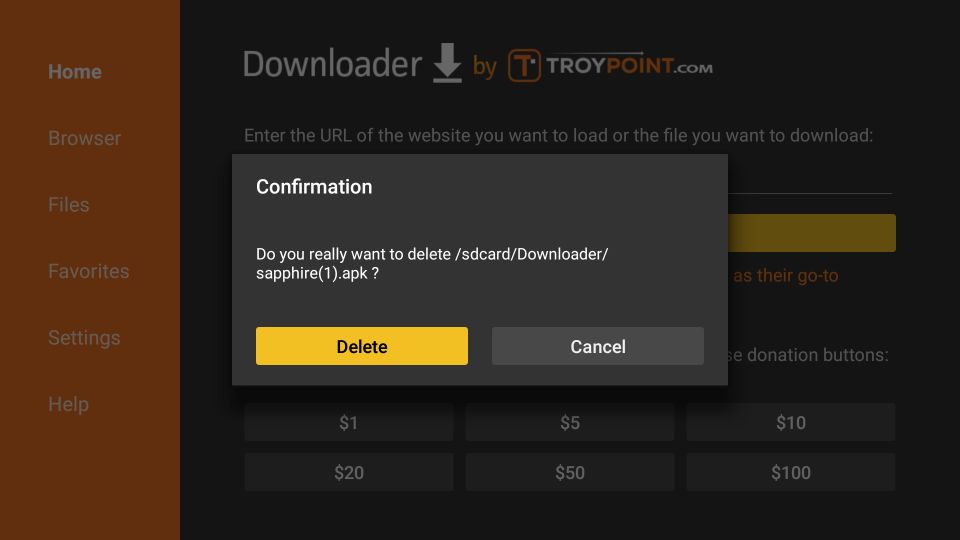 Wait! It looks like you are all set to start watching your favorite content on FireStick. But have you protected your online identity yet? You are under constant surveillance by the Government and ISP. Free streaming of copyrighted videos may get you into legal trouble.
Thankfully, you can easily avoid online monitoring and safeguard your privacy with a trusted VPN on FireStick. A VPN will hide your IP address and online identity by encrypting your internet connection.
Please note that I am not encouraging you to violate any copyright laws. You should always watch the content available in the public domain. I am simply recommending the use of a VPN to maintain your privacy. You have every right to your privacy, which is constantly being breached these days.
I personally use ExpressVPN and have found it to be the fastest and most secure FireStick VPN. It is also the most streaming-friendly VPN I have ever used. Therefore, I highly recommend getting ExpressVPN for FireStick.
Here is how you can quickly get the ExpressVPN app on FireStick:
Step 1: Click HERE to subscribe to ExpressVPN and enjoy a 49% discount with 3 months of extended service. You are also eligible for a 30-day, full money-return guarantee.
Step 2: Download and install ExpressVPN on FireStick
Choose the Find > Search option on the FireStick home screen on the menu bar.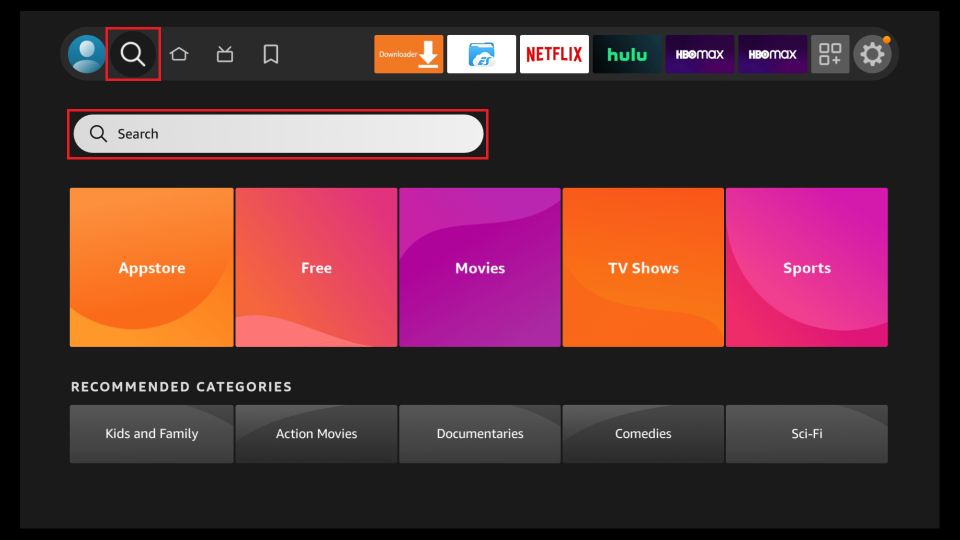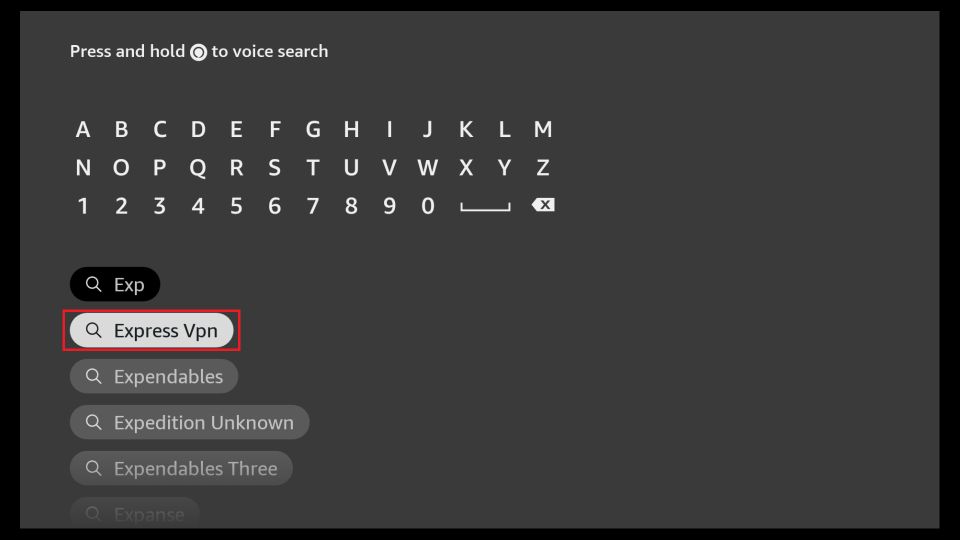 Click the ExpressVPN icon on the following window.

Click Download or Get on the next window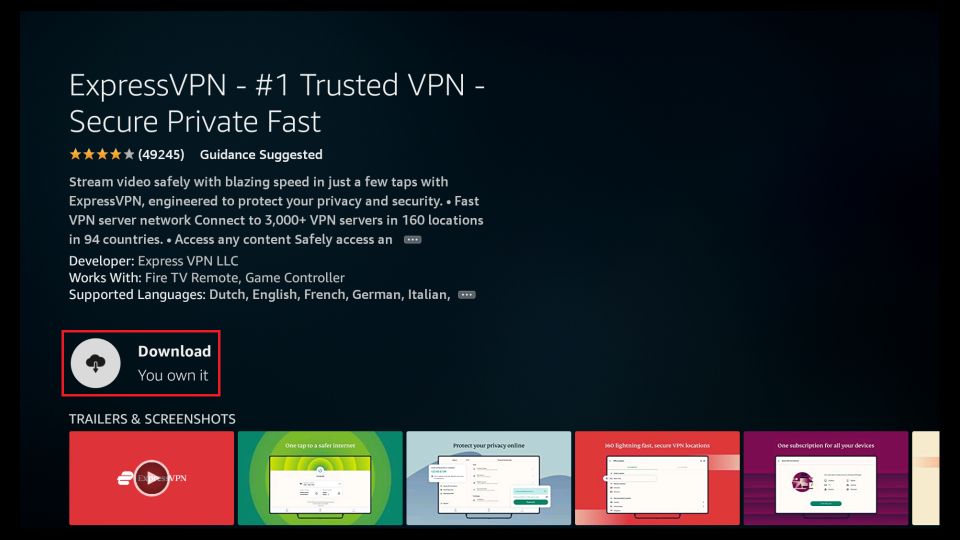 Step 3: Open ExpressVPN once you have downloaded it. Sign in with your account.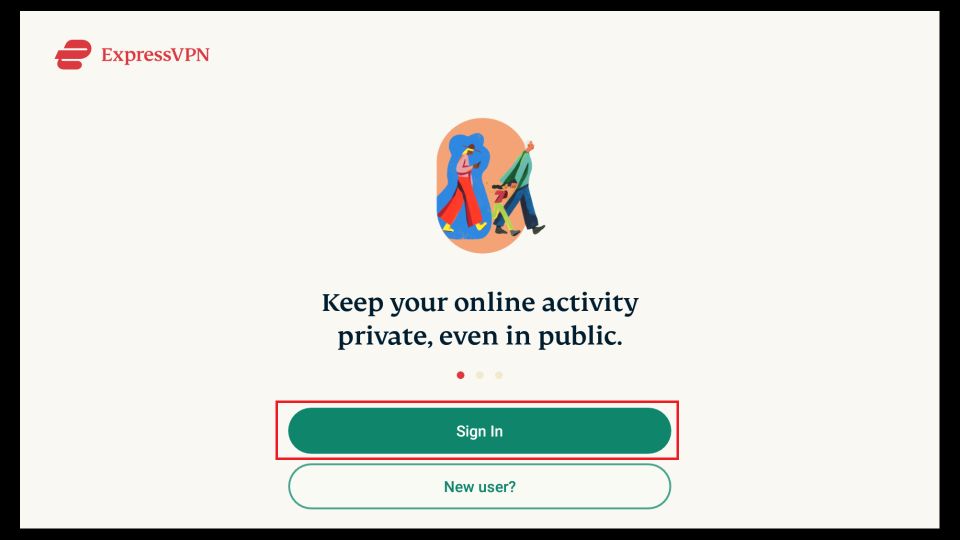 Step 4: Choose a server and click the Connect/Power button

Put your mind at ease now! You have successfully secured your streaming activities with ExpressVPN.
How to use Sapphire Secure IPTV on FireStick to watch Live TV
Now that you have installed Sapphire Secure on FireStick, let us learn how to use this app.
You would probably first like to know how to access the app.
Go to the FireStick home window. Now, select the section Your Apps & Channels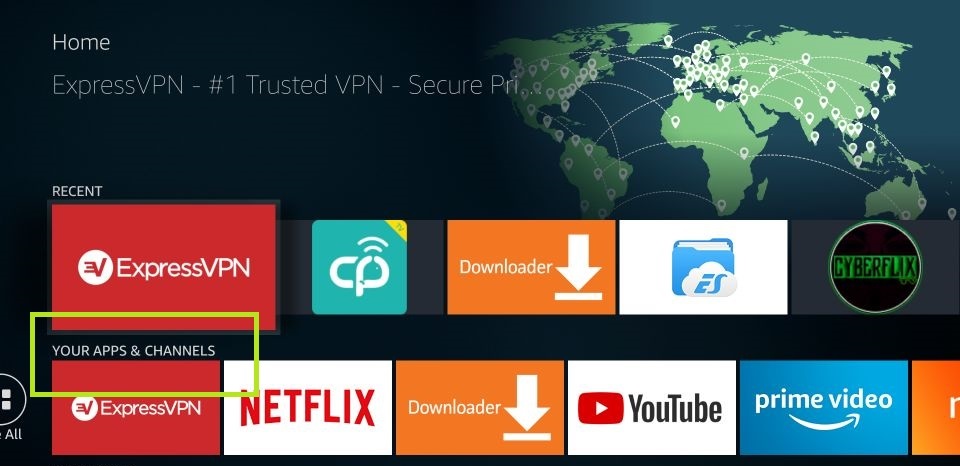 Go to the first option on the left and choose to See All (if you can't see this option, go to the last option on this row)

When you are here, scroll down to the last row
Click Sapphire Secure to open it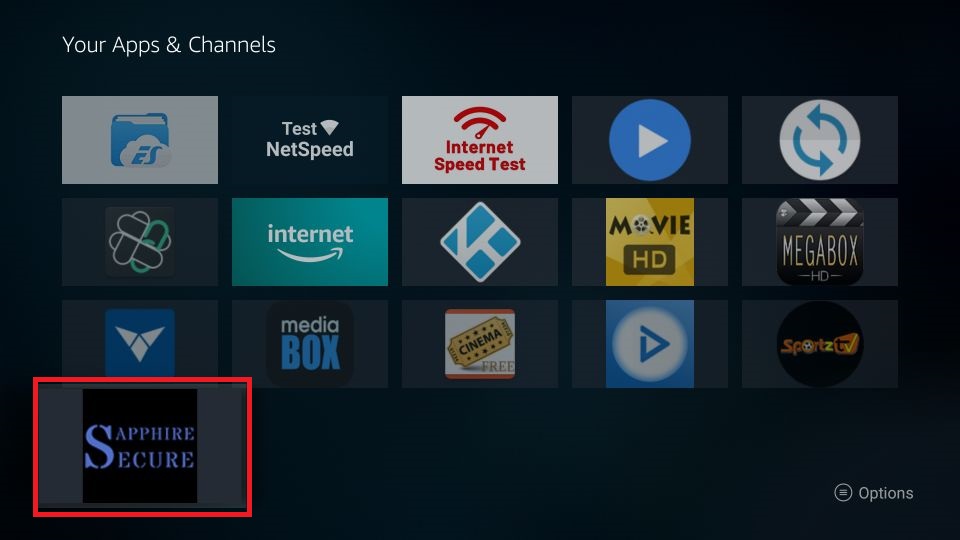 Just in case you would like to have the app on the home screen of FireStick, press the menu key on the remote (3-line key). Look at the bottom-right section of your TV. Click Move and then relocate the app to the first row right on the top.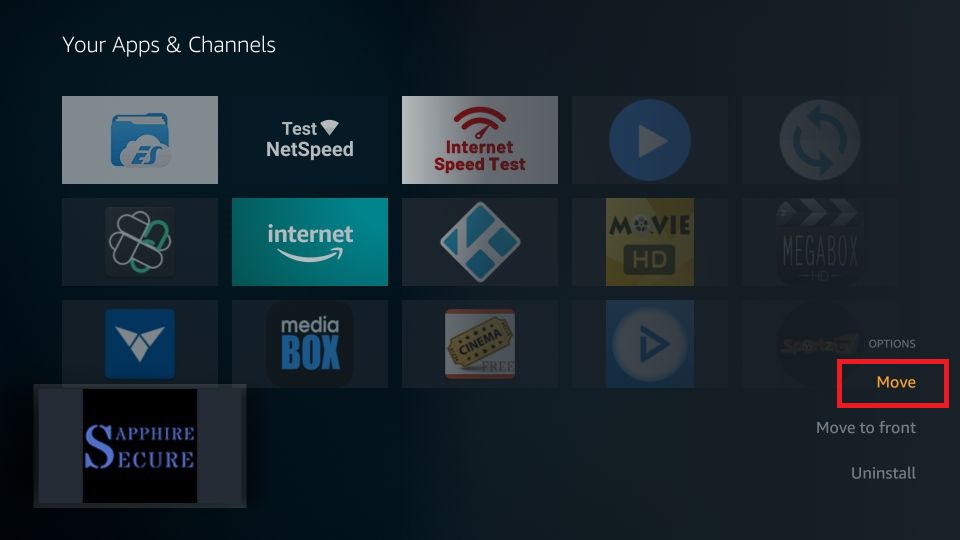 This is the screen you will see when you open Sapphire Secure app for the first time
Type any name inside Any Name box
Enter your Sapphire Secure app username and password in the respective boxes
Click on Add User
Note: Your app Username and Password has been sent to the email address you used while signing up for the Sapphire Secure account
Once you are successfully signed in, you find the name you added on the previous screen. Click the name.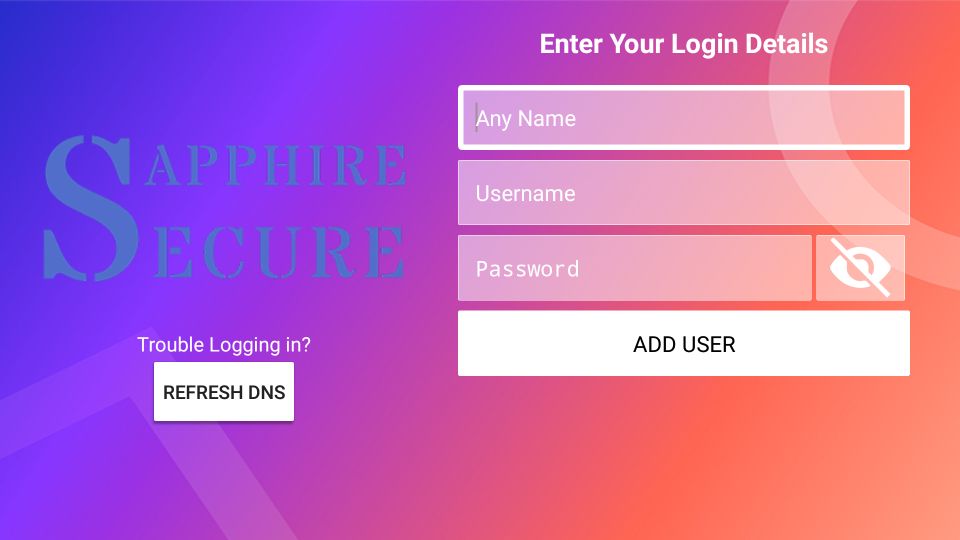 Give Sapphire Secure a couple of minutes while it loads everything up

When Sapphire Secure is finally ready, this will be the main interface of the app.
To watch Live TV channels, all you need to do is click the option Live TV
Please note that Sapphire Secure doesn't support on-demand content anymore. Therefore, Movies & Series sections will not work.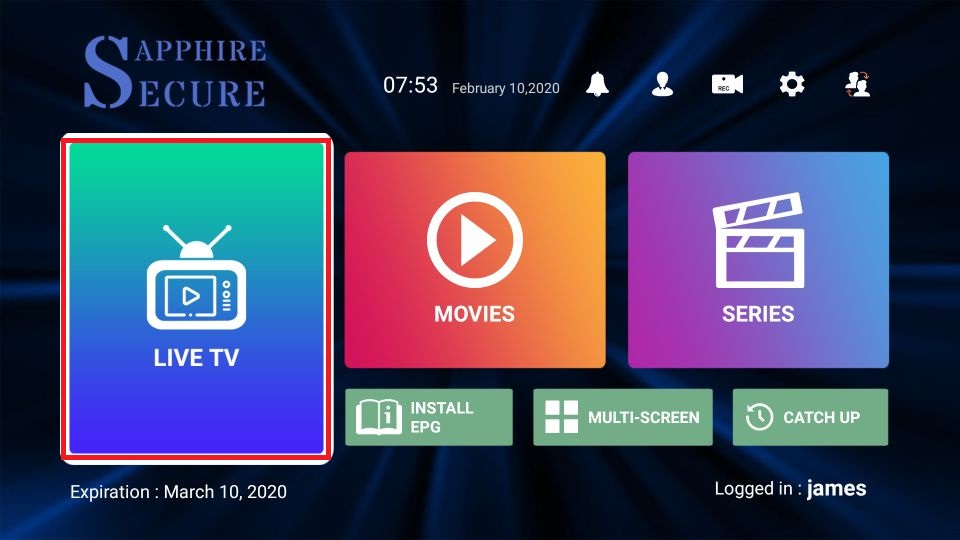 Upon clicking the Live TV option on the main screen, you are presented with various channel categories
ALL is the category where you will find all the channels in one place. For a narrower search, click one of the other categories.
Note: Scroll down for more categories that are not displayed in the screenshot below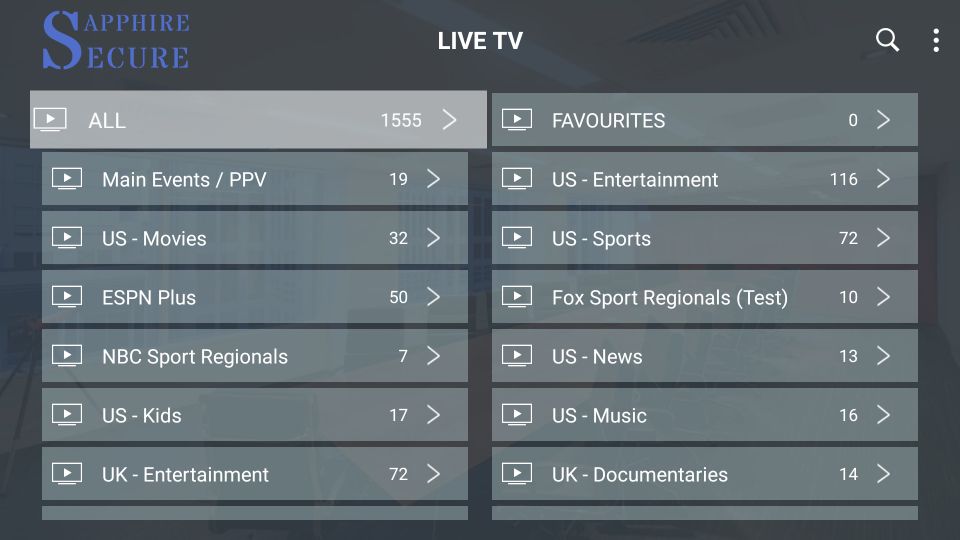 That's pretty much how you get started with Sapphire Secure IPTV on FireStick.
More Features of Sapphire Secure IPTV FireStick App
Here are some of the other features we will take a quick look at in this section:
Live With EPG (Install EPG)
Multi-Screen
Catch Up
Live With EPG
Sapphire Secure provides EPG. However, it first needs to be set up within your app.
Go to the main window of the Sapphire Secure app and click the option Live With EPG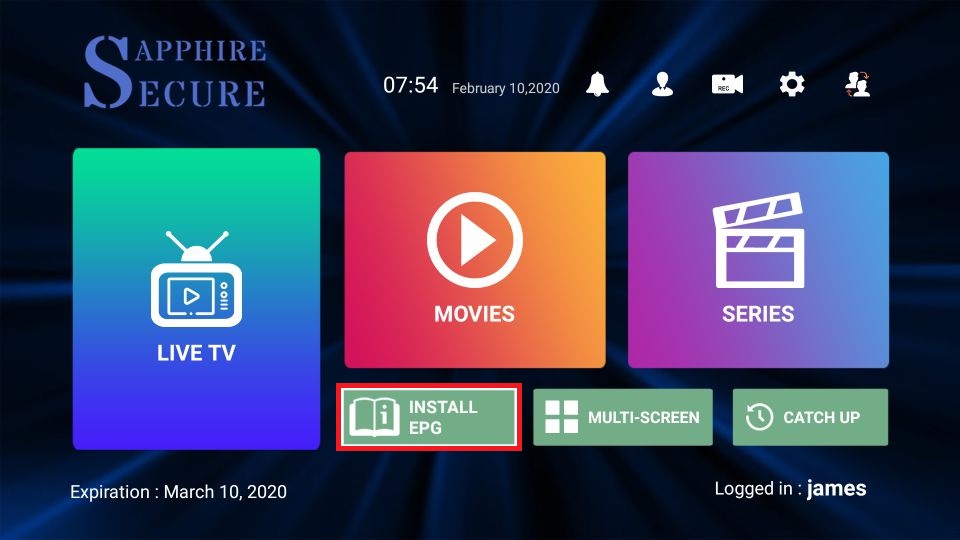 Wait while the app sets up EPG. This may take a few minutes

You should see the channel categories. Click one of them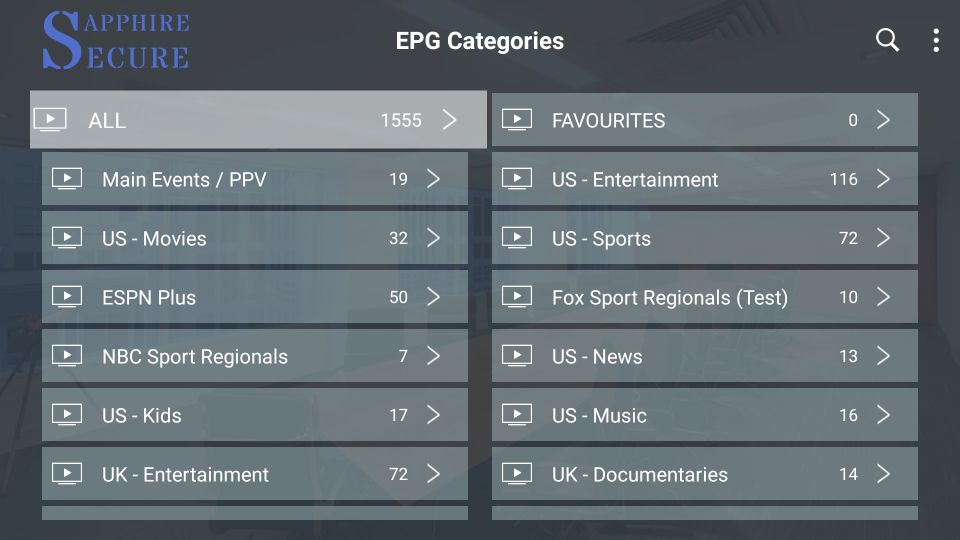 This is how the EPG interface looks like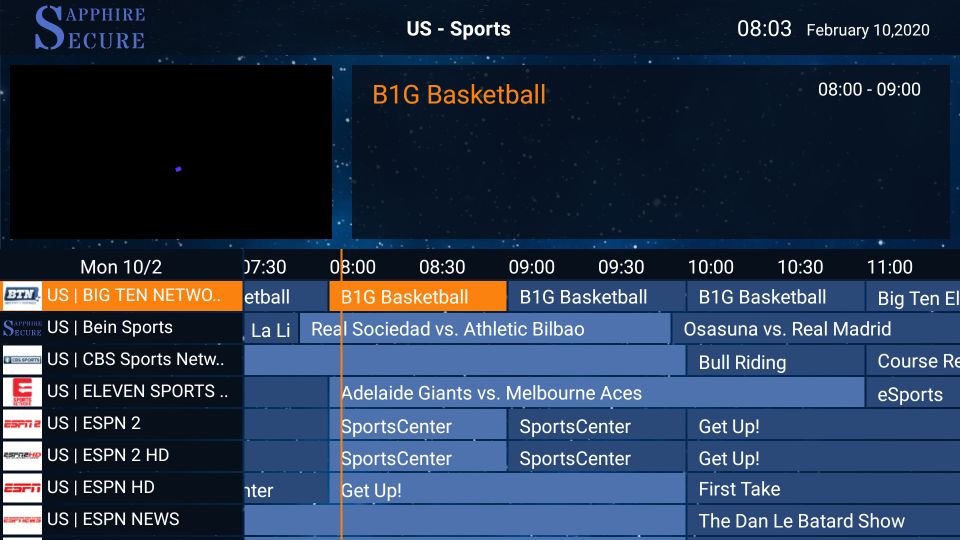 Using Multi-Screen Option of Sapphire Secure on FireStick
Multi-screen is one of the most sought-after features among IPTV services.
With Multi-Screen function, you can stream multiple channels on your screen
Click the Multi-Screen on the main screen of Sapphire Secure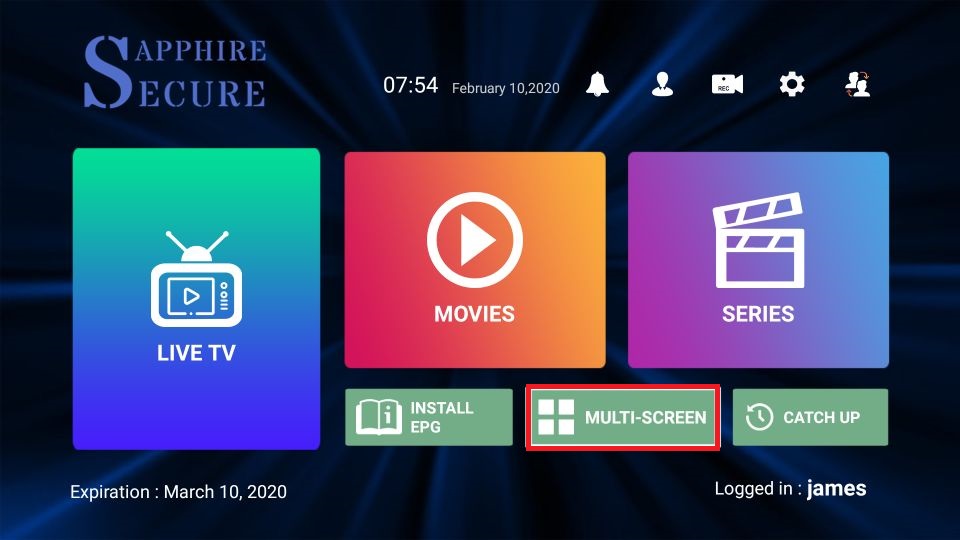 Now, click one of the blocks where you want the channel stream to appear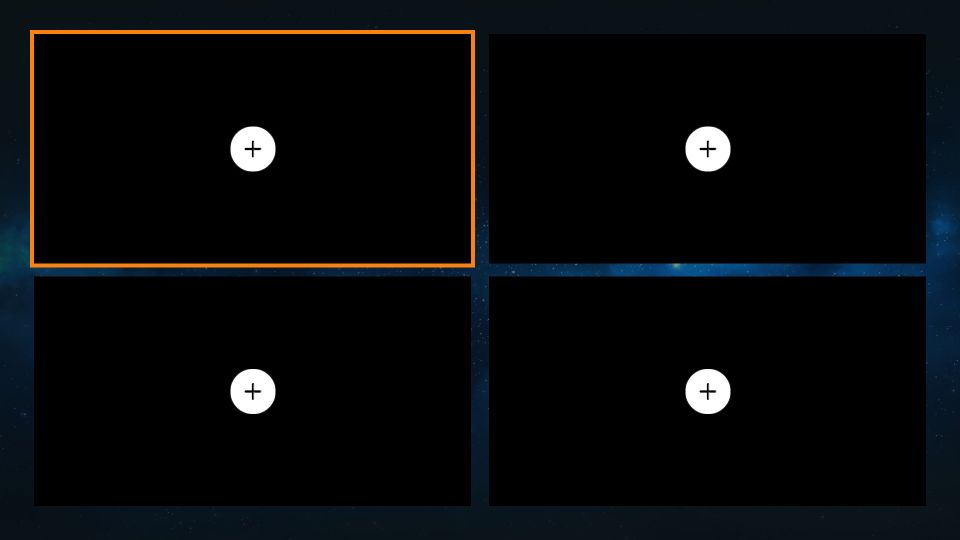 Click the desired category and then the channel you wish to stream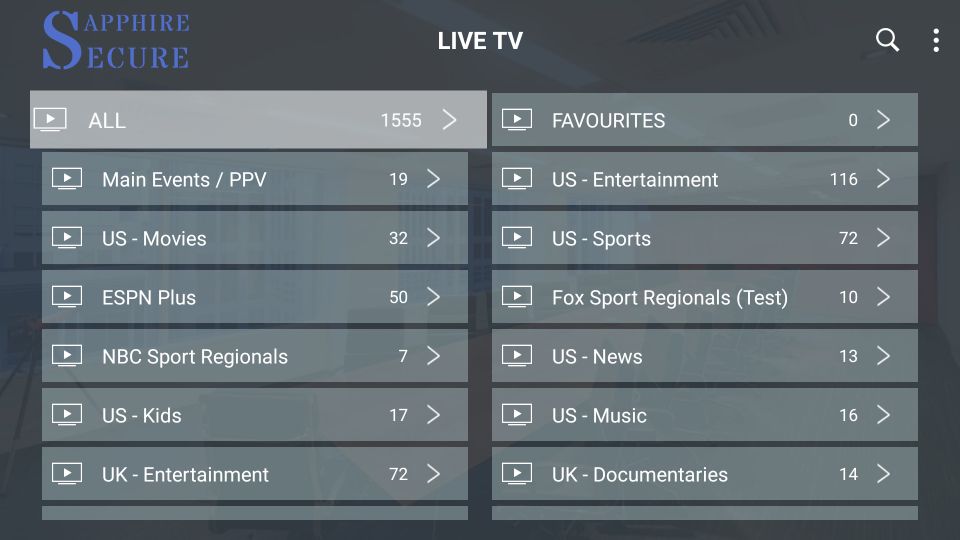 There are a few facts to consider before using this feature:
You can stream up to 4 channels with Multi-Screen
You can stream only up to as many channels as your plan allows.
If you have a single connection plan, Multi-Screen won't work for you
If your plan allows 2 connections, you can watch 2 channels on Multi-Screen
You can click any Multi-Screen block to view the streaming channel in the full-screen mode. Press the back button to get back to the Multi-Screen interface
You need a fast internet connection to use Multi-Screen as each channel will use its own bandwidth
Catch Up
If you are interested in the catch-up of the past broadcasts, you could explore the Catch Up section. However, don't have high hopes. There are just a handful of options here.
Click Catch Up on the main screen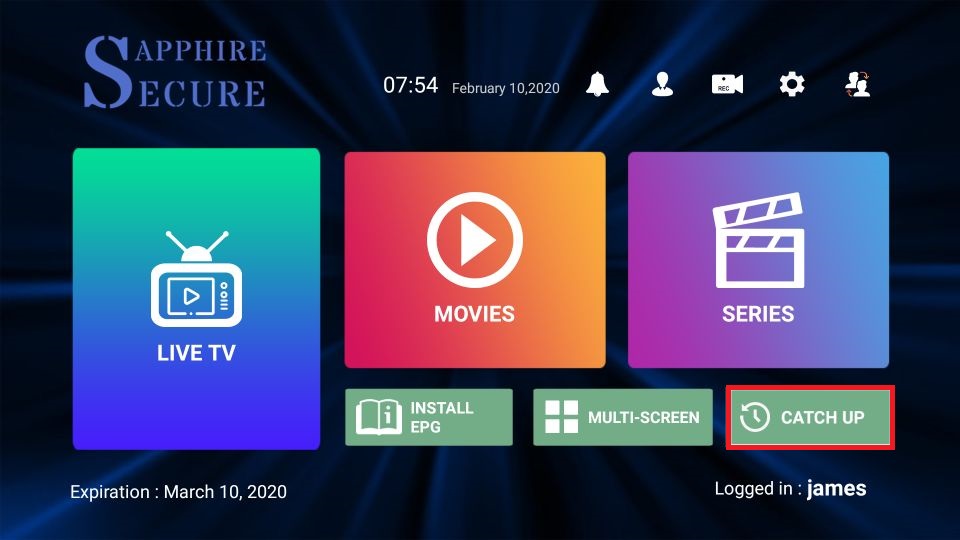 Select the channel category and select one of the Catch Up streaming options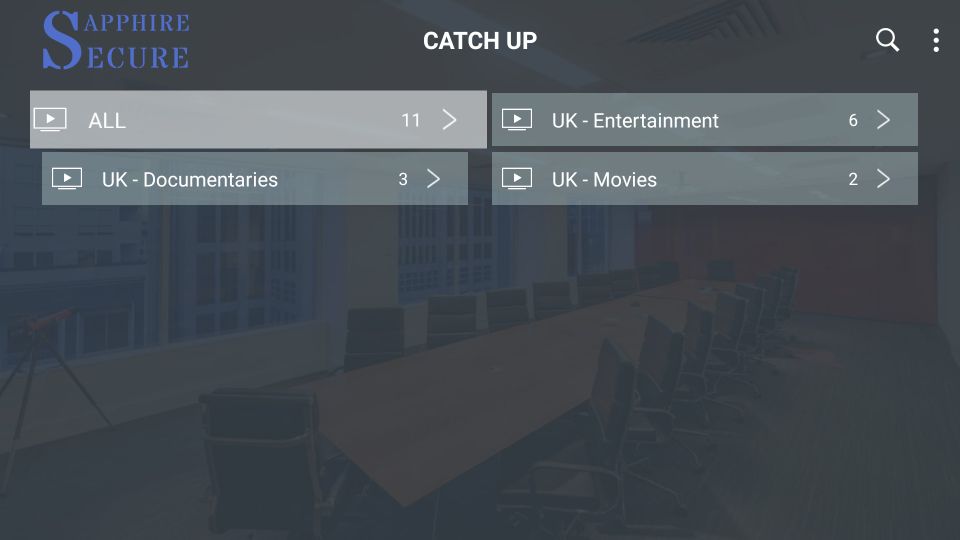 How to use External Player with Sapphire Secure
Sapphire Secure has a built-in player, which in my opinion is quite decent. However, it also lets you configure an external player of your choice, such as MX Player, VLC, Kodi, etc.
Here are the steps to set up an External Player with Sapphire Secure:
Go to the top-right section of the main window of the Sapphire Secure app and click the gear icon to open Settings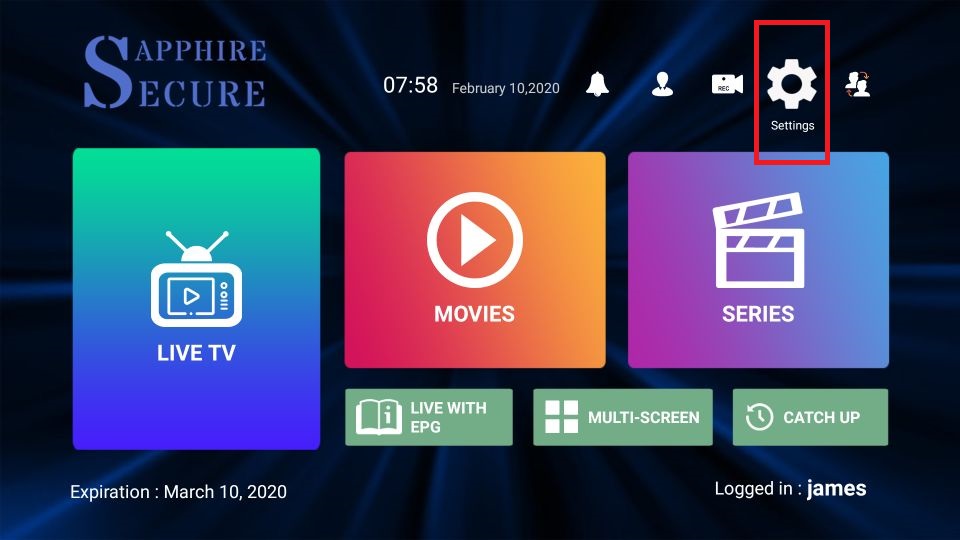 On this screen, select and open External Players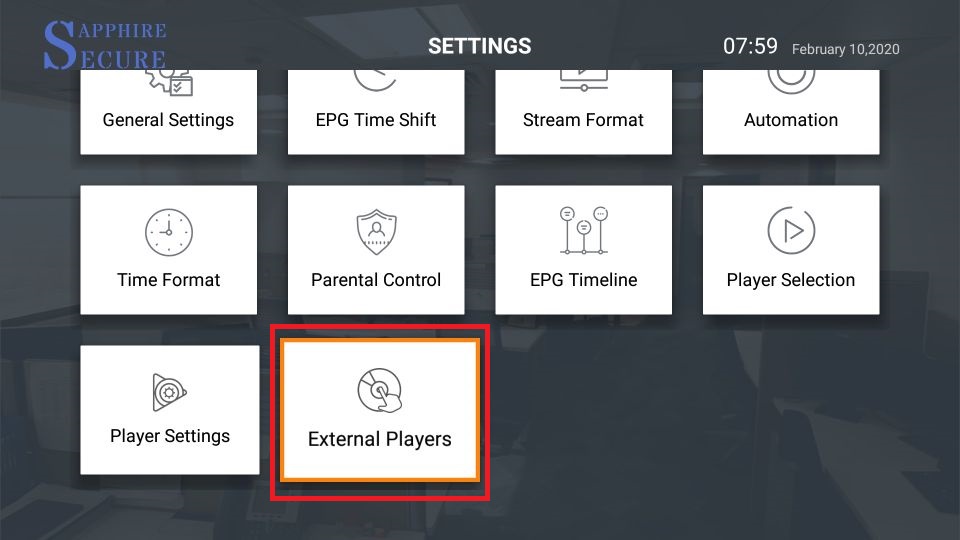 Click Add Player on the next window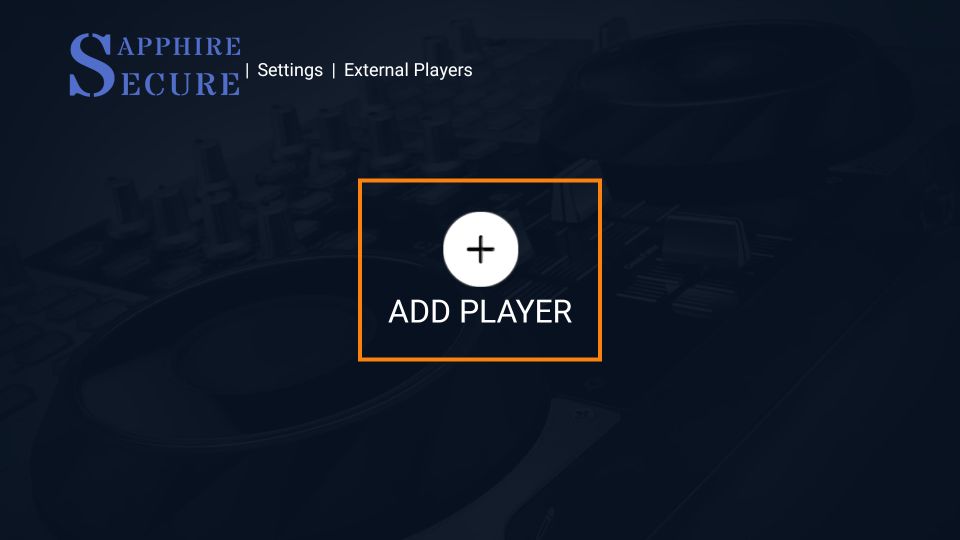 You should see the list of the installed external players on this screen
Click the player of your choice (I am using MX Player for demonstration)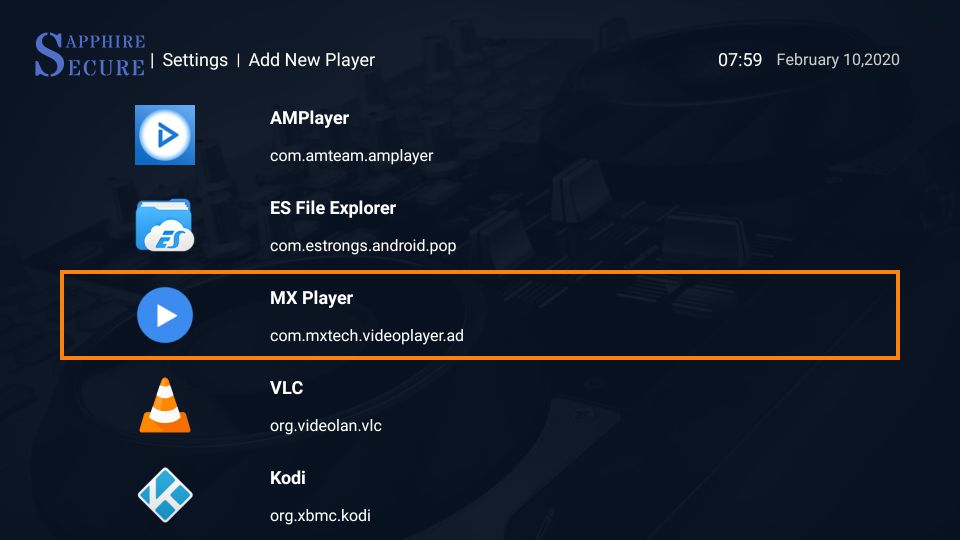 Click ADD when this prompt is displayed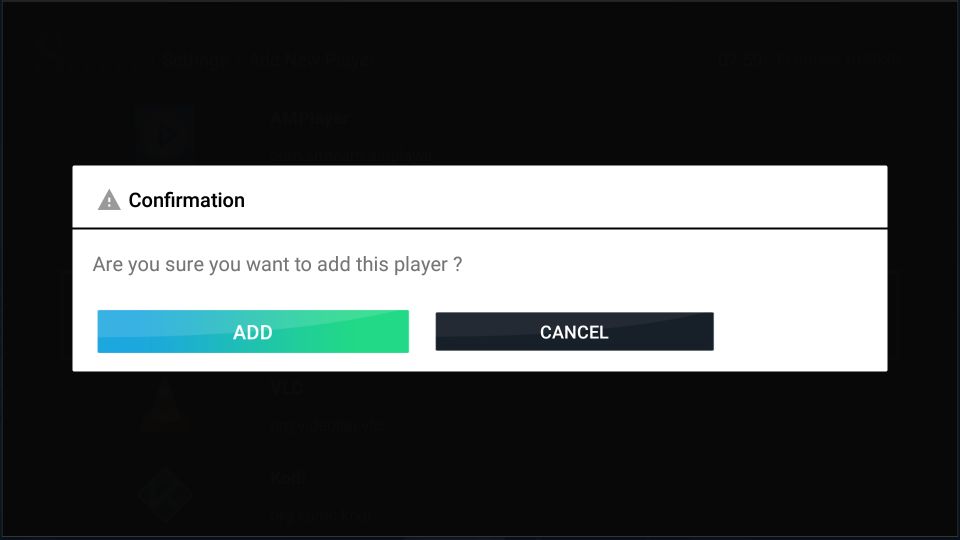 Now, go back to the Settings screen and click the option Player Selection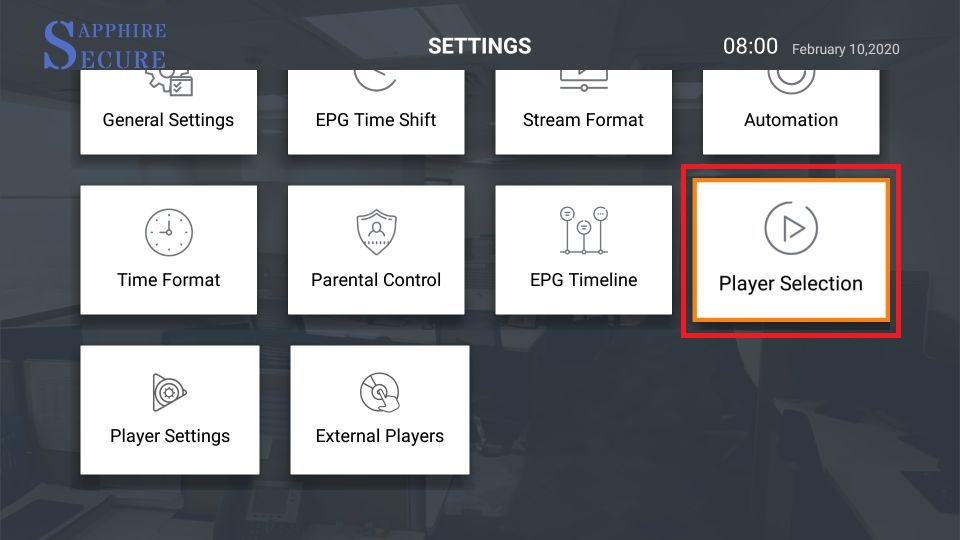 Here, you can use different players for different categories. For instance, you may choose MX Player for Live TV while continuing to use the Build-in Player with Catch Up.
Let's change the external player for Live TV. Click where it says Built-in Player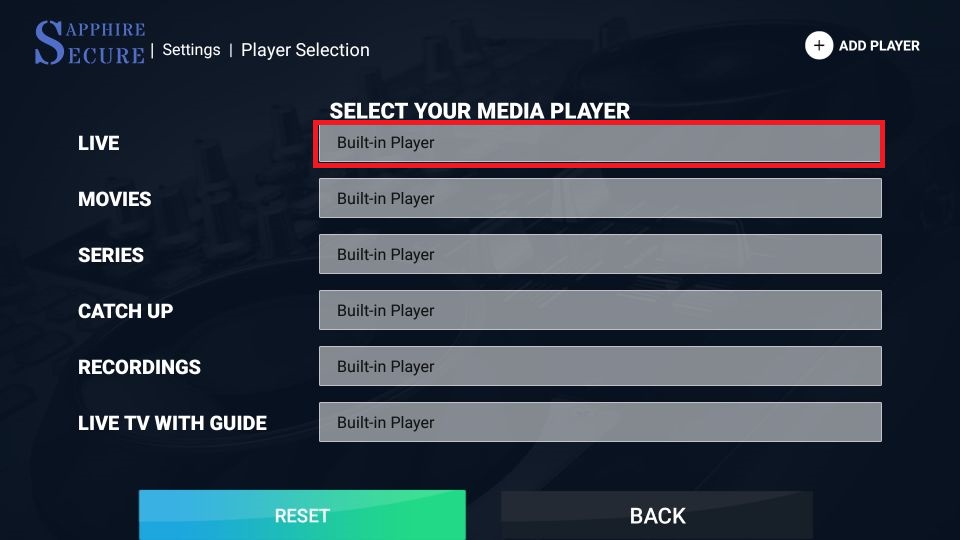 Select MX Player on the dropdown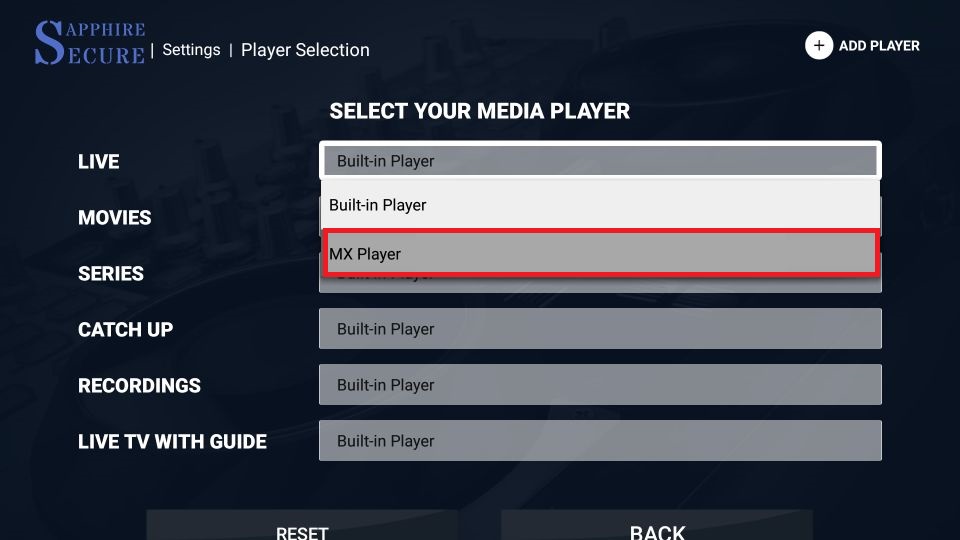 That's it! This is how you set up and use external video player with Sapphire Secure on FireStick.
Lost the Sapphire Secure IPTV Password?
When you subscribe to the Sapphire Secure service, there are two login passwords you need to deal with:
Online Portal Password
App/APK Password
Online Portal Password
You set up this password when you fill-up the Billing Details during the sign-up process. This password will be used to log in to the online portal of Sapphire Secure and manage your subscription.
From the online portal, you can renew the service or request the cancellation of the service. You can also update your billing information.
The online password is NOT used for the Sapphire Secure app. We will talk about the app password in the next section.
To reset your online portal password, follow these steps:
Click Forgot? next to the Password box
Enter the email address on the following webpage and choose Submit
Check your email inbox now. You must have received an email from Sapphire Secure with the instructions to change/reset the online portal password.
If you can't see the email, check the spam folder
Sapphire Secure App Password
You use this password to sign in to the Sapphire Secure app as well as with the EPG and M3U URLs (covered later) for streaming purposes.
Once you have purchased a Sapphire Secure plan, they will send an email with your login details. The subject of the email is usually 'Your Login Info'.
In case you can't find the email, you can view the password as well as reset it from your Sapphire Secure online portal. Follow these steps:
Log in to your online portal at https://sapphiresecure.net/clientarea.php
Click the Services block on the next webpage
Click your subscription on the next screen
Choose Login Details on the following webpage
You will be able to see your app Username and Password on the next page.
Click Show to reveal the password
To change the password, click Update
How to find and use EPG and M3U with Sapphire Secure
If you have one of the Android (Mobiles & Tablets) or Android-based (FireStick, Fire TV, Android TV, Android TV Boxes), use the link bit.ly/sapphireiptv to download and install the Sapphire Secure client for streaming.
You don't really need the EPG and M3U links on Android devices as they have their dedicated apps.
However, if you would like to use Sapphire Secure with any third-party IPTV Player (say IPTV Smarters), you will use these links.
Once you have successfully bought a Sapphire Secure plan, they send an email with the subject 'Login info', which also contains the EPG and M3U URLs.
They used to provide these URLs in the online portal as well, but not anymore.
Lost your login info email? No problem! Sapphire Secure has a generic EPG and M3U URLs for everyone. All you need to do is insert your app username and password in the URLs.
M3U: http://securetv.net:8080/get.php?username=YourUsername&password=YourPassword&type=m3u_plus&output=ts
EPG: http://securetv.net:8080/xmltv.php?username=YourUsername&password=YourPassword
Replace YourUsername in this link with your Sapphire Secure username
Replace YourPassword in the link with your Sapphire secure password
How to install Sapphire Secure on Android TV and Android TV Boxes
If you are using an Android TV or an Android TV Box with Android TV OS, you can easily sideload Sapphire Secure with the Downloader tool.
Follow the steps below:
Power on your Android TV device. On the home screen, click Apps on the left
A popup will slide out from the right. Click Get More Apps to access Google Play Store for Android TV
Search for Downloader and follow the onscreen instructions to install it
Go to Android TV Settings > Security & Restrictions > Unknown Sources
Select Downloader from the list and change its status to 'Allowed'
Open Downloader and type the following link:
Install the Sapphire Secure app by following the onscreen instructions
Install Sapphire Secure on iOS Devices
Sapphire Secure team has yet not developed an app for the iOS platform. If you have an iPhone or any other iOS device, you will need to use an IPTV player to use Sapphire Secure.
You can use IPTV Smarters. It is a lightweight and easy to use IPTV player. Here are the steps:
Access the Apple Store and download IPTV Smarters
Launch the app
Use the first option that says Load Your Playlist or File/URL
Enter the M3U URL for your Sapphire Secure subscription. I have given the URLs in one of the sections above
Winding Up
Sapphire Secure is a cost-effective way to watch your favorite channels online on FireStick and other devices. The app offers more than 1500 channels for just $5 per month for the single connection. You can use Sapphire Secure not only on FireStick, but on other devices as well, including Android TV, Android Mobiles, iOS devices, etc.