This tutorial shows you how to install & use NBC on FireStick. The instructions apply to any Fire TV or Fire OS device, including FireStick 4K, 4K Max, FireStick Lite, Fire TV Cube, FireStick 3rd Gen, and TV sets with built-in Fire OS. Let's begin!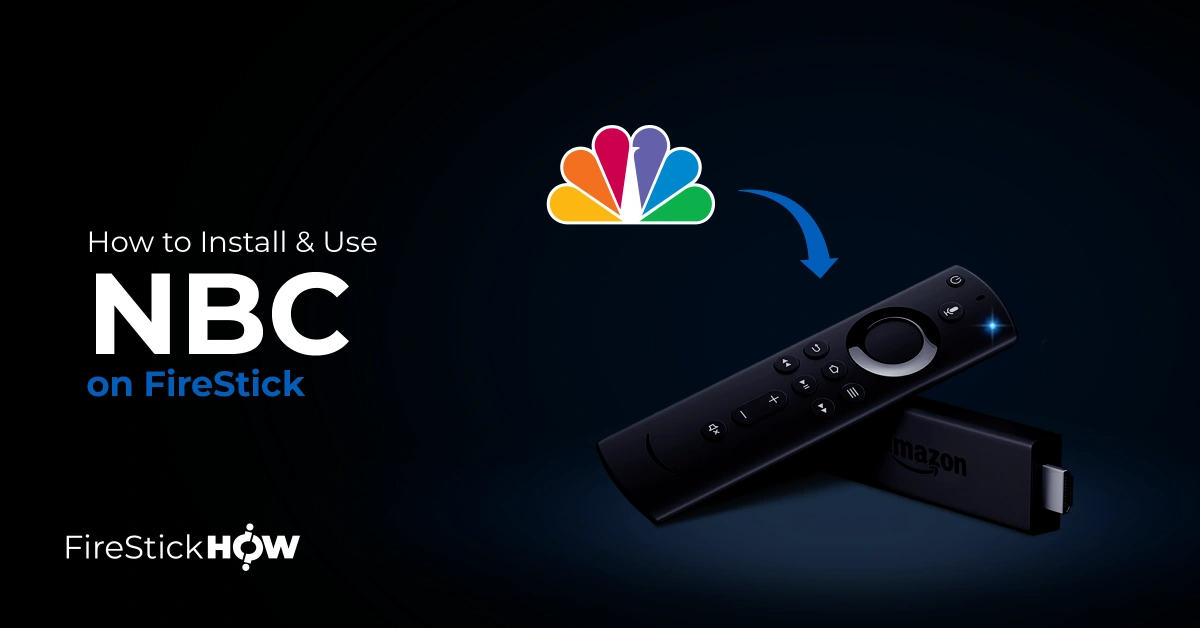 What is NBC?
NBC is short for National Broadcasting Company. It is a commercial TV & radio network hosting many popular channels like BBC, E!, Bravo, and more. In the US, NBC has over 13 owned and operated stations making it the most extensive television network in the region.
Moreover, NBC is known for producing mega-hits like Chucky, Winter House, and more. The popular television network has an official app for almost all platforms. You can stream content seamlessly on your FireSticks, Apple devices, Roku, and all other platforms.
NBC doesn't offer direct monthly or yearly plans. Instead, you have to subscribe to the network via your TV provider. So, it is more of an add-on if you use a TV network.
Attention FireStick Users: Read before you continue
Your government and ISP are probably monitoring your streaming activities using your IP address 40.77.167.164 (exposed to all). You may get into serious legal trouble for streaming copyrighted videos on FireStick. 
I strongly recommend getting a trusted VPN for FireStick to hide your IP address and protect your online identity.
I use ExpressVPN on all my devices as it is the most secure, fastest, and easy-to-use VPN. It comes with an unconditional 30-day money-back guarantee, and you get 3 free months with the yearly plan.
Don't miss out on the peace of mind and online security ExpressVPN provides.
Read: How to Install & Set up the best VPN on FireStick.
How to Subscribe to NBC
There are two ways to subscribe to NBC. You can utilize either the NBCUniversal Profile or the TV Provider option. Without a subscription, you won't be able to get started with the app.
NBCUniversal Profile
Your NBCUniversal Profile will help you get the best experience streaming on NBC. It enhances the cross-platform experience if you're logged in on multiple devices. It also offers free credits to watch a set amount of content for free.
Here's how you sign up for NBCUniversal Profile:
First, go to NBC's official sign-up page. Then, tap on Create Profile With Email.
Note: You can also continue with Google or Apple.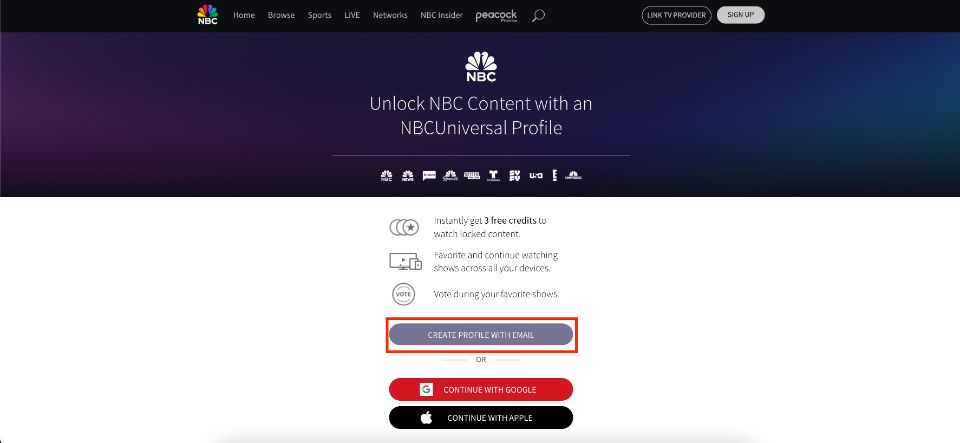 You need to enter your details to create an account. Enter the required data, i.e., your Name, Gender, Zip Code, Birth Year, Email, and Password.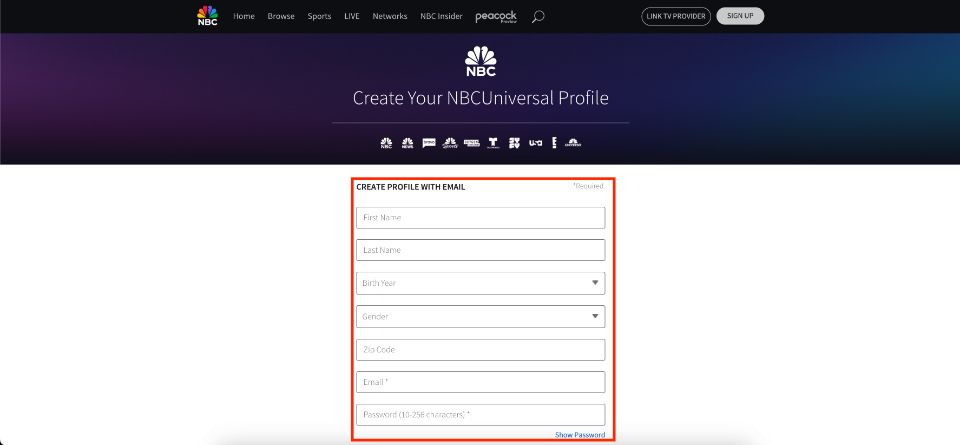 Review the application's Terms of Use and Video Viewing Policy. Then tick the Terms of Use and Video Viewing Policy checkboxes to agree. Lastly, tap on Create Profile.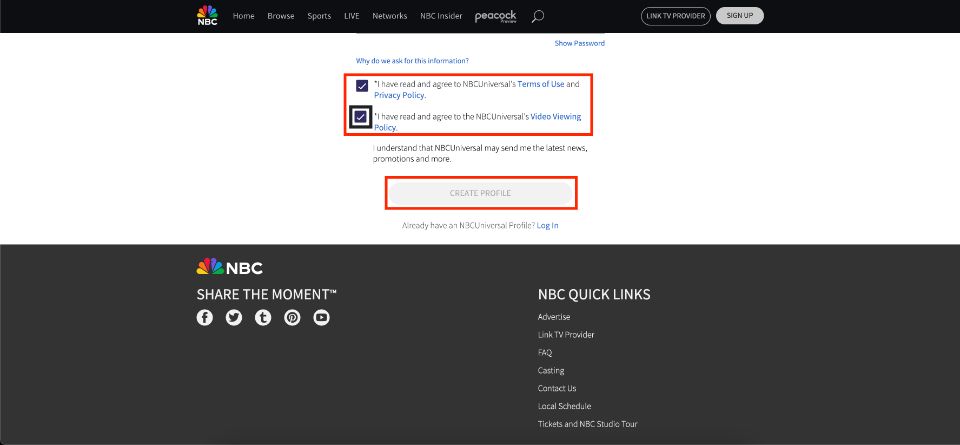 Congratulations! You've successfully subscribed to NBC. Start watching immediately or link your TV provider to unlock all content.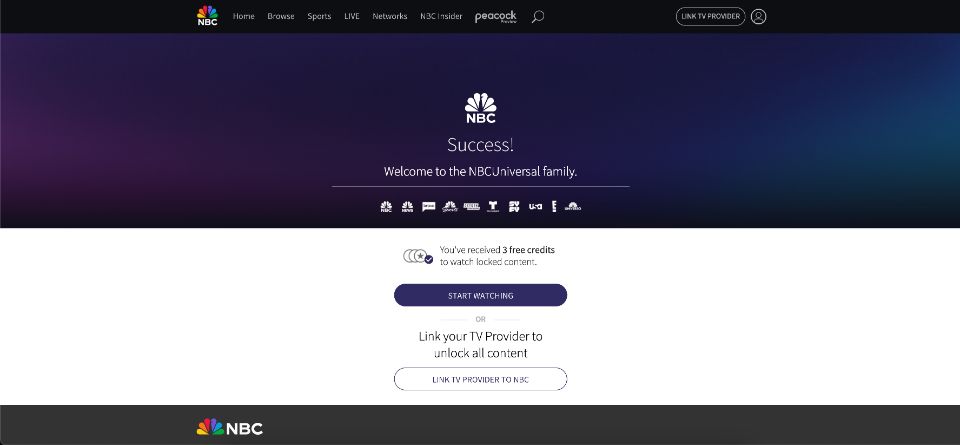 TV Provider
You can also subscribe to NBC through your TV Provider. It will allow you to access the app's full potential and unlock all content. If you have a TV Provider and are already registered with NBC, you can ask them for your account details. But, if you aren't registered, ask your TV Provider to start the subscription and provide you with the details.
Features of NBC
Here are the top highlights of the app:
Hosts popular networks, including Hulu, SYFY, E!, and more.
Known for making famous shows like SNL, Chucky, and more.
An official app for multiple devices like iOS, Android, Roku, and more.
How to Install NBC on FireStick
Installing NBC on your FireStick is simple and quick. You can get the app directly via the Amazon app store.
Follow these steps:
1. Turn on your FireStick and tap the Find button on the home screen.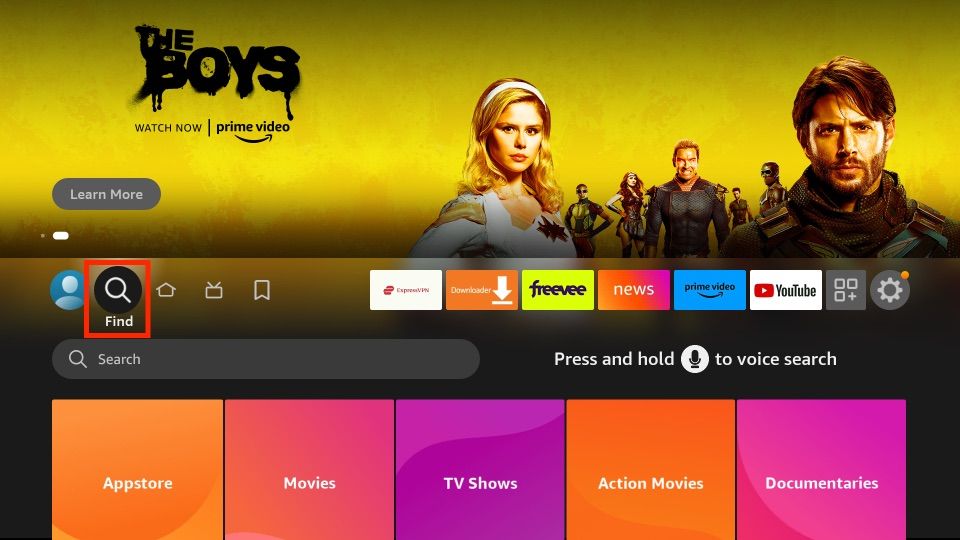 2. The find menu will load. Next, click on the Search bar at the top of the screen.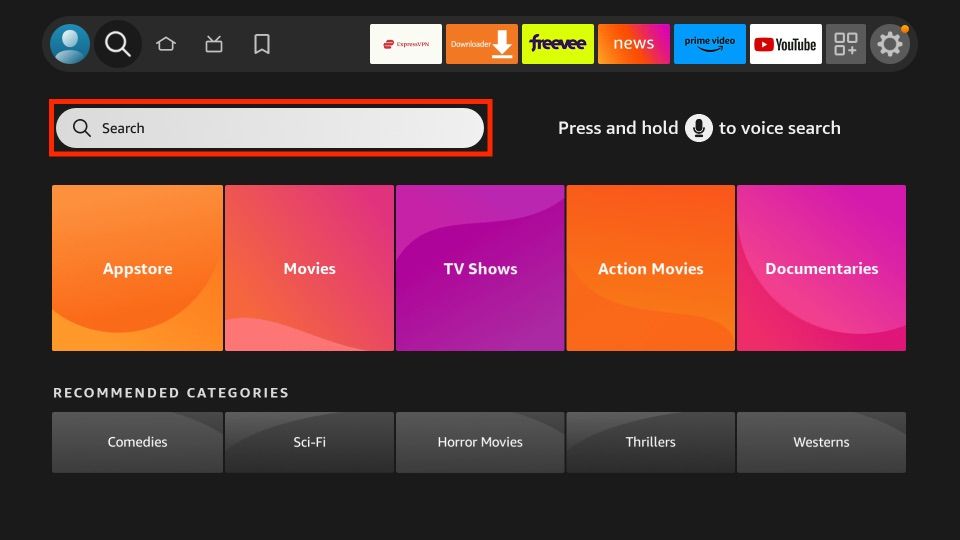 3. Now, start typing NBC in the search bar. Then, tap on NBC when it appears in the suggested searches.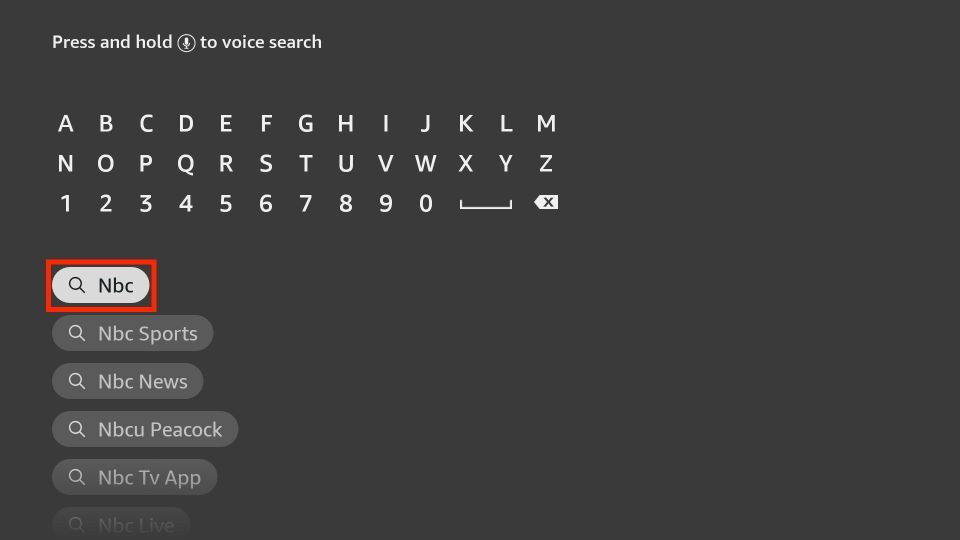 4. Click the NBC icon in the Apps & Games section to open it in the Amazon app store.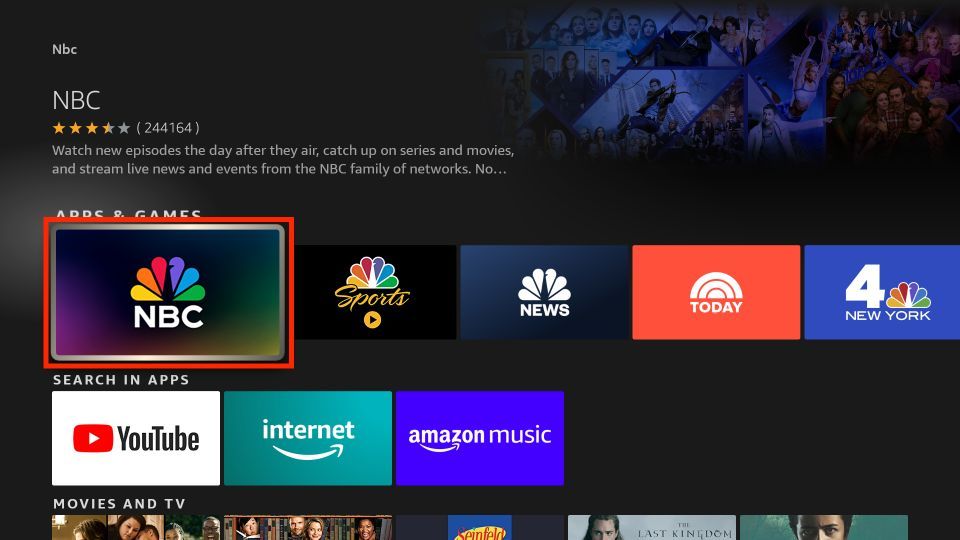 5. Now, press the Download/Get icon.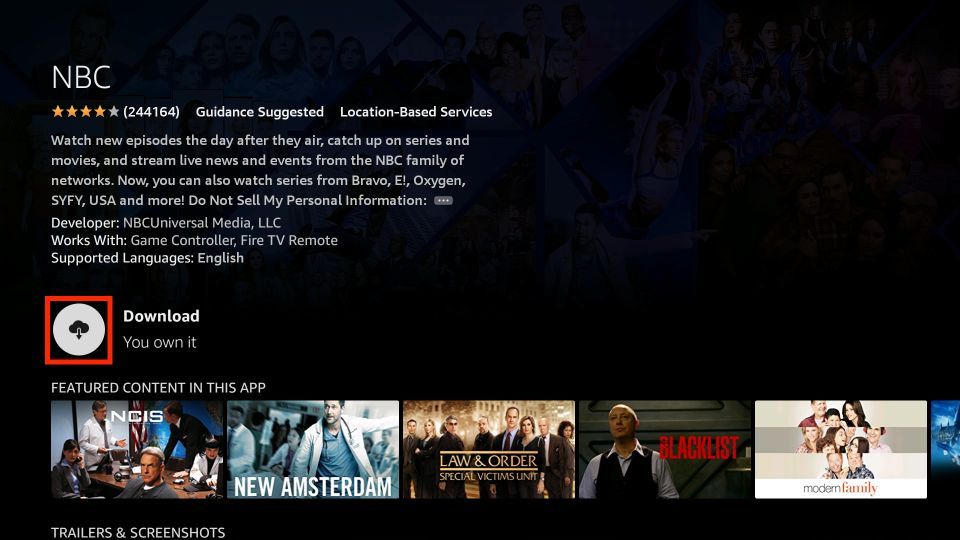 6. The app will start to download. You can see the Downloading status on the screen.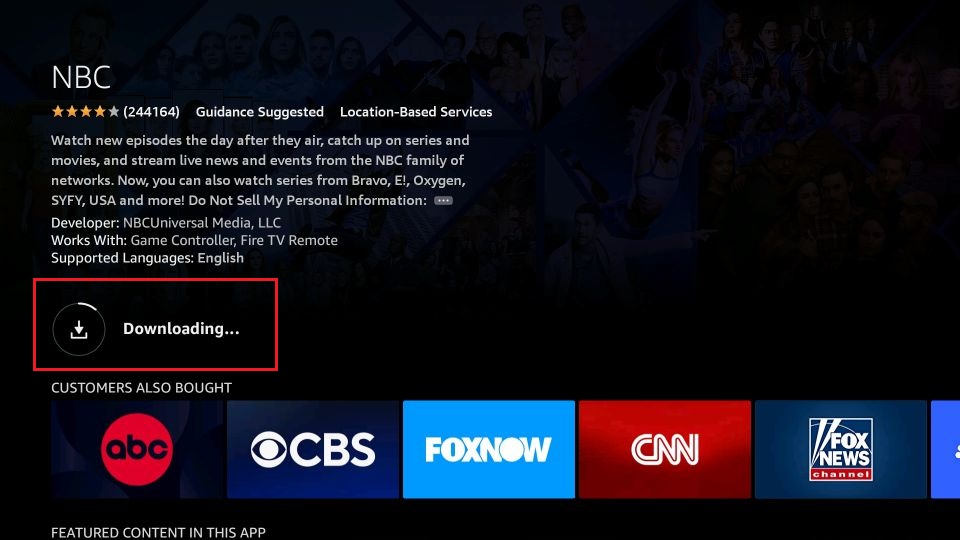 7. Wait for a few moments for the app to download successfully. When done, the Downloading icon will change to the Open button.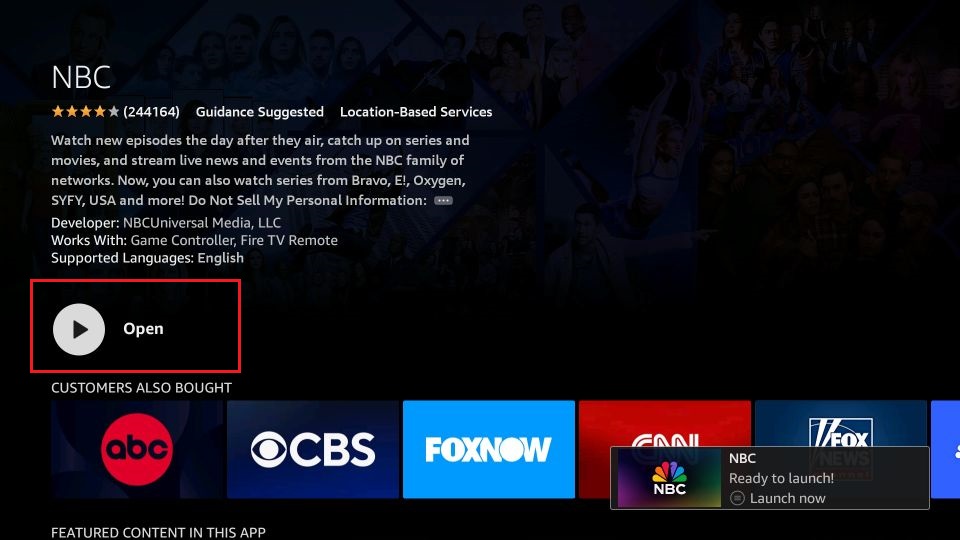 That's it. You've successfully installed NBC on your FireStick.
Wait! It looks like you are all set to start watching your favorite content on FireStick. But have you protected your online identity yet? You are under constant surveillance by the Government and ISP. Free streaming of copyrighted videos may get you into legal trouble.
Thankfully, you can easily avoid online monitoring and safeguard your privacy with a trusted VPN on FireStick. A VPN will hide your IP address and online identity by encrypting your internet connection.
Please note that I am not encouraging you to violate any copyright laws. You should always watch the content available in the public domain. I am simply recommending the use of a VPN to maintain your privacy. You have every right to your privacy, which is constantly being breached these days.
I personally use ExpressVPN and have found it to be the fastest and most secure FireStick VPN. It is also the most streaming-friendly VPN I have ever used. Therefore, I highly recommend getting ExpressVPN for FireStick.
Here is how you can quickly get the ExpressVPN app on FireStick:
Step 1: Click HERE to subscribe to ExpressVPN and enjoy a 49% discount with 3 months of extended service. You are also eligible for a 30-day, full money-return guarantee.
Step 2: Download and install ExpressVPN on FireStick
Choose the Find > Search option on the FireStick home screen on the menu bar.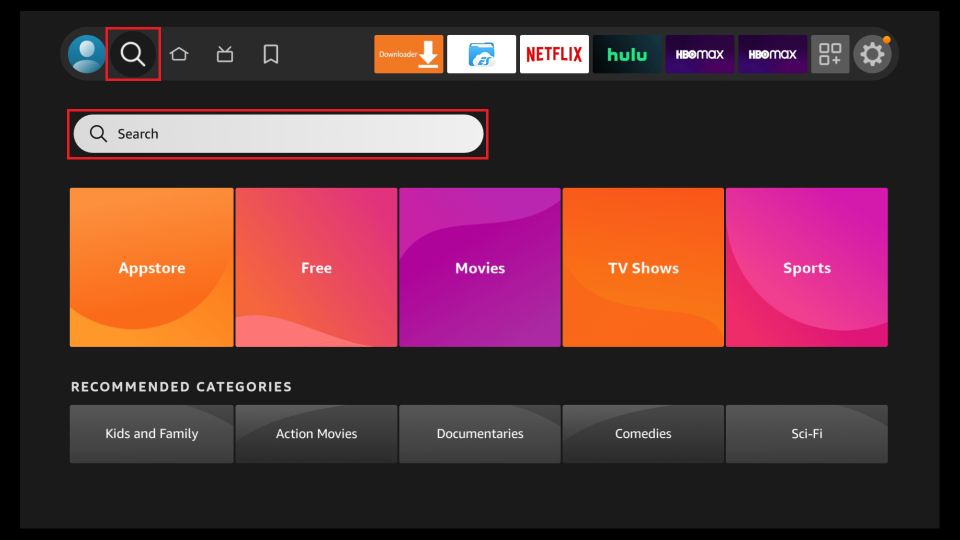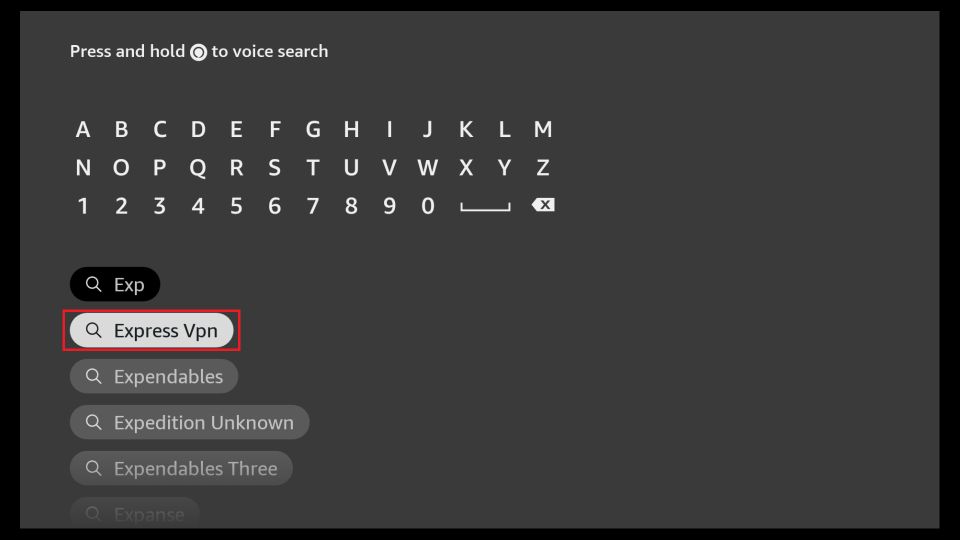 Click the ExpressVPN icon on the following window.

Click Download or Get on the next window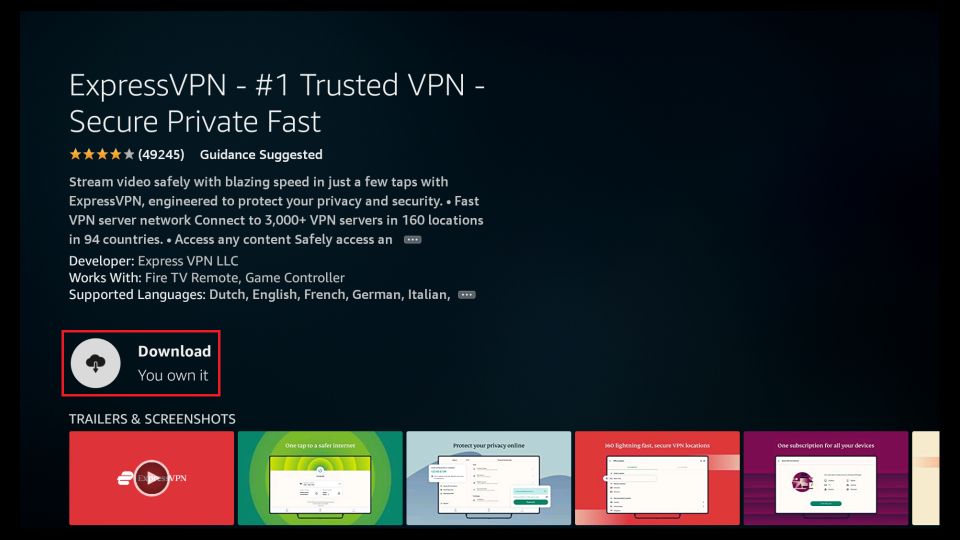 Step 3: Open ExpressVPN once you have downloaded it. Sign in with your account.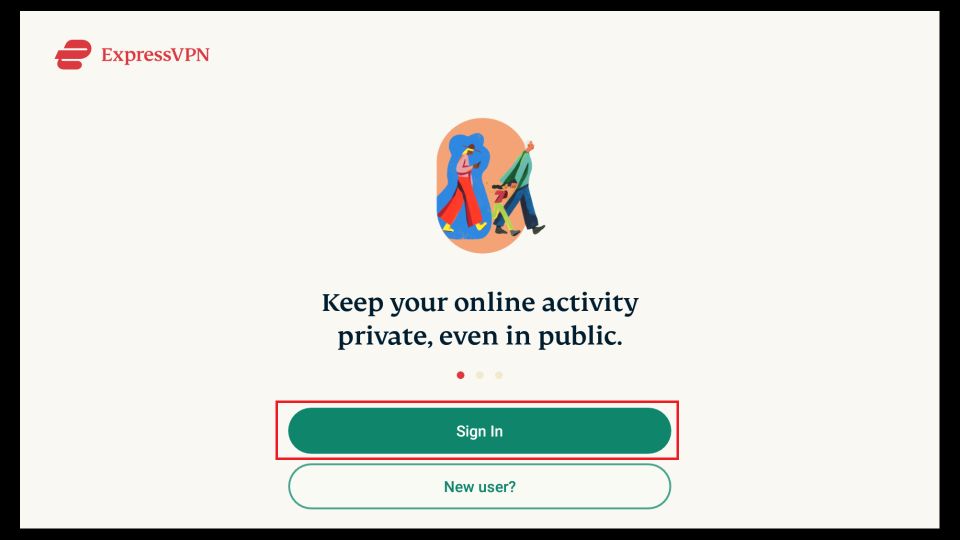 Step 4: Choose a server and click the Connect/Power button

Put your mind at ease now! You have successfully secured your streaming activities with ExpressVPN.
Overview of NBC
You can start streaming now that you have the application on your FireStick. But first, create the app's shortcut on the FireStick home screen. Trust me! It will ease your streaming experience.
Now, let's go through the basic features of the app. Start by launching NBC on FireStick. Here's how you do that.
Tap on the Three-square icon on the FireStick home screen.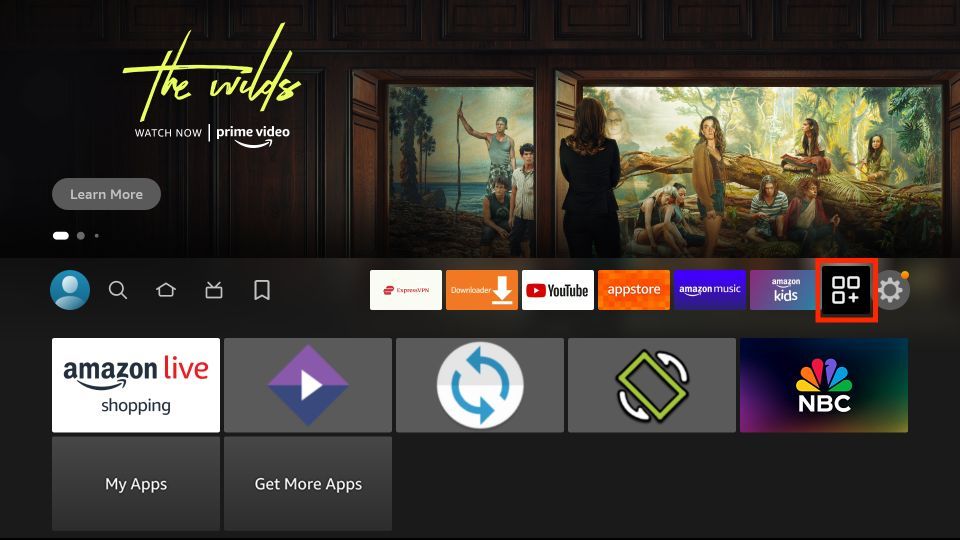 The Apps & Channels menu will show up. Scroll through the app list and tap the NBC icon to launch the application.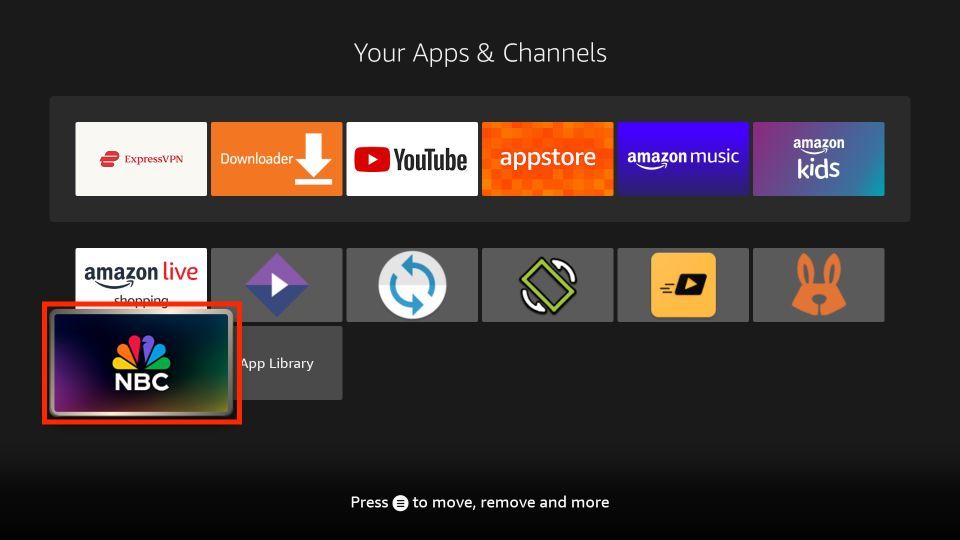 The app will begin to load. Wait for a few moments.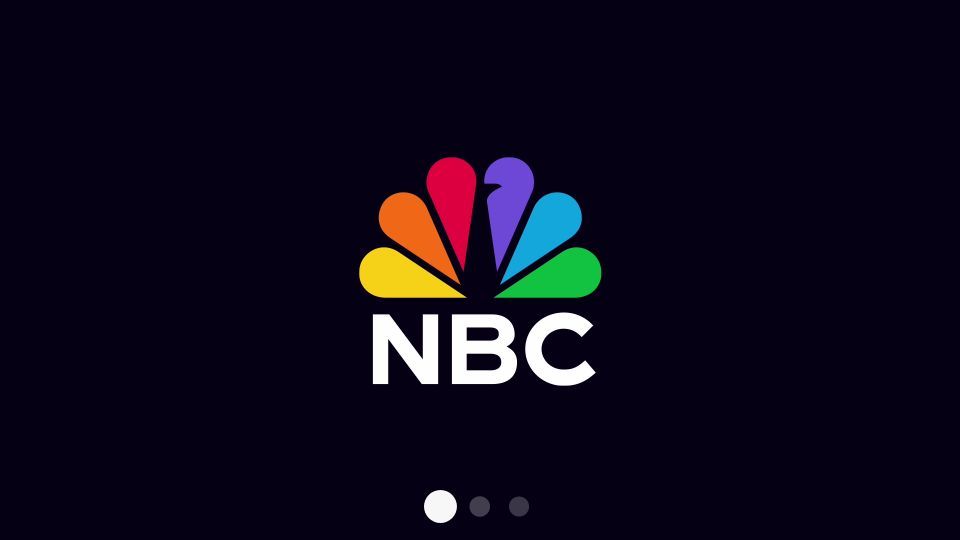 When NBC launches, you'll land on the Home section.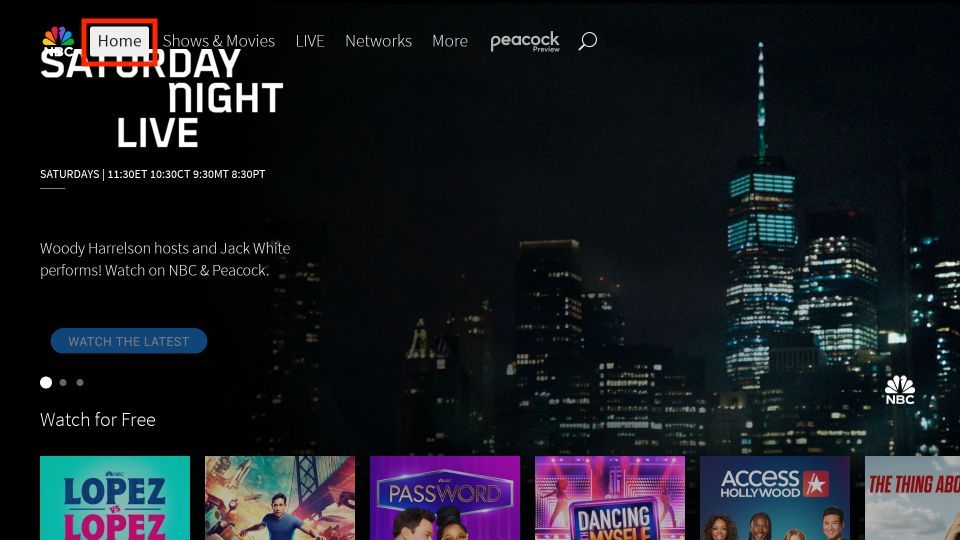 The first section is called Watch for Free. You can stream various TV shows and serials for free in this section.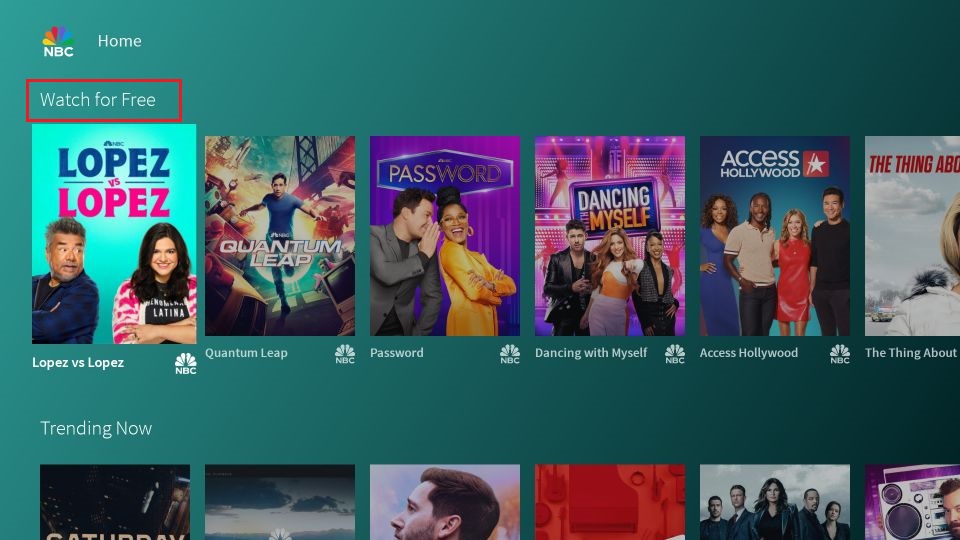 Below Watch for Free is the Trending Now section. It features all the currently popular and loved content. In addition, you can scroll right to explore more options. Or scroll downwards to explore the Explore Peacock section. It gives you a glimpse of what's available on the application.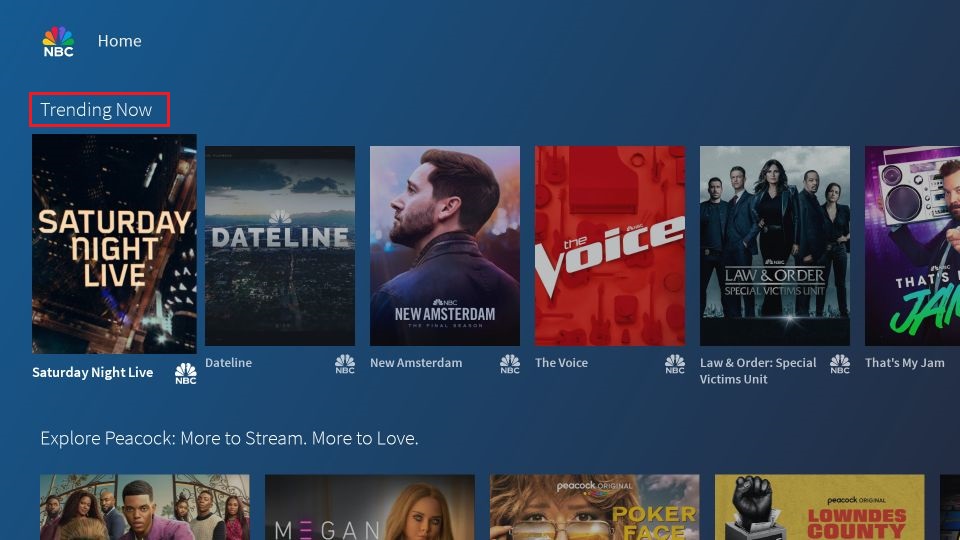 Next to the Home tab is the Shows & Movies section. Please tap on the Shows & Movies button to open it.
The Popular section will be selected by default. You can tap on the Comedy icon to view comedic shows and movies. Or, click the News, Talk & Sports button to view content from that genre.
The section is divided into genres like Popular, Comedy, Drama, Reality, and more. You can explore it further by scrolling through the list.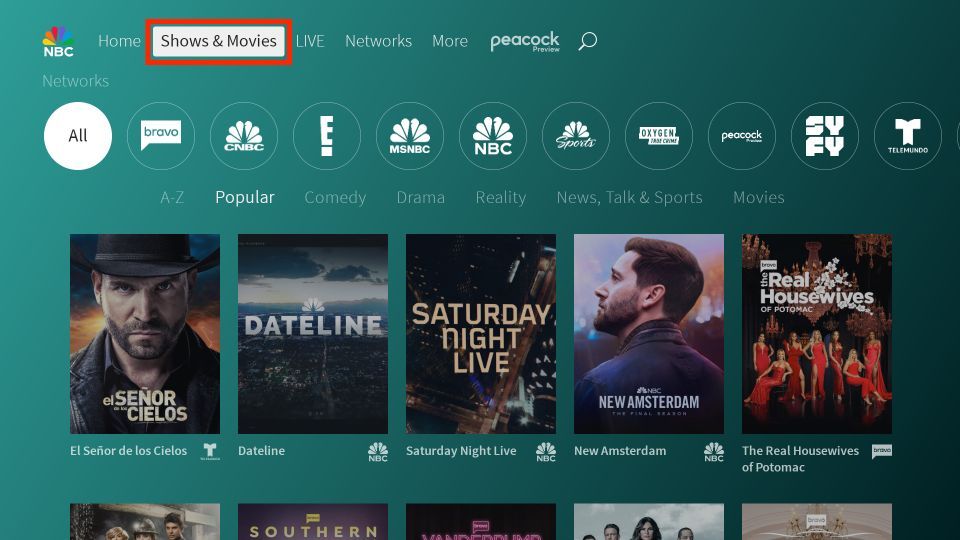 Now, tap on the LIVE button. It will give you access to watch live TV and various news broadcasts. Surf through the list of channels to watch your favorite one.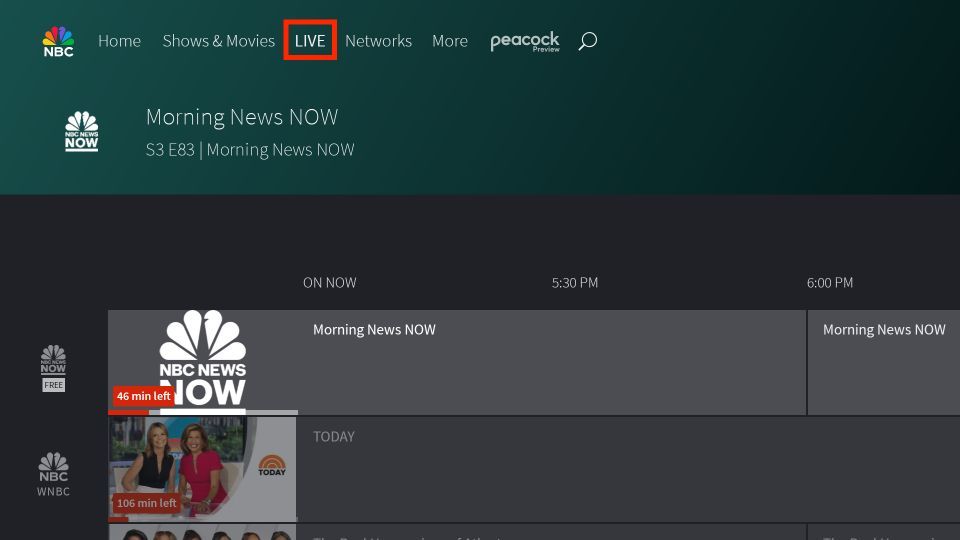 The next in line is the Networks section. Please tap on the Networks button to load it. This section comprises various TV channels, including E!, CNBC, Bravo, Peacock Preview, Universal Kids, and more. Select any channel to start streaming immediately.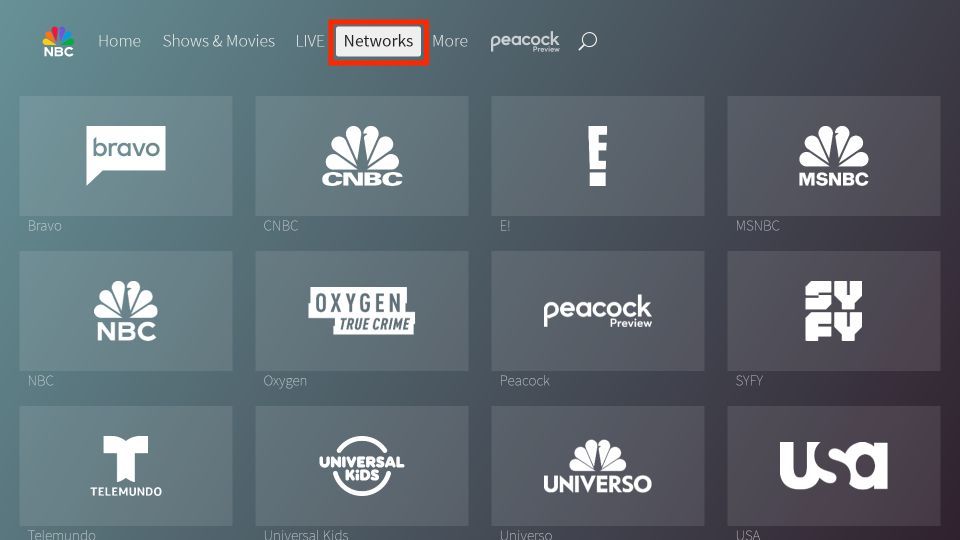 Sign in with NBCUniversal or a TV Provider
Once you've downloaded the app, you can sign in with NBCUniversal or a TV Provider. Here's how you do that.
Launch the app and tap on the More button located at the top.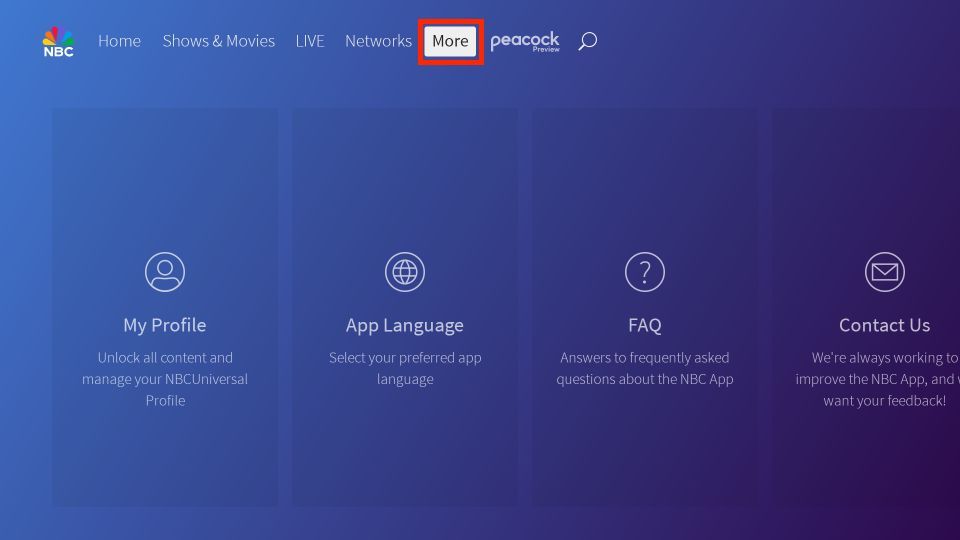 Click the My Profile tab.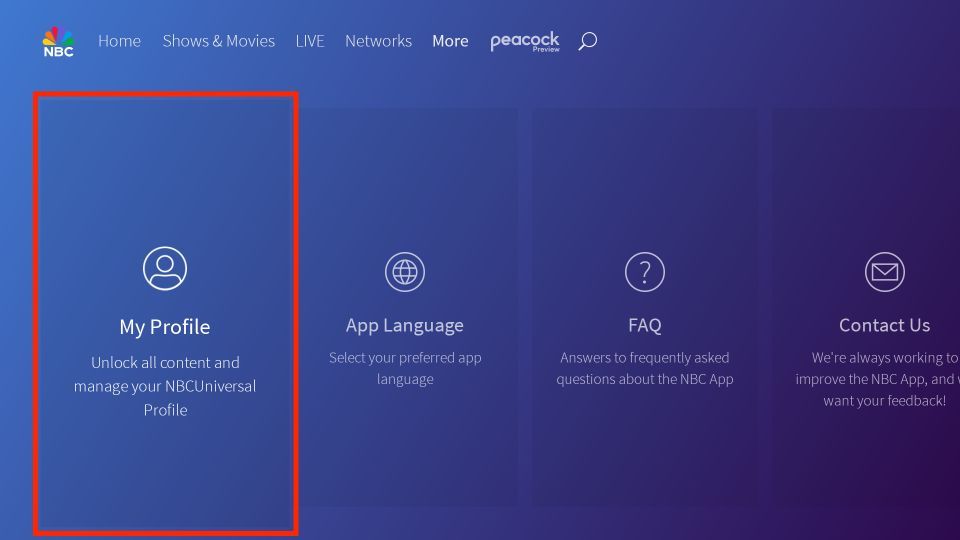 Here you will come across two methods to sign in to the app. First, tap the Sign In option at the top to sign in with your NBCUniversal Profile.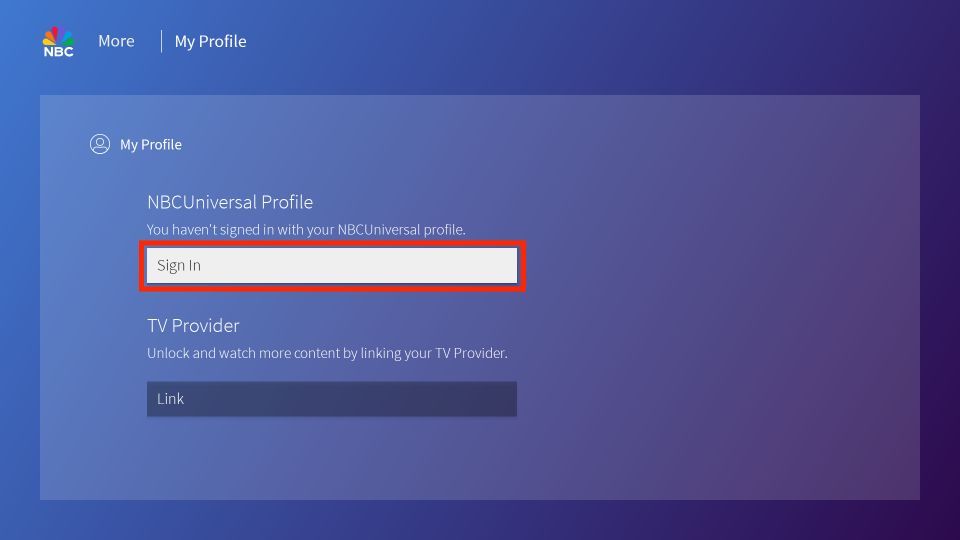 Now, sign in to your NBCUniversal account on your phone or computer (not on FireStick). Then go to nbc.com/activate on that device and enter the code on the FireStick screen.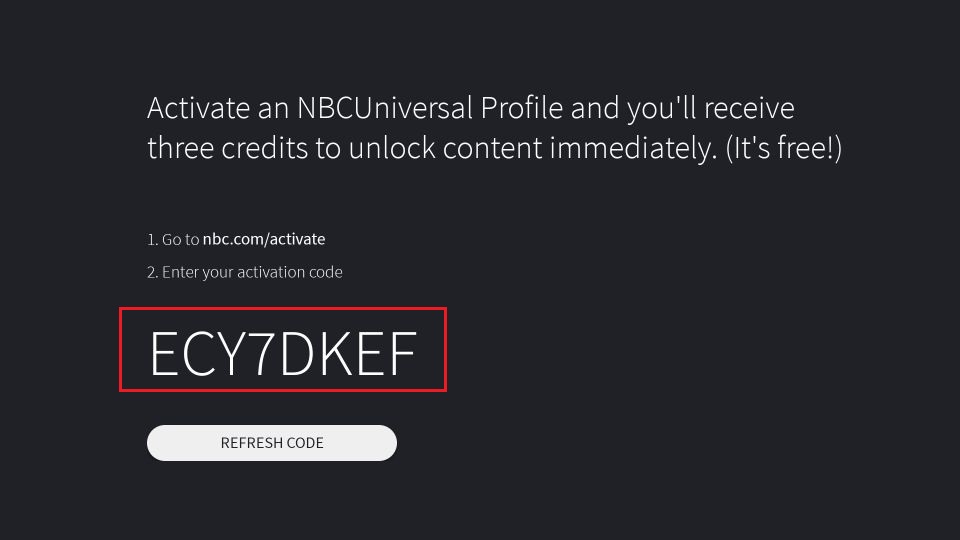 Next, follow the on-screen instructions to complete the sign-in process. Alternatively, select the Link tab in the My Profile section if you're subscribed to NBC via your TV Provider.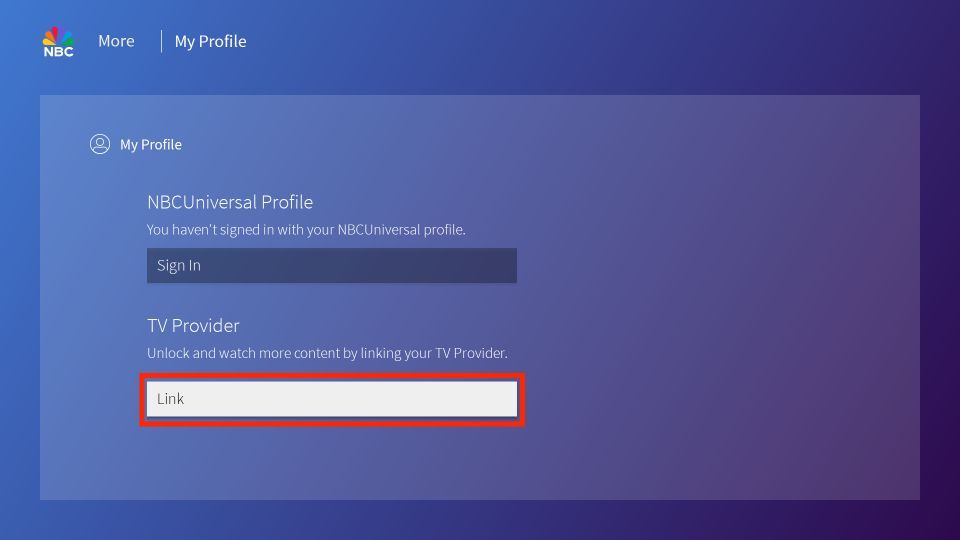 Here you can select your TV Provider among some famous ones. If the specific option is not on the list, tap on Search Full List to find it.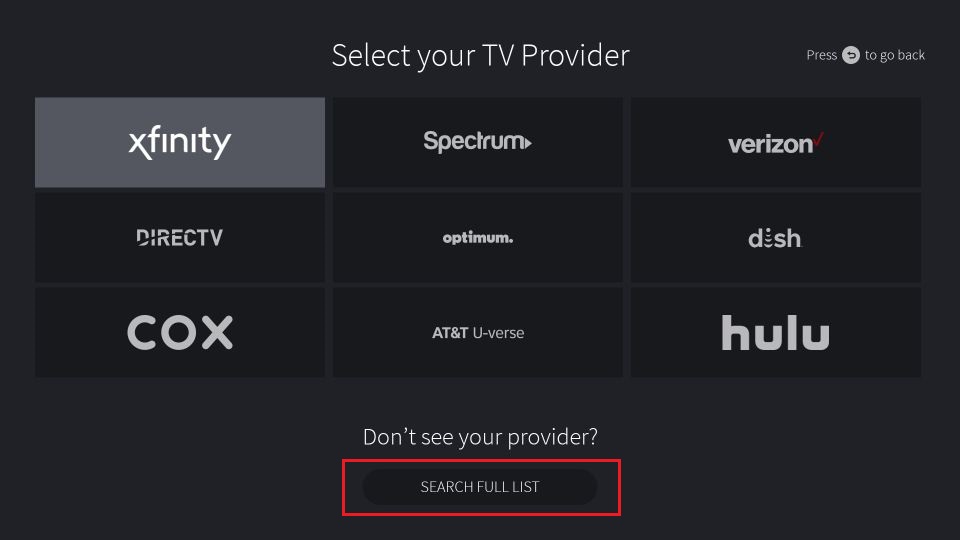 How to Watch NBC without a TV Provider & NBCUniversal Profile
You won't get the best out of NBC if you don't have a TV Provider or NBCUniversal Profile. Luckily, a few subscription services still allow you to stream NBC content. Here are the top ones:
Xfinity
If you have an Xfinity subscription, you can enjoy free access to NBC. This streaming service is fast, secure, and offers a lag-free performance. Additionally, it's supported on many devices, including Fire TVs.
Sling
Sling is one of the top streaming TV services that allows you to watch live NBC network. It also has various channels, including ABC, Fox News, CNN, and more.
Sling offers three packages: Orange, Blue, and Orange & Blue. The Orange and Blue plans cost $35, while the Orange & Blue one costs $50 monthly. Additionally, you can enjoy various on-demand shows for no additional charges.
YouTube TV
Youtube TV is an excellent streaming service that has over 85 top channels. At just $64.99 per month, you can enjoy tons of live and on-demand content. Youtube TV has no additional fees or charges apart from the subscription.
So, you can count on it for a fast, buffer-free content streaming experience. In addition, the unlimited DVR storage allows you to download tons of shows without worrying about storage.
Hulu
Hulu is the perfect streaming service for streaming NBC movies and various on-demand shows. With over 75 top channels and Hulu Originals, you'll never run out of things to watch.
Fubo
Fubo is based in US, Canada, and Spain. It supports over 100 local channels and may even offer 200+ channels in some US locations. Although this service mainly focuses on sports, it also has tons of other content for you.
Wrapping Up
With FireStick's growing popularity, accessibility to NBC is a must-have for anyone who intends to stay current on the latest news and entertainment. As a result, if you're wondering how to install & use NBC on FireStick, follow the instructions and enjoy the streaming experience.
Related: