This post covers the best codes for AppLinked. Use the codes below to install apps on any Fire TV device, including TVs with Fire OS, FireStick 3rd Gen, FireStick 4K, and 4K Max, New FireStick 4K, New FireStick 4K Max, and Fire TV Cube and Lite.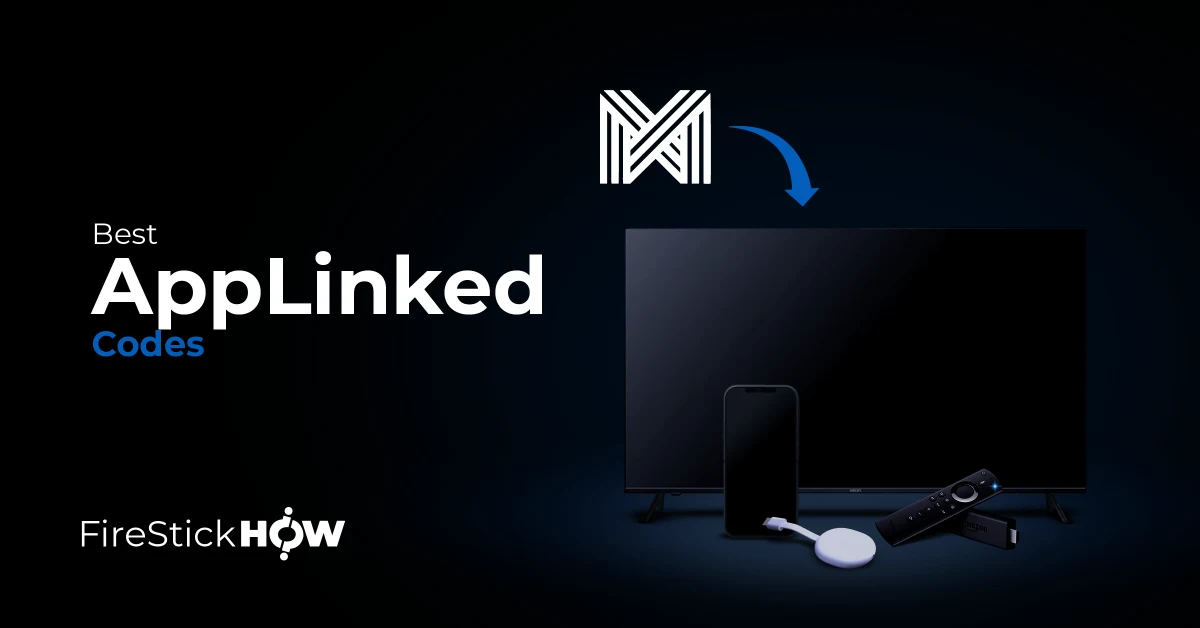 Before we delve into the codes, let's review what AppLinked is. It is an upgrade of FileLinked that uses shortcodes to access and download apps unavailable on the Amazon App Store. Like its predecessor FileLinked, AppLinked allows users to create their own codes by registering on their website.
AppLinked is developed by Inside4Android Studios, creators of apps like Strix, Media Lounge, and UK Turks. Using AppLinked is relatively easy. It has a plain interface and well-labeled tabs for ease of navigation.
Check out this guide on how to install and use AppLinked on FireStick. Next, we review some of the best AppLinked codes.
Attention FireStick Users: Read before you continue
Your government and ISP are probably monitoring your streaming activities using your IP address 3.17.249.235 (exposed to all). You may get into serious legal trouble for streaming copyrighted videos on FireStick. 
I strongly recommend getting a trusted VPN for FireStick to hide your IP address and protect your online identity.
I use ExpressVPN on all my devices as it is the most secure, fastest, and easy-to-use VPN. It comes with an unconditional 30-day money-back guarantee, and you get 3 free months with the yearly plan.
Don't miss out on the peace of mind and online security ExpressVPN provides.
Read: How to Install & Set up the best VPN on FireStick.
Are Applinked Codes Legal?
If you use the Applinked codes to download legitimate apps, you have nothing to worry about. However, many of the codes listed here may contain unverified apps.
FireStickHow.com does not have the resources to determine the legality of each code and the app it hosts. Installing and using unverified apps may get you into legal trouble.
I do not encourage piracy or copyright violations. However, it's best to use ExpressVPN while using Applinked to avoid legal hassles and to maintain peace of mind.
Best AppLinked Codes
So, here is our list of best codes for AppLinked.
Disclaimer: The AppLinked Codes mentioned below have been created by third-party, independent developers. FireStickHow.com does not play any role in developing these codes or affiliated with the developers.
1. 3333
This code mainly hosts content streaming and entertainment apps. This is the perfect code for diversifying your movie and TV show app collection. It is also ideal for comparing which apps have better user experience, movie libraries, better genre selection, and more.
Some apps on this code include Smart Tube, Oastora TV, Fast Task Killer, Xumo, Xumo for Mobile, Mushahid TV, TiviMate, Magellan TV, and others. For the sports-oriented fan, this code has popular sports content apps like Tea Sports Live and RedBox TV. It also contains two Live TV app options: HD Streamz and Yassine TV.
To install any app on this code, hover on the app and then click Download.
2. 4444
This code is home to over 20 content streaming, media players, launchers, and entertainment apps. In addition, an upload date is displayed right below each app's name. This means you can verify the app is updated before installing it on FireStick.
Some apps available on this code include Peers TV, Televizor, SmartTube Next, HD VideoBox Plus, Lazy Media Deluxe, and many more. For media players, you can choose between Vimu Media Player, MX Media Pro, and VLC Media Player, all available on this code.
If you prefer finding a specific app instead of reviewing the complete list, click the search icon at the top of the home screen.
3. 4554
If you're looking for an AppLinked code with all the top-rated movie and TV series apps, this code is for you. You'll find premium content streaming apps like 1234 movie, Ace Stream Media, Acorn TV, AstonCine, and Bee TV. It also has some helpful apps like Apps2Fire that help you upload apps from your phone or tablet onto FireStick.
Suppose you've wondered how to block ads using FireStick. In that case, download updated web browsers and ad blockers like AdGuard from this store. Remember to read the brief description of any app below its name to ensure you install the right app. App descriptions also inform whether the app is ideal for FireStick, mobile device platforms, or both.
Besides content streaming apps, you'll also find file manager and explorer apps, cleaners, and organization tools.
4. 5555
Like the 4554 code, this code hosts a variety of premium TV Shows and movie apps like Bee TV, Cinema HD, CyberFlix, Cuco TV, Film Plus, Nova TV, Tea TV, Stream, Viva TV, and many more. Sports fans are also well catered for with apps like Dofu Sports, HD Streamz, La Deportes, and RedBox TV.
Other apps listed on this code include CrunchyRoll, a popular anime app, Movie HD, HDTV Ultimate, Ola TV, Live NetTV, Top TV, TV Tap Pro, Flixoid, and AOS. For a better streaming experience, select and install the apps listed as ad-free in the description section.
5. 7777
If you have used apps like AppLinked, you'll know it's challenging to find a code with ad-free adult content apps. Fortunately, AppLinked code 7777 has this and much more. One of the adult content apps available is Jizztagram for FireStick and mobile device platforms, both ad-free.
This code also hosts official and modded versions of entertainment apps like Cinema HD, Cuco TV, AstonCine, Bee TV, and UK Turks. Remember to hover over any app and click Download to download it to your FireStick.
6. 8888
This code is a treasure trove of entertainment apps. It has many local and international apps like BBC iPlayer, ITV Hub, FreeView, Zattoo, Tubi TV, All4, Freeview, Free Flix, AstonCine, Pluto TV, Peacock TV, and many more.
There are also various sports and Live TV apps for users who want to diversify their collection of Live TV, sports, and movie apps. Remember that you don't have to review the entire list of apps. If you already know the app you'd like to download, click the Search icon, then enter the title to find it.
7. 727272
Like the codes discussed above, code 727272 contains entertainment, movie, and TV series apps. Some apps on this store include FilmPlus, Nova TV, Tea TV, BeeTV, and others. It also contains useful FireStick tools like a mouse toggle to pair with the FireStick apps incompatible with your FireStick remote.
This code is an excellent resource for anyone looking for bilingual content streaming apps, as it hosts streaming apps primarily in Spanish and German. In addition, you'll find various IPTV and media players if you're an IPTV fan.
Other apps on this code include browsers like Firefox, scanners like VirusTotal, and App Stores like Aptoide. Please read the brief description below the app's name to learn the purpose of the app before installing it on FireStick.
8. 301851852
This store hosts only two apps, Tubi TV and Mouse Toggle for FireStick. Tubi TV is an all-in-one content streaming app with a vast library of movies and TV shows. The app is easy to install and use. It also has a great selection of genres, including Action, Comedy, Drama, Thriller, Horror, and Sci-fi.
Mouse Toggle for FireStick is an app that allows you to use apps that may be incompatible with FireStick. This app is handy when you cannot operate your FireStick remote to navigate some apps. You can install any of these apps by hovering over the app and then clicking the Download button.
9. 719778818
This is another excellent AppLinked code to download and install several content streaming and entertainment apps. Examples of apps you'll find in this store include Cinema HD, ad-free and original, Bee TV Official, Nova, TeaTV, Typhoon TV, FilmPlus, UK Turks, Flixoid, Strix TV, and RedBox. Again, you can check the tag on the side of the app's name to learn if the app is the original version or ad-free.
Other apps available on this code include Fast Task Killer, which kills background apps, Media Lounge and Ola TV for Live TV entertainment, and Mouse Toggle. You'll also find file explorer and virus detector apps to ensure that the apps you install on FireStick are free of viruses and malware.
To protect your data, mask your location, and browse anonymously, choose from the variety of VPNs available in this store. They include Express, Proton, IPSecrete VPNs, and others.
10. 11766
This is the perfect code for any FireStick user looking for a few useful apps for everything. It has apps under each category, from movies and entertainment, browsers, and VPNs to cleaners, file managers, and media players. Examples of entertainment apps under code 11766 include Bee TV, Cinema HD, CyberFlix, and Pluto TV.
It has other unique apps like Reface app for face-swapping videos and memes with your phone and a Downloader app to help you conveniently download files from the internet to FireStick. This code is also ideal for finding media players and live TV apps all in one place.
You may also like apps like TikTok, Blaze UK, Unplugged, and Big File Cleaner. In addition to entertainment and content streaming apps, this code has various game apps like Candy Crash, Royal Match, and Lemmings.
11. 0713321
This is one of the best AppLinked codes mainly because it divides apps into subcategories to ease location and installation. For example, some categories you'll seed under this code include Best VPN, Top Movie and TV Show Apps, and others.
Apps available on this code include Viva TV, Cinema HD, Stremio, BeeTV, WEYD, UNIVISION, Tea TV, UK Turks, Media Lounge PTV Max, Media Box, AstonCine, HD Movies, and many more.
Wrapping Up
AppLinked is one of the best FileLinked replacements available today. Its simple interface and many shortcodes give access to hundreds of apps. Some of the best AppLinked codes include 719778818 and 11766. These codes will sort all your entertainment needs and provide apps like media players, VPNs, browsers, Mouse Toggle, and Games.
If you're looking for a code that mainly hosts entertainment and content streaming apps, code 5555 is the best choice. It has various premium apps in original and ad-free versions. Remember, you only need to hover on the app and click the download button to download it to FireStick.
The best news is it's relatively easy to install AppLinked on FireStick. Please share your experience if you could install apps using the best AppLinked codes above.
Related: