This guide explains how to use and set up Apollo Group TV IPTV on FireStick. These steps apply to all FireStick devices, such as FireStick 4K and 4K Max, Fire TV Lite and Cube, TVs with Fire OS, and FireStick 3rd Gen.
Disclaimer: FireStickHow.com does not condone privacy or copyright violation. This post is only for educational purposes. Please do your independent research and refrain from using any service that provides pirated or copyrighted content.
What Is Apollo Group TV IPTV?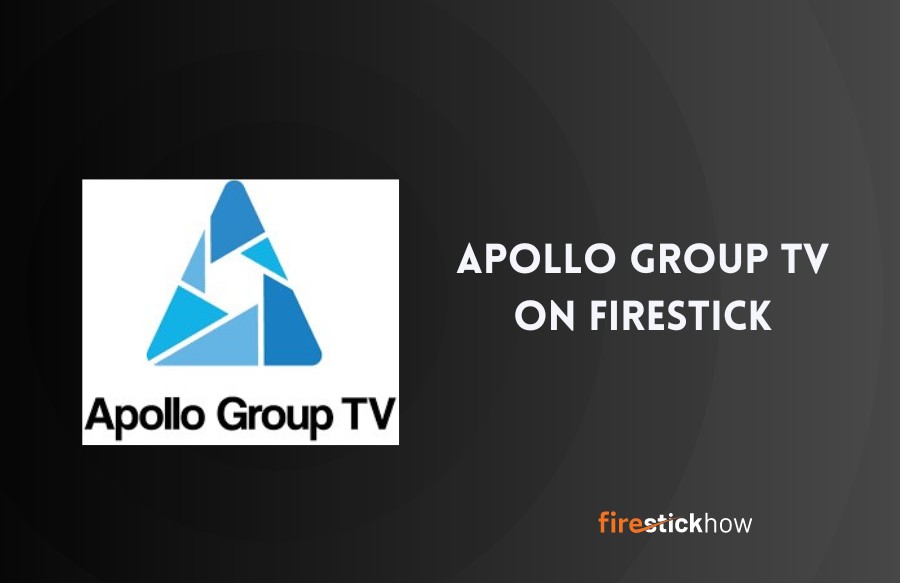 Apollo Group TV IPTV is an over-the-internet streaming platform that gives you access to hundreds of live channels, on-demand content like movies and shows, pay-per-view events, sports, entertainment, and much more.
Apollo Group TV IPTV seems to have a clean and clutter-free layout. The app is well-categorized, so you don't have to spend time browsing through content categories. Another thing that stood out about this app is the content variety. This IPTV is an all-in-one entertainment app that features content like movies, sports, news and entertainment channels, and much more.
Using this app is also seamless thanks to various features like the Electronic Program Guide (EPG), favorites manager, and external player support. In addition, Apollo Group TV IPTV guarantees an unmatched streaming experience with its customer support available on email and social media platforms like Discord and Telegram to sort out any issues you may experience.
Attention FireStick Users: Read before you continue
Your government and ISP are probably monitoring your streaming activities. You will likely get into serious legal trouble if caught streaming copyrighted videos on your FireStick. Your IP address 3.17.249.235 is exposed to everyone. Therefore, I strongly recommend getting a trusted VPN for FireStick and hiding your online identity.
I use ExpressVPN on all my devices as it is the most reliable, secure, and fastest VPN. Enjoy effortless installation on any device and a 30-day money-back guarantee. Plus, when you sign up for the annual plan, you'll get 3 months free. Don't miss out on the peace of mind and online security ExpressVPN provides.
Read: How to Install & Set up the best VPN on FireStick.
Is Apollo Group TV IPTV Safe?
Apollo Group TV IPTV's official website is https://apollogroup.tv/. It's impossible to determine the safety of unofficial apps like Apollo Group TV IPTV. Consequently, we can't determine the safety of this app. This IPTV's APK wasn't flagged as malicious after running it on VirusTotal.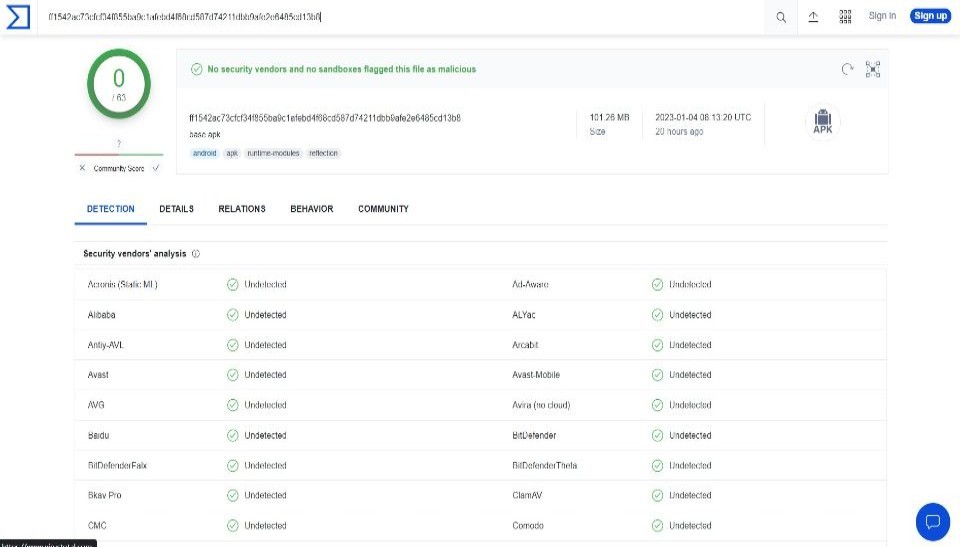 Is Apollo Group TV IPTV Legal?
Apollo Group TV IPTV is a third-party app not hosted on official app stores. Consequently, FireStickHow.com can't establish the legitimacy of this app's content or streaming sources. If you're concerned about the legitimacy of this app, conduct independent investigations into its sources before installing it on FireStick.
Another viable option is to pair this IPTV with a VPN. A reputable VPN like ExpressVPN will protect your FireStick history so that it's not available to your ISP or the government. The VPN will also hide your IP address, so it's not open to prying third parties.
Apollo Group TV IPTV Plans and Pricing
Apollo Group TV IPTV has various subscription plans to suit any budget and timeline needs. In addition, they support various payment methods, including crypto.
The plans are as follows.
The 30-day plan costs $24.99 and includes all entertainment categories, over 5000 ad-free on-demand content, and up to five simultaneous device connections.
The 90-day plan costs $51.99. It also includes up to five device connections and ad-free content.
Finally, there're bi-annual and annual plans. These cost $89.99 and $159.99, respectively. Both plans cover all entertainment and content categories and up to five simultaneous connections.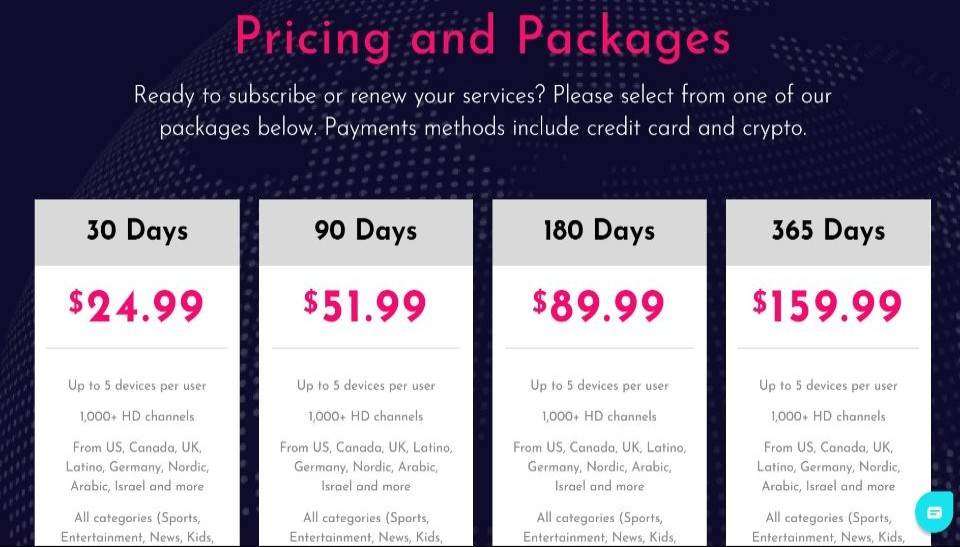 Apollo Group TV IPTV Overview
Let's go over some of this IPTV's best features:
Access to over 1000 HD live TV channels.
Video-on-demand options.
A vast library of local and international channels.
Favorites Manager.
External Player Support.
Compatibility with popular IPTV players.
Electronic Program Guide (EPG).
Pay-per-view content.
Multiple payment platforms.
Customer support availability.
Besides the features listed above, Apollo Group TV IPTV has a stylish and clutter-free interface that's user-friendly. The content resolution varies from 720p to 1080p, with most channels in HD. The streaming experience is seamless, with minimal to zero lagging.
Another unique feature of Apollo Group TV IPTV is the convenient search icon that allows you to input movie and channel titles. This helps you pull up any content you want without browsing the library. The vast content selection also ensures you'll find any entertainment content you wish to stream, from old movies to the latest and trending TV shows.
Subscribing to Apollo Group TV IPTV
To familiarize yourself with this IPTV before committing to a paid plan, utilize the Apollo Group TV IPTV 10-day free trial. To use this free trial, you'll need to create an account through the https://portal.apollogroup.tv/Register link.
After, you can follow the steps below to subscribe to a plan of your choice:
1. Go to the official website and click My Account.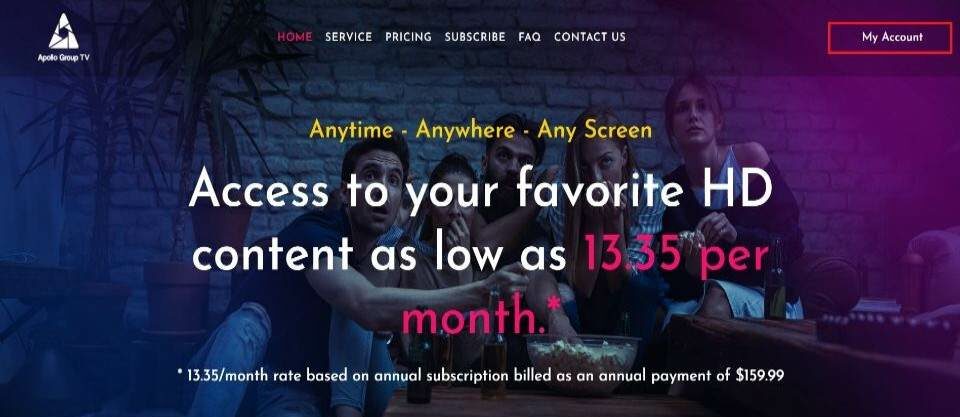 2. Click Sign In.

3. Enter your username and password, then click Sign In.

4. Click Subscribe Now.

5. Select a plan of your choice and click Choose Plan.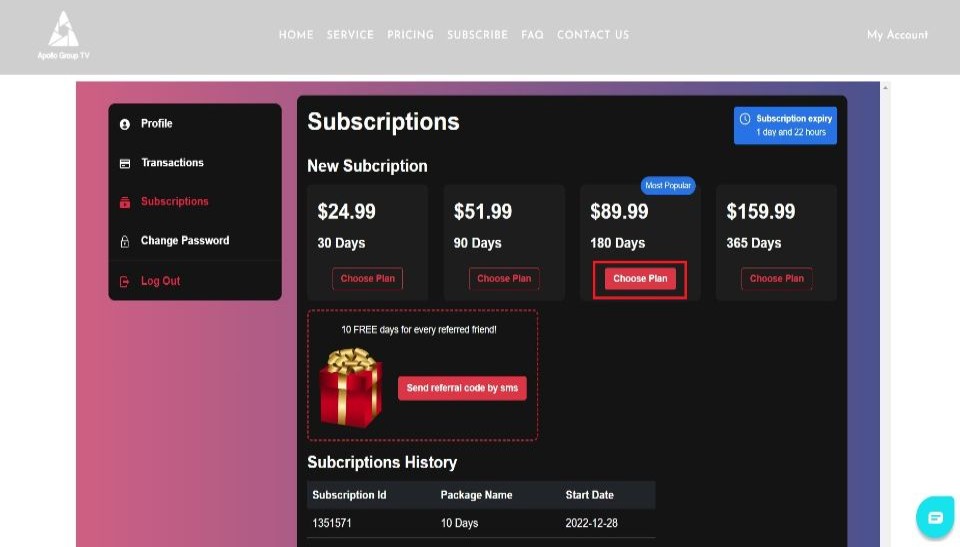 6. Select your preferred payment method and make the payment.

Remember to verify the payment details because you won't receive login details if your payment fails. If you do not receive login details in good time, contact Apollo Group TV IPTV via email or the chat feature on their official website.
How to Set Up Apollo Group TV IPTV on FireStick
Setting up Apollo Group TV IPTV on FireStick involves two processes, as discussed in the sections below.
Part 1: Prepare Your FireStick To Download Apollo Group TV IPTV
Apollo Group TV IPTV is a third-party app unavailable on Amazon App Store. You'll need a Downloader app to install this IPTV on FireStick because you can't download it directly.
Here are quick steps to download the Downloader app (for step-by-step instructions, follow our guide on installing and using Downloader for sideloading):
1. On the FireStick home screen, go to Find> Search and install the Downloader app.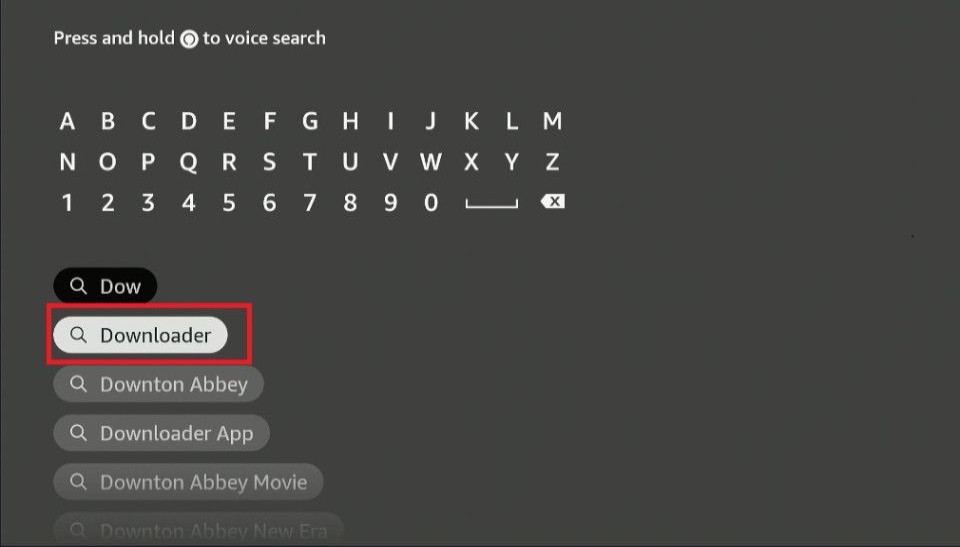 2. After, go to FireStick Settings> My Fire TV> Developer Options> Install Unknown apps and enable Downloader (or click and enable Apps from Unknown Sources if that's what you see on your device).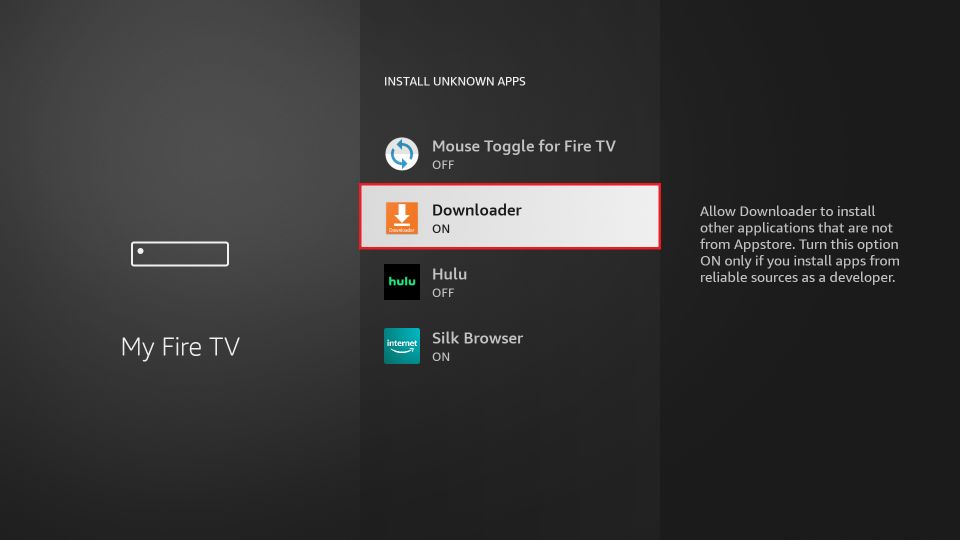 Part 2: Steps to Install Apollo Group TV IPTV on FireStick
After installing the Downloader app, proceed with these installation steps:
1. Click My Apps on your Fire TV home screen.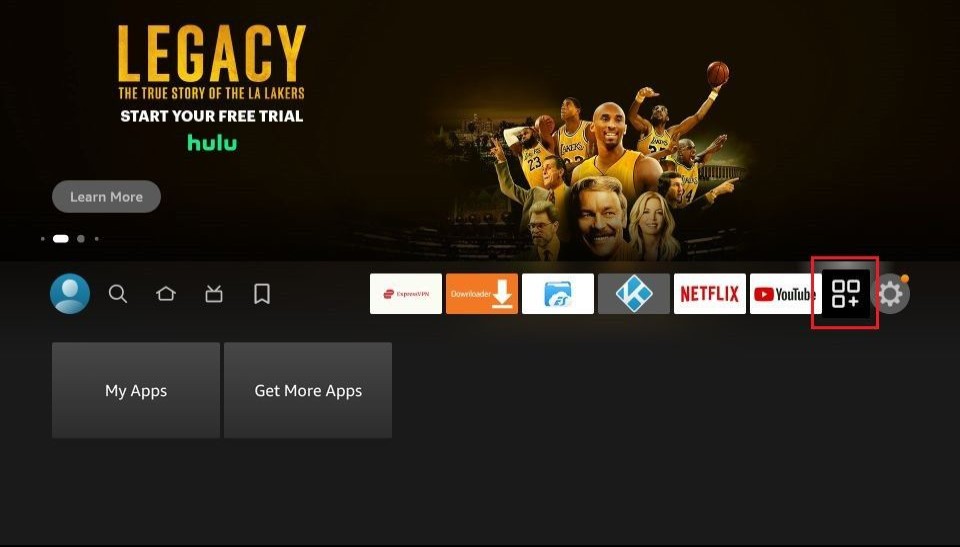 2. Click the Downloader app.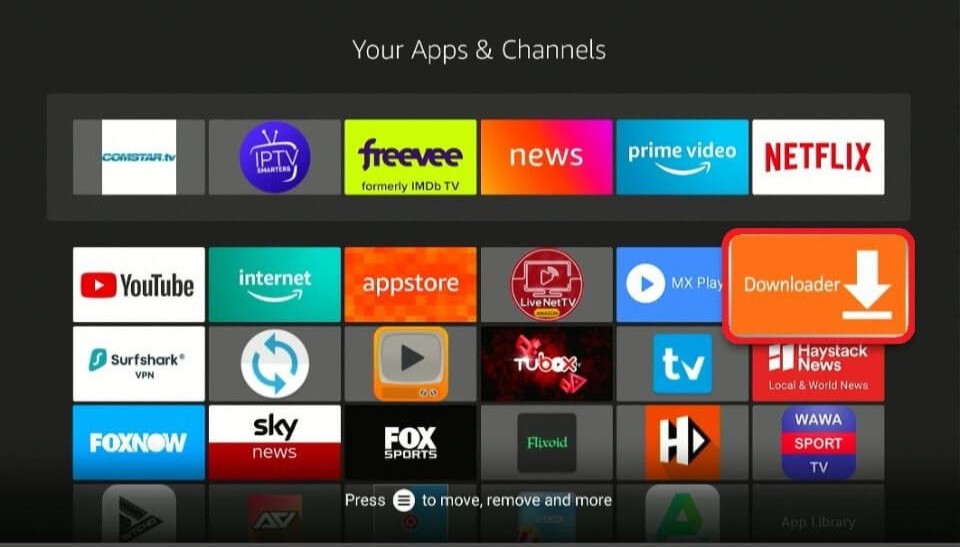 3. Click on the Search bar.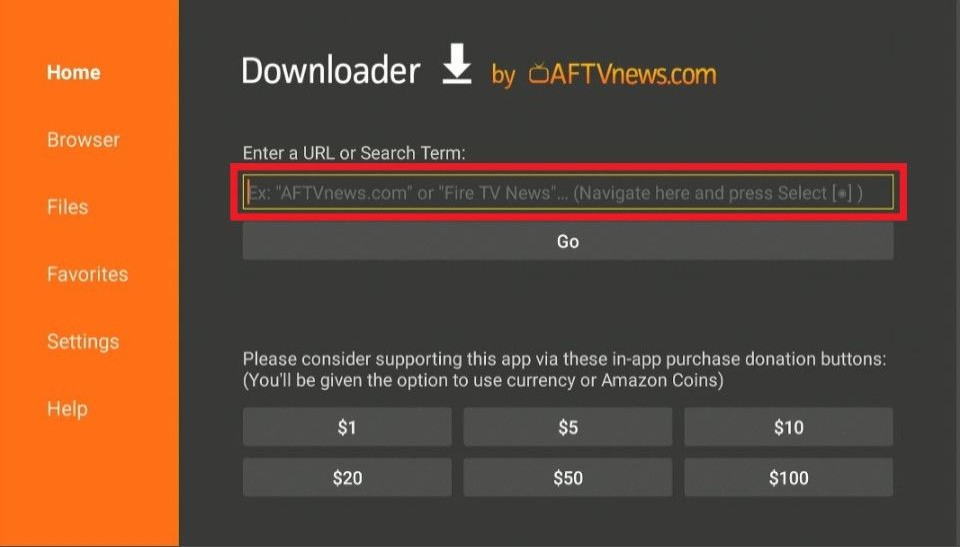 4. Enter this URL https://bit.ly/3I4Oe44 and click Go.
Note: FireStickHow.com does not host this URL or the APK downloaded from the URL. This URL points to an external source.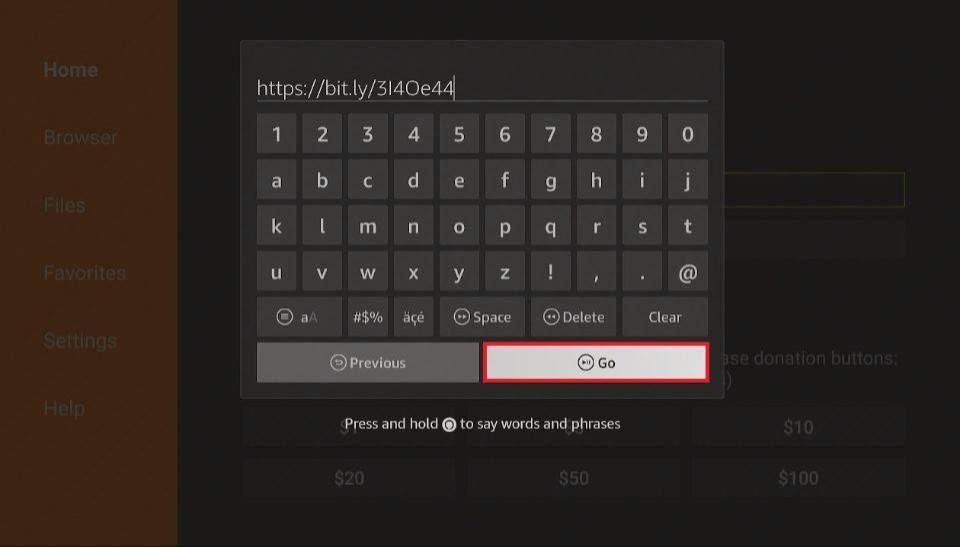 5. Wait for the app to download.
6. Click Install.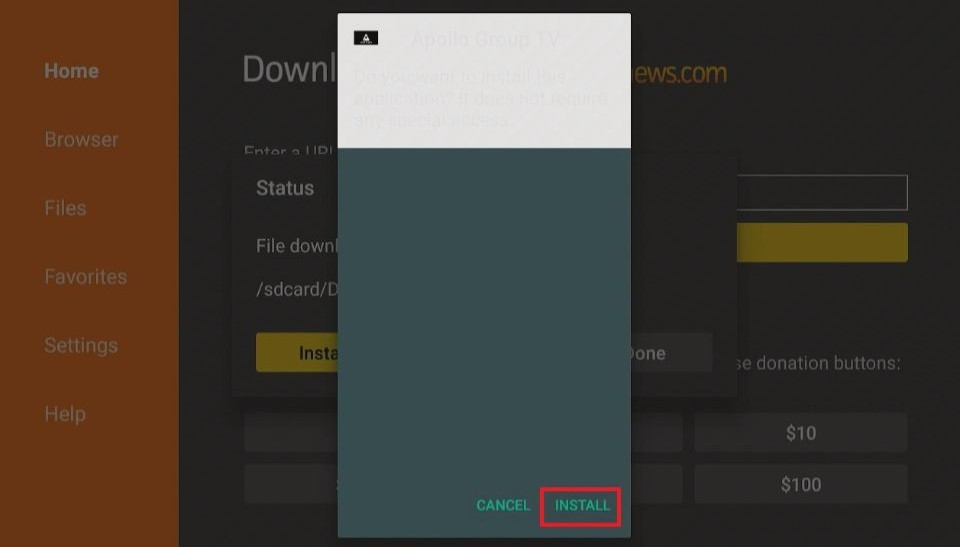 7. Click Done.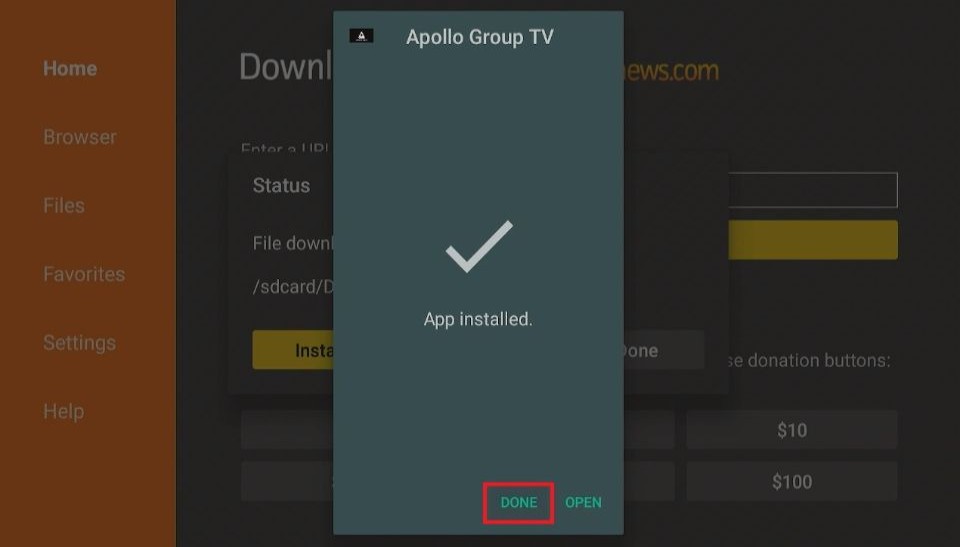 8. Click on Delete next.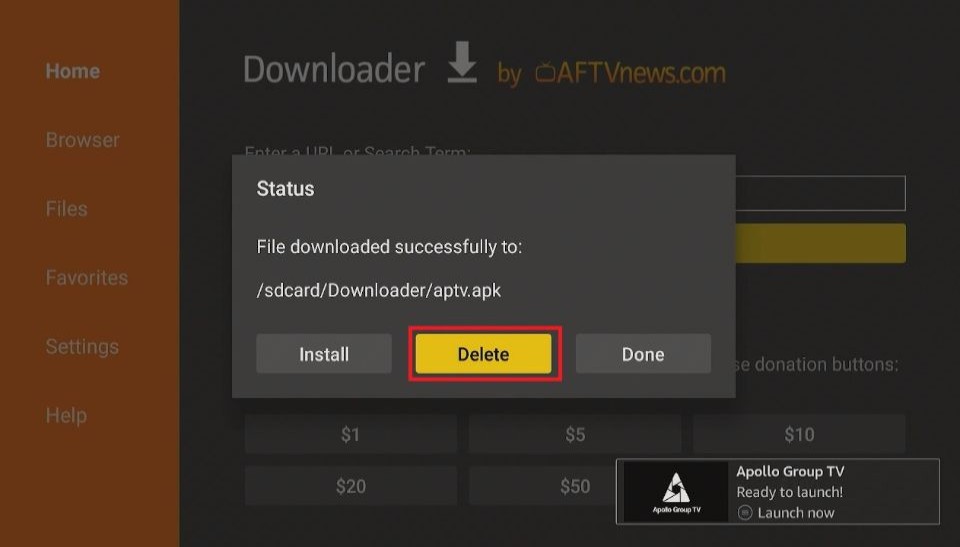 9. Click Delete again to confirm.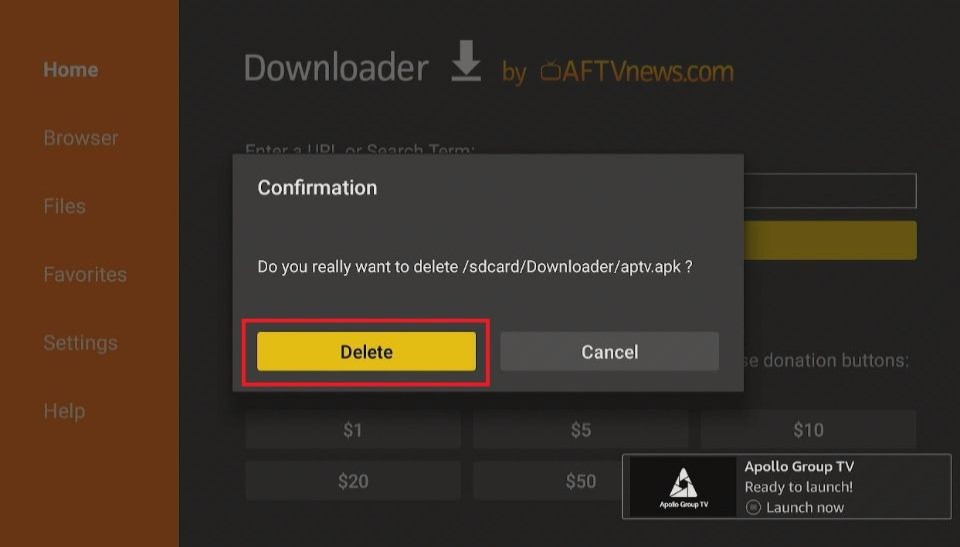 This is how you install the Apollo app on FireStick.
Wait! Before watching your favorite content on FireStick, ensure you have protected your online identity. Your streaming activities are likely being monitored and logged by your Government as well as your ISP. Free streaming of copyrighted videos may get you into legal trouble.
Thankfully, you can easily avoid the surveillance and monitoring of your online activities and completely maintain your privacy. All you need to do is connect to a trusted and reliable VPN on FireStick. A VPN will hide your IP address and your online identity by encrypting your internet connection.
Please note that I am not encouraging you to violate any copyright laws. You should always watch the content available in the public domain. I am simply recommending the use of a VPN to maintain your privacy. You have every right to your privacy, which is constantly being breached these days.
I personally use ExpressVPN and have found it to be the fastest and most secure FireStick VPN. It is the most streaming-friendly VPN I have ever used. Therefore, I highly recommend getting ExpressVPN for FireStick.
Here is how you can quickly and easily get the ExpressVPN app on FireStick:
Step 1: Click HERE to subscribe to ExpressVPN and enjoy a 49% discount with 3 months of extended service. You are also eligible for a 30-day, full money-return guarantee.
Step 2: Download and install ExpressVPN on FireStick
Choose the Find > Search option on the FireStick home screen on the menu bar.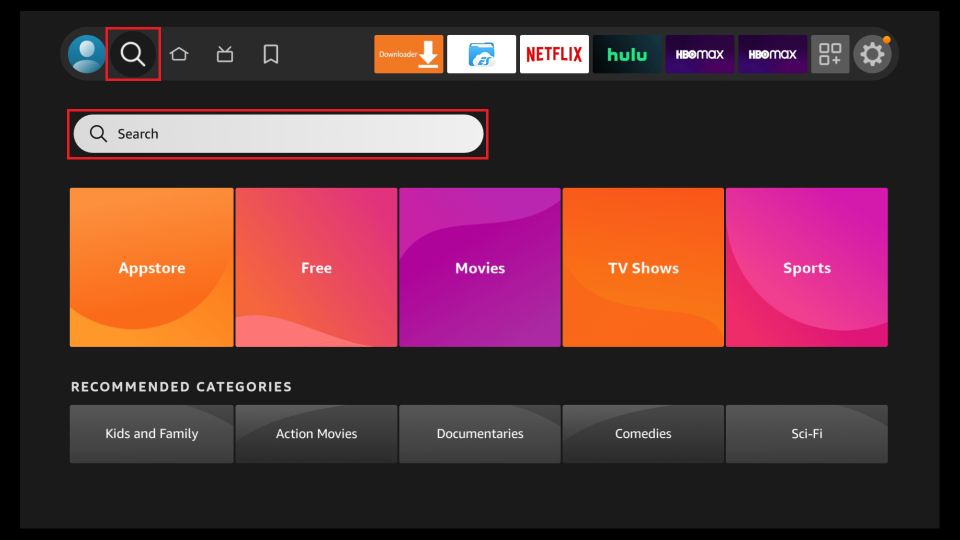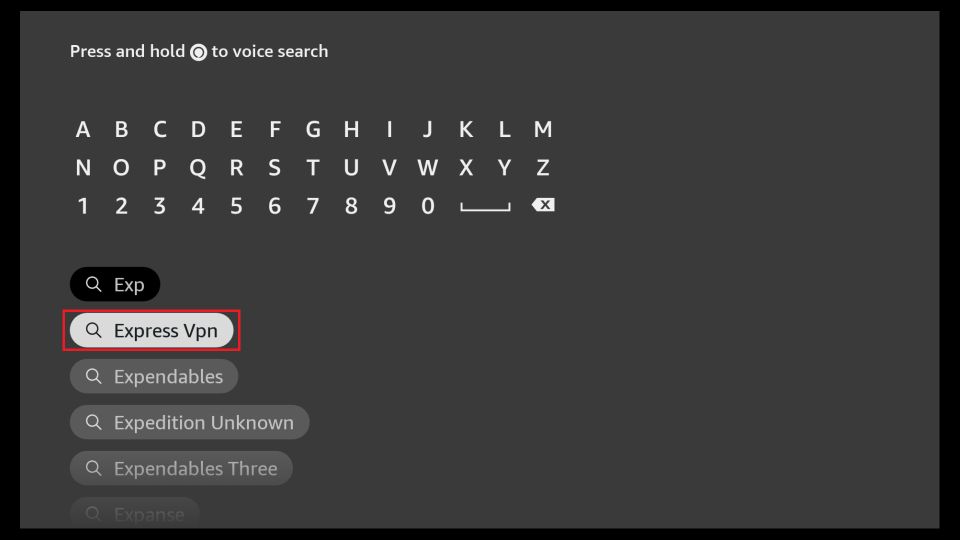 Click the ExpressVPN icon on the following window.

Click Download or Get on the next window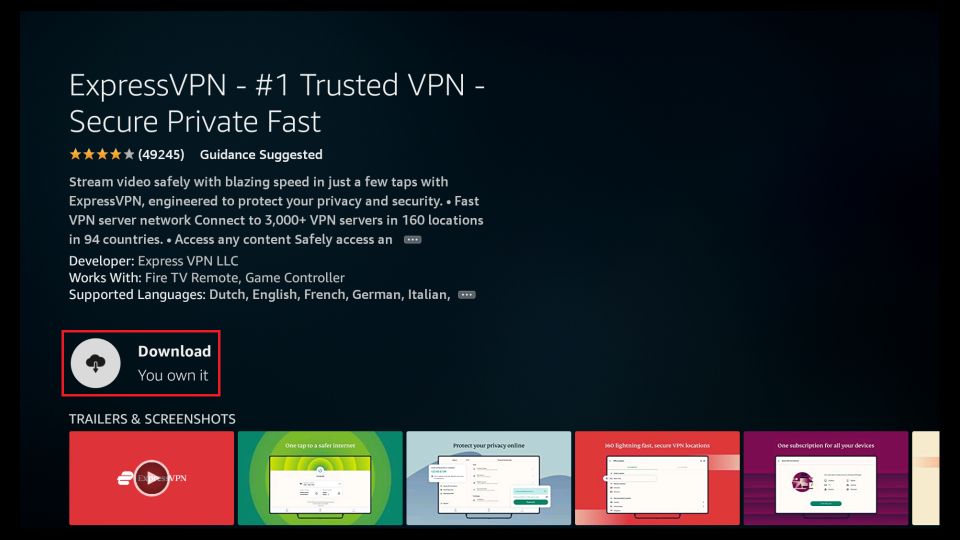 Step 3: Open ExpressVPN once you have downloaded it. Sign in with your account.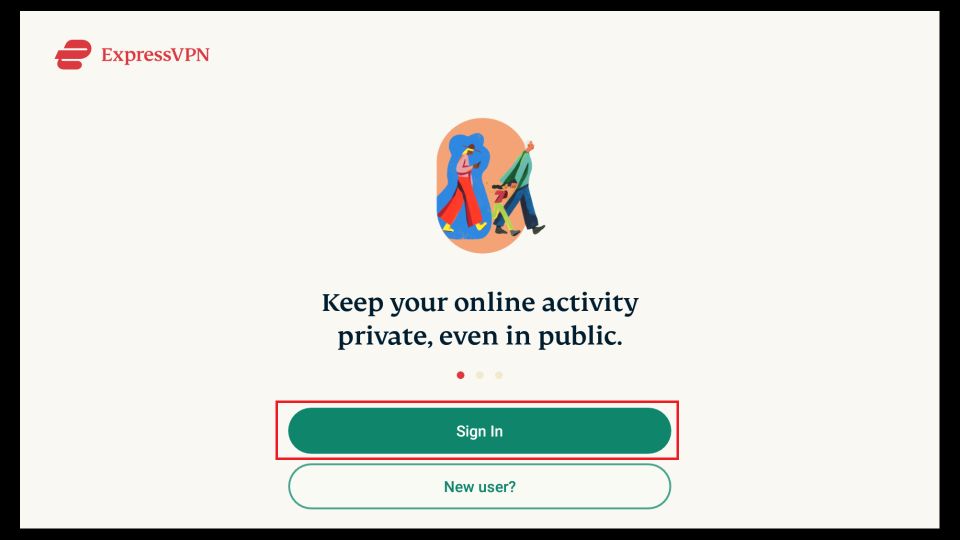 Step 4: Choose a server and click the Connect/Power button

Put your mind at ease now! You have successfully secured your streaming activities with ExpressVPN.
How to Use Apollo Group TV IPTV on FireStick
Before exploring what Apollo Group TV IPTV offers, I recommend creating a home screen shortcut to help you find the app conveniently when you want to stream.
After installing Apollo Group TV IPTV, you'll see a sign-in page. Enter your email and password to proceed.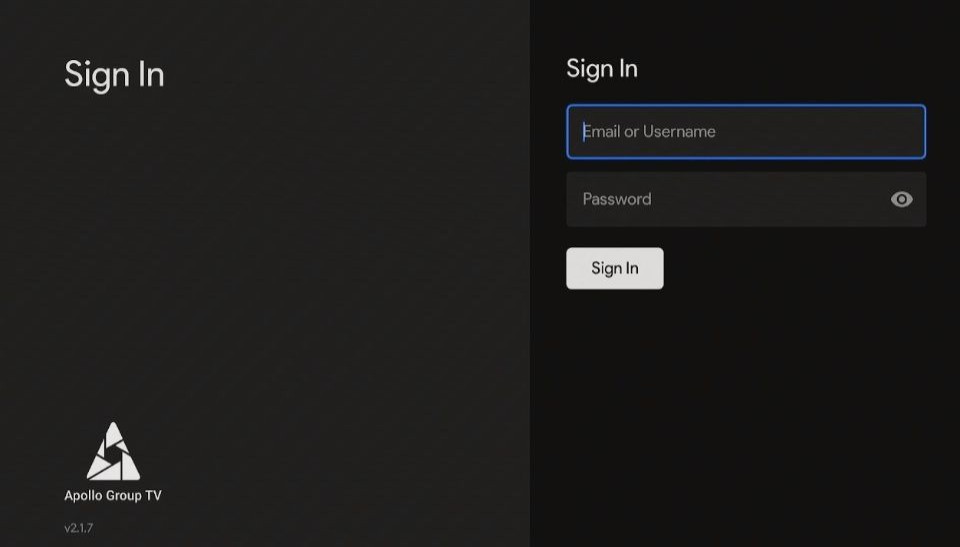 The first thing you notice after signing in is the simple layout. There's an uncomplicated menu on the left side of the screen, while the home screen features various content subcategories.
The main menu options include Search, Movies, TV Shows, Sports VOD, Live TV, TV Guide, My List, Recent, and Settings. You only need to click on a specific menu tab to go to the corresponding section. To explore all genres featured on this app, click the All Genres button at the top-right edge of the screen.
Under this button, you'll see genres and subcategories like Recent Added, Top Grossing, Highest Rated, Oscar-Winning, Trending, and others.
As you explore the app, you'll realize navigation is seamless and loading time is minimal. In addition, every show has a brief synopsis and a rating at the top to inform you what the show is about.
For sports lovers, the Sports VOD tab on the menu will lead you to a selection of live sports events happening at that time. Some sports genres featured on Apollo Group TV IPTV include soccer, football, basketball, and boxing.
Click on the My List option on the menu to review your favorite and regular channels, movies, and TV shows without going through the content categories.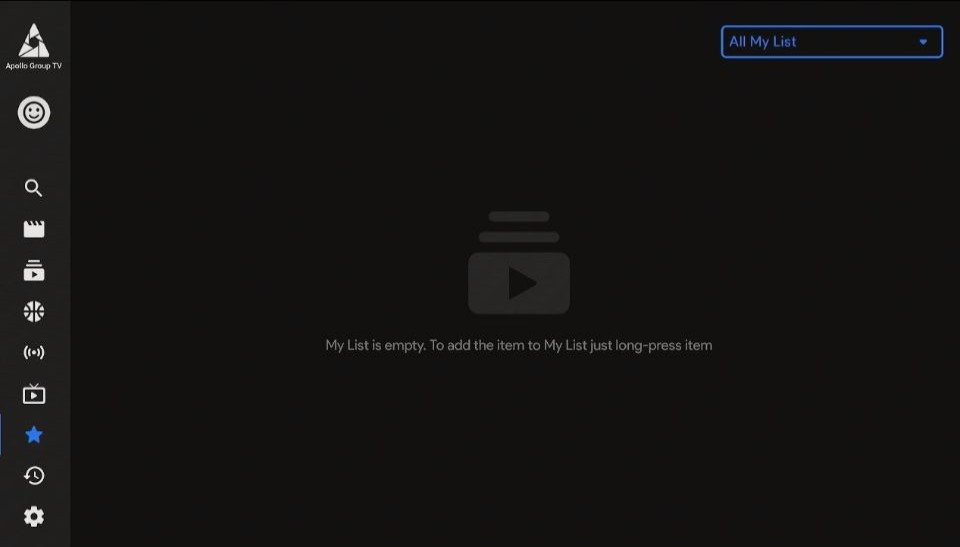 Wrapping Up
This guide provided the Apollo Group IPTV review and setup on FireStick. Please note that this post is only for educational purposes and we do not condone copyright violations.
Related: